Overview
The Range Rover Sport is the most dynamic Range Rover! It has a powerful and muscular stance, but also a contemporary feel. Its sporty design cues match its exhilarating performance. There's a range of potent powertrains to choose from and all can hold their own! There's also now a new plug-in hybrid powertrain for 2020. Don't forget, the Range Rover Sport is a highly capable vehicle that can navigate its way over difficult terrain and wade in depths of up to 33.5 inches!
SUVs.com had the chance to check out a Range Rover Sport HSE Dynamic at Jaguar Land Rover of Cherry Hill and fell in love with the bright exterior and duo-tone interior. It feels sporty and adventurous, yet also sophisticated. The advanced technology with large dual screens helps the interior feel even more modern. Plus, there's 518 horsepower backing it up!
The range-topping SVR, meanwhile, offers the same engine with a slightly higher output of 575 hp! It also features the special SVR Sport Suspension optimized for improved handling.
Starting at $68,850, the Range Rover Sport is more affordable than the full-size Range Rover. The luxurious and exceptionally functional SUV is offered in a number of different trim levels. The HSE Dynamic that we took a look at has a higher starting price of $86,500.
Continue reading below to learn even more about the 2020 Range Rover Sport!
Photos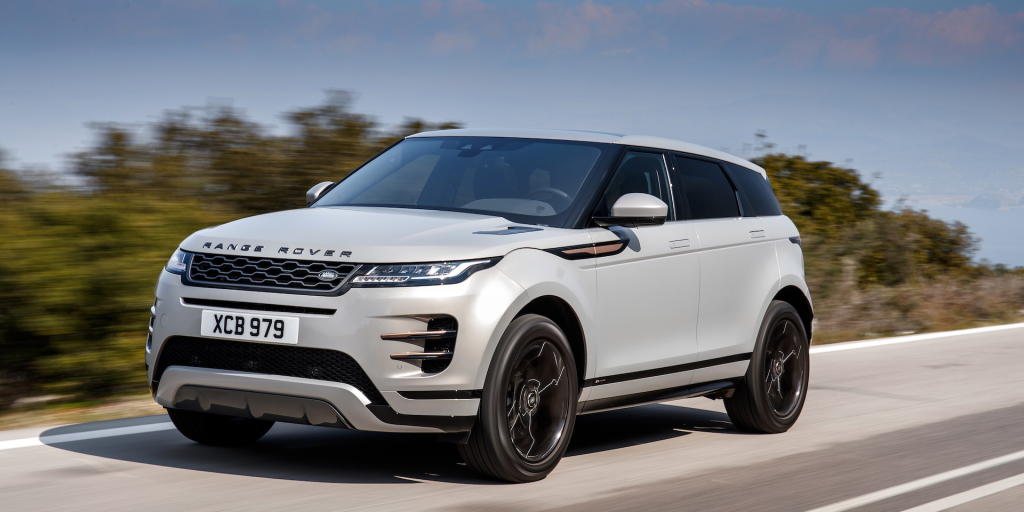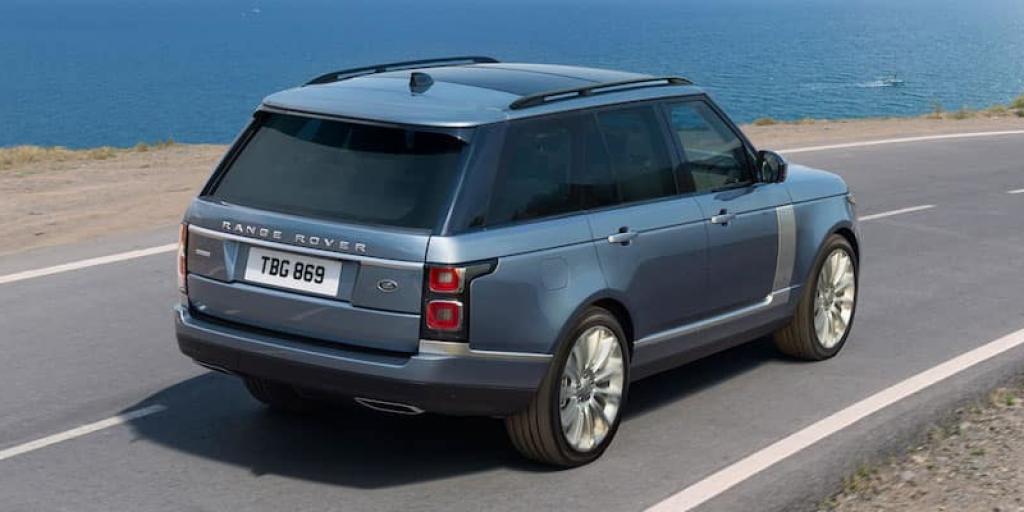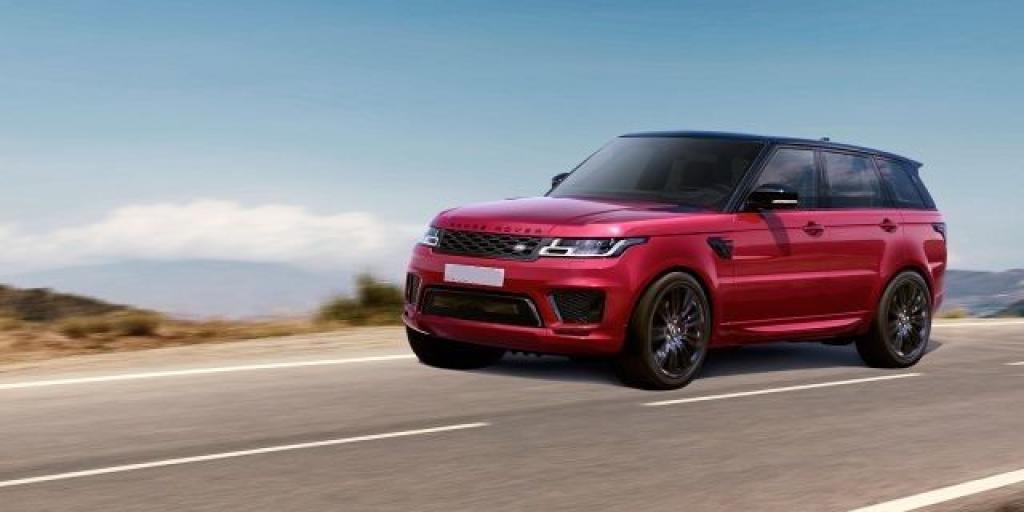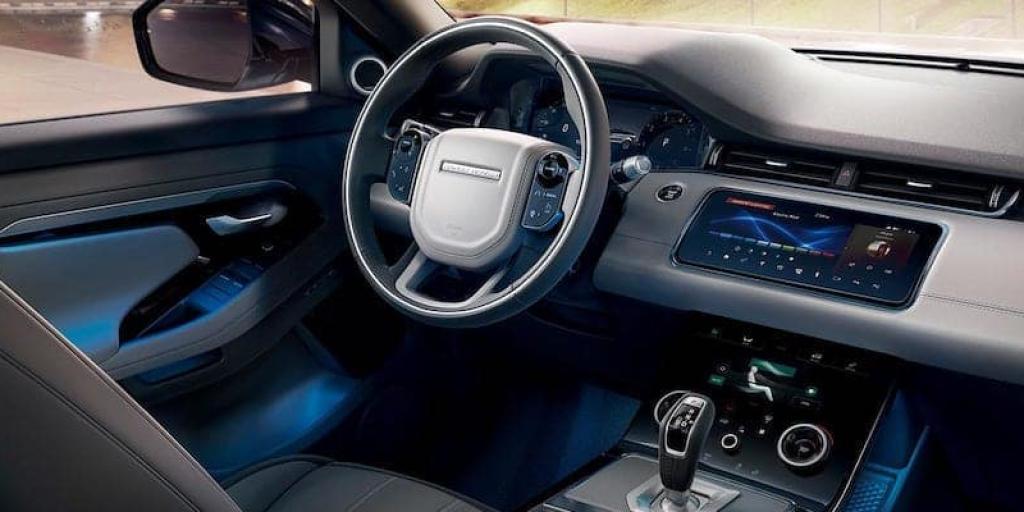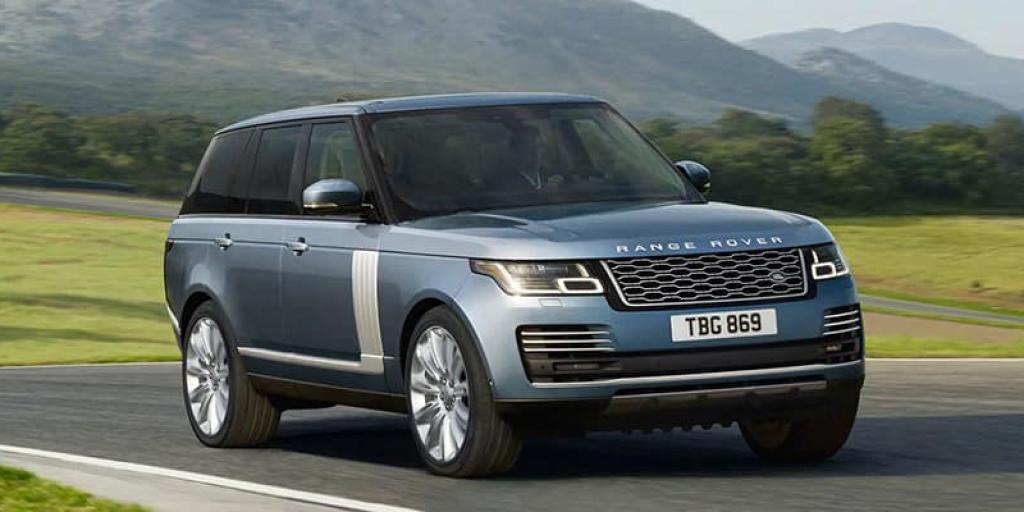 Interior
The luxurious interior of the Range Rover Sport is just as stunning as the exterior. There's a lovely range of finishes offered, and there's also loads of advanced technology right at your fingertips.
There are duo-tone seats available that help add even more flair to the look of your Range Rover Sport's interior. The HSE Dynamic that SUVs.com had the chance to check out featured duo-tone seats in Ebony/Eclipse. The seats help make for an interior you don't want to leave!
What's nice is that the Range Rover Sport can accommodate up to seven people with the optional 5 + 2 arrangement. With it, you get two extra seats that are stored under the floor of the luggage compartment. You can pop up those seats whenever need be. There's no loss of cargo space with it, which is nice. That rear seat is going to feel cramped, though, and is best fit for kids.
One of the first things you'll notice inside the Range Rover Sport is the large panoramic roof. It floods the SUV's interior with light and helps make it feel more spacious. You can get it as fixed or sliding.
There's increased storage space throughout the 2020 Range Rover Sport, including a phone holder. The optional front center console refrigerator can also accommodate up to four 16 fl. oz. bottles and maintain their temperature at 41 degrees.
Another major highlight? The enhanced ambient interior lighting! It helps add to the clean, modern feel of the interior, as does all the advanced technology.
The 2020 Range Rover Sport features the Touch Pro Duo infotainment system which beautifully integrates two large 10" HD touchscreens. The system offers Apple CarPlay, Android Auto, and recognizes your voice. There's also a 12" interactive driver display behind the steering wheel and a full-color head-up display. Pro Services provides helpful information based on real-time traffic flow and also door-to-door navigation. The unique hidden-until-lit switches on the steering wheel, meanwhile, look sharp and help make the interior that much more impressive.
If that's not enough technology for you, you could opt for the rear seat entertainment system. It provides two 8" screens built in to the back of the front headrests or two 10" high-definition seat-mounted articulating screens!
There are also other features you could choose to help make your Range Rover Sport's interior feel that much more special, like a more advanced sound system with 23 speakers!
Exterior
You can't deny it, the Range Rover Sport looks good! It was designed to command attention with its muscular and sporty, yet contemporary exterior.
Its Range Rover DNA is unmistakable with its distinctive silhouette and rearward-sloping roof and continuous waistline. It's definitely a vehicle that you want to be seen in!
Highlights include the stunning wraparound LED headlights, sporty wheel options that come in up to 22" in size, the distinctive Range Rover Sport grille, and the redesigned hood vents.
Refreshed front and rear bumpers with integrated exhaust finishers help enhance its lower, sportier stance.
The range-topping SVR is even more unique looking than the other trims. It also can be accentuated with an optional hood design in carbon fiber composite. You can get it in the Range Rover Sport's body color or in the striking exposed Gloss Black Carbon Fiber.
No matter the Range Rover Sport trim you opt for, it's going to look good and make an impression!
Performance
For 2020, the Range Rover Sport now features an even more diverse lineup of powertrain options. There's a new plug-in hybrid inline four-cylinder gas engine that you could opt for. Badged P400e, it produces a total of 398 hp and 472 lb.-ft. of torque.
There also remains the mild-hybrid inline six-cylinder Ingenium engine that was introduced in 2019 and delivers enhanced performance over previous gas V6 offerings.
Then, there's the 3.0-liter turbocharged diesel V6 and the monster 5.0-liter supercharged gas V8 that produces a whopping 575 horsepower in the range-topping SVR trim. The SVR trim is also impressive because of the SVR Sport Suspension that's optimized for improved handling.
SUVs.com had the chance to check out the HSE Dynamic trim. It features the same 5.0-liter supercharged gas V8 engine as the SVR, but it produces slightly less horsepower. It makes 518 hp.
Every Range Rover Sport comes with all-wheel drive and an eight-speed automatic transmission.
While the SUV is certainly luxurious, it can still handle its own over rough terrain! All-Terrain Progress Control helps with that. Terrain Response and Terrain Response 2 are also there to help match the demands of the terrain. Plus, the Range Rover Sport can wade in depths of up to 33.5 inches. It offers a towing capacity of up to 7,716 pounds and tailored towing technologies.
The Range Rover Sport puts safety first with standard driver aids like emergency braking, lane departure warning, a rearview camera with front and rear parking aid, and cruise control and speed limiter. Additional driver aids can be added including a package which features a 360 degree parking aid and rear traffic monitor.
Pricing
The 2020 Range Rover Sport is priced from $68,650 for the entry-level SE trim. The HSE Dynamic trim that SUVs.com had the chance to take a look at starts at $86,500. The range-topping SVR is even more expensive. It starts at over $114,000! That's a large price range and something to keep in mind.
As for other competitor vehicles, you could take a look at the full-size Range Rover or the Discovery Sport. Other vehicles you may want to consider include the BMW X5, Mercedes-Benz GLE-Class, Audi Q7, and Porsche Cayenne.
As always, be sure to thoroughly research any vehicle you're interested in purchasing. It's best if you can take it for a test drive first. Also be sure to check with your local Land Rover Range Rover dealer to see if they have any specials to offer right now.
Verdict
The Range Rover Sport is a dynamic, attractive luxury vehicle that's highly functional, capable, and features a lineup of potent and diverse powertrains. At a more affordable starting price than the full-size Range Rover, it might just be what your family needs!
SUVs.com absolutely loved the duo-tone seats of the HSE Dynamic we took a look at.
Don't forget, there are other cool accessories you can add to your Range Rover Sport like a roof mounted bike carrier or a pet pack to help protect your vehicle's interior.
We gave the 2020 Range Rover Sport an SUVS.com deal score of 83/100. What do you think of the Range Rover Sport? Be sure to leave a comment on our YouTube review of the vehicle!