Overview
The GLS is Mercedes-Benz's largest vehicle with seating for seven adults as standard. Mercedes refers to it as the pinnacle of SUVs and for 2020, it's even more impressive as it was fully redesigned!
The all-new GLS is now even larger than before thanks to its lengthened wheelbase. The SUV is also now more aerodynamic. It has a bold, yet elegant style and the stunning LED lighting and large wheels help with that.
The GLS isn't just a spacious and luxurious vehicle, but also a highly powerful one! No matter which model you opt for, you're going to have a vehicle that moves you quickly and confidently. There's also standard adjustable air suspension and all-wheel drive to help back you up. With it, your GLS puts its best foot forward even as seasons and surfaces challenge it!
The all-new GLS comes in two main trim levels, the entry-level 450 and the more powerful 580. To learn about their impressive engines and the third generation GLS, continue reading below!
Photos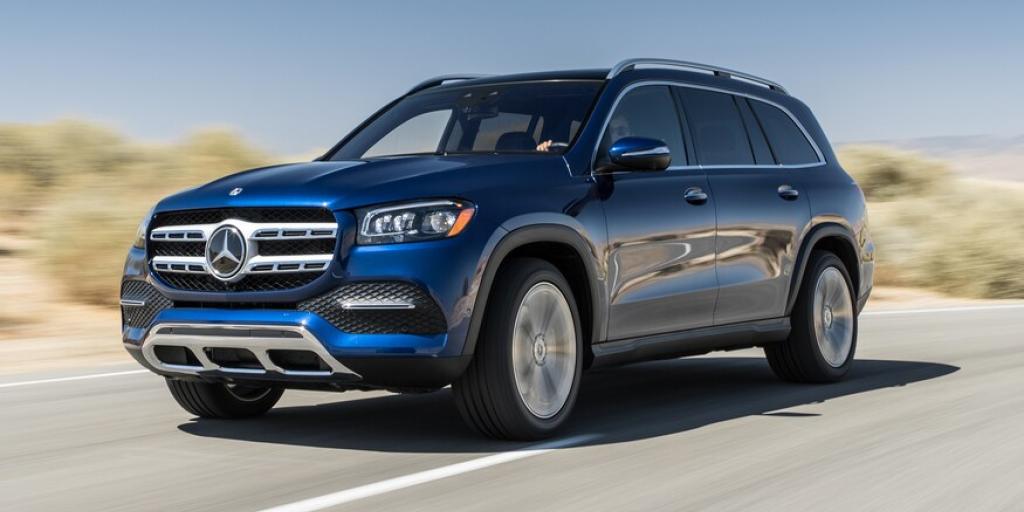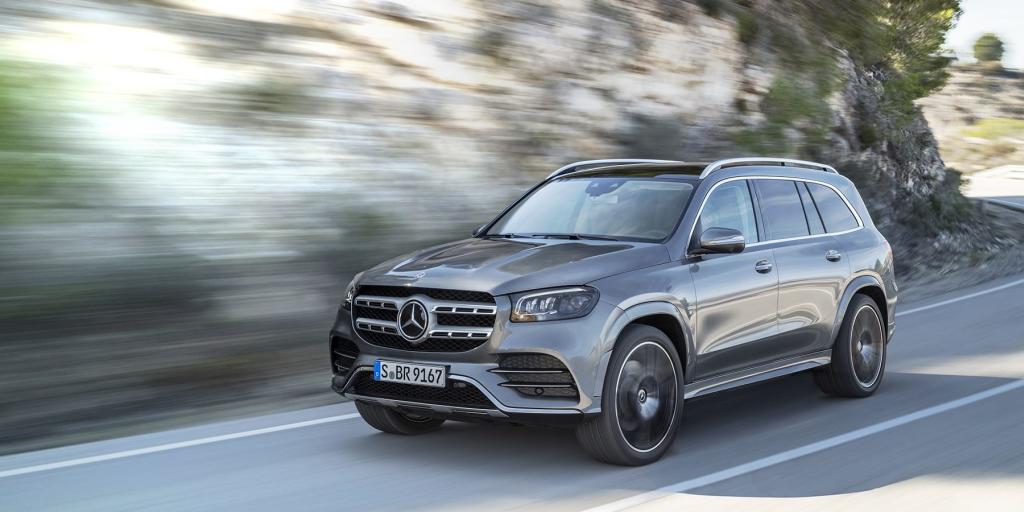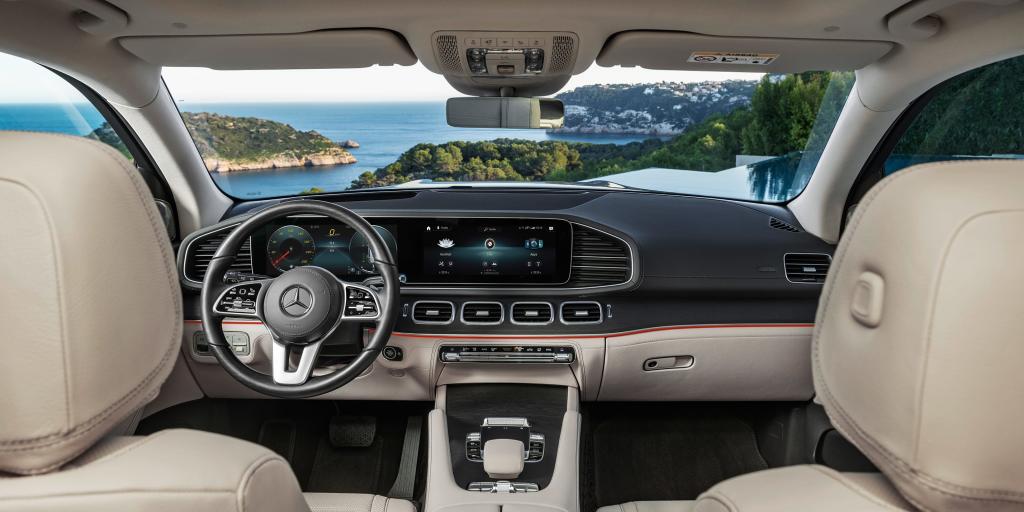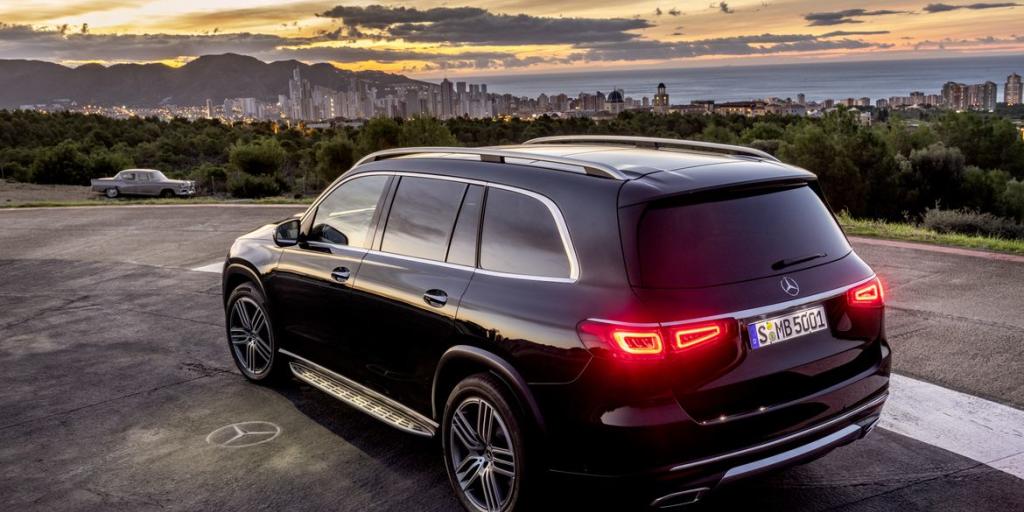 Exterior
The 2020 GLS is longer by up to three inches over the previous model and so that has resulted in a more spacious interior. As for the exterior, it looks bolder than before. It's also now more aerodynamic.
The 100% LED lighting is stunning, as are the large wheel options. GLS 450 wheels start at a sizable 19 inches and go up to 21" in size. The more powerful GLS 580 has wheels that start at 21" and you can take it all the way to a staggering 23" design!
You could tack on the Night Package with gloss black styling elements to help make your GLS look even better! There are also other attractive options you could opt for like a panorama roof, black side cladding, a roof spoiler, chrome door handle inserts, and an illuminated Mercedes-Benz star logo.
Performance
The two GLS trims each have their own engine. The GLS 450 has a 3.0-liter turbocharged six-cylinder with EQ boost that makes 362 horsepower and 369 pound-feet of torque. It propels the SUV from 0 to 60 miles per hour in 5.9 seconds.
The more powerful GLS 580 packs a 4.0-liter twin-turbocharged V8 with EQ boost that makes an impressive 483 horsepower and 516 lb.-ft. of torque. The GLS 580 can reach 60 mph in just 5.2 seconds.
Both engines are paired to a 9-speed automatic transmission with shift paddles mounted beneath the steering wheel.
The GLS is a highly capable luxury family hauler thanks to standard multimode, height-adjusting AIRMATIC suspension and fully variable 4MATIC all-wheel drive. You can also opt for available new E-ACTIVE BODY CONTROL, which can camera-scan the road ahead and even rock you out of a sand trap. It operates with a voltage of 48 V.
Standard safety features abound with the GLS and include a surround-view camera system for parking, blind spot monitoring, automatic emergency braking, forward collision warning, driver condition monitor, crosswind assist, and more. There's also plenty of available features for added safety.
Interior
While some auto critics feel the exterior of the GLS leaves more to be desired, you can't say the same about the interior. It truly is stunning and elegant, with plenty of space for you and your friends to stretch out. It comes standard with seating for seven, but you can opt for captain's chairs in the middle to fit six at no cost. There's three-zone, four-zone, or five-zone climate control (five-zone comes standard on the more powerful GLS 580).
The lengthened wheelbase has made the interior feel even roomier than before as it now offers more legroom and especially in the second row. There's also a new Executive Rear Seating Package available for the second row that treats passengers to exclusive luxuries like headrest pillows and a wireless tablet between the seats to control comfort and entertainment features from the rear. A second tier of the package adds ventilated and massaging 2nd-row seats.
Mercedes likes to say that every passenger gets to enjoy their experience in the GLS, though, as even the third row offers first-rate comfort! The standard independent air suspension system helps with that as it makes for a smooth ride. The seats in the third row are also fully-fledged seats, as Mercedes likes to point out, that are suitable for people up to 6.4 feet tall. Those seats are also available heated for the first time and there are two USB charging ports for those passengers. Accessing that third row is also easy thanks to the standard power second row, available to seat two or three. You can also fold down all the rear seats with just the push of a button, which is helpful when loading cargo.
As for technology, there's lots of it! Both trims features Mercedes' new MBUX infotainment system with dual 12.3" screens as standard. It helps make for a stunning and sleek cockpit. The MBUX system listens to you and it learns you as you go. You can tell the system you want a coffee and it will direct you to the nearest coffee shop. It can even learn your habits and new phrases over time. Plus, you can opt to have the system recognize your hand motions.
There's also a surround-view camera system that comes standard with your GLS. It's particularly helpful when backing up.
The center console, meanwhile, offers a wireless charging pad for your smartphone and there are multiple USB ports for keeping your devices charged.
Other features that help make your GLS' interior even more awesome include an available head-up display, panorama roof, and 64-color ambient lighting.
As for cargo space, there's up to 17.4 cubic feet of it behind the rear seats. Folding both rows results in an impressive improved capacity of 84.7 cubic feet!
Pricing
Being that the GLS is Mercedes-Benz's largest vehicle and it's also highly luxurious, it comes with a higher starting price. The entry-level GLS 450 has a starting price of $75,950. Upgrading to the GLS 580 with the more powerful 483 hp engine will set you back almost $25,000 more. It has a starting price of $98,800.
If you are considering the more expensive GLS 580, you might want to also take a look at the G-Class just to make sure you don't want that iconic and luxurious Mercedes-Benz off-roader instead (though it may not have all the space you need).
As for competitors for the Mercedes-Benz GLS, they include the Range Rover, Infiniti QX80, Lincoln Navigator, BMW X7, and more.
As always, if you're interested in the Mercedes-Benz GLS make sure to do plenty of additional research on the vehicle just to make sure it suits your needs. It's always important to take it for a test drive, if possible. You should also contact your local Mercedes-Benz dealer to see if there are any specials or incentives you can take advantage of.
Verdict
The all-new Mercedes-Benz GLS is truly a stunning SUV. It offers impressive power and handling no matter the trim, a spacious and luxurious interior with lots of advanced technology and plenty of comfort features, and also safety systems that have your back no matter the adventure.
While the MBUX system can take a while to learn and the exterior could have an even more stunning design considering the price, the GLS is an excellent large luxury SUV.
Did you catch our YouTube review of the SUV and what did you think of it? The 2020 Mercedes-Benz GLS received an SUVs.com deal score of 81/100.