Overview
The 2020 Kia Sorento is a midsize SUV that offers space for seven and comes with lots of amenities, but still has a budget-friendly base price. That makes it a solid option for families!
The Sorento's base engine produces 185 horsepower, but there's also a more powerful V6 engine you could opt for. The optional all-wheel drive system, meanwhile, helps make sure you're ready to tackle whatever's ahead.
We love how user-friendly the 2020 Sorento's infotainment system is, and how it features Apple CarPlay and Android Auto smartphone integration as standard.
Whether you're running errands in town or getting away from it all, Kia says its 2020 Sorento is versatile enough to fit any lifestyle.
The five trims to choose from with the 2020 Sorento are: L, LX, S, EX, and SX. SUVs.com had the chance to test drive the S trim, which features the optional V6 engine as standard.
Continue reading below for more information about the 2020 Kia Sorento SUV, with room for seven!
Photos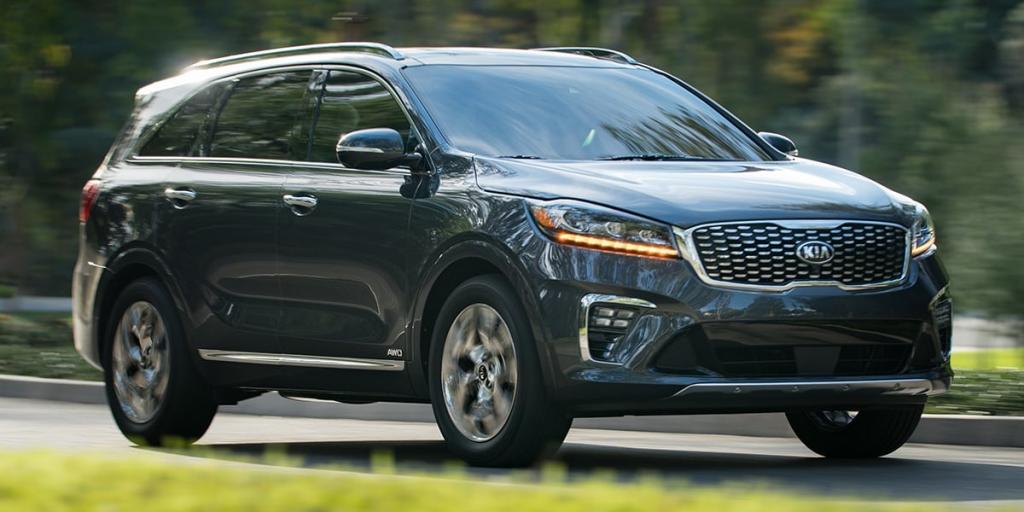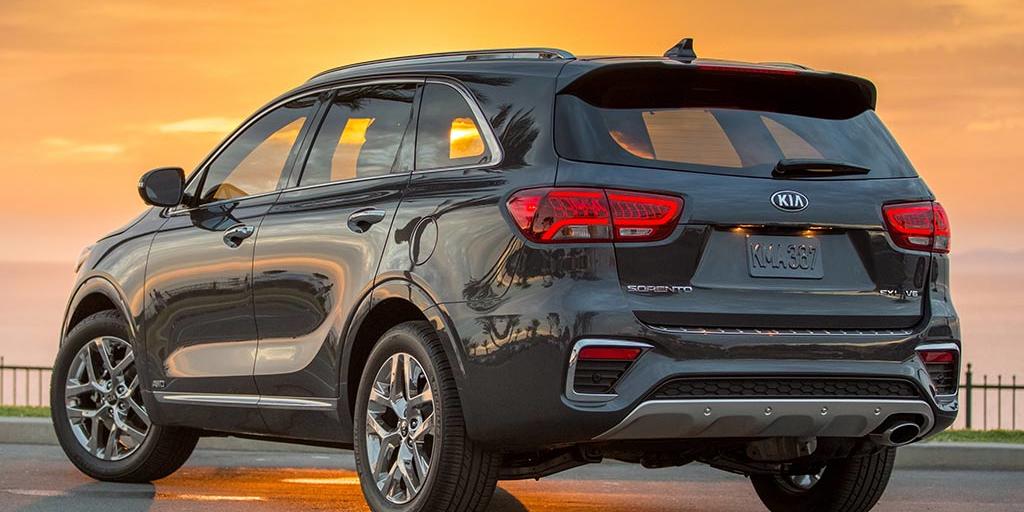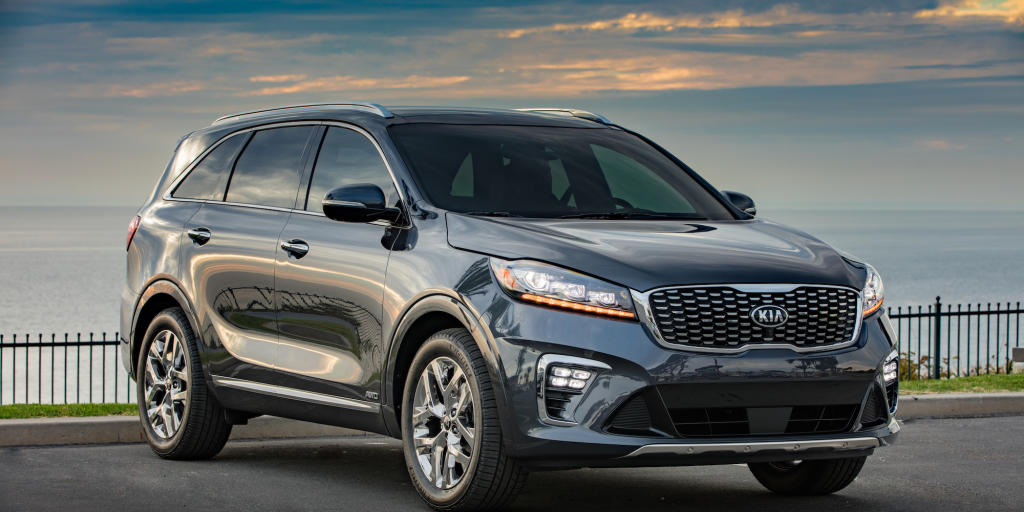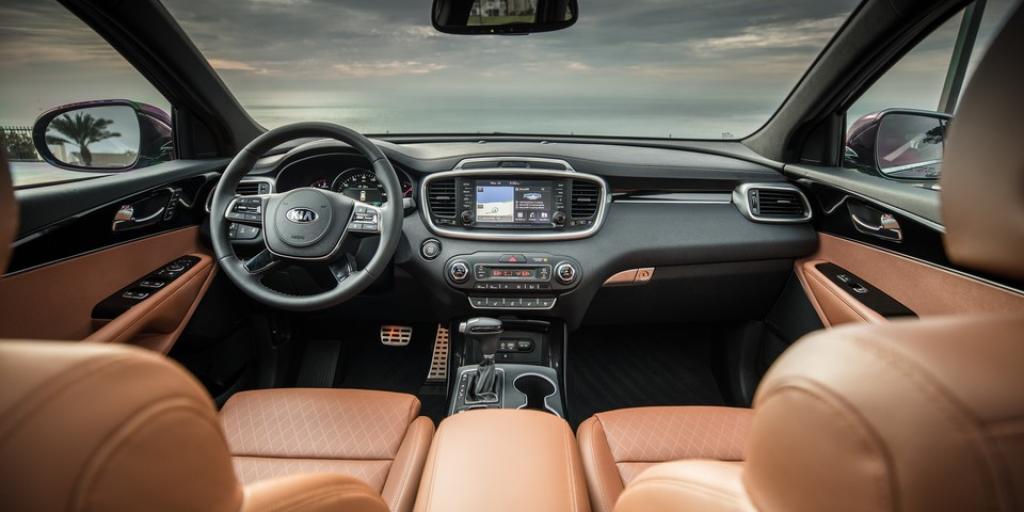 Exterior
Kia says the ultra-modern exterior design of its 2020 Sorento helps make the SUV look smooth, even on the roughest roads.
The front and rear bumpers, headlamps, fog lamps, and taillights have all been updated for 2020 to appear more sculpted and upscale. While not nearly as stylish or flashy as the Kia Telluride, the exterior of the 2020 Sorento is still pleasant and impresses.
SUVs.com test drove the S trim, which features the 2019 LX Convenience Package. That includes attractive 19" black alloy wheels, as well as black roof rails. The package also includes standard push button start and Forward Collision Avoidance assist.
Upgrading to the EX trim will get you a panoramic sunroof and additional safety features. It also gets you the Smart Power Liftgate.
The SX, meanwhile, tops the lineup with its standard Surround View Monitor. It also features 19" sport alloy wheels.
Interior
For its budget-friendly starting price of $26,690, there's a lot you get with the 2020 Sorento's interior. To start, there's standard Apple CarPlay and Android Auto smartphone integration. There's also a 7" touchscreen and a standard rearview camera. The Sorento's infotainment system is quite user-friendly, by the way!
While cloth seating does come standard with the Sorento's lower trims, that cloth material is designed with special repel-and-release technology to help protect the seats from spills and stains! That's particularly helpful if you have kids, as we all know they spill their food … a lot.
The S trim that SUVs.com test drove featured heated front seats and third row air conditioning with controls.
Upgrading to the EX trim will get you leather seating, as well as a stunning panoramic sunroof! There's also a Smart Power Liftgate that comes standard on the EX.
The range-topping SX trim, with a starting price of $39,990, gets a larger 8" touchscreen with added navigation. There's also a Surround View Monitor. Other perks to opting for the most expensive version of the 2020 Sorento include a wireless phone charger and a 14-way power-adjustable driver's seat with memory.
As for the amount of space you'll find inside the Sorento, the first two rows are plenty comfortable and perfectly fit for adults. But, the third row is honestly best fit for kids. If you have very young children, it could be a solid option for you. It could also still be a good fit if you'll only be using that third row for brief trips, like for a drive to a restaurant with a large group of friends. Or, it might work great for you if you just want some extra space for your furry friend in the back! It's also easy to access that third row thanks to the one-touch slide-and-fold seat in the second row.
If you find that the third row is too small for you, you could always take a look at the Kia Telluride instead.
As for cargo space, there's over 73 cubic feet of it behind the front seat. That's enough space to fit a surfboard and several bags of luggage. What's nice is that the 40/20/40 split-folding second-row seats and 50/50 split third row seats are easily configurable to your passenger and cargo needs. Don't forget, there's also the available hands-free Smart Power Liftgate that opens automatically when it senses your smart key — no hands or feet required.
Safety
As of the start of 2020, the Kia Sorento has two engine options. The L and LX trims feature a 2.4-liter four-cylinder engine that churns out 185 hp and 178 lb.-ft. of torque. It's paired to a six-speed automatic.
The base L trim is only available in front-wheel drive. Fuel economy figures aren't particularly impressive: 22 city, 29 highway, 25 combined.
The S, EX, and SX trims, meanwhile, feature a more powerful 3.3-liter V6 engine that's paired to an eight-speed automatic. It produces 290 hp and 252 lb.-ft. of torque. Fuel economy figures drop to 19 city, 24 highway, 21 combined (with all-wheel drive).
While the Sorento offers a nice, controlled ride, even the V6 engine doesn't seem to pack all that much punch. The vehicle is less exciting to drive than the Telluride, though even the Telluride's acceleration levels have left auto critics desiring more. Remember, though, the Sorento is considered a family SUV and so the two engine options really are more than adequate for those daily driving needs!
The Dynamax All-Wheel-Drive system is available on all models except for the base to help put your mind at ease. It continuously monitors road and driving conditions to help anticipate your needs. There's also Smart Shift & Drive, which automatically selects the optimum drive mode for the conditions it senses.
When equipped with the available V6 engine, the 2020 Sorento is capable of towing up to 5,000 pounds.
As for safety, you can enjoy added peace of mind knowing the Sorento has a 53% advanced high-strength steel structure for exceptional body rigidity. There's also an advanced airbag system that monitors the severity of certain impacts to help manage airbag inflation. It's easy to install child seats in the Sorento, too.
The S trim that SUVs.com test drove features additional safety systems like blind spot collision warning, rear cross-traffic collision warning, automatic emergency braking, and parking distance warning - reverse.
The most advanced safety systems can be found on the range-topping SX trim. It features a Surround View Monitor. It gives you a virtual bird's eye view of your vehicle in relation to what's around you. The SX trim also features lane departure warning with lane keep assist.
Pricing
The 2020 Kia Sorento is a great option for families that are looking to get a lot of bang out of their buck with their SUV. The base L trim with the 2.4-liter four-cylinder in front-wheel drive has a starting price of $26,690. The S trim that SUVs.com test drove with the optional 3.3-liter V6 and added all-wheel drive starts at $35,185.
If you'd like to take a look at the competition, you might want to consider the Chevrolet Traverse or Volkswagen Atlas. You could also take a look at the Kia Telluride or its corporate cousin, the Hyundai Palisade.
Make sure to always test drive any vehicle you're interested in purchasing, and check with your local dealer on pricing.
Verdict
Even the Sorento V6 has an affordable starting price for a three-row SUV, which means it's a solid option for families!
While you get great value with the 2020 Sorento, there are some sticking points about the SUV. Adults will feel cramped in the third row, for example. Some auto critics also complain that they want even more power out of the Sorento's second, more powerful engine offering. Still, it's plenty capable for the day-to-day driving of your average family. One other thing to consider is that fuel economy figures aren't wonderful with either vehicle.
We gave the 2020 Sorento S that we test drove an SUVs.com deal score of 74/100. Please be sure to watch our YouTube video!