Overview
The Jaguar I-PACE midsize performance SUV is the first all-electric vehicle from the Jaguar brand. It's also the first model to ever win three World Car titles in the 15-year history of the World Car Awards. It's a fashionable EV with sleek bodywork and a technology-laden cabin.
The Jaguar I-PACE is more affordable than both the Audi e-tron and the Tesla Model X. The I-PACE can reach 60 miles per hour slightly quicker than the base Model X can. It takes the I-PACE 4.5 seconds to get there, while it takes the base Model X 4.6 seconds. The I-PACE's EPA-estimated range is longer than the e-tron's at around 234 miles, but falls short of the 255 miles of range offered with the base Model X.
The 2019 Jaguar I-Pace comes in four trims: S, SE, HSE, and First Edition. All feature a 90 kWh battery and two electric motors which produce 392 horsepower and 512 lb.-ft. of instant torque. The I-PACE is also a capable SUV. All-wheel drive comes standard and there's an adaptive air suspension system.
Photos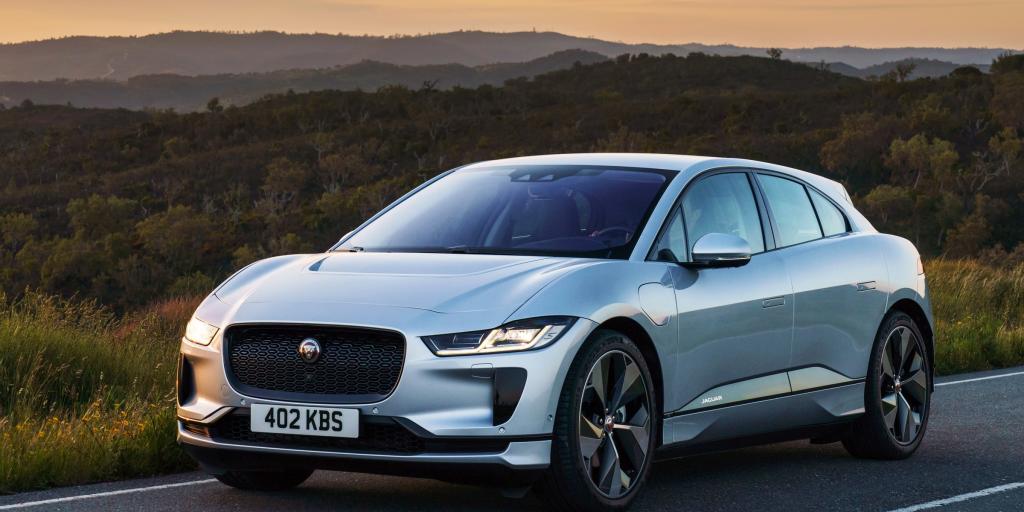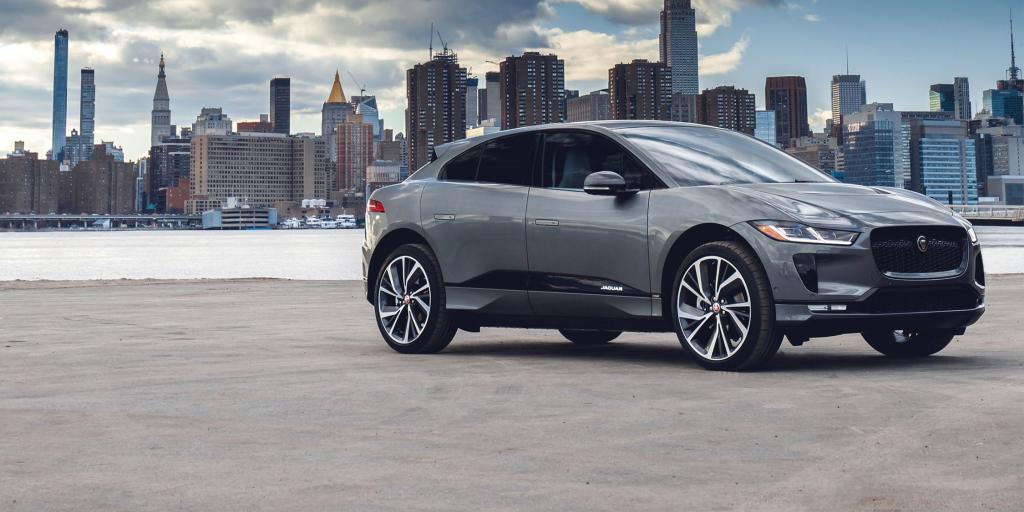 Performance
The Jaguar I-PACE is the first battery electric vehicle offered by the Jaguar brand. It is propelled by two permanent magnet synchronous electric motors integrated with the front and rear axels. The motors provide 394 horsepower and 512 lb.-ft. of instant torque. With built-in all-wheel drive traction, the Jaguar I-PACE accelerates from 0 to 60 mph in just 4.5 seconds. For comparison, the base Tesla Model X gets up to 60 mph in 4.6 seconds. The Jaguar I-PACE is capable of reaching a top speed of 124 mph.
The 90 kWh battery provides an EPA-rated driving range of 234 miles, which is more than what's offered with the Audi e-tron. To maximize range, the I-PACE uses an Enhanced Brake Regeneration system that recuperates almost all braking energy. The battery can be charged at a high-powered DC public charger. At one of those chargers, 80 percent of the battery can be replenished in as little as 40 minutes. A full replenishment at home takes about 10-12 hours.
The battery's position within the wheelbase provides the vehicle with a low center of gravity, benefitting the vehicle's dynamics. The sophisticated all-wheel drive system makes this a capable vehicle. Off-road, the I-PACE offers a surprising 20" of wading depth. There's also height-adjustable air suspension. It can raise 2" for off-roading. At a stop, it can drop by 1.6" from the standard setting for easy passenger entry and exit.
Interior
The interior of the Jaguar I-PACE is striking and sophisticated. There's space for five. Because the I-PACE is an all-electric vehicle, there's no need to make space for a combustion engine or transmission tunnel. That means a more spacious interior as the front seats are positioned further forward, towards the space where the engine would typically be. It improves the driving position and also provides a greater distance between the front and rear seats. Jaguar refers to the amount of legroom offered as luxurious. There's also plenty of storage space offered. Expertly designed sports seats are available in a range of materials and colors. There's optional heating and cooling for greater comfort. You can also upgrade to optional Performance seats, which have been engineered with sports cars in mind. They provide increased lateral support during dynamic driving.
Sweeping lines contribute to the interior's clean and uncluttered feel. The floating center console is one of the first things you notice when you step inside. The cantilevered design is incredibly unique and offers a hidden space to store things. The I-PACE's panoramic sunroof is also beautiful and allows lots of light to enter the cabin.
"Throughout the interior, beautiful, handcrafted touches reaffirm the cabin's luxury atmosphere," writes Jaguar on its website. "Rich, solid finishers surround you, and fine contrast twin-needle stitching adds tailored sophistication. At night, crisp white illumination accentuates the exquisite details."
In the I-PACE's technology department, you'll find the InControl Touch Pro Duo infotainment system (the first Jaguar vehicle to incorporate the system). It consists of a 10" touchscreen integrated into the dashboard and a lower 5.5" touchscreen with multi-function dynamic dials. There's also a 12.3" high-definition interactive driver display. It puts all your important driving information, including full-screen navigation with 3D mapping, right where you can easily see it behind the steering wheel. There's an optional full-color head-up display, as well. With higher trims, we should note you get the Driver Assist Package which includes a 360-degree surround camera. A backup camera does come standard, though. If you'd like, you can set up a Wi-Fi hotspot with your I-PACE and can also stay updated on your vehicle through using an app on your Apple or Android smartphone.
As for cargo space, there's 25.3 cubic feet behind the rear seats. There's also a front storage compartment beneath the hood that provides 0.95 cubic feet of storage. The front center console, meanwhile, has compartments for your phones and keys and also offers 0.43 cubic feet of space. There's convenient storage space under the full width of the rear seats, as well.
Exterior
Jaguar calls the I-PACE SUV's exterior design revolutionary. The flowing waistline and coupe-inspired silhouette give it a sporty, sleek look. SUV enthusiasts who prefer a more boxy looking SUV might take issue with it looking too much like a car, though.
Jaguar says every surface was designed for aerodynamic efficiency, from the flush-fitting door handles to the rear diffuser. The bold grille curves inward, channeling air through the hood scoop and over the curved roofline and muscular rear haunches. The aerodynamic nature of the I-PACE results in a low-drag coefficient of 0.29 Cd, which helps with the range.
The slim futuristic LED headlights feature Jaguar's double 'J' blade graphic. Premium LED headlights are also available. Thanks to the panoramic sunroof, the I-PACE's roof has a smooth look. The base S trim features 18-inch wheels, but 20" and 22" wheels are also available.
"Designing Jaguar cars is probably the best job in the world, and I can honestly say that no other project I've worked on has been as rewarding as I-PACE," said Ian Callum, director of design for Jaguar. "Electric vehicles offer designers unprecedented freedom to rethink the proportions, the profile and the packaging, and it's an opportunity that my team has exploited in full."
Safety
As for safety, the I-PACE uses a combination of aluminum and steel to form a rigid cage around the battery. There's also a comprehensive system of six airbags and three LATCH points for baby/child seats.
Since the I-PACE is so quiet, there's an external sound system that helps make pedestrians aware of the SUV's presence. It emits an external acoustic signal at speeds under 12 mph.
There's also innovative driver assistance technologies available as standard, optional, or as part of an optional package. Standard features include a backup camera, emergency braking, cruise control and speed limiter, adaptive speed limiter and traffic sign recognition, driver condition monitor, and lane keep assist. The base I-PACE S also gets the Park Package as standard. That includes park assist, 360-degree parking aid, clear exit monitor, and rear traffic monitor.
The Park Package and Drive Package, meanwhile, come standard on the SE trim. You get the most driver assist features, though, when you opt for the HSE or First Edition trims. Those trims receive the Park Package and Driver Assist Package as standard. A 360-degree surround camera system is one of the features of the Driver Assist Package.
Verdict
With a starting price of $69,500, the Jaguar I-PACE is a more affordable all-electric SUV option than the Tesla Model X and Audi e-tron. It's also surprisingly capable, with all-wheel drive as standard, a 20" wading depth, and height-adjustable air suspension. The all-electric drivetrain offers a range of 234 miles, which is more than what's offered with the e-tron. The I-PACE also offers solid acceleration and is fun to drive!
We love the fun look of the I-PACE, as well as the spacious interior, smart storage areas, and tech-laden cabin. The floating center console is cool, too! There's plenty to like about the I-PACE. As always, be sure to test drive any vehicle you're considering purchasing. Also make sure to check with your local Jaguar dealer on pricing!