Overview
The Jaguar E-PACE SUV is now in its third year of production. It was introduced after the F-PACE, which has been a popular seller for Jaguar. Jaguar also now offers the fully-electric I-PACE as part of its SUV lineup.
The E-PACE is Jaguar's smallest SUV. The five-seat compact performance SUV offers some of the same magic as the small F-PACE, but it's less refined and has a less diverse powertrain lineup. Its backseat is also more cramped. But, if you don't have tons of people to haul with you, you might want to consider the savings that you get by opting for Jaguar's smallest SUV option! Plus, the E-PACE still packs plenty of style and power into its compact size!
Improvements for the 2020 E-PACE include more technology as standard including Apple CarPlay and Android Auto. The entry-level model also now features expanded equipment like 10-way power adjustable leather seats and LED headlamps with signature daytime running lamps. There's also a new E-PACE Checkered Flag Limited Edition model.
The 2020 E-PACE offers two primary trim levels based on the engine under the hood, the P250 and R-Dynamic P300. The P250 is offered as an entry-level model, SE, or as the special Checkered Flag edition. The R-Dynamic P300 comes in S, SE, and HSE trims.
Continue reading below to learn even more about the 2020 Jaguar E-PACE!
Photos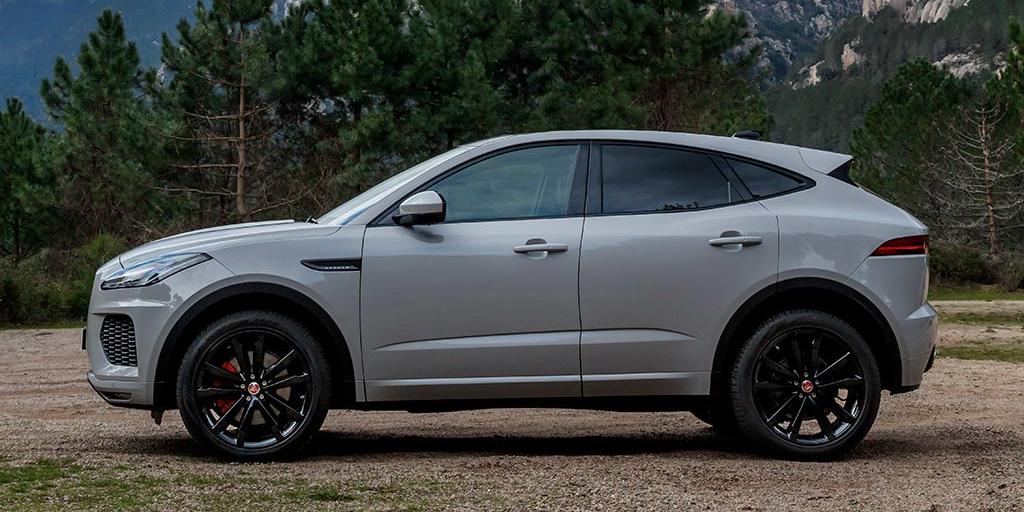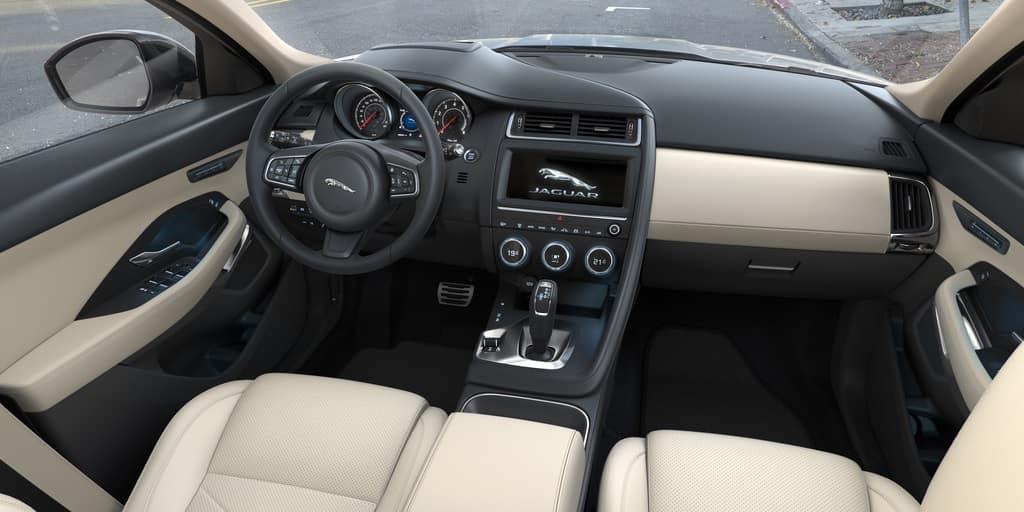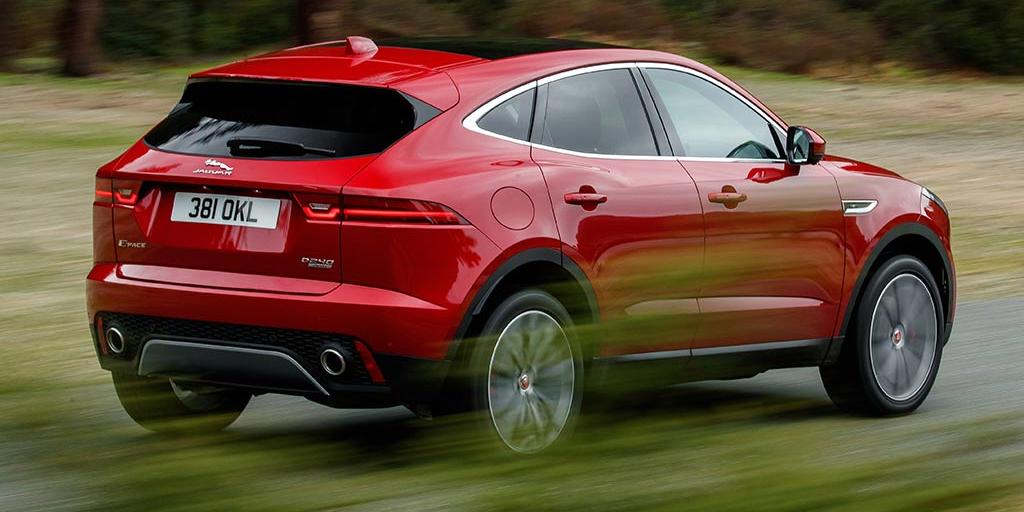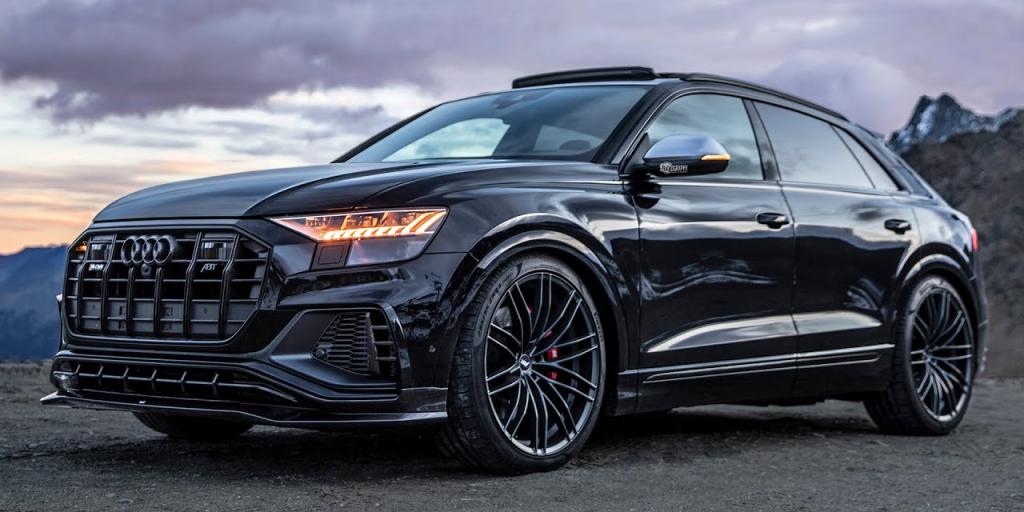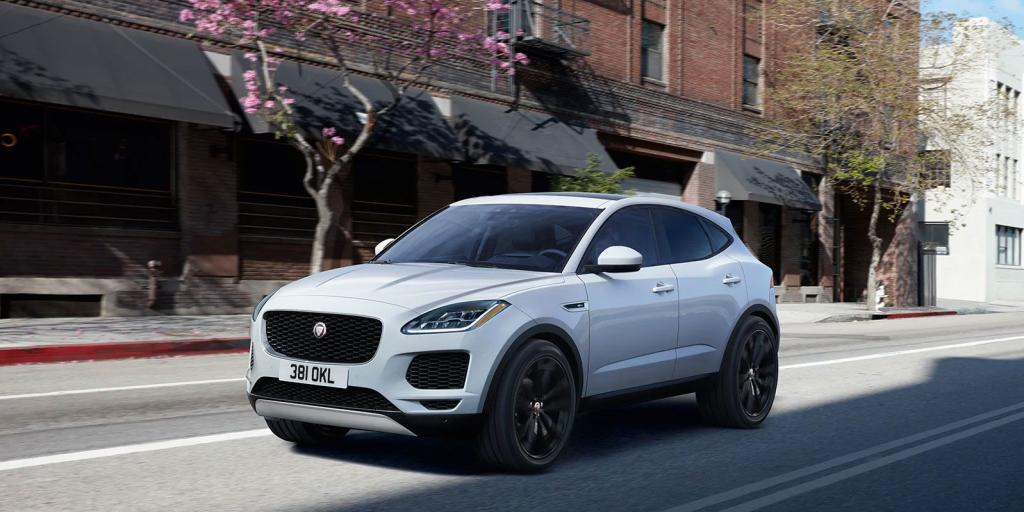 Exterior
While compact in size, the Jaguar E-PACE still offers impressive road presence. That's thanks to its great sporty style. The bold honeycomb mesh grille stands out, as do the the signature Jaguar J-blade LED headlights. There's also even more advanced LED headlights you can opt for. There's a solid range of stylish wheel options available. Depending on the powertrain you get, there are wheels up to 21" in size.
The R-Dynamic models offer even more style. The range-topping HSE is highly attractive. Then, there's the new Checkered Flag Limited Edition model which looks great as well. While it has a different engine than the R-Dynamic models, it features the same R-Dynamic body styling but with even more unique touches. For example, it features 19" Satin Dark Grey wheels and the Black Design Pack. It also has special front and rear bumpers and there's unique Checkered Flag badging on the side vents to help complete the look.
No matter which E-PACE you opt for, it's going to be an attractive looking compact SUV.
Interior
The interior of the E-PACE does feel nice! To start, there are standard 10-way power adjustable leather seats. The redesigned deep center console bin with removable cupholders makes way for more small item storage. Jaguar says it's suitable for smaller tablets and four water bottles stored flat. There's also a a spacious glovebox and deep front door bins for storing your items.
The 2020 E-PACE packs plenty of technology as standard. The compact SUV comes with the InControl infotainment system with the 10" Touch Pro screen. Apple CarPlay and Android Auto now come standard on every E-PACE. There's also a backup camera and standard front and rear parking sensors to help you park with ease. Plus, dual-zone climate control and a six-speaker audio system.
Some auto critics complain the interior of the E-PACE should come with even more luxe features as standard because it doesn't have all that low of a starting price for it being the smallest SUV in the Jaguar lineup. But, you can upgrade to have all the bells and whistles you might want or have come to expect in a luxury vehicle like configurable ambient lighting, a 12.3" digital instrument cluster, a head-up display, and an improved Meridian Sound System.
To further enhance Touch Pro, there's the optional Connect Pro Pack consisting of navigation, a 4G WiFi hotspot, and more. There's also plenty of variety offered as for the materials and finishing touches you can get inside. Plus, an optional fixed glass panoramic roof allows light to beautifully cascade into the E-PACE's compact cabin.
As for the amount of space offered, there's room for five but the back seat is definitely going to feel a bit cramped to taller people. The E-PACE's smaller footprint does make it more agile and nimble, though. It's also highly powerful, as we discuss below.
There's smart storage located throughout the E-PACE's interior and a solid amount of cargo space in the back. There's 24.2 cubic feet of space behind the rear seats and when that seat is folded, there's up to 52.7 cubic feet of space. There's also an optional powered gesture tailgate for making loading cargo easier.
Performance
There are two different powertrains offered with the 2020 Jaguar E-PACE. Both are powerful. The P250 is a standard 2.0-liter turbocharged 4-cylinder engine that produces 246 horsepower and 269 lb.-ft. of torque. The R-Dynamic models feature the more powerful P300 engine. It's still a 2.0-liter turbocharged 4-cylinder, but it churns out 50 more ponies. It offers 296 horsepower and 295 lb.-ft. of torque. Both engines are paired to a nine-speed automatic transmission and all-wheel drive is standard. JaguarDrive Control allows you to tailor your driving experience. Plus, there are optional systems for improved driving dynamics.
There's standard automated emergency braking, front and rear parking sensors, lane keep assist, driver condition monitor, and more. Advanced safety options include high-speed emergency braking, blind-spot assist, a 360-degree camera, and self-parking assist.
A sticking point for the E-PACE is that fuel economy figures are not that great for a vehicle of its size.
Pricing
The 2020 E-PACE SUV is priced from $39,950 before destination. Its slightly larger sibling, the F-PACE, starts at $45,200. So, they aren't all that different in price.
If you opt for the range-topping R-Dynamic HSE, you'll pay at least $52,950. The Checkered Flag model with the 246 hp engine starts at $46,400. So, the price of the E-PACE does range quite a bit!
As for competitors, you might want to consider BMW X1, Mercedes-Benz GLA, Audi Q3, or Volvo XC40.
If you're interested in the E-PACE, be sure to do plenty of additional research on the vehicle to decide if it fits your specific needs and then contact your local Jaguar dealer. It helps to see if they're offering any discounts or specials. It's always important to test drive the vehicle before you buy, if possible. If you're going to be trading your vehicle in, it also helps to have a quote or two handy as for its trade-in value.
Verdict
The Jaguar E-PACE SUV packs a lot of style and power into a compact footprint. It's fun to drive, looks and feels stylish, and offers a decent amount of cargo space.
Some wish it did have a more affordable starting price, especially because the Jaguar F-PACE (with a more diverse powertrain lineup) doesn't cost all that much more to get. Plus, you do have to upgrade to get some of the more luxe features with your E-PACE like the 12.3" digital instrument cluster, head-up display, and panoramic roof. Those options do come standard on entry-level models of some competitor vehicles.
The rear seat of the E-PACE also feels a bit cramped and fuel economy figures are not that great.
With those things in mind, SUVs.com gave the 2020 E-PACE a rating of 75/100. What do you think about the compact E-PACE SUV and did you watch our YouTube video review of the vehicle? If so, please do leave a comment on that video! Thanks for reading and watching!