Overview
The first fully electric model from the Audi brand is the e-tron SUV. It has an EPA-estimated range of 204 miles. The midsize luxury SUV offers room for five passengers and has 57 cubic feet of cargo space with the rear seats folded down. The interior is luxurious and features a panoramic sunroof. From the outside, it looks like a conventional Audi except for a few special touches. Audi designed it that way on purpose, to make the e-tron as approachable as possible. It's an electric vehicle that doesn't look to blur boundaries, but just persuade normal SUV customers to make the jump to fully electric. The quietness or "silence" of the vehicle is subtly highlighted throughout the design.
Photos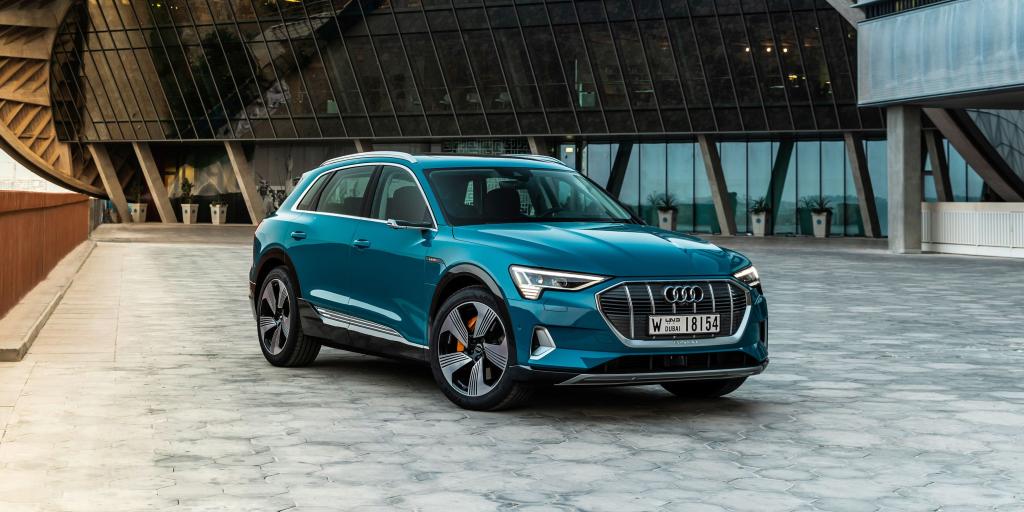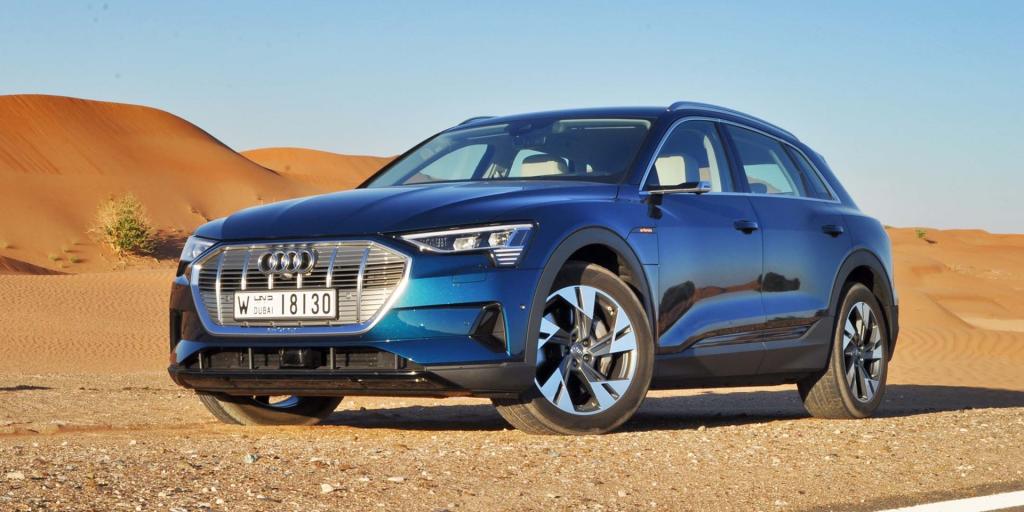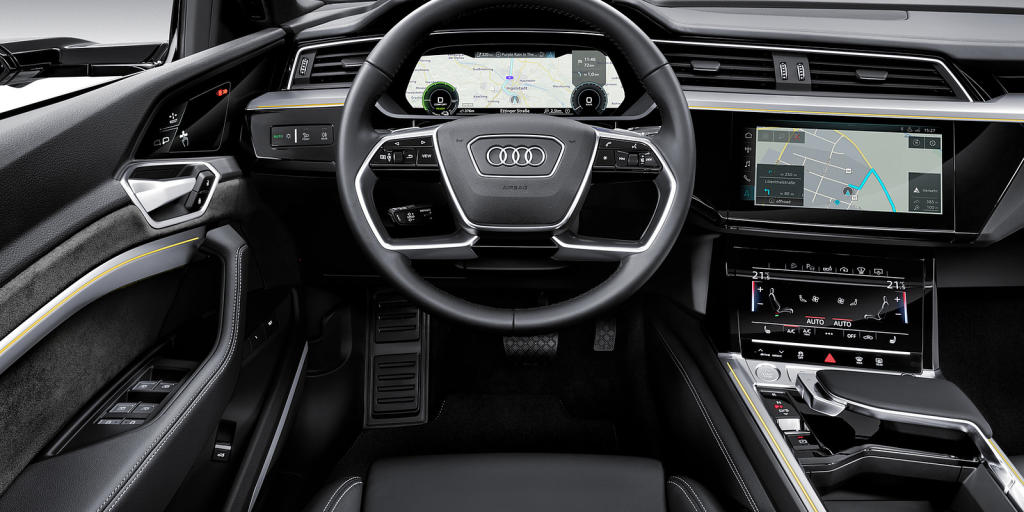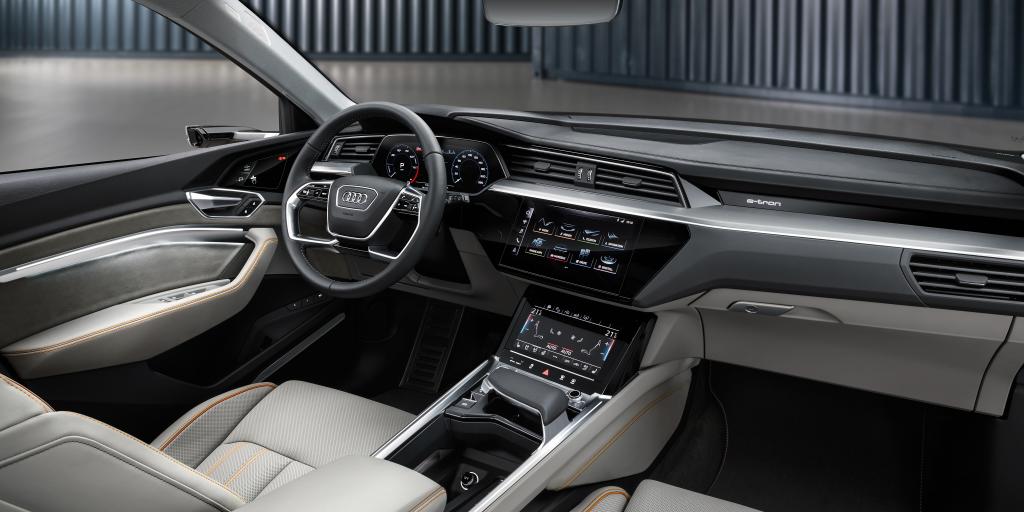 Pricing
The Audi e-tron Premium Plus trim has a starting price of $74,800. The Prestige, which comes with additional features like the air quality package and massage function for the front seats, has a higher starting price of $81,800.
The electric SUV is available for demonstrations at Audi dealerships.
Performance
There's an electric motor on each axle, which make for a combined output of 355 horsepower. With the Boost Mode engaged, though, the full power output of the vehicle is unlocked. It achieves an increased 402 horsepower, reaching 60 miles per hour in 5.5 seconds. The e-tron battery is engineered to utilize 88 percent, or 83.6 kWh, of the 95 kWh total battery capacity. The engineering approach helps ensure battery longevity, repeatable performance, and peak charging power for longer amounts of time during the charge cycle.
The battery is positioned low in the vehicle and is protected by a honeycomb structure. A special cooling system separates the battery modules from cooling fluid to maintain optimal efficiency and enhance performance for the long-term. The SUV can charge at a class-leading 150 kW at DC high-speed public chargers. Audi says that's the fastest charging speed of any SUV. Charging at that speed for 10 minutes will get you an estimated range of 54 miles. After 30 minutes, you get an estimated range of 163 miles.
Knowing that more than 80 percent of charging takes place at home, though, Audi teamed up with Amazon Home Services to provide in-home installation of a level 2 charging system. That system is comprised of a 240 volt/50 amp outlet, enabling the e-tron to be completely charged at home in about nine hours. That means you can wake up each day with a freshly charged vehicle!
With an EPA-certified range of 204 miles, Audi says its e-tron is more than fit for everyday use. The brand points to 98 percent of all single-trip journeys in the U.S. being under 50 miles, meaning people don't need their vehicle to have an extraordinarily long range. Plus, e-tron drivers are supported by Electrify America's nationwide charging network. And by the end of 2019, the Electrify America network is expected to deploy nearly 2,000 chargers across 500 fast-charging sites. Those sites are located throughout 42 states and are within 17 metropolitan areas. We should note that Audi e-tron owners will receive 1,000 kWh of free charging to use at fast-charging stations.
The Audi e-tron's new electric quattro all-wheel drive system, meanwhile, provides great control and confidence in various driving conditions. Five suspension modes and an all-wheel air suspension system further elevate the driving experience.
As for towing, the e-tron has a max tow rating of up to 4,000 pounds when properly equipped. Audi says that proves the electric SUV actually performs like an SUV.
Some other features to point out include a top view camera with virtual 3D and Audi pre sense city and side assist. Audi pre sense city is perfect for drivers who will be navigating busy city streets. It can detect cornering and stationary vehicles and pedestrians at speeds of up to 52 mph. It will alert the driver of imminent collisions and it can also initiate emergency braking.
A number of e-tron support services are also offered to make owning a fully electric vehicle easy, including robust roadside assistance and the all-new myAudi app for vehicle and charging station information.
Interior
Inside, there's comfortable seating for five passengers and solid space for luggage (57 cubic feet with the rear seats folded down). A panoramic sunroof floods the interior with light, while heated/cooled high-quality leather seats help keep you comfortable. There's remote climate control, an optional air ionizer package, and standard ventilated front seats with optional massage feature. There's also an impressive infotainment system, which includes a 10.1-inch touchscreen. You can easily manage an array of functions through it including navigation, entertainment, and ride dynamics. Audi Virtual Cockpit Plus with its high definition digital instrument display, meanwhile, allows the driver to view critical vehicle information. A head-up display is offered with the more expensive Prestige model. Wireless smartphone integration is included, with Android Auto and Apple CarPlay compatibility. There's also in-car Amazon Alexa integration. You can control your Alexa-enabled devices through it, access Amazon music, and more. As for playing your music, there's a Bang & Olufsen 3D Premium sound system.
Exterior
Again, there's not much about the e-tron that makes it look distinctly electric. There is a special yellow-edged 'e-tron' logo on the side of the vehicle, though. The lighting is also unique! It was inspired by audio equalizer bars and how they move up and down to music or other noises. Designers went with that inspiration because they were trying to come up with a way to visualize silence (since fully electric vehicles like the e-tron are so quiet).
At the front of the vehicle, there's a long horizontal line at the top of each headlight. Then, there's a collection of four smaller lines right below each one. Lighting designers say those are the eyes of the car and make you feel as if you're entering a new world. The taillights are also special as they, too, feature the e-tron signature lines. They're combined with more than 100 LEDs to get a continuous, precise taillight line.
"It's something completely fresh, completely new," said Audi lighting designer Cesar Muntada.
Another futuristic part of the e-tron's exterior to highlight is the optional digital wing mirrors. Rather than traditional exterior mirrors, the camera-based wing mirrors display their digital output onto small screens located left and right within the doors. They're not exactly legal everywhere, though, so that's something to consider as you won't be able to get them here in the United States. Some critics also point out that it's odd to look at the displayed camera image, as it's in an unconventional location. The cameras are easily adjustable, though, and also contribute to improved aerodynamics as they make for less drag. They're certainly unique and we're sure some U.S. customers are disappointed they can't get them here.
The flowing lines of the e-tron's body are easy on the eyes, while the large wheels help give it a powerful stance. Overall, the design is fresh, but familiar. Audi wanted it that way to prevent scaring off potential customers who are used to the way Audi has designed its other vehicles.
Verdict
The e-tron is an important vehicle as it's the first fully electric model from Audi. While electric, the design remains distinctly Audi. It's a luxurious vehicle that's capable of charging quickly on fast public chargers or over a period of nine hours at your home (with the right system). The vehicle is almost eerily silent and the design highlights the quiet nature of the vehicle. While fully electric, this SUV can still tow up to 4,000 pounds when properly equipped. Audi wants to make sure customers know this is still an SUV, and that it doesn't look radically different from its other models. Packed with technology, the e-tron is a great option for someone considering a move to fully electric!