Overview
The 2019 Volkswagen Atlas is stylish, large, and versatile! VW describes the boldly designed midsize SUV as being "mom-and-dad friendly, not mom-and-pop looking." It features three spacious rows, all of which offer plenty of room for both adults and kids. There's 33.7 inches of 3rd-row legroom and 37.6" of 2nd-row legroom! There's also a ton of cargo space. With all the rear seats folded, you get nearly 100 cubic feet of cargo space in the back!
Apart from being spacious and offering plenty of storage (think 17 cupholders), the 2019 Atlas' interior features premium materials and plenty of tech. There's also an available panoramic sunroof that beautifully allows light to cascade into the cabin.
As for performance, there's a standard 2.0L Turbo and an available 3.6L V6. Both are paired to an eight-speed automatic transmission.
There's a lot to love about the 2019 Volkswagen Atlas, which is offered in several different trims. You have S, SE, and SLE trims to consider. Plus, the two different engine options to keep in mind and a decision to make with 4MOTION all-wheel drive. There are also several packages to consider (Technology, R-Line, and Premium). Continue reading below for more about the 2019 Atlas and the variety offered with it!
Photos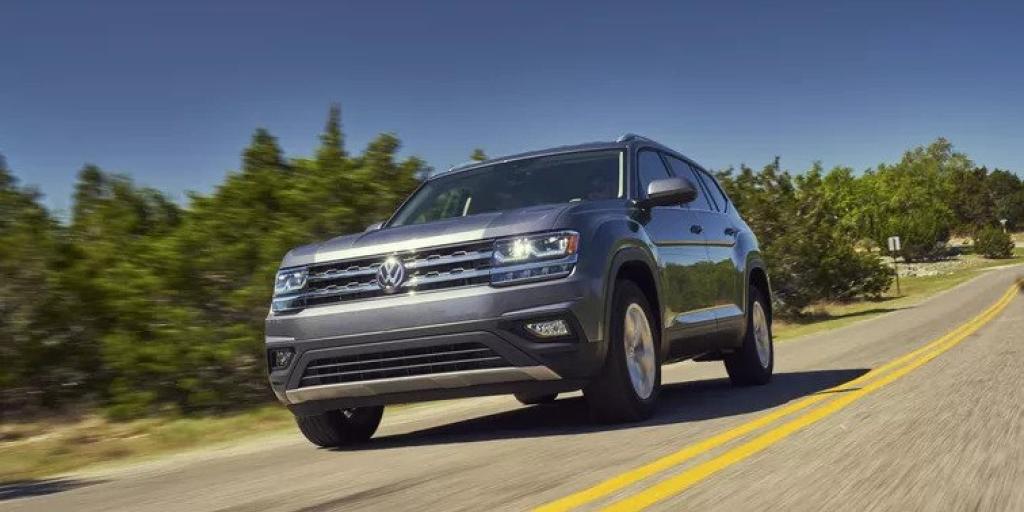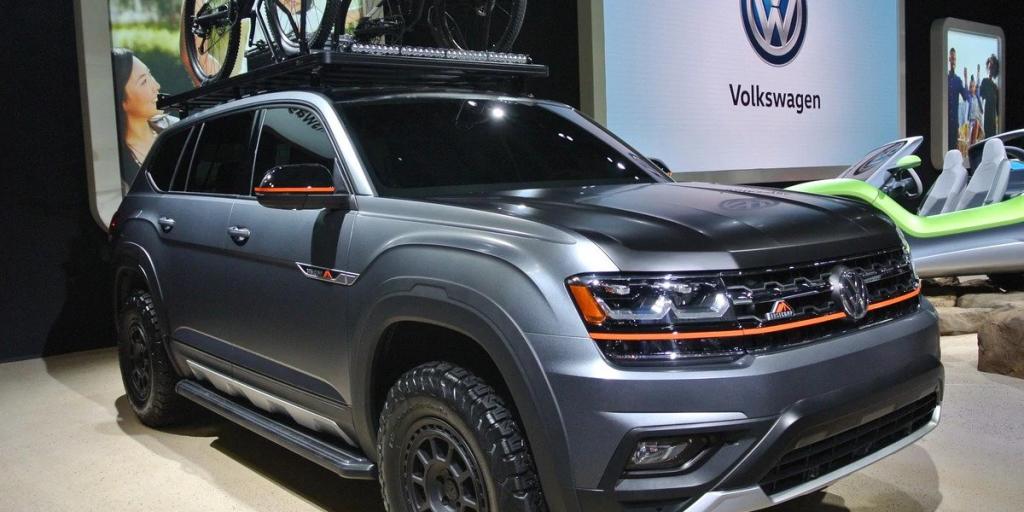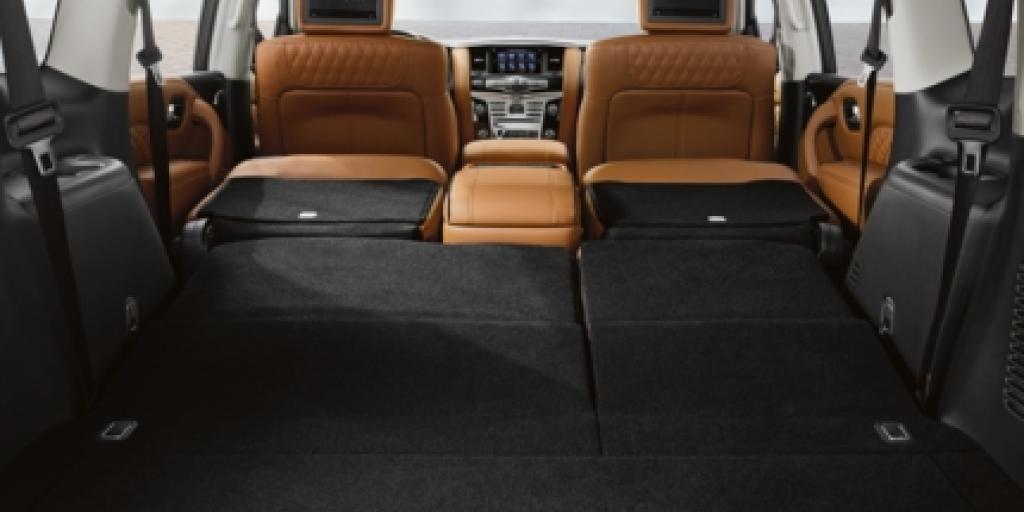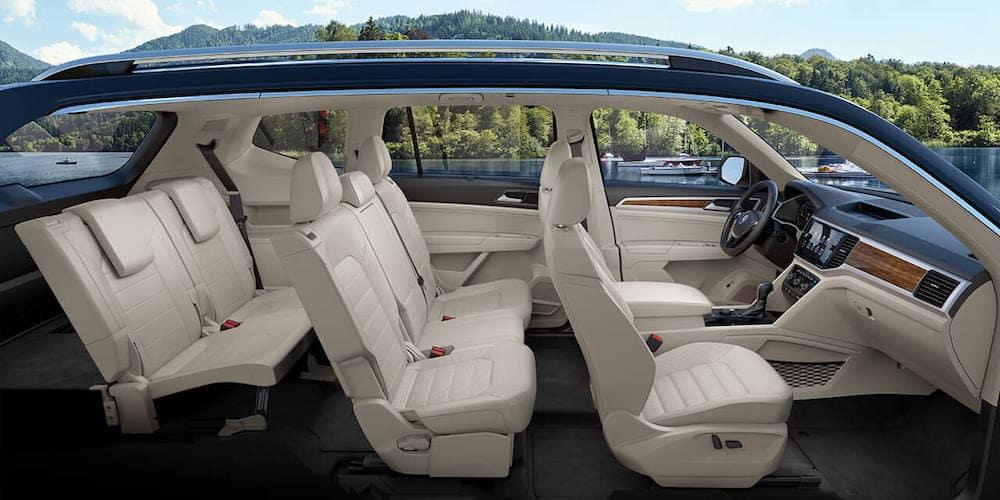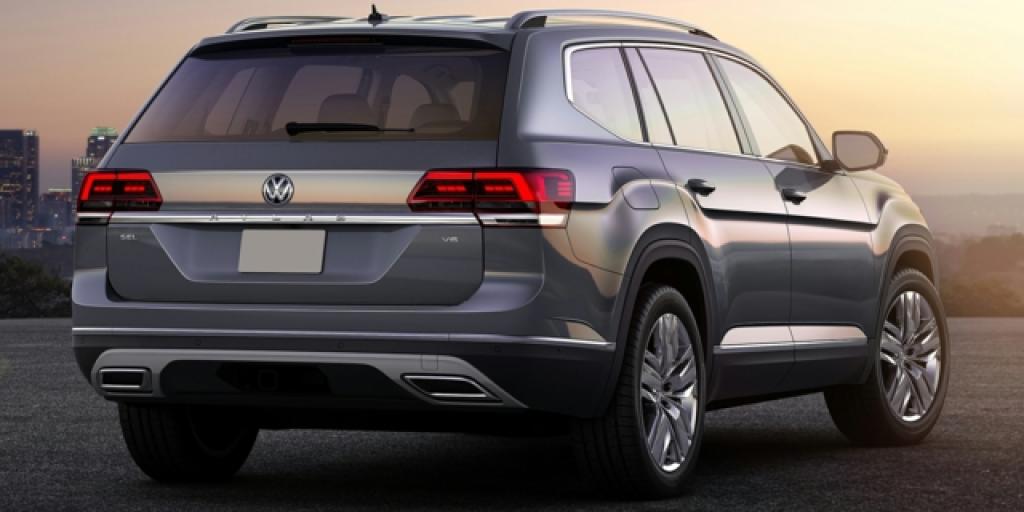 Performance
While some auto experts and critics feel the VW Atlas could use an even more powerful engine option, it does have a V6 available. The Atlas' two engine options include a 2.0L Turbo and a 3.6L V6.
The turbocharged 2.0-liter four-cylinder Atlas produces 235 horsepower and 258 lb.-ft. of torque. The more powerful 3.6-liter V6, meanwhile, churns out 276 horsepower and 266 lb.-ft. of torque. Both engines are paired to an eight-speed automatic. There's also 4MOTION all-wheel drive to consider. It offers four different all-wheel-drive modes (dry, rainy, snowy, and rough) to help fit various driving conditions.
Some critics have been quick to point out that, even with the V6, it takes a while for the Atlas to get up to 60 miles per hour. So, if quick acceleration is the most important factor to you in an SUV, you might want to keep that in mind.
For a family SUV, though, the Atlas performs well and gets the job done! Plus, when properly equipped, the Atlas has a towing capacity of up to 5,000 pounds.
Interior
The interior of the 2019 Volkswagen Atlas is, first and foremost, spacious. Volkswagen likes to say "this size fits all" when describing it. You can configure your Atlas to seat up to seven people or you can choose to have 2nd-row captain's chairs, which will reduce the capacity to six. The captain's chairs are comfortable and offer even more space for each individual passenger. But, if you choose to have the bench seat in the 2nd row, you could fit up to three child seats there. That's thanks to how spacious it is. The best part is even with child seats in that row, it still moves easily so that you can quickly access the third row. It's simple to pull the second row forward and out of the way. As for how much legroom you get in the Atlas, there's 37.6" of 2nd-row legroom and 33.7" of 3rd-row legroom. What does that mean? It means the rear rows are not just meant for kids. They'll comfortably fit adults, too. There's plenty of space to store your small items while riding inside the Atlas, by the way. There are 17 cupholders, for example, perfect for water bottles, cans, sippy cups, and more!
There's a ton of cargo space available, too! If you fold down both of the rear rows, you get up to 96.8 cubic feet of cargo space! With that much space, you might just need to find some more gear to bring on your next adventure with you!
Apart from being spacious, the 2019 Atlas' interior also feels especially premium. There are nice materials used throughout and you can take advantage of several great available ones, like the panoramic sunroof. It nearly stretches the length of the three-row SUV, inviting in tons of natural light.
There's plenty of technology to love in the Atlas, too! For example, there are multiple USB ports to help keep passengers' devices charged. There's also the available Volkswagen Digital Cockpit display, which VW calls a "true breakthrough." It displays information in high resolution, right where the driver can easily see it. There's even fullscreen navigation view with it, which makes following a map much easier. The Atlas also features a standard 6.5" touchscreen, which does increase to 8" in size with an upgrade. That's the largest screen available, though, which is a little disappointing.
You can still use your favorite apps in the Atlas, thanks to App-Connect. One other thing to note about the interior is that there's an impressive sound system available. You could opt for the 480-watt Fender Premium Audio System to help you enjoy your favorite songs.
Exterior
The 2019 Volkswagen Atlas has a bold design. It looks powerful and muscular. The creased lines in front and on the sides add a certain level of toughness. There are some big wheels available, too. 20" alloy wheels are a great option to consider.
You could also tack on the R-Line styling packing if you wanted. It offers those 20" alloy wheels and other bold touches like special badging on the front grille, front and rear bumpers, and side skirts. Inside, you'll find stainless steel pedal caps and badging on the steering wheel and welcome screen.
As for accessing the Atlas' large cargo space, there's a hands-free power liftgate. All you need to do is have the key in your pocket to use the available feature. The hatch will open for you when you wave your foot under the rear bumper.
Safety
The 2019 Atlas was designed with safety in mind. Front and rear crumple zones help absorb crash energy, while a rigid safety cage helps deflect it away from the driver and passengers. The Intelligent Crash Response System is also helpful in the event of an accident. Plus, the Atlas has a system to help bring your car to a stop should you get in a crash, reducing the chance of additional impacts.
There are also plenty of driver assistance features to help give you more confidence on the road. Nine systems, including lane assist, park assist, rear traffic control, and many others, can help the driver in a number of ways. The systems are easy to access through the available digital cockpit system.
A rear view camera system comes standard, but there is a fancier overhead view system available. It uses multiple cameras to help give you a better view.
Competition
Because there is so much variety offered with the Atlas, it does range in price quite a bit. For example, the base S Atlas with the 2.0L Turbo starts from $30,895. The range-topping V6 SEL Premium version with 4MOTION all-wheel drive, though, has a starting price of $48,395. As always, be sure to check with your local VW dealer on pricing and to see if they have any specials.
Also be sure to test drive any SUV you might be interested in purchasing or leasing! As for competitors for the three-row Atlas, you might want to check out the Kia Telluride, Toyota Highlander, Chevrolet Tahoe, or Dodge Durango.
Verdict
The 2019 Volkswagen Atlas is a vehicle that shines for a number of reasons. It's an excellent family hauler as it's spacious and its three rows won't leave adults feeling cramped or wanting more room. There's also an impressive amount of cargo space in the back. If you're a small business owner or love to take camping trips, the Atlas might just be perfect for you! Other highlights of the Atlas include the large available panoramic sunroof, the optional digital cockpit display, and all the cupholders and USB ports.