Photos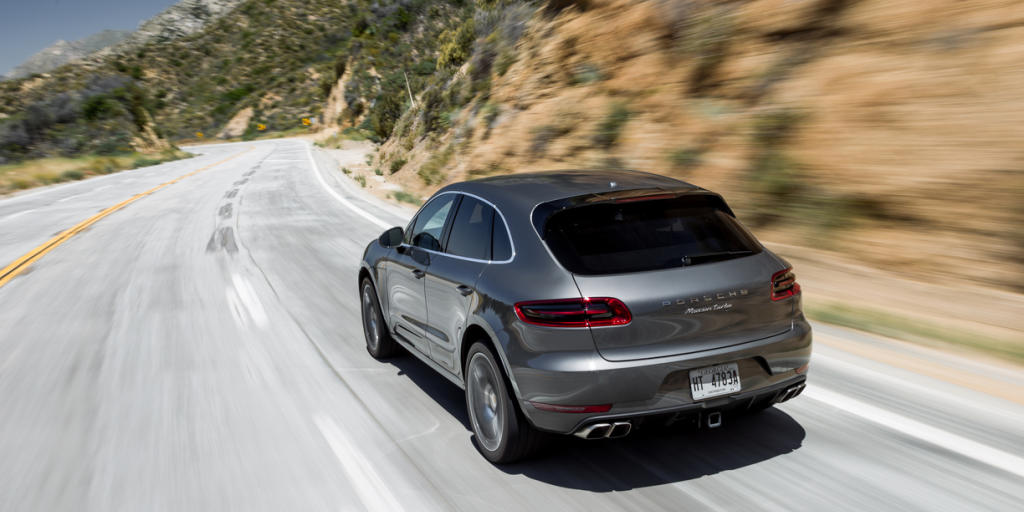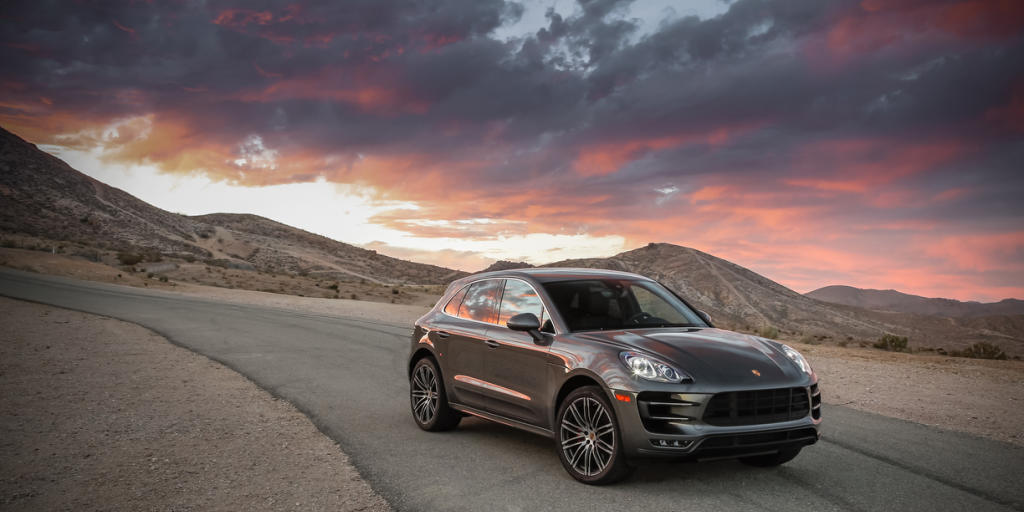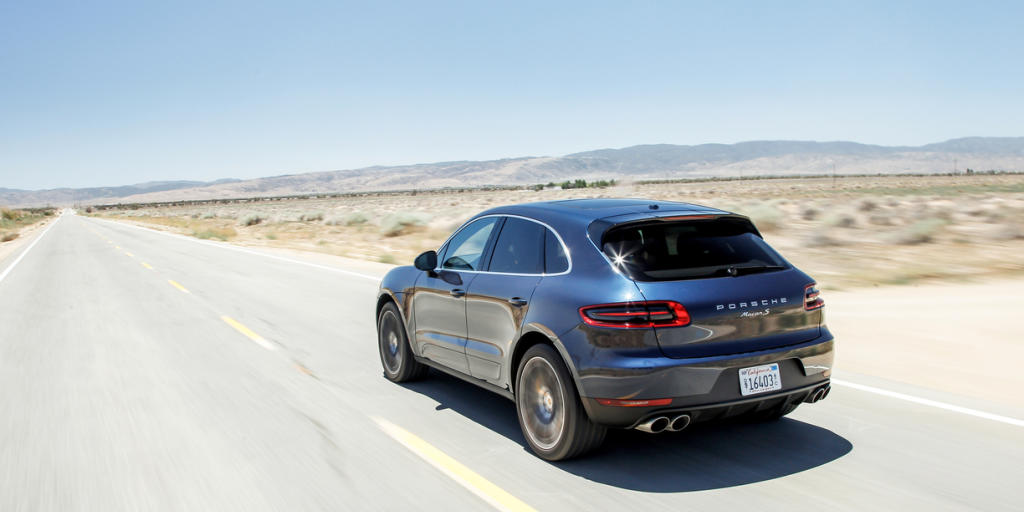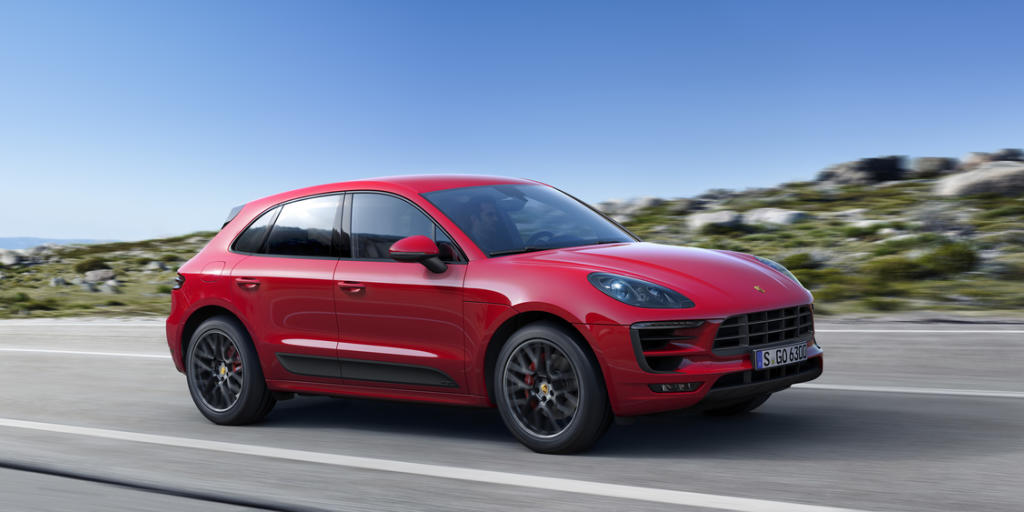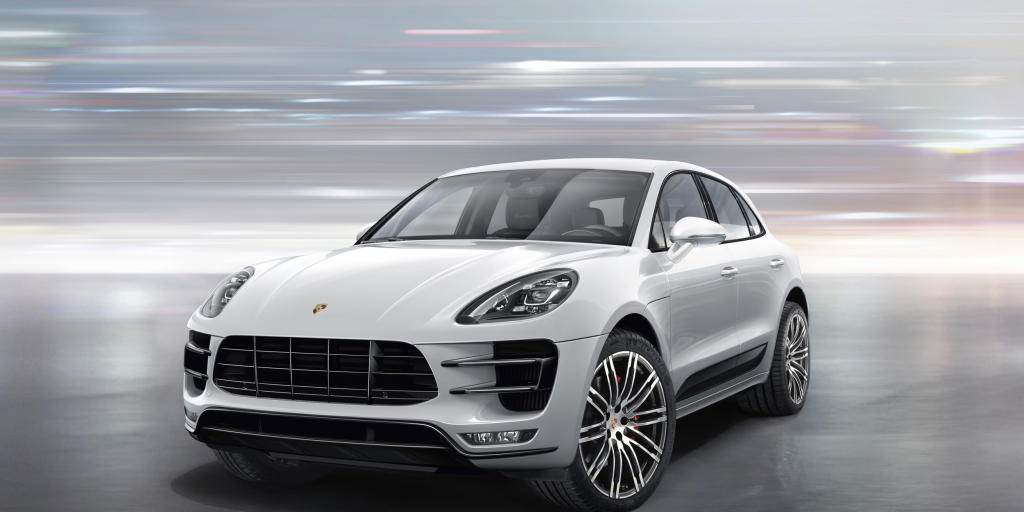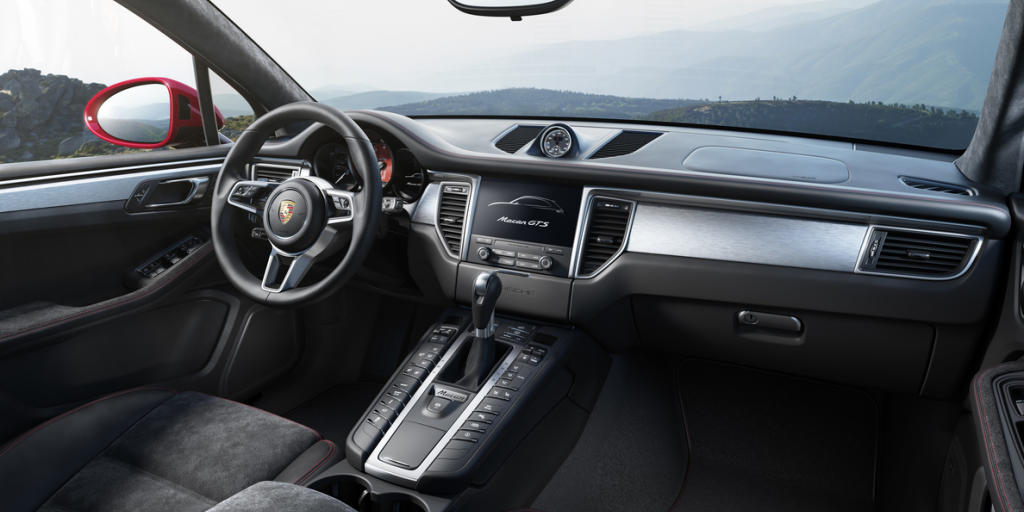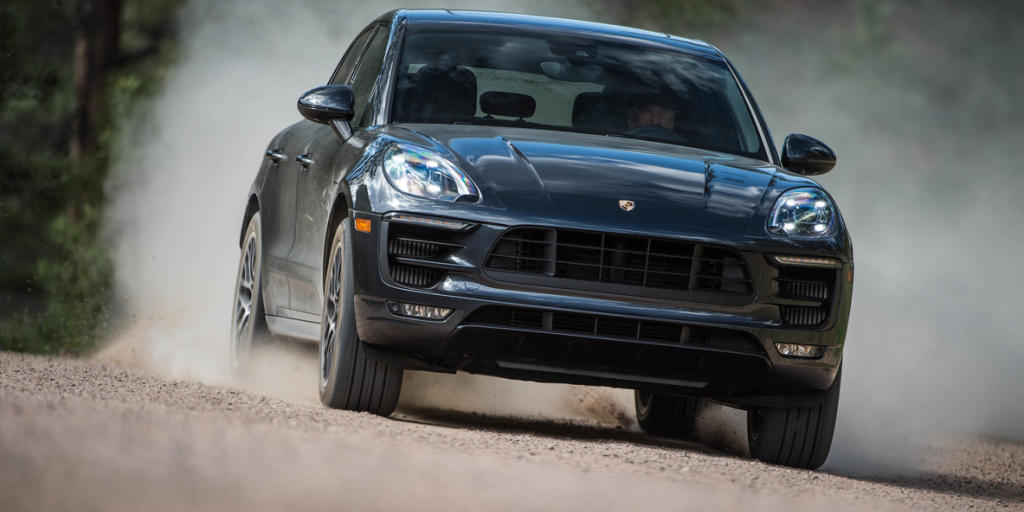 Verdict
The Macan sits atop many a list of best SUVs. For good reason. It's a crossover with honest to god Porsche DNA that delivers satisfying performance, quality, and comfort. Though the recently introduced base Macan lacks the typical Porsche performance pedigree, it hasn't lessened the model's appeal. Roughly forty percent of Macan buyers choose this model, proving the design, handling, and badge appeal are more important than jaw-dropping acceleration figures posted by higher trims. Porsche beckons a premium for their vehicles and backs it up with solid dealer support and higher than average dependability and reliability. If you're the type of buyer who doesn't settle, there's a Macan waiting at a dealer near you with your name on it.
Value
At a base price a few grand shy of fifty thousand dollars, the Macan isn't exactly a bargain. It's one of the most expensive compact SUVs on the market. However, if you want an SUV that shifts the paradigm of SUV performance and blurs the lines between a sports coupe and compact crossover, there is no substitute. The Macan is one of the few SUVs that boasts legitimate track skills, it can hang with several spry sports sedans. Somehow, it can still tackle the odd off-road trail as well, though we wouldn't recommend risking a four-figure wheel and tire. It's hard to measure the value added by the stupid grin the Macan will plaster across your face every time you get behind the wheel.
Performance
Since the engine is the heart of an SUV's performance we'll break down the various trims then continue our review: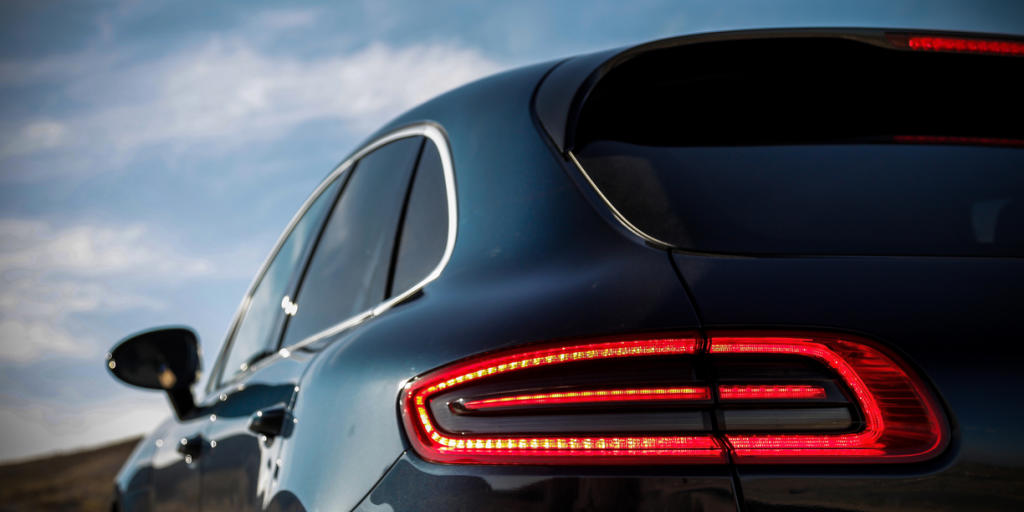 The base Macan is powered by a 2 Liter turbocharged four cylinder that produces 252 horsepower and 273 lb-ft of torque mated to a 7 speed dual clutch (PDK) automatic transmission with start stop function. Porsche claims this model does zero to sixty in 6.3 seconds but many publications report faster times.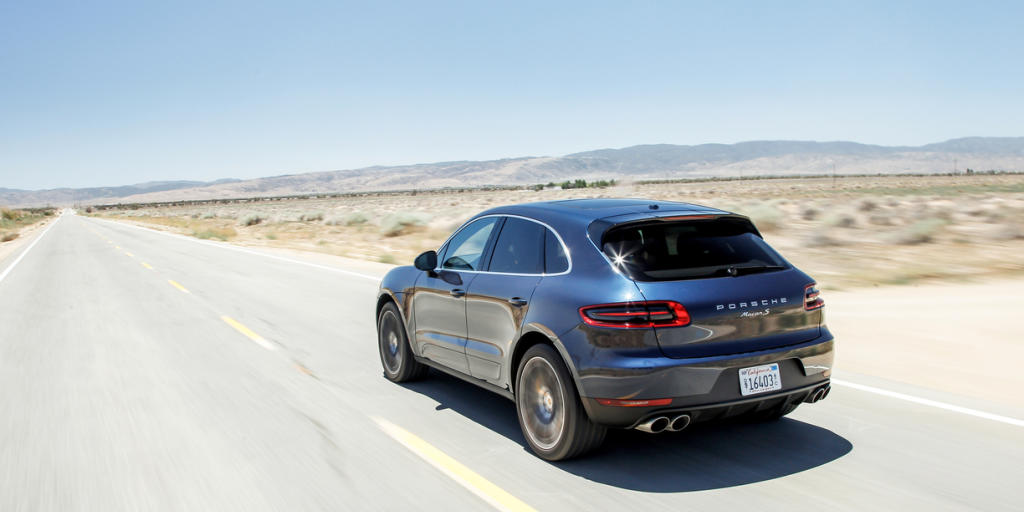 The Macan S packs a 340 horsepower twin-turbocharged 3 Liter V6 paired with the same PDK dual clutch gearbox. Porsche claims a 5.2 second 0-60 mph or 5 seconds flat with the Sport Chrono package that adds launch control.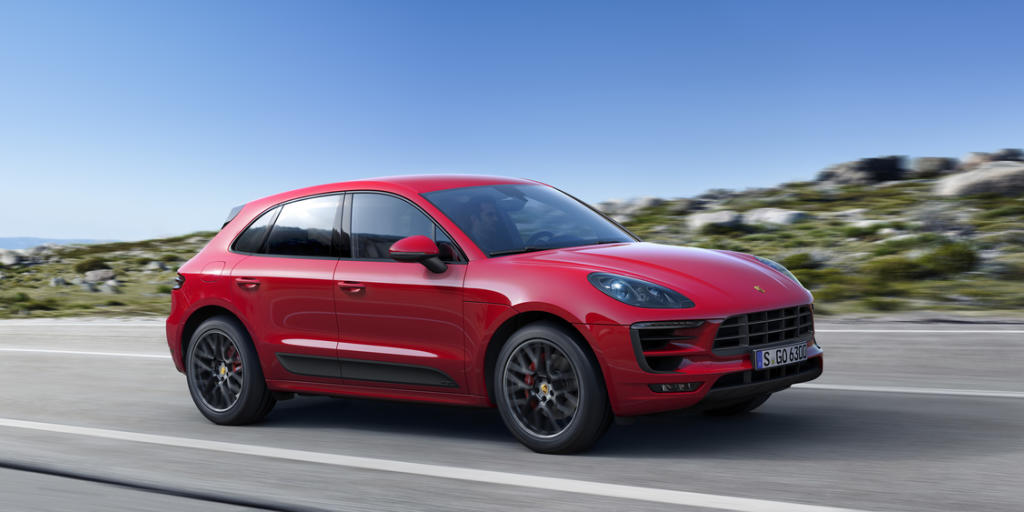 The Macan GTS receives the same powertrain as the Macan S and a tune that increases horsepower to 360, enough for 5 second zero to sixty. Air suspension is automatically installed on this trim.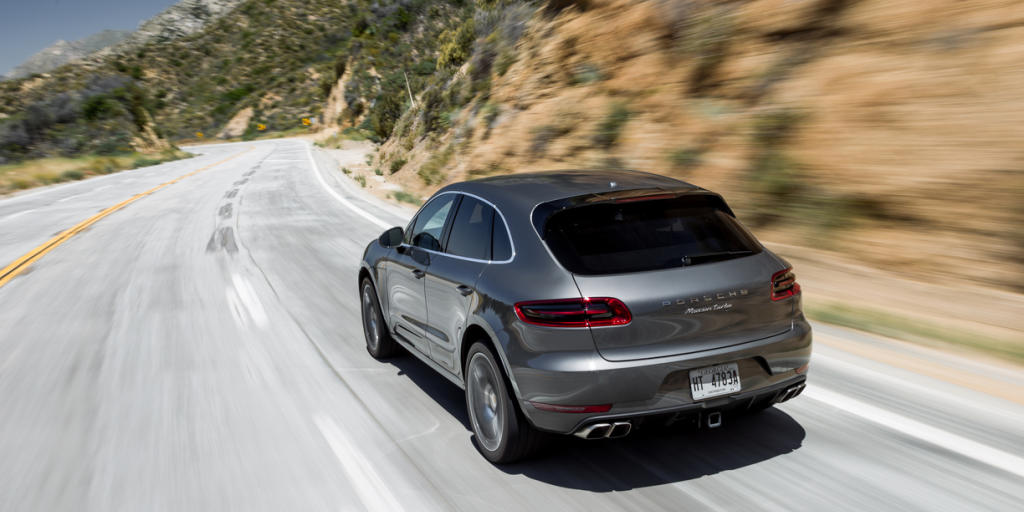 The Macan Turbo is supplied with a 3.6 Liter twin turbo V6, good for 400 horsepower and a 4.6 second 0-60 mph time.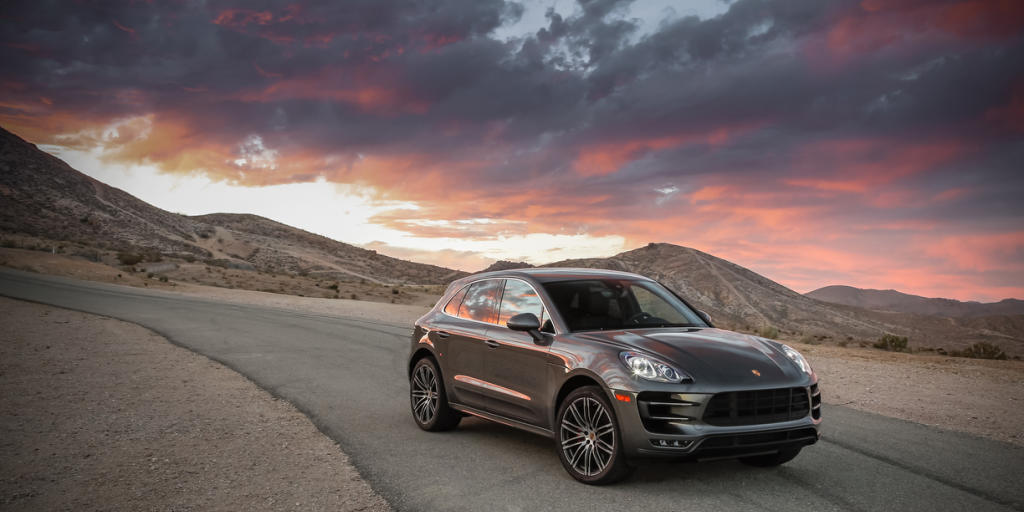 The Macan Turbo with Performance Package adds another 40 horsepower for a total of 440 and standard air suspension.

Whichever Macan you choose, you won't be disappointed with its performance. There are some legitimate gripes about the Macan: lack of utility, sparse standard features, and ambitious price, to name a few. Performance will never be one of them. Unless, of course, you drive a Macan S and then drive the base Macan. In which case, you'll probably spend the 8 grand you'd allocated for Porsche Composite brakes on an engine upgrade instead. In all seriousness, even the base Macan is quick enough and the true quality that separates the Macan from the pack is handling. No other SUV handles like a Macan. At this point, it is the culmination of auto engineering in compact SUV form. It's still an SUV and therefore, lacks the steering feedback of say, a 911. For an SUV, it comes as close you can get at any price, especially with the air suspension with electronically controlled dampening. There really isn't much we can say about the Macan that hasn't already been said. Pick up any magazine today and you'll find a review extolling this SUV. If you doubt us or anyone else who has been behind the wheel and is now trapped under the Macan's hypnotic spell, go test drive one for yourself. Good luck averting your eyes from the Macan's gaze, you'd have better luck with Medusa.
Interior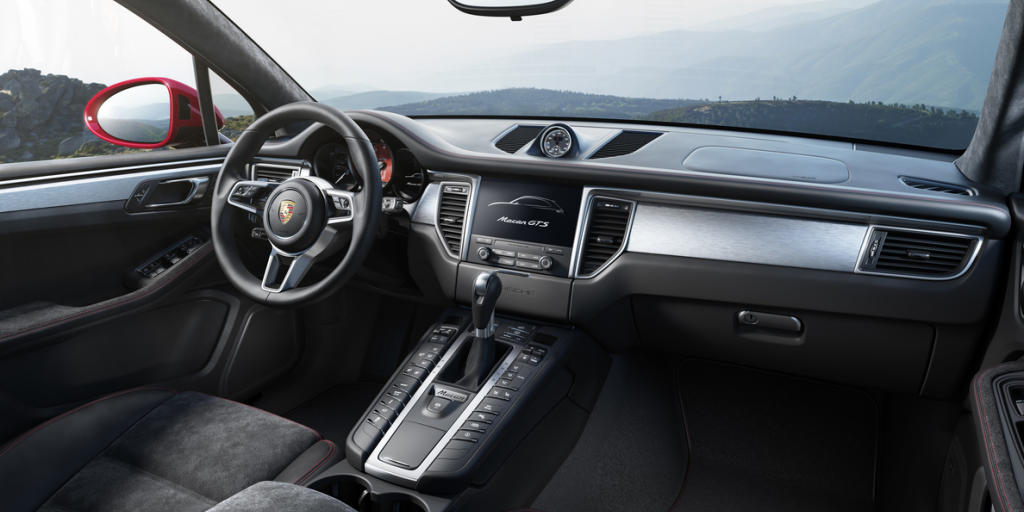 The superior quality of materials bred into the Macan is immediately evident from the moment your blessed behind touches the Alcantara and cowhide covered seats. The standard seats provide generous support and side bolstering and the optional 14-way power seats or 18-way power sport seats up the ante, with seemingly infinitesimal adjustments. We recommend you try the latter before buying as they're quite narrow, even by Porsche standards. Rear seats pamper as well but taller passengers aren't left with much in the way of legroom, though that's to be expected in a compact luxury crossover. If you're averse to buttons, stay away, as there are enough covering the console to make a pilot blush. They can be distracting initially but you'll grow accustomed to them after a brief period of ownership. These are high quality too and mesh well with the piano black (standard), brushed aluminum, and carbon fiber trim options. The steering wheel is the very same found in the million dollar 918 supercar and includes yet more buttons to control various operations! Moving on, the infotainment system possesses crisp, clear graphics and can be operated via touch or a knob placed where you'd generally find a volume knob.Of course, Bluetooth pairing is standard but voice command is a pricey option. The system has a 11GB hard drive to store a few thousand songs and will display album artwork if it's included in the file. The 235 watt, 11 speaker standard system is adequate for most but becomes distorted at high volume. Audiophiles will want to opt for the 545 watt 14 speaker BOSE system with a subwoofer. If you want to wake up your neighbors, a 1000+ watt 16 speaker Burmester system is available. If you opt for the Connect Plus system, you get wireless internet, Apple CarPlay, a rearview or 360-degree backup camera, and real-time Google Earth traffic information and navigation. A rear-seat entertainment system is also available, as is a catalog of interior options to customize the cabin to your tastes. Want to go all out? Visit the Porsche design studio to custom craft your dream interior. You won't need our suggestions because a professional designer will lead you through each step of the process. The major tradeoff is the lack of cargo capacity.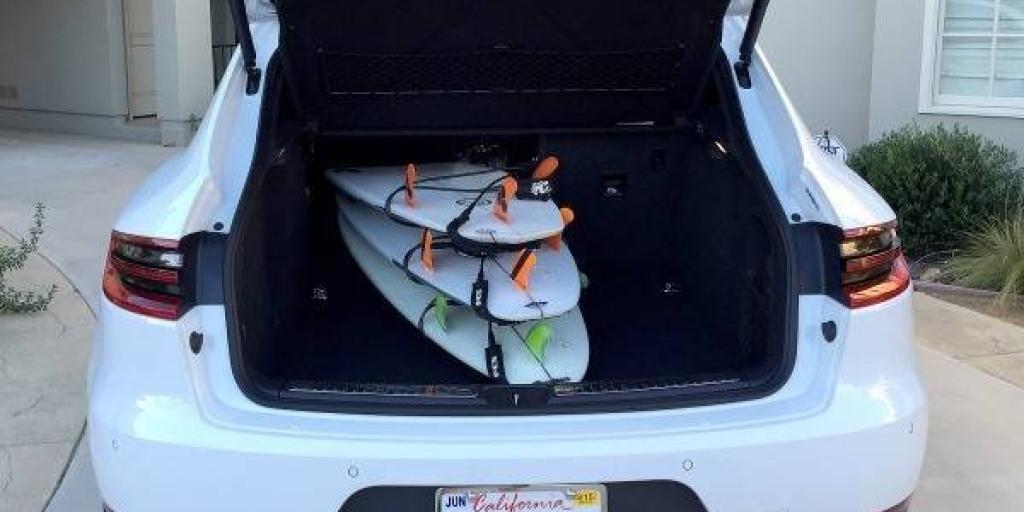 It's relatively low at just 17.7 cubic feet while using the second row and 53 cubes overall. However, it's quite a bit more than a 911 or Panamera for that matter and will accommodate a few bicycles and weekend's worth of luggage with ease. Few, if any, competitors can match the constitution of the Macan's interior but several offer more features per dollar.
Exterior
The Macan is one of those SUVs that causes rival designers to lose sleep. Look at it! There's not an odd line or misshapen piece anywhere to be found on this compact crossover. It's one of the best looking SUVs money can buy with a sculpted rear end that flaunts either dual or quad exhaust tips below timeless LED taillamps placed perfectly rather than slapped on as an afterthought. Though there is a myriad of wheel options, none look out of place on the Macan but the beefy 295mm wide tires on the 20s are particularly pleasing to the eye. The front fascia follows a minimalistic design that doesn't detract from its athletic aesthetic. As with any Porsche, there are tons of exterior options to choose from: custom paint colors, decals, badge deletes, bodywork, and racks to make the Macan your own. Simply put, this SUV's sheet metal sets the benchmark for exteriors. If you disagree, let us know which SUV you think tops it in the comments below.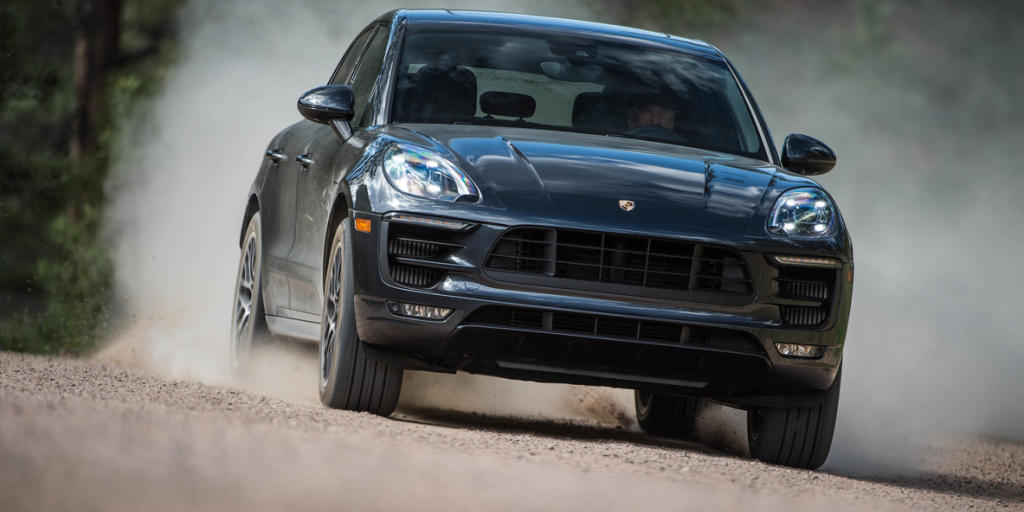 Safety
Unfortunately, neither the IIHS nor the NHTSA has used crash testing to evaluate the Macan's safety performance. Euro NCAP, the European equivalent, tested the 2014 Macan (euro spec, US starts at 2015) and offers a 5-star overall safety rating. This means no serious injuries are likely in the event of a low-speed collision. Specifically, the adult occupant safety rating is 88%, while the child occupant safety rating is one percentage point lower, at 87%. Furthermore, the Safety Assist system is rated 66%, with low marks for the lane departure warning system and the speed limit information function. That said, the Macan does pack some impressive standard safety features like occupant sensing airbags, parking sensors, an advanced telematics system, and Porsche Traction Management System. Unfortunately, you have to pay extra for a rearview backup camera which should be standard in a vehicle at this price, especially one with as poor rearward visibility as the Macan. However, it's a Porsche and if you're familiar with the brand, you know there are umpteen options available to customize this SUV to your liking. The best comes at a price. We think the Macan is one of the safest luxury SUVs you can find and shouldn't let you down in unfortunate circumstances.
Reliability
The Macan is awarded an impressive 4.5 out of 5 predicted reliability rating from JD Power. Consumer Reports offers a 3 out of 5 score, despite offering a 5 out of 5 for the Porsche brand. Their owner reported trouble spots include the optional air suspension system and exhaust leaks. Early Macans have a known issue with the rear wiper washer leaking fluid but the problem has since been resolved. Most owners were able to get their Porsche dealer to replace the unit but some claim the issue hasn't been resolved. Another common complaint is the "mushy" brake pedal. As best as we can tell, it's exclusive to the base Macan, which has smaller brakes than the rest of the Macan family. Many owners say there's little to no stopping power for the first 50% of brake travel. The brakes function well but lack the responsiveness expected from a performance oriented SUV. By far the most disconcerting issue affects turbocharged V6 models, all but the base Macan. There are many reports online about a "reduced engine output" warning message. Mostly, it was early '15 models but there are a few reports of 2017 models. If this warning message happens to you, be sure to photograph it because it won't show up in the trouble code log. These Macans are quite technically advanced and have a self-diagnosing system that will shut off the turbochargers if it detects a problem that could lead to potential engine damage. The problem is, once you start the Macan again, it resets and may mislead you to believe the underlying problem is resolved until the next time the message inevitably fires. According to Porsche, the issue can be resolved with an updated DME (digital motor electronics) or reflash. However, multiple owners report the problem wasn't resolved until poorly tightened hose clamps in either the air intake manifold, throttle body, or vacuum hose. It's likely a simple, albeit time-consuming fix that should be performed by a Porsche dealer for free. The problem is a result of poor quality control on Porsche's behalf as a brand new vehicle shouldn't have any air leaks. Since a sizeable number of owners reported this issue in 2015 and 2016, it's likely the latest Macans have had this problem fixed before arriving at dealerships near you. There are also a few open NHTSA recalls for the Macan, so be sure to run the VIN of the Macan you're considering to ensure it's recall free. Otherwise, the NHTSA record is spotless for the Macan, with just a handful of complaints for all production years. Despite a few known issues, we'd still rate the Macan as more reliable than the average SUV. However, think long and hard before buying a used Porsche that's out of warranty. Repairs and parts are costly for these vehicles. Even if you only have to make one or two repairs in several years of ownership, it could end up costing as much as several repairs in a less reliable vehicle.
Competition
The luxury compact crossover is a crowded, competent class with many SUVs to choose from. The most logical contender to the Macan comes from within the Volkswagen Group family, the Audi Q5. The Macan is based on the same platform as the Q5, though Porsche claims only 30% of the chassis parts are shared. Porsche claims the changes made improve the chassis' rigidity and therefore, handling. The Porsche receives a unique all wheel drive system that distinguishes itself from the Audi Quattro system by using front and rear electronically controlled differentials, allowing 100% of power at either the front or rear wheels. The Quattro's loan center differential is more limited in power distribution. Both the stock steel coil spring and air suspension systems are tuned for more responsive handling than the Q5. From a distance, both SUVs are strikingly similar despite Porsche claim they don't share a single piece of sheet metal. The Q5 is one of the few SUVs that can compete with the Porsche in the looks department, thanks to their similarities. Inside, the story remains the same. The layout and configuration are nearly identical but the two share no materials. Still, the Audi's cabin is plush and packs more standard features across the trims than the Macan. Some features, like the fully digital instrument cluster and the highly advanced radar cruise control system, aren't even available in the more expensive Macan. When it comes to driving dynamics and performance, the Q5 slots below Macan but it's a close second that will satisfy all but the hardcore enthusiast. For comparable performance, the 2018 SQ5 packs 354 horsepower and does 0-60 in just 5.1 seconds, the same as the Macan S. However, that model costs more than the base Macan S. We'd recommend cross-shopping the Q5 to save some dollars on lower trim but at SQ5 price and higher, you're better off buying the Macan S. You get a superior driving experience, better reliability rating, and, of course, Porsche prestige.
Pricing
The Macan starts from $47,800 with a 2 Liter turbocharged inline 4 cylinder with direct injection that makes 252 horsepower @ 5,000 rpm and 273 lb-ft of torque @ 1,600 rpm. It's paired with a 7-speed PDK automatic transmission that transfers power to all four wheels. Standard safety features include daytime running lights, advanced airbag system, dusk-sensing headlamps, an engine immobilizer, fog lights, high-pressure headlight washers, lane departure warning, self-leveling Xenon HID headlamps, stability and traction control, 4 channel ABS, and ventilated disc brakes. Convenience features are front and rear parking sensors, cruise control, electric power steering, rear view backup camera, tilt and telescopic steering wheel, universal transceiver, interior air filtration, heated power exterior mirrors with integrated turn signals, dual illuminating vanity mirrors, and three zone climate control.
The 8-way power front bucket seats are wrapped in leather and sueded microfiber, as is the split-folding rear bench. The standard infotainment system is coupled with a 150-watt audio system with ten speakers, Apple CarPlay, Android Auto, Bluetooth integration, and USB port. The Macan rides on 18 by 9-inch alloy wheels with 255/55R18 All-Season tires. 14-way power front seats with memory cost $1,710, while Adaptive 18-way Sport Seats are $2,080. The Premium Package equips the Porsche Dynamic Light System, Bose surround sound system, auto-dimming mirrors, and front and rear heated seats for $2,590. The Premium Package Plus costs $5,950 to install the aforementioned features, plus a panoramic roof system, ventilated front seats, 14-way power seats with memory, and Porsche Entry & Drive. There is a litany of exterior and interior options to create your perfect Porsche, it would be exhaustive to list them all.
The Macan S costs $55,400 and receives a 340 horsepower 3 Liter twin turbo V6, different 18-inch wheels, a different sound system, and little else. 14-way power front seats with memory cost $1,340, while Adaptive 18-way Sport Seats are $1,710. The Premium Package equips the Porsche Dynamic Light System, Bose surround sound system, auto-dimming mirrors, and front and rear heated seats for $2,590. The Premium Package Plus costs $5,700 to install the aforementioned features, plus a panoramic roof system, ventilated front seats, 14-way power seats with memory, and Porsche Entry & Drive. Active suspension dampers are $1,360. Air Suspension with active dampers is $2,750. Sport tailpipes are $950, while the full sport exhaust system costs $2,930. There are a ton more options available, we suggest you check out the Porsche configurator to review them all.
The Macan GTS has a base of $68,900 and receives a tuned version of the Macan S engine with higher power output and the aggressive body work from the Macan Turbo. Additional standard features include adaptive headlights, cornering lights, sport front seats with multi-leavel seat heaters, black Bi-Xenon headlamps with Porsche Dynamic Light System, 20 inch RS Spyder Design Black Satin wheels with 295/40R20 Performance tires. The lone package option in the GTS is a Premium Package Plus that adds the BOSE surround sound system, auto dimming mirrors, seat heaters, a panoramic roof, and Porsche Entry & Drive for $3,390. The Macan GTS includes the air suspension and sport exhaust system. There's still a bunch of options to customize the exterior and interior to your tastes.
The Macan Turbo begins at $77,200 with a 3.6 Liter twin turbo engine that yields 400 horsepower. Notable features include leather wrapped 18-way power sport front seats with lumbar support and multi-level seat heating, a compass, a 545 watt Bose sound system with 13 speakers and a subwoofer, speed sensitive volume control, 19 inch Macan Turbo alloy wheels with 255/50R19 performance tires. The $3,600 Premium Package Plus provides auto-dimming mirrors, seat ventilation on front seats, panoramic roof, Porsche Entry & Drive, Lane Keep Assist, and Lane Change Assist. You have to pay extra on this model for the air suspension and sport exhaust system. As always, options abound.
The Macan Turbo with Performance Package has an MSRP of $87,700 and installs the same 3.6 Liter twin turbo that's tuned for a 440 horsepower output, Porsche Active Suspension Management air suspension, sport exhaust with sport tailpipes, he $3,600 Premium Package Plus provides auto dimming mirrors, seat ventilation on front seats, panoramic roof, Porsche Entry & Drive, Lane Keep Assist, and Lane Change Assist. The Sport exhaust system and air suspension are included with the performance package, as is the Sport Chrono. You can still get crazy with plenty interior and exterior options to create your dream Porsche.