Overview
The Nissan Rogue is Nissan's best-selling model and it's also in the industry's largest segment and so Nissan obviously deeply cares about keeping its popular SUV highly competitive. Nissan has done just that by completely redesigning the vehicle for 2021! Nissan says it engineered the all-new 2021 Rogue to make family life easier. The Rogue now features more attractive exterior styling, an improved and modernized interior that's more fit more families, and also improved performance and handling. It's built on an all-new platform with enhanced driving dynamics, and it also comes equipped with Nissan Safety Shield 360 as standard. The all-new 2021 model marks the start of a new generation for the Nissan Rogue. There's also now a new Platinum grade available. The Platinum trim features quilted leather-appointed seating, a 12.3" digital dashboard display and a large head-up display, heated rear seats, ambient lighting, wireless charging, a premium Bose audio system, and much more. Aside from Platinum, S, SV, and SL are the other grade levels offered.
"The all-new Rogue was purposefully designed to meet all of the needs of today's young families," said Mike Colleran, senior vice president of marketing and sales for Nissan United States. "Rogue is playing to win in the midsize crossover game with the ideal mix of expressive design, advanced technology, safety, comfort and versatility."
To learn even more about the all-new 2021 Nissan Rogue, continue reading below!
Photos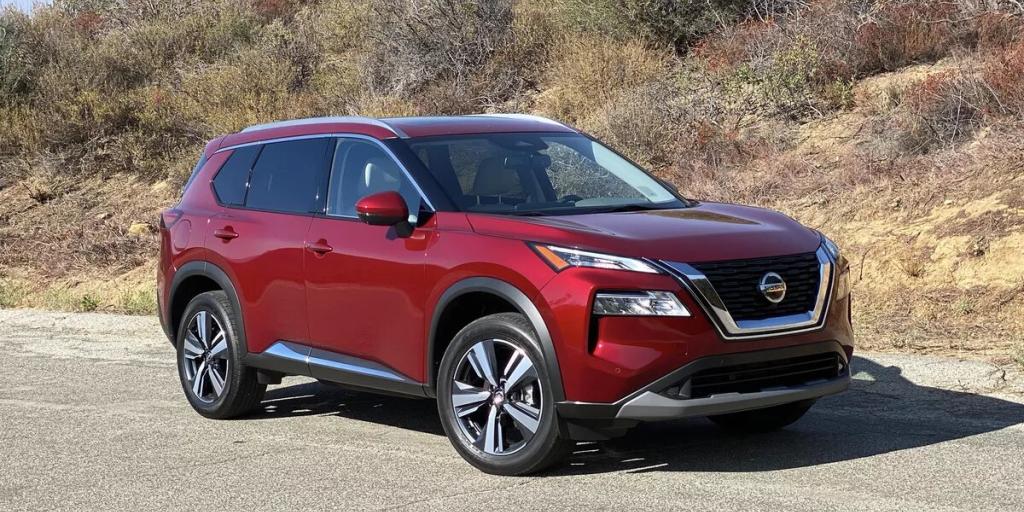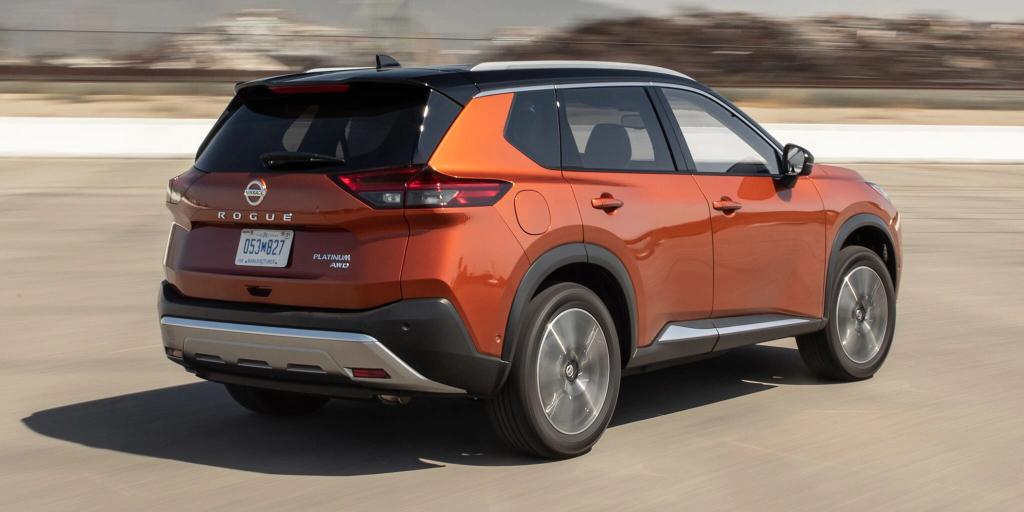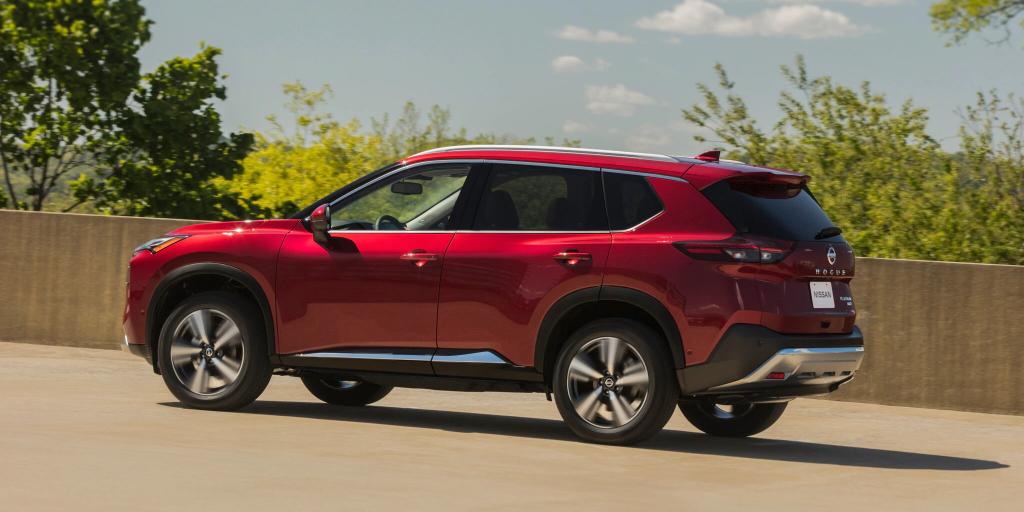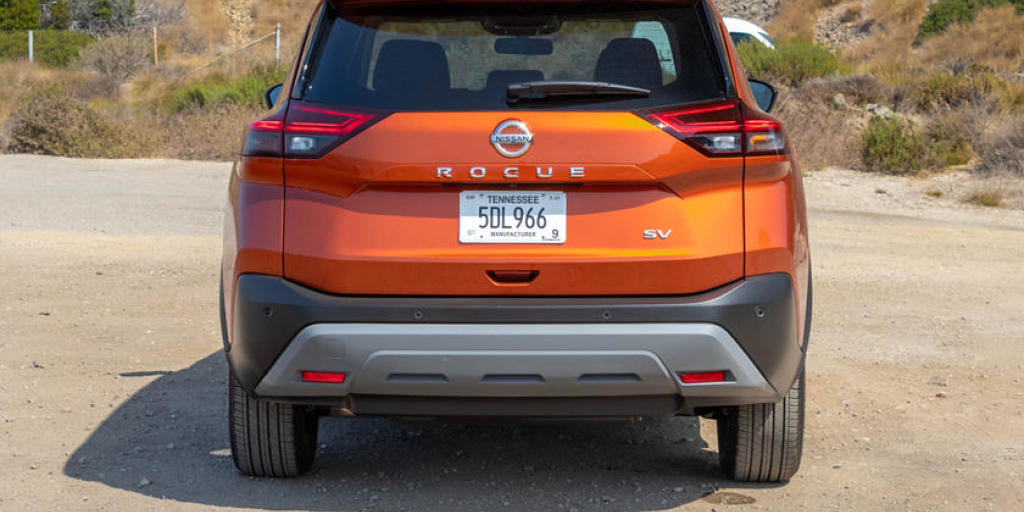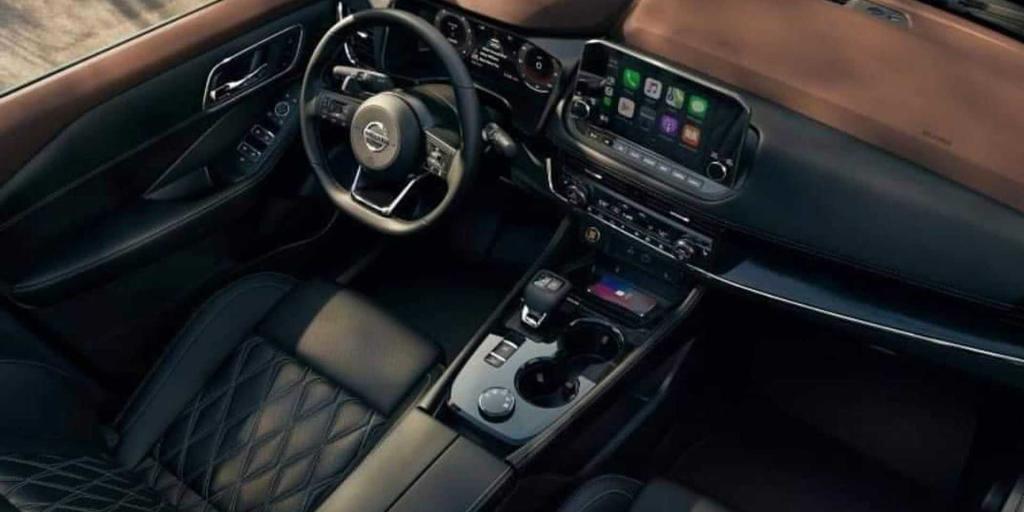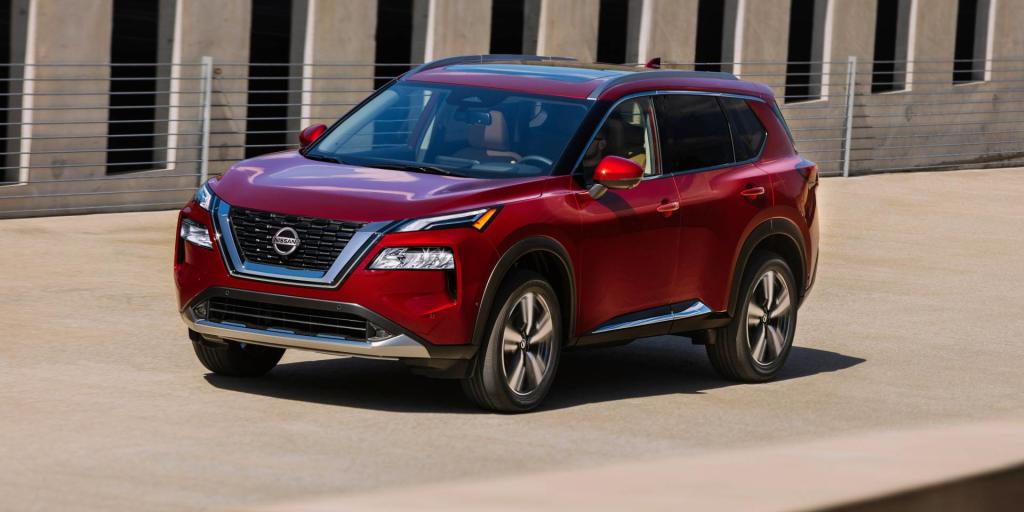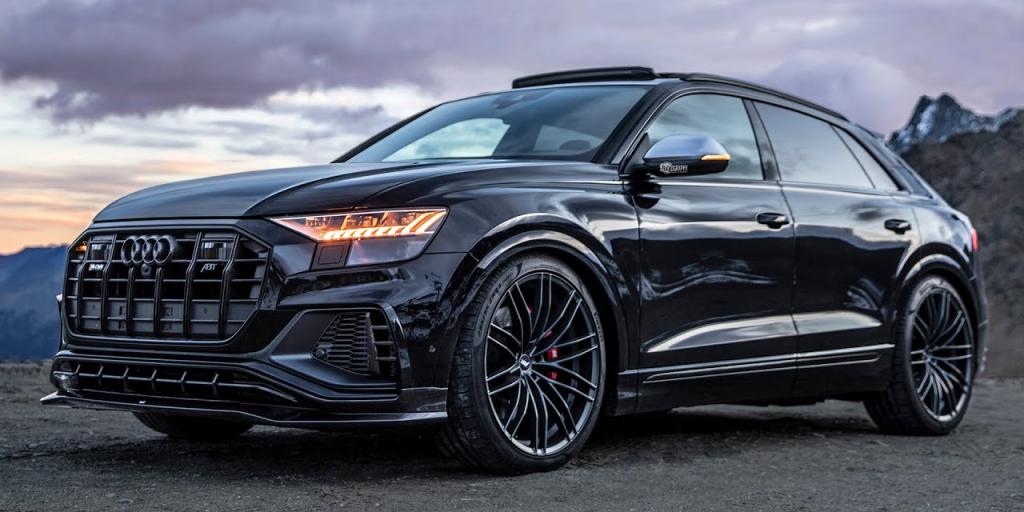 Verdict
Nissan says the design of the 2021 Rogue reflects the spirit of the vehicle — "versatile, fun, edgy, and adventurous."
The adventure-ready exterior combines athletic strength with a premium appearance. It now has boxier styling and it also adopts signature Nissan design elements such as the floating roof and the evolved V-motion grille. The 2021 Rogue also adds some new exciting features like the unique headlight shape and "U-shape" bodyside highlights. New multi-level LED headlights with an expanded illumination area come standard on all Rogue models, and they help accent the powerful front grille design.
The 2021 Rogue is 1.5 inches shorter and also 0.2 inches lower than the previous generation model. It's offered in a wide range of color combinations, including five two-tone color combinations for the first time!
Performance
The interior of the all-new Rogue has been improved and modernized. Nissan refers to it as a "family hub" interior because it was designed to provide comfort and utility for everyone in both the front and rear seats.
Parents will especially love how the rear doors open extra-wide. They open nearly 90 degrees, making it much more convenient to get a child seat in or out. The rear seat offers flexible and convenient child seat installation in all three seating positions, meaning adults or older kids can sit on either side of the center-positioned child seat. Both rear doors also do have available pull-up sunshades to protect children from unwanted direct sunlight. Meanwhile, available Nissan Intelligent Key allows you to tap the button on any door handle to simply and easily unlock it. When you're juggling your child in one arm and groceries in the other, being able to open the door on the fly is a huge help!
Another feature of the Rogue's interior that makes it great for families is the "butterfly" opening front center console which allows for easy "pass-back" access to the second row. And with available remote start and also available tri-zone climate control, you can help make your interior the perfect temperature before placing your child inside!
There's also the available motion-activated tailgate to take advantage of. The inner right side of the cargo area is intended for securing cumbersome items like a gallon of milk. There's also the Divide-n-Hide system that can provide hidden and secure storage for all your family's precious gear.
As for technology, you have up to three high-tech displays! The most impressive setup includes a 10.8" head-up display, a 12.3" digital dashboard display, and a "floating" 9" touchscreen that allows Rogue drivers to customize and enhance the driving experience. The head-up display is a first for Rogue and is one of the largest head-up displays in the segment! The available 9" "floating" touchscreen, meanwhile, provides crisp, clear images for navigation, audio, climate information, the RearView Monitor, and the available enhanced Intelligent Around View Monitor.
On lower level grades, the instrument panel is 7" in size. Both the 12.3" and 7" meter displays are fully customizable. Instead of the 9" floating touchscreen, lower level grades of the Rogue get an 8" touchscreen as standard.
Drivers get to enjoy both Apple CarPlay and Android Auto. There's also the available wireless Apple CarPlay system you can opt for, and a new wireless smartphone charger allows phones to be charged while driving. The charger platform is located on the center console, which also houses USB Type-C and Type-A charging ports.
Luxurious features for the 2021 Rogue don't just include the larger screens and displays, but also the available dual panel panoramic moonroof. It allows light to beautifully cascade into the cabin and offers passengers a nice breeze. There's additionally the Bose Premium Audio System available with ten strategically placed high-performance speakers. Of course, heated front seats and a heated steering wheel are even more luxe options for you to enjoy.
Interior
Nissan says its all-new Rogue is always up for adventure. Every 2021 Rogue features a 2.5-liter 4-cylinder engine as standard that produces 181 horsepower, which is an increase of 11 hp over the previous generation. Torque is also increased by 6 lb.-ft. to 181 lb.-ft. With the 2021 Rogue FWD, you get up to a combined 30 miles per gallon and 35 mpg on the highway.
The Rogue's 4x4 capability helps give you added peace of mind. Available Intelligent All-Wheel Drive can automatically enhance traction. Five drive modes are available with the Rogue AWD models, including off-road, snow, standard, eco, and sport.
Nissan claims the Rogue has the most standard safety technologies in its class. That's because every Rogue comes standard with Nissan Safety Shield 360. In addition to the Nissan Safety Shield 360 technologies, the 2021 Rogue offers 10 standard supplemental air bags and extended crumple zones to protect occupants. More standard safety equipment includes Nissan's Intelligent Driver Alertness technology and Rear Door Alert.
Exterior
The Nissan Rogue finds itself in a crowded segment and so there's plenty of competition out there for you to consider. You might want to take a look at the Toyota RAV4, Mazda CX-5, Chevrolet Equinox, Honda CR-V, Ford Escape, Kia Sportage, and the Jeep Cherokee.
The all-new 2021 Nissan Rogue starts from $25,650. The highest level trim, which is the new Platinum AWD, starts from $36,830.
Pricing
The improvements made to the Nissan Rogue are impressive and the ground-up redesign for the Rogue was sorely needed. The exterior is now more stylish, the interior feels more modern and is now an even better fit for families, and you also have the slightly improved performance to enjoy.
If you've ever been interested in a Rogue before, now just might be the best time to buy!
We gave the 2021 Nissan Rogue an SUVs.com deal score rating of 80/`100. What do you think about the all-new Rogue? Be sure to let us know by commenting on our YouTube review!