Overview
The Nissan Armada might not be nearly as great of a seller as the Nissan Rogue, but it does have a dynamic design, offers seating for up to eight, and it also comes standard with a V8 engine that packs plenty of power! It's a bit of an underrated vehicle and it does sell for less than many of its competitors in the full-size SUV segment. The Ford Expedition and Chevrolet Tahoe both have a higher starting prices, for example.
For 2020, every Armada model has heated exterior mirrors. The SUV is also now available with large and flashy 22" wheels.
The 2020 Nissan Armada is offered in SV, SL, Platinum, and Platinum Reserve grades. All feature the same engine and offer four-wheel drive. The vehicle starts from $47,100.
SUVs.com had the chance to check out a 2020 Nissan Armada Platinum. That means it has some of the fancier features you can get, including a standard rear entertainment system and sliding moonroof.
Continue reading below to learn more about the 2020 Nissan Armada
Photos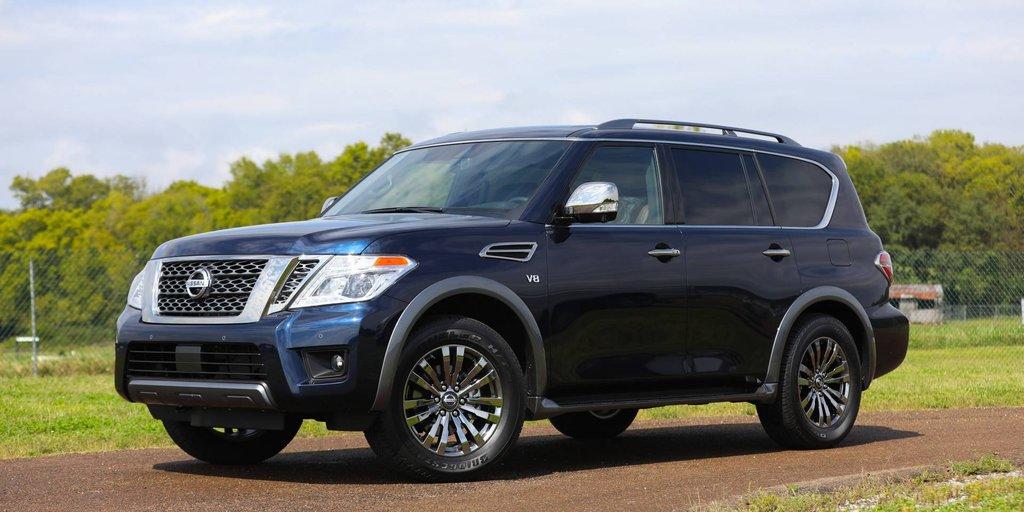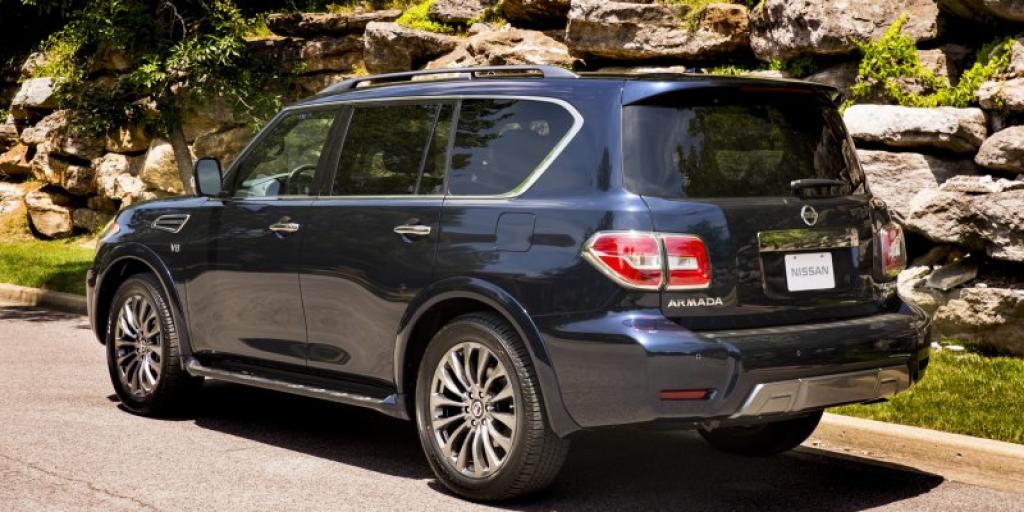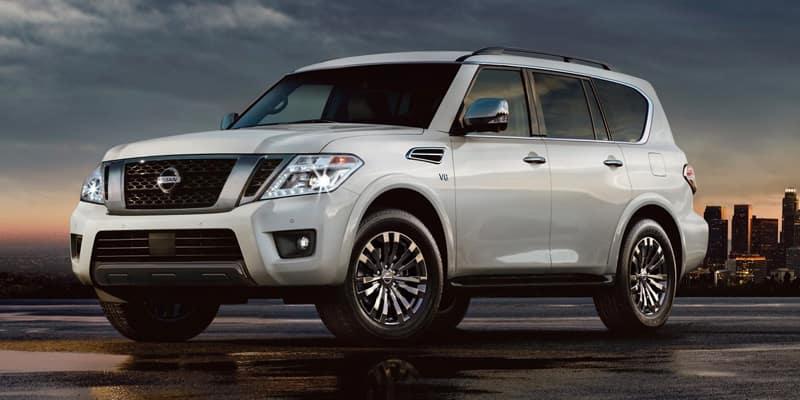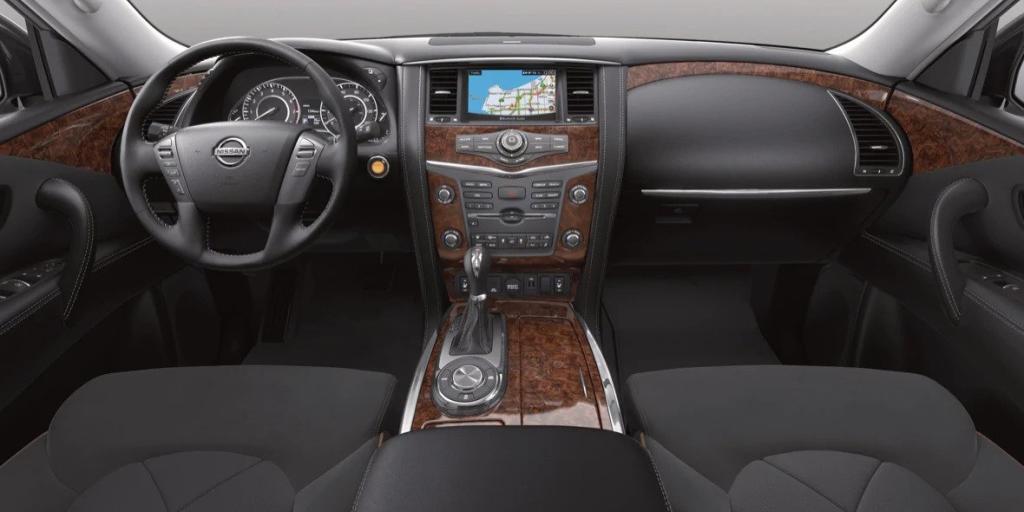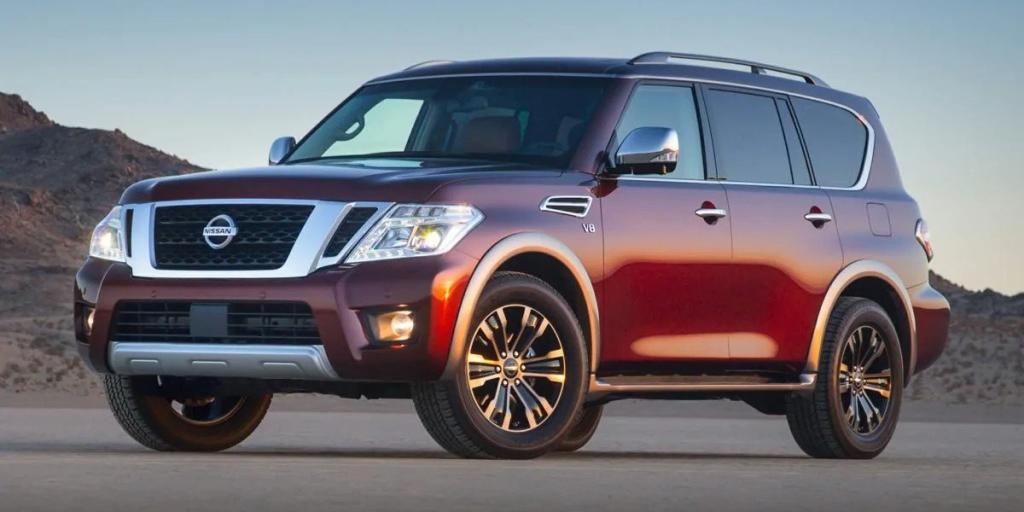 Performance
The Nissan Armada does sport a dynamic design. As Nissan says, you'll turn heads with this large sport utility vehicle! From its confident stance to its distinctively designed wheels, there's a lot to like about the Armada's exterior.
The muscular looking black color grille with chrome trim accent stands out up front, and there are also stylish and functional air intake vents that are chrome-plated. The LED headlights and taillights add a premium touch and feel and the large wheels also make an impression. You can get even larger wheels if you'd like, though, with the new 22" wheel package!
Other exterior features include body color front and rear bumpers, chrome trim accent side window moldings, chrome door handles, privacy glass, dark-painted roof rails, and front and rear parking sensors.
As for those roof rails, they feature optional accessory crossbars so you can haul everything from skis to kayaks. To help make loading up easy, there are also running boards along the base of the doors that you can stand on.
Interior
All Nissan Armada models are backed by the same powerful engine. There's a 5.6-liter V8 engine under that hood that offers 390 horsepower and 394 lb.-ft. of torque. It's paired to a 7-speed automatic transmission that shifts smoothly and precisely. Rear-wheel drive comes standard and four-wheel drive is optional. The Armada is also capable of towing up to 8,500 pounds in both 2WD and 4WD models when properly equipped!
Unfortunately, the Armada just isn't that fuel efficient. It gets an EPA-estimated 14 mpg city and 19 mpg highway with the rear-wheel drive model. Those ratings drop to 13 mpg city and 18 mpg highway with four-wheel drive. While gas prices are low right now, that is something you might want to keep in mind.
As for safety features, you have an advanced air bag system protecting you in the Armada. The full-size SUV also comes standard with forward collision warning, automatic emergency braking, adaptive cruise control, front and rear parking sensors, and a rearview camera. Going up in trim level gets you more impressive systems like the surround view parking camera system, blind spot monitoring, lane departure warning, and more.
Exterior
Although the Nissan Armada is marketed as "all new" for 2016, it's not really new at all. It has been on sale in many markets around the world under the "Patrol" badge since January 2010. Sure there are a few different components here and there, but it's mostly the same SUV. The result is an SUV that's beginning to look dated, especially when compared to the futuristic Murano. But the large SUV is an attractive alternative to the ubiquitous Tahoe by virtue of being different.
A commanding front end is decidedly more rugged looking on the Armada than the Patrol, thanks to a large lower intake dressed with a skid plate. Above, an oversized black grille with chrome trim and Nissan badge. On either side, large headlights trimmed with LED running lamps are shaped to complement the grille. The side profile is clean and simple with tall windows. There are chrome accented vents above the front wheels that look kind of cheap, one of the only weaknesses on an otherwise attractive angle. At the rear, there's a bulbous rear bumper graced with yet another skid plate. Above, there are dated tail lights that look like they came out of a decade old "Performance" magazine. There's darkly painted trim that wraps around the entire Armada to toughen up the overall aesthetic. The Armada isn't a bad looking SUV but many of its features look as if they've been pulled from a Nissan parts bin rather than using the latest and greatest technology. What do you think? Let us know in the comments below.
Pricing
This Nissan Armada is a full-size SUV with standard seating for eight, a powerful engine, and a dynamic design but it doesn't have as high of a starting price as some of its competitors! The 2020 Nissan Armada starts from $41,700.
The Platinum level trim that SUVs.com had the chance to take a look at, though, starts from $60,530 in the front-wheel drive configuration and $63,530 in four-wheel drive.
As for competitors, you might want to take a look at the Chevrolet Tahoe, Ford Expedition, Lincoln Navigator, Toyota Land Cruiser, GMC Yukon, or Chevrolet Suburban.
If the Armada feels slightly too big for your needs but you do like it, you might want to also consider its Pathfinder sibling.
As always, if you're interested in the Nissan Armada be sure to do some additional research on the vehicle before purchasing it. You want to make sure it will best suit your needs. It's also smart to test drive the vehicle before you purchase. You should also contact your local Nissan dealer to see if there are any specials or offers you can take advantage of.
Verdict
The Nissan Armada is a flashy and potent large SUV and so that's what make it an attractive option to families. The only true downfall is the poor fuel economy figures that you get. There's just no way around it with the V8. The Armada does have a more affordable stating price than many of its competitors, though!
We gave the 2020 Nissan Armada an SUVs.com deal score of 76/100. Did you see our review of it on YouTube? Be sure to leave a comment!