Overview
There are many options to choose from when it comes to a Mercedes SUV, but the GLC 350e is the only GLC that's also a plug-in hybrid. If offers up to 14 miles of all-electric motoring, but still feels like the other, more traditional Mercedes SUVs we all know. The SUV is incredibly quiet and smooth to drive. The midsize plug-in hybrid offers space for five and feels quite spacious! It has a no-nonsense exterior design, with sensual lines.
While you can't go that far in all-electric mode, it is cool to be able to operate the GLC 350e that way. Of course, there's also hybrid and all-gas modes to operate in.
Photos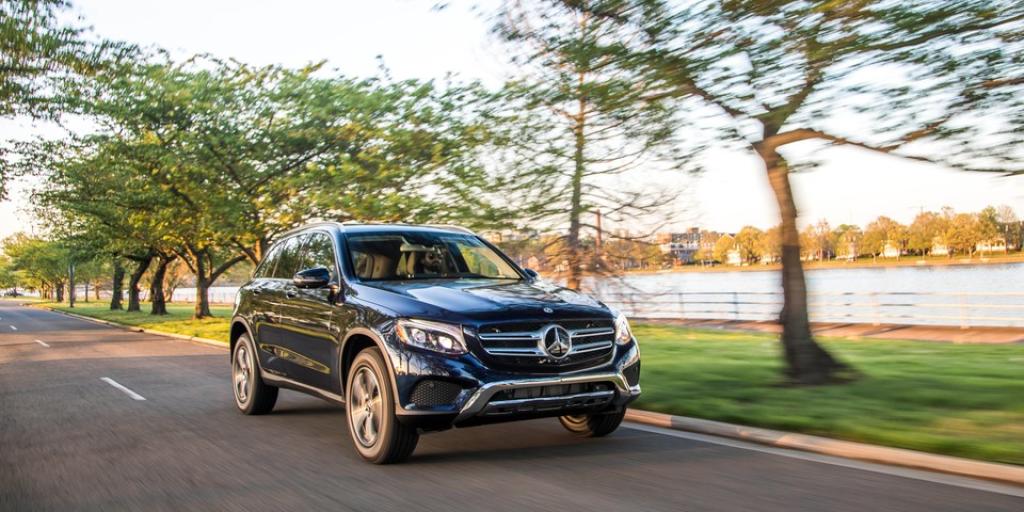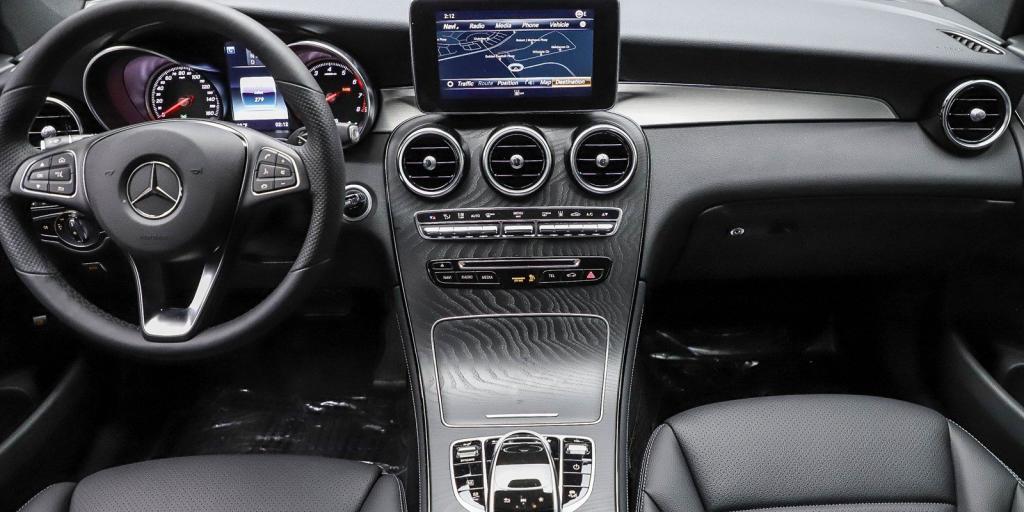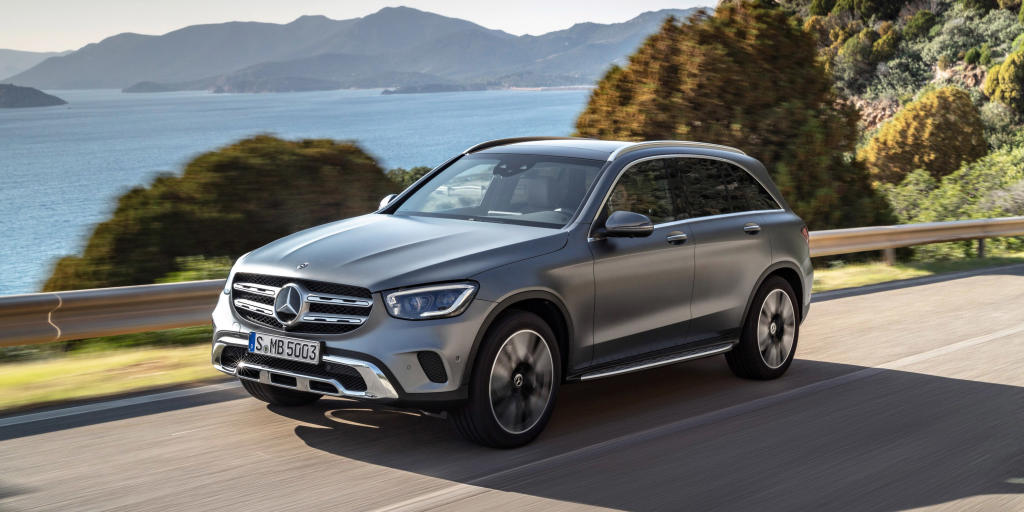 Pricing
As for pricing, the Mercedes-Benz GLC 350e starts around $50,650. There are plenty of packages and add-ons you could opt for, though, that would bring up the price. As always, be sure to check with your local Mercedes-Benz dealer on pricing and also make sure to ask if there are any specials. Always test drive any vehicle you might be interested in purchasing.
As for competitors, this plug-in hybrid competes with the likes of the the hybrid Lexus NX or hybrid Volvo XC60. There's also plenty of other GLC SUVs to consider if you like this, but don't necessarily want a hybrid. There's even the AMG versions.
Performance
The GLC 350e is a plug-in hybrid so that means there's a turbocharged 2.0-liter 4-cylinder gas engine paired with an 85 kW electric motor. It makes for a total output of 315 horsepower combined. A 7G-TRONIC 7-speed automatic transmission is used. The SUV can go from 0 to 60 miles per hour in 6.2 seconds. An E-BOOST feature lets the electric motor raise total torque up to 413 lb.-ft. Mercedes-Benz' 4MATIC all-wheel drive system, meanwhile, comes standard.
The vehicle's advanced lithium-ion battery can be charged by the gas engine while driving, at public charging stations, or at home. While you can drive in all-electric, all-gas, or hybrid mode, you can only go up to 14 miles max in all-electric motoring. Critics have said they'd like to see a longer range there.
As for how it drives, the vehicle offers a comfortable ride and is incredibly quiet. I enjoyed driving it around town. The seats are also comfortable. The 14-way power driver seat with memory really helped me ease into the ride.
Interior
Moving inside the plug-in hybrid SUV now, it doesn't feel any different from your more traditional Mercedes-Benz SUVs. The interior of the GLC 350e has a wonderful design. It feels sophisticated, luxurious, and clean.
The standard 7.0-inch freestanding color display adds a futuristic element to the wide sweeping console. There's a central controller that goes with it. The controller feels incredibly natural to use. It teams a rotary knob with an intuitive touchpad (optional). It responds to a variety of finger motions, including swipe, pinch, and handwriting. Overall, the display and controller combo is convenient to use and it's easy to switch between audio, video, hands-free calling, and optional navigation features. If you do opt for navigation, you'll get a larger 8.4-inch screen. The 2020 GLC models are expected to have even larger screens, though, so you may want to hold off for that. Dual USB audio ports and a rearview camera come standard. Aside from the technology, the vehicle's console also features a cascade of rich wood, which really adds a nice touch to the interior. The aluminum switches and trim details are also pleasant. Even the optional Burmester Surround Sound System speakers inside this SUV are beautiful!
As with any luxury vehicle, there's a lot of customization offered. For example, you can opt for heated rear seats, a heated steering wheel, or special Nappa leather seating combinations.
There's space for five inside the Mercedes-Benz GLC 350e and it feels plenty spacious thanks to the vehicle's wide track width, long wheelbase, and large door openings. 3-zone climate control helps keep rear passengers happy. As for cargo, it does take a bit of a hit because of the battery pack stored under the rear floor. But, there still is 51 cubic feet of space! While that may seem small compared to competitors, it still feels spacious.
Exterior
The Mercedes-Benz GLC 350e's design is reserved, but pleasant! Mercedes calls it sensual. You immediately know it's a modern Mercedes-Benz because of the iconic grille, shapely headlamps and taillamps, and coupelike side windows. The low-profile roof rails add to the SUV's look. They feature a sleek anodized finish. Up to 20-inch wheels are available. It's an easy on the eyes SUV that's well balanced. You can tack on black gloss exterior accents to give it a bolder look, if desired. What distinguishes this SUV as a plug-in hybrid is the charging port on the back.
Safety
As for safety, there's seven airbags and a whole host of other features. Active brake assist comes standard, for example. If you get too close to a vehicle or object ahead, it can help you brake or apply the brake for you. There's also attention display, which is able to detect when the driver is too drowsy to drive. The system will alert you if it detects drowsiness on long trips. Another system to highlight is Mercedes-Benz Emergency Call. If an air bag deploys, your SUV can automatically initiate a call to Mercedes-Benz Emergency Services. Trained experts will transmit your GPS-determined location and helpful vehicle information to first responders on your behalf. You can also press the SOS button in the vehicle at any point if you are experiencing an emergency. The service is provided for as long as you own the vehicle, no matter who is driving! Another cool safety system to highlight is crosswind assist. If there are strong side winds, the system helps keep your vehicle on track by strategic braking of the wheels on one side of the vehicle. Finally, a backup camera also comes standard.
Optional features, meanwhile, include a surround view system, parking assist, blind spot assist, lane keeping assist, and much more.
Verdict
The Mercedes-Benz GLC 350e has a beautiful, but simple exterior design that is incredibly inviting. You can tell it's a luxurious vehicle. The interior design is clean and elegant, and I love the color display that appears to stand on its own. This is an SUV my friends would want to take a ride in, as there's plenty of room in the back. While cargo may be underwhelming compared to competitor models, I still felt it was plenty spacious. I wouldn't see myself needing any more space than what's offered! I also love how you can drive this vehicle in all-electric mode. While the all-electric range is not that great (a max of up to 14 miles or so), I live in the city and it's not a big deal to me. I still think it's a cool feature and most people will drive it in hybrid mode anyway. With multiple ways to charge this vehicle, it's easy to keep it prepped and ready to go. Finally, I love how this thing drives! It's so quiet, smooth, and comfortable.