Overview
The Mercedes-Benz G-Class is an iconic SUV known for its bold, squared-off look. What people might not know, though, is that the 2019 model is the first G-Class to receive a redesign since 1979! It was a daunting task for Mercedes-Benz to reinvent the icon, but they did a great job with it. The 2019 G-Class keeps its distinct character, but is now more off-road capable, has a more modern interior, and is more spacious!
There are two trim options to consider when it comes to your 2019 G-Class. There's the standard Mercedes-Benz G 550 or the performance AMG G 63 version. The G 550 has a starting price of $124,500. It can go from 0 to 60 miles per hour in 5.6 seconds. That's thanks to a 4.0-liter twin-turbo V-8 under the hood. It churns out 416 horsepower and 450 lb.-ft. of torque. The AMG model (which has a starting price of $147,500, by the way) features a handcrafted version of that engine. It produces a whopping 577 hp, which helps the G 63 go from 0 to 60 mph in just 4.5 seconds. Both are paired to a new nine-speed automatic transmission and there's permanent four-wheel drive.
Photos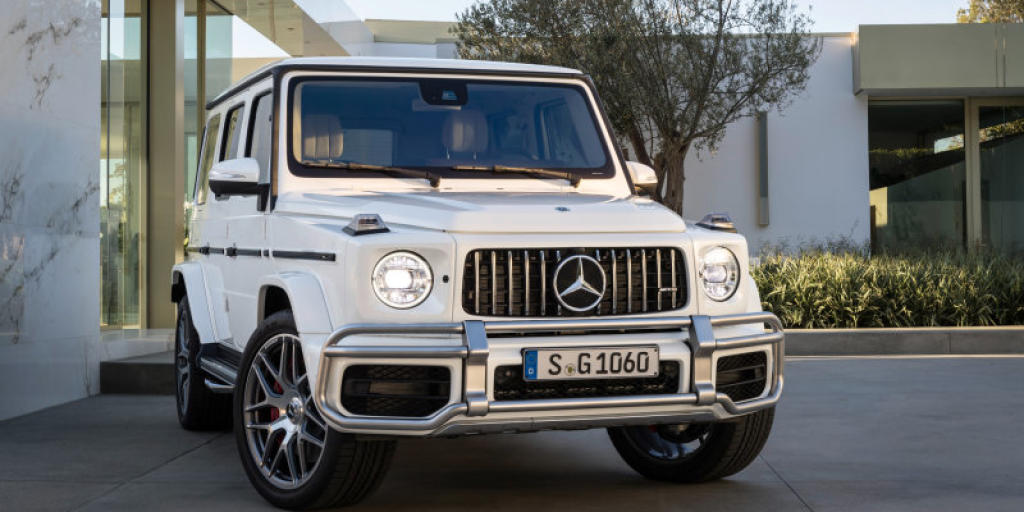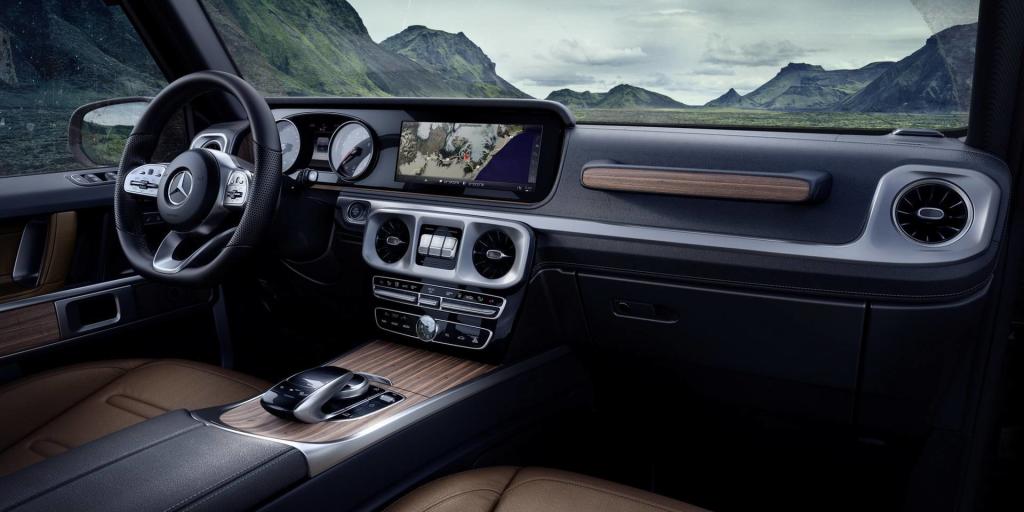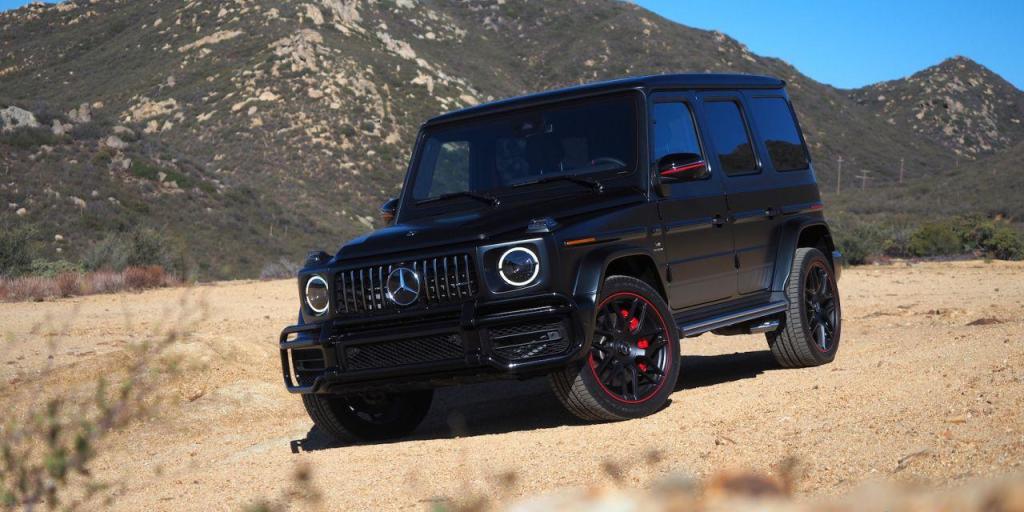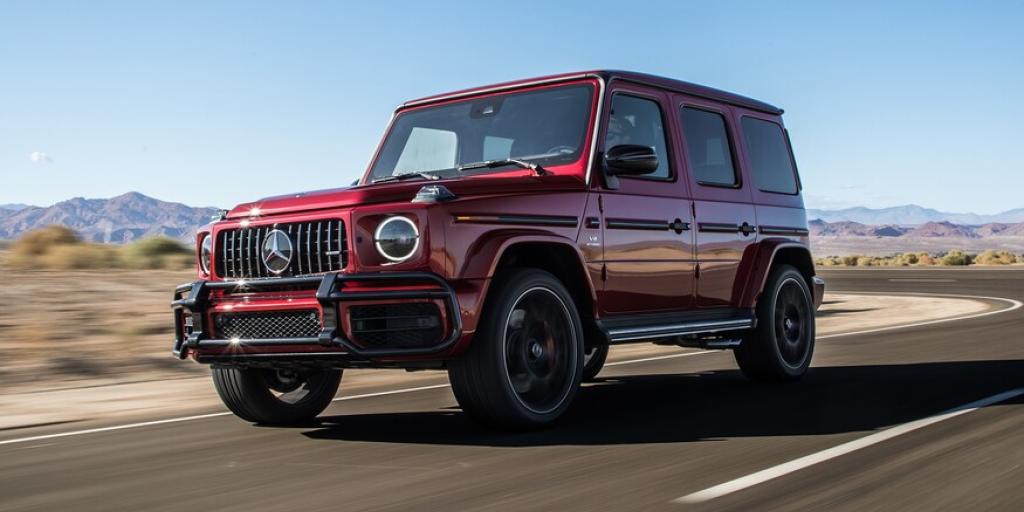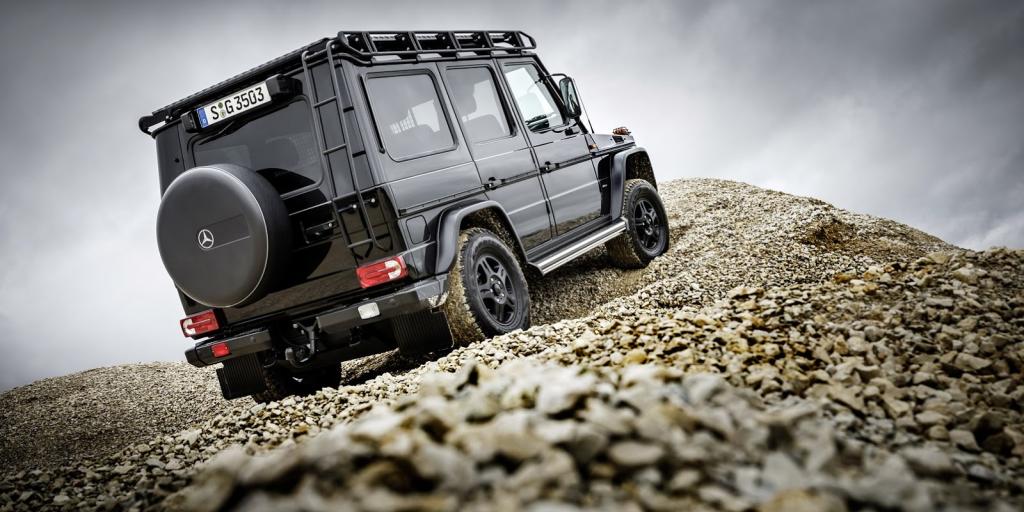 Performance
Along with its signature 4-wheel drive and three lockable differentials, virtually ever measure of the G-Class' off-road ability has been improved. There's a new independent suspension with double-wishbone front axle in combination with a rigid rear axle. It helps sharpen on-road precision while enhancing the G-Class' capability off-road. DYNAMIC SELECT is also now available with up to five driving modes for the G-Class. There's "Comfort," "Sport," "Eco," and "Individual." There's also a new off-road "G-Mode" that the G-Class will change to independently of the chosen driving mode. It does so as soon as one of the three differential locks has been activated or the LOW RANGE off-road reduction gear has been engaged. The new off-road mode ensures optimum control and maximum off-road capability.
There are two different engine options with the 2019 G-Class. With the G 550, there's a high-performance 4.0-liter twin-turbo V8 engine. It produces an output of 416 hp. There's also a more powerful, handcrafted AMG version of that engine that churns out 577 horsepower. You can find it under the hood of the AMG G 63. It's able to go from 0 to 60 miles per hour in 4.5 seconds.
Both engines are paired to a new nine-speed automatic transmission. It's sportier, smoother, and more efficient. With a 2-speed transfer case, Mercedes says it offers one of the industry's widest gear spans. The driving modes we noted above let you fine-tune the G-Class' performance.
Interior
With its larger body, the 2019 G-Class is now roomier inside. There's plenty of space for five adults, with an additional 1.5 inches of legroom in the front and 5.9 additional inches of it in the back! There's also improved shoulder room and elbow room. The G-Class' ergonomically designed seats are nice. They're heated in the front and back. Ride comfort can be further improved, though, by tacking on the available Active Multicontour Seat Package. Acoustic glass and 3-zone climate control, meanwhile, come standard. The sunroof now uses heat-rejecting glass, which is a nice touch!
The 2019 G-Class's interior is a lot more modern, as well! High-quality materials like leather and wood are used throughout. The elaborate multi-zone LED ambient lighting system is just beautiful. It lets you choose between 64 colors, as well as a variety of motifs featuring slowly changing hues. It helps further elevate the look of the redesigned infotainment center. As in the new E-Class and S-Class, a large instrument cluster display is in the driver's direct field of vision and a central display above the center console is available as an option. When coupled together, the 12.3-inch displays blend visually into a widescreen cockpit beneath a fully bonded glass panel. It's so sleek looking! Drivers can also choose between three different styles for the displays, including "Classic, "Sport, and "Progressive." A touchpad/rotary controller helps make using your on-screen features a breeze. In-car WiFi is also available for a low monthly rate, allowing you to connect up to eight devices at a time.
Exterior
Although redesigned for 2019, the luxury off-road vehicle from Mercedes continues to have its iconic squared-off look. You'll still find the distinctive door handles, which offer that characteristic closing sound. The doors still remain a bit hard to close, though! Other features carried over to the new G-Class include the robust exterior protective strip, exposed spare wheel on the rear door, and the prominent indicator lights. Advanced LED technology powers the G-Class' gorgeous round headlamps.
Be sure to also keep in mind there's lots of customization offered with the G-Class. There are so many different exterior colors to choose from and you can tack on styling packages and a number of other features. As for the AMG G 63 model, it sets itself apart from the G 550 with vertical chrome bars in the grille instead of horizontal ones. The AMG G-Class also features large air intakes and has a new low-profile brush guard.
The new G-Class is now 2.1 inches longer and 4.8 inches wider, so it has an even greater presence on and off-road. Mercedes says while the body is larger, its maneuverability has been improved. Its ladder frame is also now stronger, yet lighter. Despite all these changes, it's still unmistakably a G-Class.
"In short, the new 'G' is still a 'G,' only better," said Chairman of the Board of Management of Daimler AG Ola Källenius.
Safety
As for safety, the new G-Class has a suite of systems. Standard driver assist systems include Blind Spot Assist, Active Lane Keeping Assist, Active Distance Assist DISTRONIC cruise control, and Traffic Sign Assist.
Verdict
The Mercedes-Benz G-Class is an expensive luxury off-roader. The base Mercedes-Benz G 550 has a starting price of $124,500. Tacking on additional packages or features will bring up that price. If you're after the more powerful AMG performance version of the G-Class, you'll have to shell out more than $20,000 more. The Mercedes-Benz AMG G 63 has a starting price of $147,500.
If you're a fan of the G-Class but need a more affordable luxury option, you might want to check out a Range Rover or Range Rover Sport. Many argue you just can't beat the level of luxury you get with the G-Wagon, though.
While it was definitely a tough task for Mercedes-Benz to reinvent an icon like the G-Class, they did a great job with it. They were able to keep the vehicle's impressive character, while improving it in a number of other ways. It now offers a more comfortable ride, is more off-road capable, roomier, and more modern on the inside. The only major downfall to the next-generation G-Class is that its fuel economy is lackluster. It's EPA-rated at 13 miles per gallon city and 14 mpg combined. It is a large, heavy box, though, so that's important to remember.
Other things we love about the new G-Class include the updated instrument panel, the ambient LED lighting system, and the heat-rejecting sunroof. It remains an awesome vehicle to drive and to be seen in. Celebrities continue to love this vehicle, and we can see why!
As always, be sure to test drive any SUV you might be interested in purchasing. Also check with your local Mercedes-Benz dealer for any specials and additional information on pricing.