Overview
The Mazda CX-3 is the smallest SUV in Mazda's lineup and it's a favorite among people who want a sporty ride, but not the added size of a larger SUV. While subcompact SUVs are typically not known for offering engaging driving dynamics, the CX-3 breaks that mold. It definitely offers a fun, sporty ride! It's also agile and easy to maneuver.
While the Mazda CX-3 was slightly refreshed for 2019, it still largely has the same look as it did several years ago when it first made its way to market. That's a good thing, though, as people do enjoy the look of the tiny utility. The interior also remains nice and well-rounded. The technology featured, though, is starting to get a little outdated.
If you want the fanciest features possible with your CX-3, you can opt for the range-topping Grand Touring trim. The best part? It doesn't carry a hefty price tag. Even that range-topping trim option still has a competitive starting price.
There are three trims options for the 2019 Mazda CX-3, by the way. They are Sport, Touring, and Grand Touring. All feature the same engine and all are offered with all-wheel drive. The base Mazda CX-3 Sport model starts from $21,790 (all-wheel drive). Even the range-topping Grand Touring trim remains affordable with a starting price of $27,145.
Continue reading below for more about the 2019 Mazda CX-3!
Photos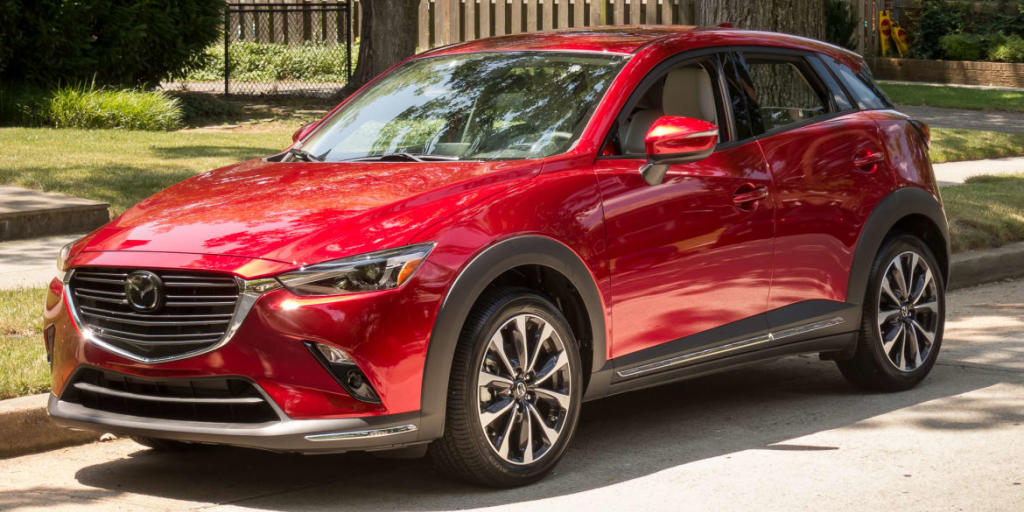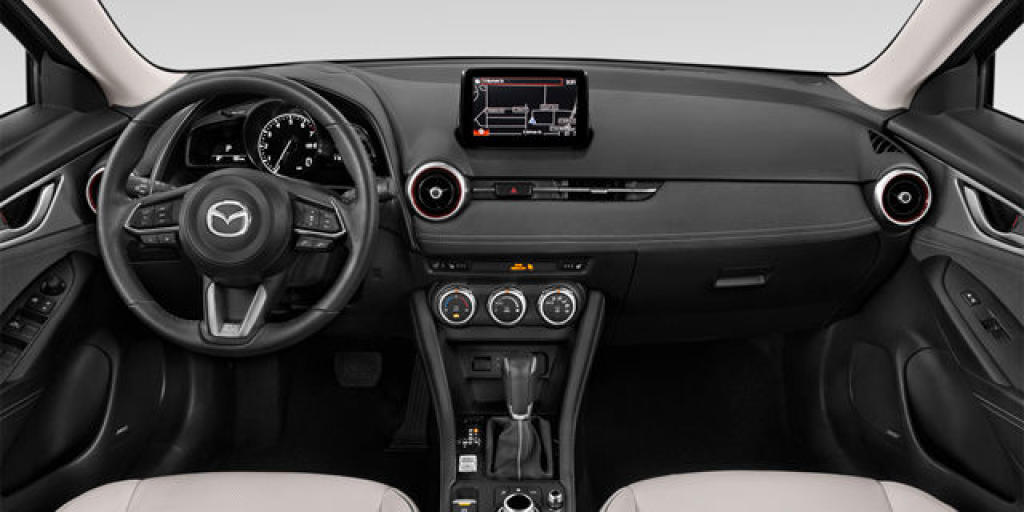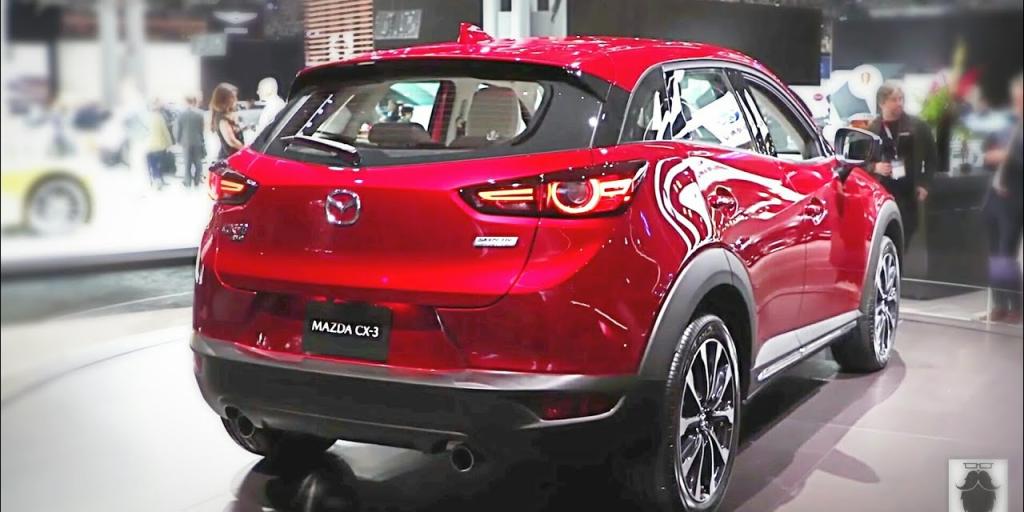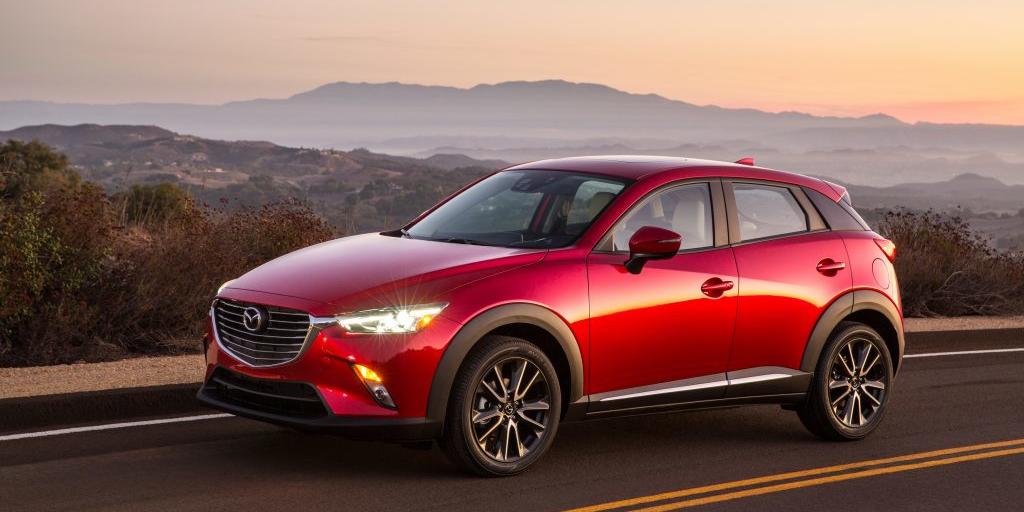 Performance
While there might be some drawbacks to the CX-3's interior, the same can't be said about its performance. Many auto critics are a fan of what the CX-3 has to offer, and especially when compared to other subcompact rivals with more lackluster engine offerings.
All trims of the 2019 Mazda CX-3 feature the slightly improved SKYACTIV-G 2.0-liter 4-cylinder engine that produces 148 horsepower and impressive torque, even at low speeds. It's paired to a 6-speed automatic.
The CX-3 is peppy, agile, and easy to maneuver! It's also nice that with dynamic Drive Selection, you can put Sport Mode to good use. The CX-3's responsive acceleration is amplified by it! The quicker throttle response is particularly helpful when changing lanes, merging into fast moving traffic, or when passing.
All-wheel drive is available on all trims. However, the CX-3 does offer less ground clearance than some of its subcompact rivals. So, you'll want to keep that in mind when driving through slush or deeper snow.
As for safety, there's that backup camera as standard. There's also more safety systems that come standard on all CX-3 trims for 2019. When properly equipped, the vehicle was also named a Top Safety Pick by the Insurance Institute for Highway Safety.
Fuel economy is great! 34 mpg highway and 24 mpg city in front-wheel drive configurations. You still get 32 mpg highway in the all-wheel drive variation.
Interior
For a subcompact SUV with an affordable price tag, the Mazda CX-3's interior is solid. Even the base Sport trim's cabin feels nicer than many subcompact rivals.
The CX-3 seats five and the front seats have been updated for 2019. They now hold you in your seat even better than before, which fits perfectly with the sporty handling offered by the vehicle.
While the subcompact SUV does technically fit five, we do have to admit that the rear seat area is cramped. If you had a tall person driving up front, it'd be very uncomfortable for the passenger sitting directly behind. There just isn't that much legroom and, no matter what, adults are going to feel cramped after sitting back there for some time. The new rear armrest does offer two cupholders, which is appreciated! Since you probably wouldn't want to fit three people in the back anyway, it does seem nice to have it there.
The amount of cargo space offered with the CX-3 also trails competitors. There's 12.4 cubic feet of space behind the rear seats and 44.5 cubic feet of it with those seats folded down. Many rivals offer more space than that. By comparison, the Honda HR-V has nearly twice the amount of cargo space behind the rear seats.
While the Mazda Connect Infotainment system comes standard on every trim and does feature a 7" touchscreen with a console-mounted control knob, that technology is starting to feel a bit outdated. SUVs.com also found that it can take a while to change settings within the system. You have to make a lot of touches to get it to do what you want it to do. It also still fails to offer Apple CarPlay or Android Auto. While a 7" touchscreen does seem like a solid fit for such a small SUV, it also would be nice to see an even slightly larger display in the CX-3!
Every trim features a backup camera as standard, which is nice. The range-topping Grand Touring gets the fanciest interior features of them all, though. It features a power sliding-glass moonroof with one-touch-open feature, an improved Bose 7-speaker audio system, and the Mazda Navigation System. Plus, leather-trimmed sport seats and Lux Suede door trim with black armrests. It also features an Active Driving Display, though it uses a small piece of transparent plastic that actually folds out instead of a more typical head-up display projected into the windshield.
Exterior
Many subcompact SUVs have awkward styling and offer lukewarm performance, but the CX-3 is different. People remain a fan of its look and that's probably why Mazda has, for the most part, left the subcompact SUV's styling alone.
The CX-3 did receive a slight refresh for 2019, though. For example, the grille redesign brings greater depth and distinction. There's also new available chrome accents running front to rear.
Mazda describes its CX-3's overall design as clean and elegant, saying it expresses a sense of purity that's unexpected in a crossover of its size.
The 2019 CX-3 that SUVS.com test drove featured the newly available Soul Red Crystal Metallic paint. It's applied in three layers to achieve the head-turning color. The bright red color most definitely helps the tiny utility standout!
Another unique aspect of the Mazda CX-3's exterior is the roof-mounted "shark fin" antenna. It offers a fun aspect to the vehicle!
The base 2019 Mazda CX-3 Sport comes with 16" aluminum alloy wheels and power side mirrors with integrated turn signals. If you opt for the Touring or range-topping Grand Touring trim, you'll get larger 18" wheels. The Grand Touring also receives LED headlights with auto leveling and LED daytime running lights.
Pricing
You might want to take a look at the Honda HR-V if you want a subcompact SUV with a little more space. If you care a lot about performance and don't want to sacrifice on that, you could also consider the Hyundai Kona (which features a turbocharged engine).
As for pricing, the all-wheel drive version of the base 2019 Mazda CX-3 Sport SUV starts at $21,790. The mid-level Touring starts at $23,875. The range-topping Grand Touring SUV, meanwhile, starts at $27,145.
Verdict
If you're a single person or you don't have a large family and you want something that's nimble, agile, and peppy, then the CX-3 just might be for you. SUVs.com quickly zipped around Philadelphia in it. The Sport mode also helped make the drive more fun.
What's nice is that you don't have to compromise on style with this subcompact SUV. Unlike many other competitors in the segment, the CX-3 does have a sleek, elegant look.
But, if you plan on traveling with friends often, you might want to opt for something larger or at least look at other competitors in the segment. While the CX-3 does have good value and has many positives about it including the sporty drive it offers, its rear seat and cargo areas are smaller than others in the segment.
It really just depends on what you want as for whether or not the CX-3 would be a good fit for you!
SUVs.com gave the 2019 Mazda CX-3 an SUVs.com deal score of 76/100. If you haven't watched our video review of the vehicle yet, be sure to head on over to our YouTube channel!