Overview
The Land Rover Defender has long been a symbol of strength and that remains true with the new model. By combining a new body structure with all-new technologies and proven hardware, Land Rover was able to create a Defender fit for the 21st century. The four-door Defender 110 has already made its way to dealerships, with the shorter-wheelbase two-door Defender 90 soon to follow.
The Defender is considered one of the most iconic 4x4s ever and its return to the United States makes it the third Land Rover model to be sold here, joining the Discovery and Range Rover lineups.
SUVs.com had the chance to take a look at a four-door Defender 110 First Edition model with seating for five, but you can fit up to seven in your four-door Defender with optional 5+2 seating.
Continue reading below to learn more about the new Land Rover Defender!
Photos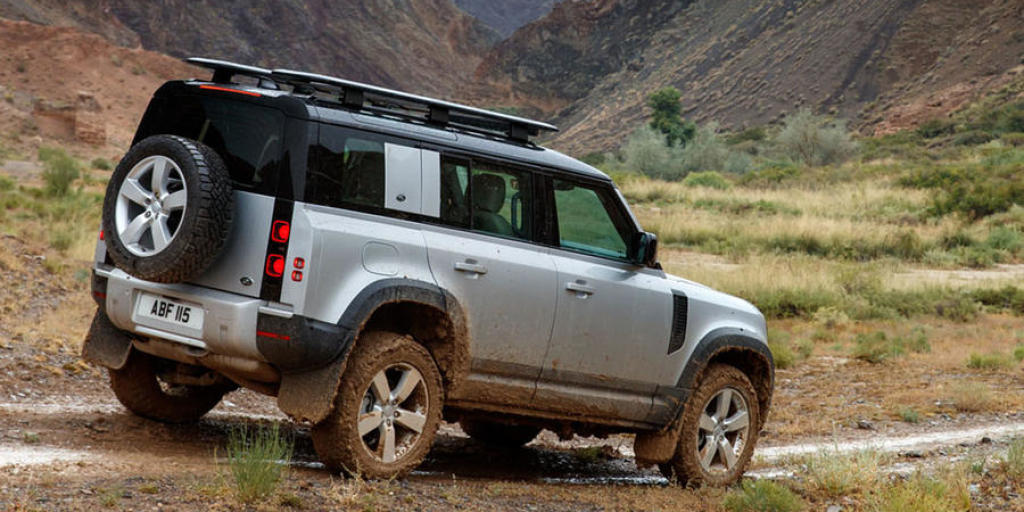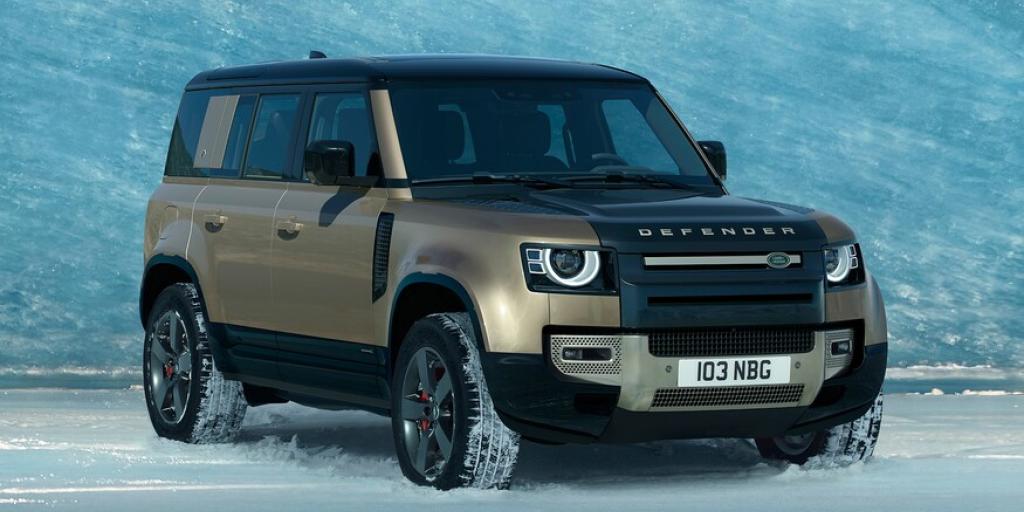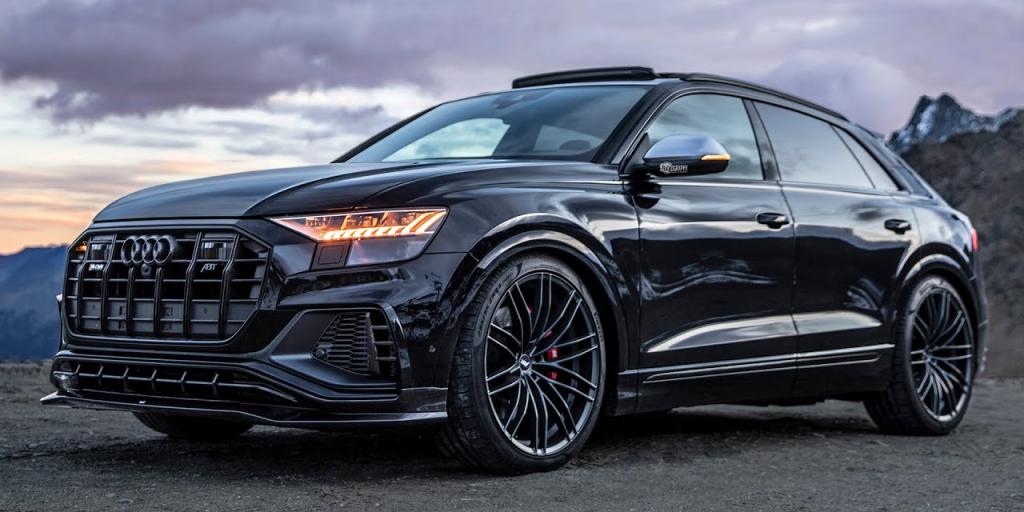 Interior
What you'll instantly notice when you get behind the wheel of the new Defender is the excellent view you have of the road and trails ahead thanks to the Command Driving Position. There's also a magnesium beam that stands out as it runs the full width of the dashboard. It's available in a range of finishes and features integrated grab handles to aid entry, but also for you to hold onto while off-roading.
The stripped-back design of the original Defender has been embraced inside, where structural elements and fittings that are usually hidden from view have been exposed.
Just as with the exterior, there's plenty of ways to customize your Defender's interior to make it uniquely yours. There's a range of veneers and finishes for customers to choose from, as well as different seating materials depending on the trim.
The interior is not just comfortable, but also versatile. The two-door Defender 90 model comes standard with a jump seat up front, for example. It's optional on the four-door 110 and allows for three people to travel in the front row as you can with a full-size pickup truck. It means the Defender 110 can be configured with five, six, or 5+2 seating. The second-row seats slide and recline as needed. The Defender 90, meanwhile, can fit up to six occupants with the jump seat. When not in use, the jump seat folds down to provide a front armrest and additional storage. Defender models fitted with the front jump seat also feature ClearSight Rear View technology as standard, so that you can see out the back more easily thanks to a feed provided by a high-definition rear-facing camera mounted high at the back of the vehicle.
The Defender 110 First Edition that SUVs.com had the chance to check out features a sliding panoramic roof. A full-length folding fabric roof is available on the Defender 90, and it provides an open-top feel that allows passengers in the second row to stand up when the vehicle is parked to provide the full safari experience. There's also an optional contrast roof.
As for technology, the new Defender features the Land Rover brand's fast and intuitive new PIVI Pro infotainment system. The touchscreen-based system is highly user-friendly, requiring fewer inputs to perform frequently used tasks. It can also handle over-the-air software updates for future releases.
The new infotainment system is said to be inspired by the latest smartphones and you access it through the central 10" touchscreen. Apple CarPlay, Android Auto, and wireless smartphone charging are standard, as is an in-dash navigation system. There's also a 12.3" digital instrument cluster fit for 3D mapping and a color head-up display in higher-end Defender models like the 110 First Edition that SUVs.com had the chance to check out.
There are charging sockets and USB ports to put to good use, as well as lots of areas throughout the interior to store small items. There's also a standard 3D Surround Camera to allow the driver to see all objects around the vehicle.
You open the unique side-hinged rear tailgate to access the cargo area, which can be made larger by folding down the seats.
Exterior
The new Defender is instantly recognizable with its distinctive silhouette and optimum proportions. It looks like the tough, but sophisticated all-terrain vehicle that it is.
The new Defender's horizontal roof, vertical rear end, upright windshield, horizontal hood, and minimal front and rear overhangs make it instantly recognizable.
Land Rover likes to say that its new Defender is respectful of its past, but not harnessed by it.
"The Land Rover Design team re-envisioned familiar Defender elements for the 21st century, giving the new 4x4 a purposeful upright stance and Alpine light windows in the roof, while retaining the side-hinged rear tailgate and externally-mounted spare wheel that make the original so identifiable," explains Land Rover on its website.
Other highlights to note about the new Defender's exterior include the iconic round headlamps which feature the latest technology, and also the beautifully sculpted fenders combined with the squared wheel arches. As for the wheels, there at least 12 different designs available and they range from 18" to 22" in size.
The new Defender is available in two different body styles. The 110 is a four-door and the 90 is a two-door, both of which share the same short overhangs. There are also lots of different trims to choose from, so it's worth taking a look at the specific details of each one if you're considering purchasing a new Defender. There's also a wide range of accessories that customers can opt for, including special accessory packs.
Performance
The 2020 Land Rover Defender has superb off-road abilities and it also handles well on the road. There are two different engines offered. The standard engine is a powerful 2.0-liter turbocharged four-cylinder that's badged P300. It produces 296 horsepower and 295 lb.-ft. of torque. There's also the new 3.0-liter turbocharged six-cylinder engine that along with turbocharging, features an advanced 48-volt electric supercharger. In combination, the P400 MHEV produces 395 hp and 406 lb.-ft. of torque. It can go from 0 to 60 mph in 5.8 seconds.
Both engines are paired to a smooth and responsive eight-speed automatic transmission. Of course, there's permanent four-wheel drive.
The Defender's new body architecture provides ground clearance of 11.5" and the Defender can wade through up to 35.4" of water. The lightweight all-aluminum monocoque construction of the new D7x architecture delivers the stiffest Land Rover body ever created. Land Rover says it's three times more rigid than traditional body-on-frame designs. It provides an ideal basis for the fully-independent suspension, twin-speed transfer box, and permanent four-wheel drive. The strong body architecture of the new Defender also delivers a towing capacity of 8,201 pounds.
There are many upgrades you can make to further bolster the Defender's off-road abilities, such as an upgraded and configurable terrain response system.
Pricing
The new Defender is priced from $49,900. Its competitors include the 2021 Ford Bronco, Jeep Wrangler, Mercedes Benz G-Class, and Toyota 4Runner.
You might want to also take a look at the various Range Rover and Discovery models if you're interested in the next-generation Defender.
As always, be sure to do plenty of additional research on the Defender if you're interested in purchasing one. You'll also want to contact your local Land Rover dealer to see if there are any specials or promotions you can take advantage of.
Verdict
The new Defender looks great, is comfortable and packed with lots of technology, and offers excellent performance and off-road ability. There's really not all that much to knock the new Defender for, and that's why we gave the vehicle an SUVs.com rating of 88/100.