Overview
The Lamborghini Urus is a lightning fast vehicle that has a super sports car soul, but the functionality typical for an SUV. It's muscular and sexy, but also capable and spacious!
The Urus can go from from 0 to 62 miles per hour in 3.6 seconds! While it's an incredibly fast SUV that offers that distinct Lamborghini engine sound and acceleration, you still feel comfortable and at ease behind the wheel. It's a versatile vehicle with room for up to five, offering a solid amount of space for those rear seat passengers.
Continue reading below for more information about the 2019 Lamborghini Urus!
Competition
Battling Bentley for Title of "World's Fastest SUV"
Lamborghini and Bentley have been in an ongoing battle for the title of "World's Fastest SUV." While the Bentley Bentayga initially held that title as it came out first, the Lamborghini Urus eventually stole the show. Again, the Lamborghini SUV is capable of going from 0 to 62 mph in 3.6 seconds and can reach a top speed of 189.5 mph. There's now a Speed version of the Bentayga, though, that slightly edges out the Urus in terms of top speed. The Bentayga Speed can reach a top speed of 190 mph. It takes the Bentayga 3.9 seconds, though, to reach 62 mph. So, the Urus still wins there. We should also note a performance version of the Urus is expected.
Regardless of the back and forth over that title, the Lamborghini Urus remains one of the fastest production SUVs in the world. It's a popular vehicle that has attracted many new customers to the brand, including more women. The SUV helped Lamborghini nearly double sales in the first half of 2019, so the numbers speak for themselves!
Photos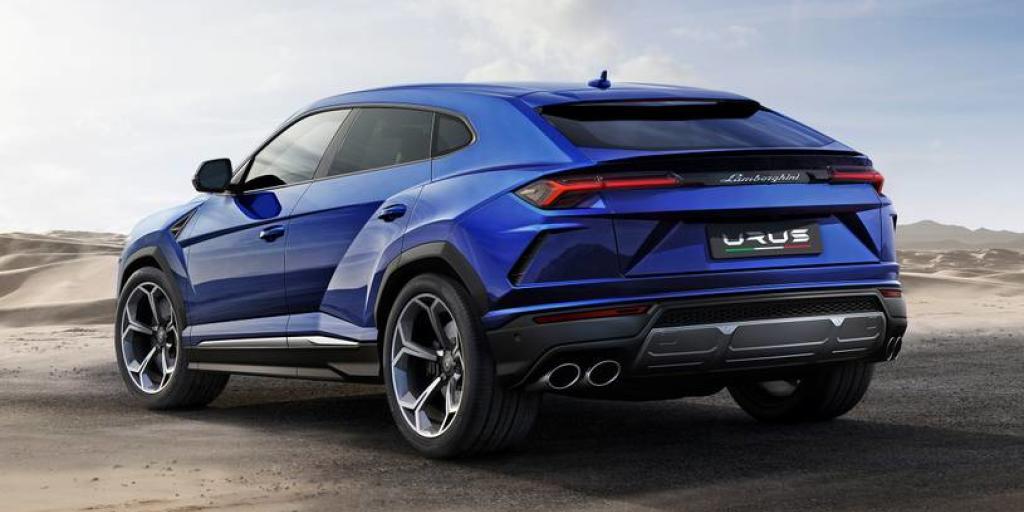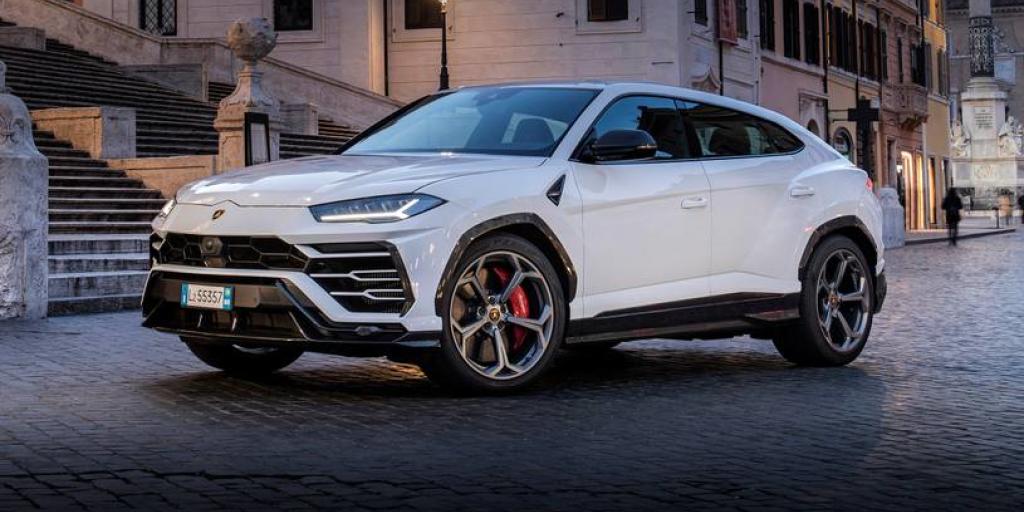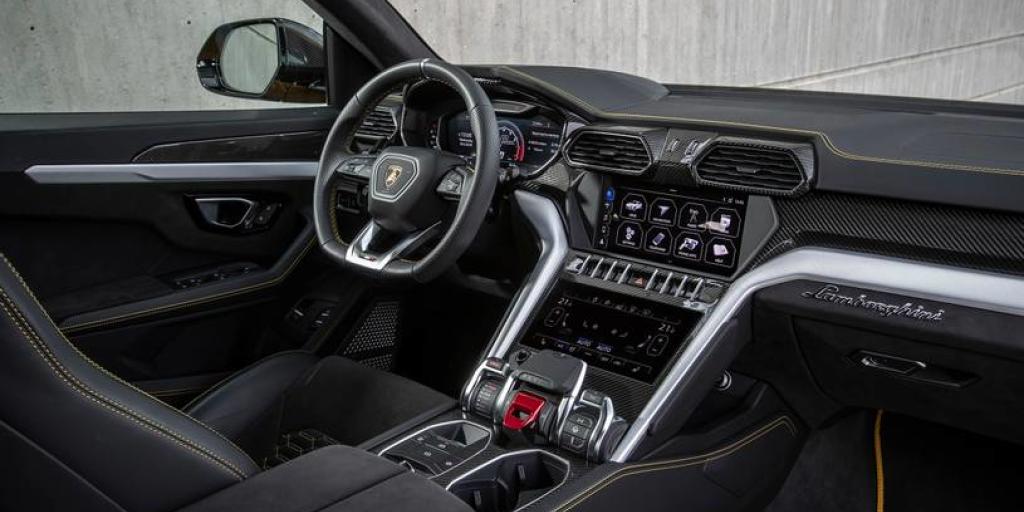 Pricing
The 2019 Lamborghini Urus has a starting price of $200,000, plus a $3,995 destination charge. The company says the average buyer typically spends an additional $40,000 on options for their Urus SUV.
For comparison, the standard Bentayga has a starting price of $230,000. So, the Urus does have a more affordable starting price than that. The Urus still comes at a premium, though.
Performance
The 4.0-liter twin-turbo V8 engine of the Lamborghini Urus makes 641 horsepower. It's capable of going from 0 to 62 mph in 3.6 seconds, but people in tests have been able to get it there in under 3 seconds! So impressive! The Urus can reach a top speed of 189.5 mph. There's an 8-speed automatic transmission that together with the 4-wheel drive system with active torque vectoring, enable the driver to perform exceptionally in every situation.
"Urus can be enjoyed whether in the city, on the racetrack, on a snowy mountain, on gravel country roads, or in the desert," writes Lamborghini on its website.
The torque is directed mainly to the rear axle, so that the general dynamic behavior is sport-oriented.
What make the Urus a true Lamborghini, though, is the electronic platform that controls the systems and transforms its dynamic behavior. The Adaptive Network Intelligent Management (or ANIMA) Selector is referred to as the secret of Lamborghini driving dynamics. The vehicle adapts to the driving mode selected. There are three on-road modes: STRADA, SPORT, and CORSA. There are also three off-road modes that you can get. NEVE ensures ease and safety even on slippery surfaces, TERRA ensures comfort and ease in off-road conditions, and SABBIA is perfect for sand. Finally, EGO mode enables the driver to redefine the Urus' dynamics according to preferences and needs in terms of steering, suspension, and traction.
While the Urus is certainly a versatile vehicle capable of tackling various driving conditions, it still offers all the thrill and and the high performance of any other Lamborghini. It also offers that distinct, beautiful Lamborghini engine sound. You feel a rush of excitement the moment you turn the vehicle on. There's something about driving the Urus that is truly magical!
Interior
Inside the Urus, its luxurious Italian craftsmanship meets state-of-the-art technology. The driver's needs are put at the forefront through the aeronautic design and driver-oriented instrument concept with three screens (one for instruments, one for infotainment, and one for comfort functions). There's also a head-up display you can opt for. The dashboard design follows the "Y" theme inspired by iconic Lamborghini models. The panoramic moonroof is gorgeous and adds to the overall sporty feel of the vehicle. Available add-ons include a rear seat entertainment system with removable tablets, a 21-speaker Bang & Olufsen audio system, and a sophisticated top-view camera.
What you'll instantly notice about the Urus' interior is how spacious it is compared to Lamborghini's other vehicles. There's plenty of room for friends in the back, with ways to configure the SUV for either five people or four. The five-seater architecture features a bench seat, or you could go opt for four seats with two individual back seats. There are so many different material choices to consider for your Urus' interior, including natural leather, Alcantara, wood finish, aluminum or carbon, and more. Lamborghini says the Urus actually features the largest range of options even presented on a Lamborghini! I personally love the embroidered Lamborghini shield you can get on the headrests. I feel it further adds to the super sports car feel of the interior.
Exterior
The Urus has a cutting-edge and streamlined design that's both sporty and elegant. Its muscular surfaces make it appear strong, while the mixed tires give it a luxury super sports car look. You'll notice some Lamborghini details right off the bat, like the Y-shaped LED blades of the slim headlights.
Lamborghini says the Urus is the lowest SUV in its class, which makes it unique. The big, bold wheels are gorgeous and draw you in. There's even massive 23" wheels available.
What's wonderful is that with a vehicle this expensive, you get a ton of customization. There are different configurations to choose from, which pair some of the available packages and features together. There's "Exciting Leisure Time," for example, with its 21" wheels, off-road package, and black roof rails. Then, there's "Essence of Sportiness." It pairs huge 23" shiny black wheels with carbon fiber packages and black matte exhaust tailpipes. The "Modern Luxury" configuration, meanwhile, offers a wonderful balance between elegance and subtle sportiness. Details such as the red brake calipers give it a nice touch. The "Unexpectedly Lamborghini" configuration equally astonishes with 22" wheels and neon green calipers. There's a lot to consider when building out your Urus, that's for sure!
Safety
While the Lamborghini Urus is an incredibly fast SUV, it has big brakes to help stop it. In fact, Lamborghini says the Urus' standard carbon-ceramic brakes are "the largest and most powerful available."
The 2019 Lamborghini Urus can be equipped with up to eight airbags. Standard safety features include front and rear parking sensors and a system designed to help prevent or lessen the impact of a collision. A rearview camera is standard, but a more sophisticated top-view camera system is available.
There are three Advanced Driver Assistance Systems (or ADAS) packages to consider. They contain new, innovative, and intelligent assistance and safety systems enabled to suit individual driving preferences.
Verdict
The Urus is an incredibly fun vehicle to drive, but it's also capable and versatile. There's plenty of space for you to take your friends with you, which is nice. There's even a solid amount of cargo space in the back. While the Urus is unlike anything else Lamborghini has, it still offers that super sports car vibe and has a great look.
Lamborghini expects the rest of 2019 to be a good year, thanks to the Urus! Again, it has helped Lamborghini nearly double sales in the first half of 2019. Lamborghini also plans on launching a performance version of the Urus (if you can believe it). We'll be looking forward to seeing that monster!