Overview
The Jaguar F-PACE is a flashy crossover with a powerful and diverse powertrain lineup and all-wheel drive as standard. The range-topping SVR trim that SUVs.com test drove roars to 60 miles per hour in just 4.1 seconds! It's a fun SUV to drive and it's quite comfortable inside, with a rear seat that features optional electric recline and a stunning panoramic glass roof that allows light to beautifully enter the cabin. The infotainment system is also impressive, and it now comes standard with Apple CarPay/Android Auto.
The 2020 Jaguar F-PACE is offered in a number of trims. There's the base F-PACE, Premium, Prestige, R-SPORT, S, Portfolio, and SVR trims. There's also two new special edition models, the 300 SPORT and Checkered Flag editions.
To learn even more about the F-PACE, continue reading below!
Photos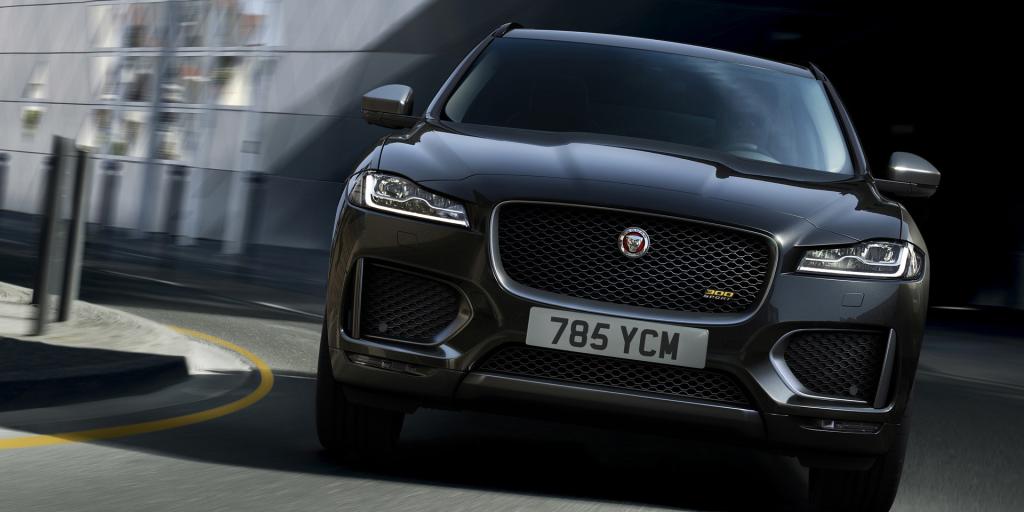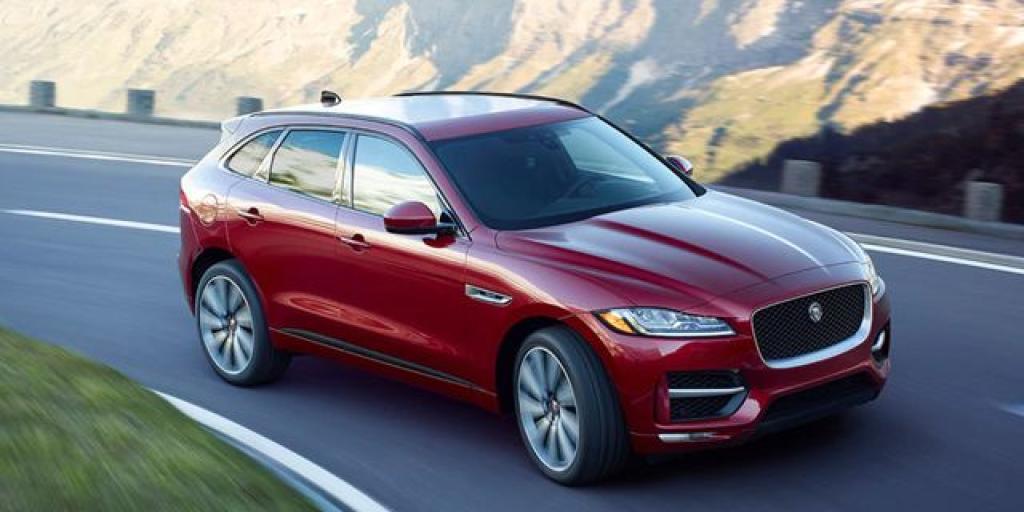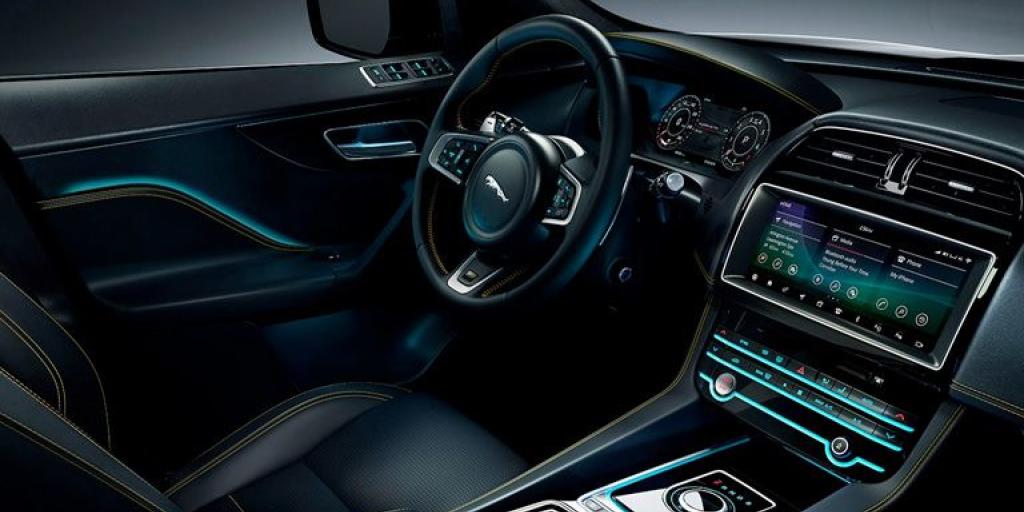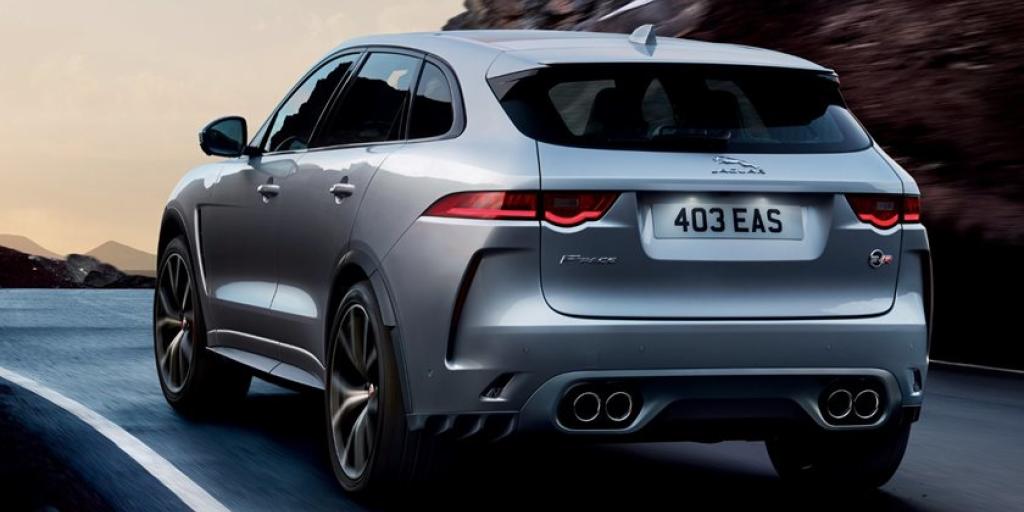 Exterior
The F-PACE is a performance SUV with the DNA of a sports car and so it looks unmistakably sporty. The hood bulge and powerful rear haunches are among the distinctive exterior design elements. Its teardrop shape is emphasized by its tapered roofline.
The range-topping SVR trim that SUVs.com had the chance to test drive features an even more impressive exterior! Up to 22" wheels are available, though critics are quick to point out those large wheels do make for a less comfortable ride. The SVR's unique front bumper and optimally positioned hood vents make it more aerodynamic and hint at the enormous amount of power it offers. Sculpted by Jaguar Special Vehicle Operations, the SVR offers head-turning road presence.
You can also find unique exterior styling in the new F-PACE 300 SPORT and Checkered Flag editions. The 300 SPORT features unique badging and exclusive Dark Satin Gray exterior features. Jaguar says it exemplifies individuality. The Checkered Flag model, meanwhile, takes inspiration from Jaguar's racing heritage. It offers assertive exterior styling and distinctive badging.
Interior
What you'll immediately notice about the interior of the F-PACE is how spacious it is. There's plenty of room for five adults to sit comfortably and that's important! There's 37.2 inches of legroom offered.
Many impressive features come standard with the F-PACE like the Touch Pro infotainment system with its 10" touchscreen. That system now comes standard with Apple CarPlay/Android Auto. The base F-PACE also features a Meridian Sound System, a rearview camera, panoramic roof, and more. The standard powered tailgate is helpful when it comes to loading cargo, and there's also an available powered gesture liftgate. There's 33.5 cubic feet of space behind the rear seats, by the way, and up to 63.5 cubic feet of space with those rear seats folded.
Going up in trim level with your F-PACE will get you even more luxe features that some argue should also come standard. Those features include navigation, a WiFi hotspot, an improved audio system, full leather upholstery, an interactive driver display, head-up display, a 360-degree parking camera system, and more.
The range-topping SVR trim that SUVs.com test drove features impressive Performance seats upholstered in perforated Windsor leather with special 'SVR' embossing. The front seats are also heated and cooled and the rear seats are heated. The optional ambient lighting system helps add a futuristic feel to the interior. There are 10 different colors to choose from to help you set the mood. It definitely helps the SVR's already bold interior pop even more!
The other trims also have unique interior touches. The special edition 300 SPORT model, for example, features yellow contrast stitching throughout.
Performance
The Jaguar F-PACE offers a powerful powertrain lineup with plenty of variety!
There are two turbocharged 2.0-liter four-cylinder Ingenium engines. One offers 247 horsepower, and the other offers 296 hp.
Then, there's the F-Type inspired supercharged 3.0-liter V6. It produces 380 hp and 332 lb.-ft. of torque.
Those engines are paired to an 8-speed automatic transmission. Every F-PACE does come standard with all-wheel drive with Intelligent Driveline Dynamics, by the way.
Finally, there's the most powerful F-PACE engine option which you get with the range-topping SVR. The 5.0-liter V8 engine offers an astonishing 550 hp and 501 lb.-ft. of torque. It roars to 60 mph in just 4.1 seconds! The all-wheel drive system and brakes are upgraded with the SVR, to help it handle all that extra power. It also features an 8-speed automatic QuickShift transmission that's highly responsive and helps keep the ride smooth.
The lightweight aluminum architecture of the vehicle also helps it perform well. It's stiff and strong, offering excellent protection to all occupants. But, its reduced weight also boosts efficiency and enhances handling and braking. Jaguar says the F-PACE offers a weight distribution with a near-perfect 50:50 balance for sporting performance and an awesome ride.
You can get even more out of your F-PACE's performance with the unique JaguarDrive Control system. It offers quicker shifts and sportier kick down in Dynamic Mode, earlier up-shifts in Eco Mode, and progresses more gently in Rain/Ice/Snow Mode.
Adaptive Dynamics modifies the F-PACE response to match the driving conditions and your driving style. It constantly adjusts the dampers to provide the optimum balance between poise and comfort. It comes standard on F-PACE S and SVR trims. On vehicles fitted with Adaptive Dynamics, optional Adaptive Surface Response recognizes differences between surfaces to exploit available grip by adjusting engine and brake settings.
In addition to the strong lightweight aluminum architecture and standard all-wheel drive of the F-PACE, there are also many safety technologies at work to help protect what truly matters. Standard driver assistance features include emergency braking, lane keep assist, driver condition monitor, and a rearview camera with parking sensors. There's also a range of packs to further enhance your driving experience. The Driver Assist Pack is the most advanced of the bunch with park assist, a 360-degree surround camera system, rear traffic monitor, blind spot assist, and high-speed emergency braking.
Pricing
The Jaguar F-PACE does vary in price greatly.
While the entry-level version of the vehicle has a starting price of $45,200, the price can quickly go up from there. Many recommend upgrading to at least the S trim, as it offers the supercharged 3.0-liter V6 engine which makes 380 hp. It's priced from $62,100. It also comes with more luxurious features inside than some of the lower level trims.
If the range-topping SVR excites you, know you'll have to shell out a lot more money for it! It starts at $80,600! While the 550 hp engine was engineered for sheer power and acceleration, the price that comes with it is quite significant.
As for competitors, you could take a look at the BMW X3, Audi Q5, or the Mercedes-Benz GLC-Class.
And if you're interested in the F-PACE yourself, be sure to call your local Jaguar dealer to see if you can schedule a test drive. It also helps to ask if there are any specials you can take advantage of.
Verdict
The Jaguar F-PACE is definitely an impressive vehicle and it breaks the mold when it comes to luxury performance SUVs. It has a great sporty look and SUVs.com is a fan of the variety you get with the powertrain lineup. While the range-topping SVR we test drove likely has too high of a starting price for the average family, it definitely is an exciting option to have with your F-PACE.
The only low point is that the entry-level F-PACE might not be as luxurious as you want. It doesn't receive leather seating, navigation, or an interactive driver display as standard. But, it does have a 10" touchscreen with navigation, a stunning panoramic roof, and more.
We gave the 2020 Jaguar F-PACE an SUVs.com deal score of 77/100. Let us know what you think by commenting on our YouTube video!