Overview
Bentley has been making vehicles for 95 years now and its Bentayga SUV is a great example of what can happen when you have all those years of experience backing up a new hand-built vehicle.
The Bentley Bentayga exudes luxury and offers incredible speed and performance, yet you get the added spaciousness and comfortability of an SUV. There are six different Bentley Bentayga models to choose from now, which we'll detail in length below!
The Bentayga Speed model stands out from the rest, as it claims to currently be the "World's Fastest SUV." Bentley and Lamborghini have been battling each other for that title for a few years now. The Bentayga Speed can reach a top speed of 190 miles per hour. That just edges out the Lamborghini Urus' top speed of 189.5 mph. Not much of a difference there, but these two luxury automakers sure do love to talk speed! We should also note the Urus is capable of going from 0 to 62 mph a little bit quicker than the Bentayga Speed. It takes the Urus 3.6 seconds to get there, while it takes the Bentayga Speed 3.9 seconds.
No matter the model, the driving experience you get with the Bentayga is so exciting! Those who are able to buy a vehicle this expensive can also expect to have the SUV tailored to their liking. There are so many different paints, hides, and veneers to choose from. There are also plenty of specifications to consider.
The special features you can additionally opt for with the Bentayga are incredible, like the innovative Event Seat that slides and folds out of the rear to offer a perfect spot for tailgating or star gazing! There's even an optional dash clock that will add a whopping $167,000 to the $229,000 base price of the standard Bentayga. It's considered the most expensive in-car clock in the world! The Mulliner Tourbillon by Breitling uses tourbillon, the most complex mechanical watch movement in the world, and is machined in either white or rose gold. The face comes in either ebony or mother-of-pearl and is fitted with eight sparkling diamonds! Talk about fancy! Most mechanical watches automatically wind themselves using the motion of the person's arm throughout the day. A dashboard clock doesn't have someone waving it around, so Bentley built in a dedicated mechanical drive mechanism to periodically wind the clock's mainspring.
If extravagance is what you're after, you can clearly get it with the Bentley Bentayga! Continue reading below for more details about this luxurious SUV.
Performance
With six models to choose from, there's a lot to consider when purchasing a Bentayga. As we mentioned earlier, the Bentayga Speed is currently considered the fastest production SUV in the world, with a top speed of 190 mph. The standard Bentayga is nearly as powerful, as it's capable of reaching a top speed of 187 mph. Both of those models feature the twin-turbocharged 6.0-liter W12. The Speed model churns out 626 horsepower, as opposed to 600 horsepower with the standard Bentayga. The engine is paired to an eight speed automatic transmission and there's a sophisticated all-wheel drive system.
The Bentayga V8 (which has a less expensive starting price of around $170,000) and Bentayga V8 Design Series, meanwhile, can reach a top speed of 180 mph. Then, there's a diesel and hybrid to consider! The Bentayga Diesel has a top speed of 168 mph. The Bentayga Hybrid is close behind at 158 mph.
The Bentayga Diesel is able to travel more than 621 miles on one full tank of fuel, which is pretty cool! The Bentayga Hybrid, meanwhile, offers an exceptional level of quietness and calm, but it does not compromise on power.
What's nice is despite being luxurious and decadent, the Bentayga's engine and gearbox are designed to operate in all off-road conditions, including lateral and longitudinal angles of up to 35 degrees. The Drive Dynamics Mode offers a choice of several different driving modes, including sport. Four further off-road settings are added when you choose the All-Terrain Specification. There's snow and grass, dirt and gravel, mud and trail, and sand modes to choose from. It also features underfloor protection, a top-view camera, and a flexible luggage management system. The specification is not available on the hybrid model, though.
Photos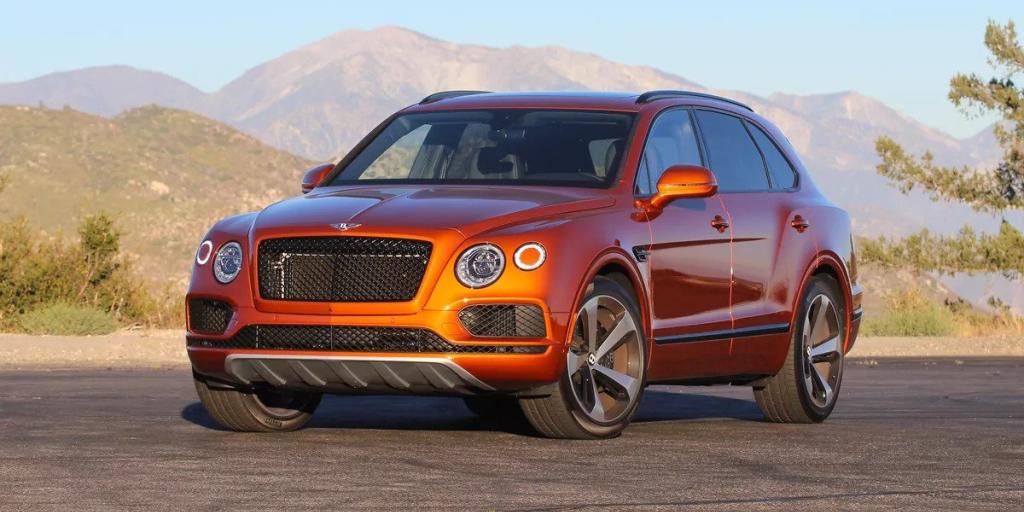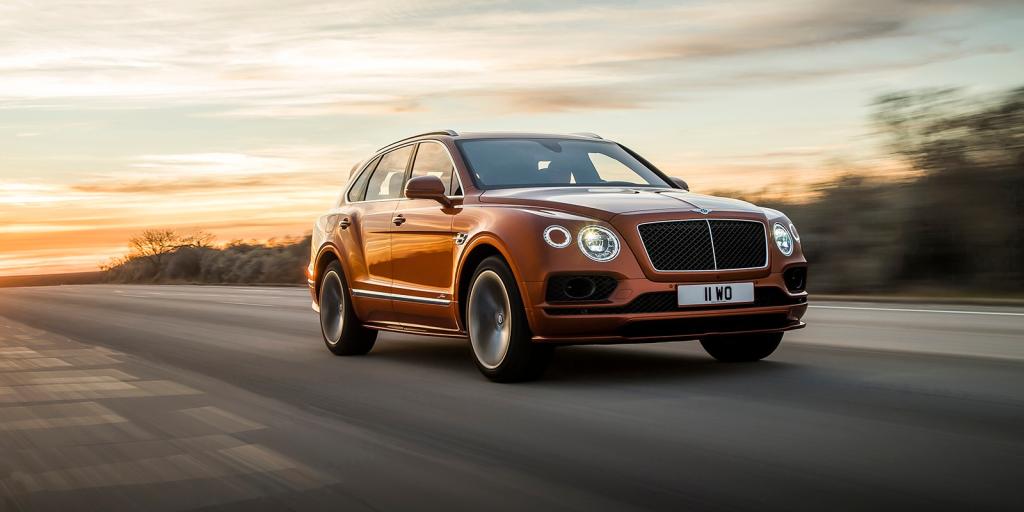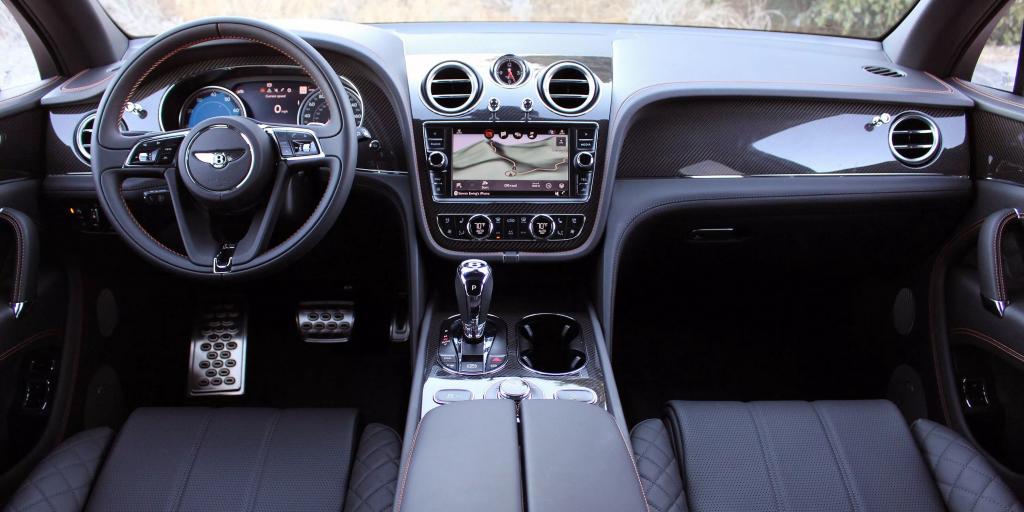 Interior
The inside of the Bentayga is beautifully crafted, too. Only the most exquisite and luxurious materials are used inside. There's hand-stitched leather and you can opt for beautiful wood veneers or hand-polished high-gloss carbon fiber. Thanks to the gorgeous panoramic sunroof, light floods the cabin.
What's nice is that you can configure your Bentayga to fit four, five, or seven people! Again, the amount of customization you get with this vehicle is impressive. The Bentayga V8 Design Series is only available in a 5-seater configuration, though.
As for technology, there's an 8.0-inch infotainment screen. You can also access the infotainment system through rotary dials or voice. You get all you'd expect in terms of connectivity, with Bluetooth and Apple CarPlay. There's also a rear seat entertainment system you could tack on. It includes two 10.2" entertainment tablets on the back of the front seats. They can be used both inside and outside of the car, which is convenient! For the first time in a Bentley, there's also three different sound systems to choose from.
As for other things about the interior, the Mulliner Driving Specification adds a sophisticated, sporting edge to the Bentayga range. It includes diamond-quilted seats, drilled sports pedals, embroidered Bentley emblems, and the full choice of hide, carpet, and interior color combinations. Don't forget you can also add that incredibly expensive in-dash clock to your Bentayga!
Exterior
The Bentayga is unmistakably a Bentley. But the signature sharp lines, flowing curves, and seamless surfaces of the luxury SUV's advanced aluminum exterior also reflect a fresh take on the Bentley design language.
Bentley says the SUV's muscular powerline is the result of an innovative superforming technique, first pioneered by the aerospace industry. The B-shaped wing vent and large, impressive wheels add to the Bentayga's look. Up to 22" wheels are available.
There are so many different specifications to consider for your Bentayga. For example, there's the Blackline Specification which replaces all of the exterior body brightware with black-painted trim. The Black Specification takes it to another level, making an even more dramatic visual statement. The Mulliner Style Specification, meanwhile, will get you a suite of exquisite elements, like dramatic 22" Mulliner Paragon wheels. Then, there's the Bentayga Styling Specification. It adds a suite of carbon fiber enhancements, boosting aerodynamic performance and aesthetics.
To help better access the vehicle, you could add an optional sill step. When a door is opened, it will automatically pop out! Don't forget about that Event Seat you can also tack on, as it's a great place to hangout! There's also sport accessories you could add, for activities like skiing, snowboarding, surfing, and cycling.
Safety
As for safety, there's plenty of driver assist technology. The Bentayga features more than ten driver assistance systems for everything from urban driving to off-roading. The City Specification incorporates a wide range of these, like a top-view camera, City Safeguard Reversing Traffic Warning, Pedestrian Warning, and more. Other features include a head-up display and night vision. There's also a number of accessories you can get, like child seats and dog carriers, winter wheels and tires, and a retracting Load-Assist Tray to make loading cargo easier.
Verdict
While you can get the Bentayga V8 for a starting price of $170,000, you'll have to shell out $60,000 more for the W12. The $230,000 price tag of the standard Bentayga can easily skyrocket with specifications added and features tacked on. It's a gorgeous vehicle that offers a super sports car level of power and performance, but also has off-road capability and more space for passengers. The attention to detail is insane with any Bentley, but especially the Bentayga. We just love how much you can personalize it, as well! If you have the money, why not opt for a vehicle like this? And with an optional 7-seater configuration, you could bring the whole family with you on a ride! It's safe to say you'd impress them!