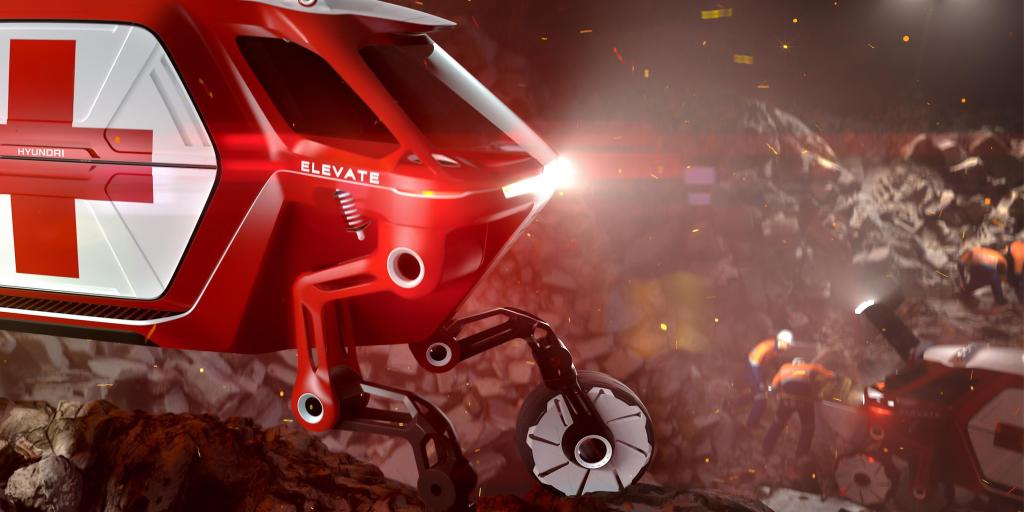 Hyundai Motor Company is out to make a splash at this year's Consumer Electronics Show in Las Vegas! It will have a wildly impressive and unique concept on display, that's bound to generate quite the buzz! It looks like something straight out of a SciFi film, or a vehicle capable of navigating the world during its frightful end.
It's called the Hyundai Cradle and it's the first Ultimate Mobility Vehicle or UMV. It's fitted with robotic legs so that it can walk over boulders and other large debris. That's right, this vehicle can walk! We're not exactly sure how we'd feel about that if one just strolled up to us unannounced, and especially if it were outfitted with intimidating tactical gear, but that's alright! One thing's for sure, those who get to see this outlandish vehicle in person at CES are lucky! That's especially true because with a concept this out there, it will likely never make its way to production. But, Hyundai is flexing its futuristic design muscles here and that's worth examining!
While Hyundai is preparing for this concept's unveiling, it also recently unveiled some other futuristic technology. That technology helps autonomously charge vehicles and seamlessly move them around to free up space for even more electric vehicles to get charged up and ready to go. We'll explain more about that later! Plus, cool new fingerprint technology in the Santa Fe SUV!
The Hyundai Cradle
Hyundai has teased an image of its Elevate concept online. With a big red cross on its side, it looks like a vehicle that very well could be used in a mass disaster relief situation. It has a bright light on the front, illuminating large boulders beneath and around it. In the hypothetical depiction, there appears to be workers possibly digging for survivors. It paints an ominous and daunting scene. It makes us intrigued!
Its legs are particularly interesting to look at. Each wheeled limb has four joints, which means it has knees and hips. The robotic legs and autonomous technology help this concept strut across harsh terrains.
Hyundai didn't release much information when it shared the teaser image of its Elevate concept online. But, the company did say that it will take people where no vehicle has been before.
"The four-legged 'Elevate' will redefine our perception of vehicular mobility," wrote Hyundai in a press release.
Some people are even comparing the Korean concept vehicle to an AT-AT (All Terrain Armored Transport) Walker from the Star Wars franchise. Pretty neat!
Hyundai Cradle Follows Other Elevated SUV Concept
If you're feeling pretty bummed about the Hyundai Cradle just being a prototype, know that a vehicle that had a similar feel to it has already navigated the streets of the U.S. The Hum Rider was designed by mechanical effects engineer Scott Beverly. It elevates so that it can actually drive over other vehicles, eliminating the need to sit in painful and frustrating traffic!
The Hum Rider is a Jeep Grand Cherokee that was fitted with a custom undercarriage that can lift it about five feet in the air. It uses a Honda generator to run its hydraulic lift system and in-wheel electric motors. Beverly's special effects house, A2ZFX, created the insane vehicle which quickly went viral after being used in a Verizon advertisement. The vehicle was actually created for Verizon to promote its cloud-connected automotive tech called Hum, so some were disappointed they couldn't order the vehicle themselves. But, it's cool to just watch videos of it. It's amazing to think about having a vehicle like that, especially if you live in a city like Los Angeles which is plagued with traffic problems. With just a push of a button, the driver is able to raise the vehicle and get the clearance needed to pass over other vehicles. We're sure it made some people nervous when they saw it! However, four cameras help the driver see beneath the vehicle. So, you can't say it's completely dangerous!
Other New Hyundai Technology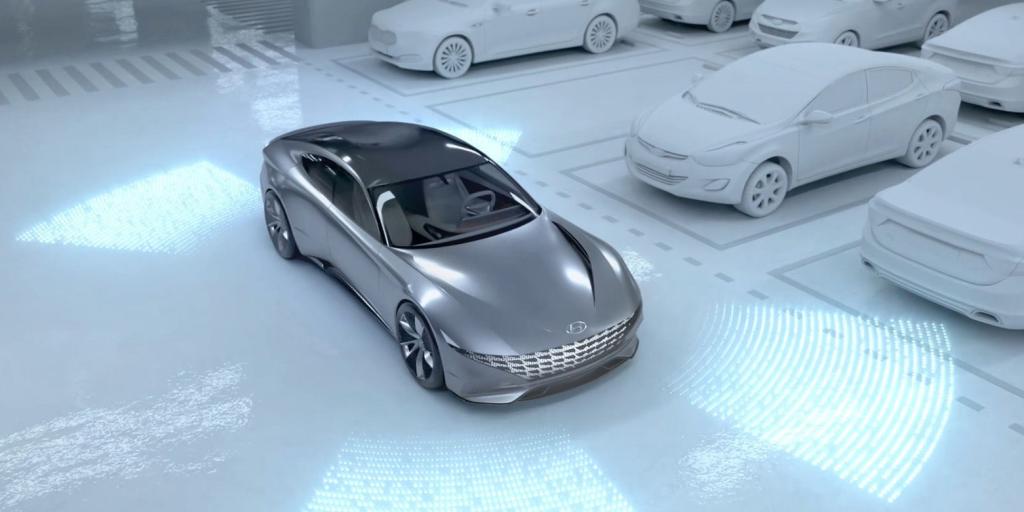 There's some other exciting Hyundai technology news to share. The company and the Kia Motors Corporation recently unveiled a video featuring a concept for an electric vehicle wireless charing system with an Automated Valet Parking System.
The system helps people with electric cars park and charge in busy areas. The driver can tell the vehicle to charge itself using their smartphone. The vehicle will then automatically cruise to a vacant wireless charging station. Once that vehicle is fully charged, it will relocate to another vacant parking space using the Automated Valet Parking System so that other vehicles can charge in that same spot. When the driver finally calls for the vehicle, it will autonomously return to the location of the driver. Talk about convenient!
"The overall process is performed by continuous communication between electric vehicle, parking facility, charging system and driver. The parking facility sends the location of empty parking spaces and charging stations, while the charging system updates the charging status of the vehicle in real-time," writes Hyundai on its website.
Further flexing its design muscles, Hyundai also recently unveiled an amazing feature for its Santa Fe SUV model. It announced the world's first smart fingerprint technology that allows drivers to not only unlock doors, but also start the vehicle.
To unlock the vehicle, all the driver needs to do is place their finger on the sensor located on the door handle. The encrypted fingerprint information will be identified and delivered to the fingerprint controller inside the vehicle. The driver can also easily start the vehicle by touching the ignition that is also equipped with a fingerprint scanning sensor. The technology even provides a customized driving environment based on matching information of driver preference with fingerprint data!
"In the future, Hyundai Motor plans to further expand the application of the technology to allow the adjustment of temperature, steering wheel position, and many other features which will be tailored to driver's preferences" said Albert Biermann, president and head of the research and development division of the Hyundai Motor Company. "This will ultimately offer quality driving experience to each and every Hyundai customer."
From a crazy concept fit for dangerous situations, to a wireless and autonomous charging and parking system, to fingerprint technology, there's a lot coming from Hyundai lately! We like to see it!
Useful SUV Links
---
Recommended SUV News & Reviews