Donald Trump has been elected president. He will take charge on January 20 and although he has had Secret Service detail throughout his campaign, protecting him will soon become the federal law enforcement agency's main task. Protecting the president is no easy feat. It takes a lot of coordination and equipment. When it comes to protecting the president on the road, the Secret Service uses a fleet of 20 to 30 vehicles. Several Chevrolet Suburban SUVs are part of the presidential motorcade. As we prepare to welcome a new president into the oval office, let's take a look at two specific ways the Chevrolet Suburban is used and why it's such a favorite.
Roadrunner SUV - Presidential Suburban
The White House Communications Agency Roadrunner Vehicle is part of every presidential motorcade. It's also known as the mobile command and control vehicle or MC2V. It's a heavily modified Chevrolet Suburban that's equipped with protective armor to shield the people and equipment inside. The Secret Service SUV serves as the communications hub for the motorcade. It's instantly recognizable as mounted on the roof, there's a configurable antennae platform that contains a large SATCOM dome containing a tracking dish. There are also smaller antennas located on the roof. The SUV provides the primary communications path for the motorcade via a military satellite, allowing bi-directional voice, data and streaming video. Cool, right? The roadrunner vehicle typically brings up the rear of the motorcade.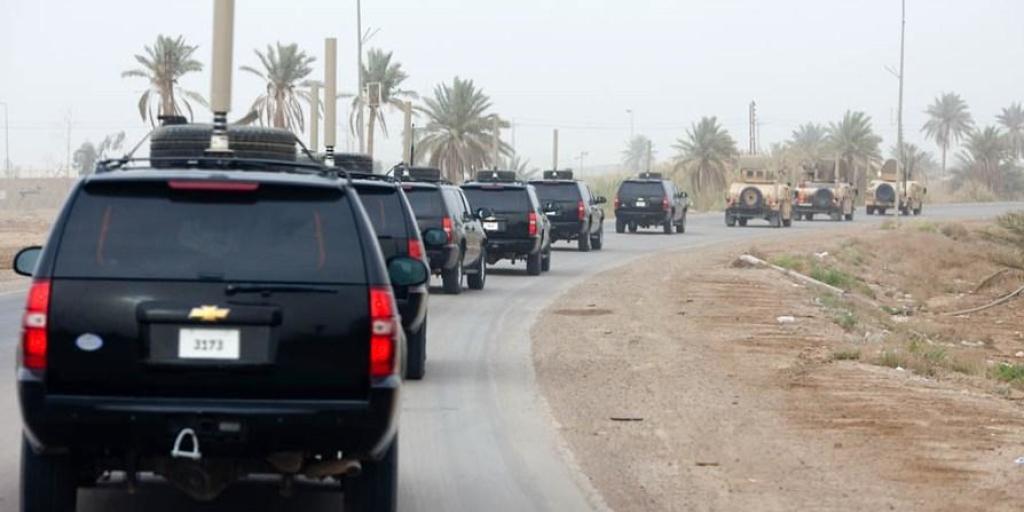 Electronic Countermeasures in the Secret Service SUV
The Secret Service also uses an Electronic Countermeasures SUV. The Chevrolet Suburban is typically positioned in front of the president's vehicle and behind the vice-presidential limo. The vehicle plays an incredibly important role in the motorcade. It's used to counter guided attacks, such as IEDs or rocket-propelled grenades. Collinear antennas and sensors mounted on the roof help it counter IED threats. The Secret Service may just love using the Chevrolet Suburban because it features body-on-frame construction and it packs plenty of power. It's also spacious, offering the federal agency plenty of room for equipment. If you'd like to feel like a Secret Service agent, you can certainly purchase a Chevrolet Suburban of your own. While it will be a lot less modified than the ones the Secret Service uses, it will pretty much look the same from the outside. The starting price for a 2017 Chevrolet Suburban is $49,915.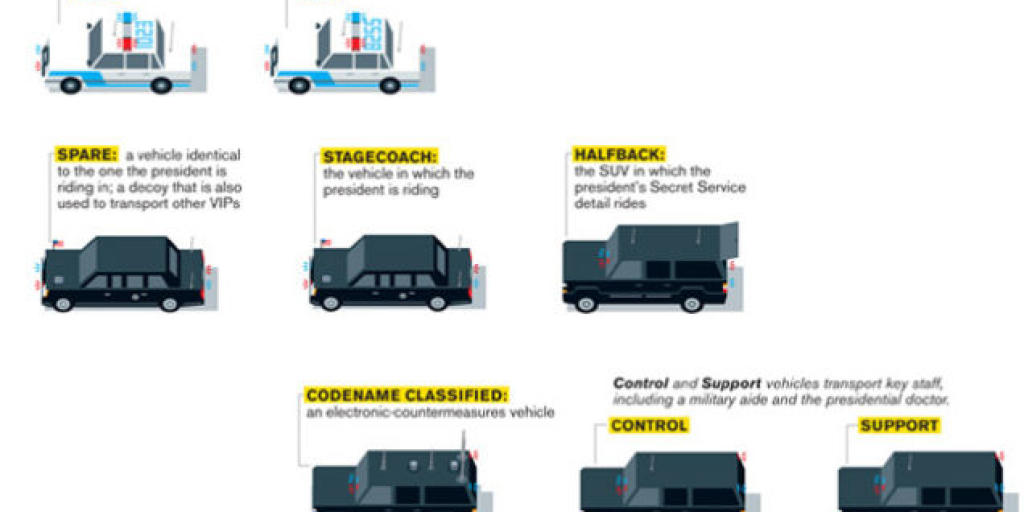 2017 Chevrolet Suburban
If you're interested in purchasing a Secret Service Suburban of your own, there are some things you should know. The company says it's the original SUV. It was first introduced in 1935 and is the oldest, continuously produced vehicle nameplate in the industry. Of course, it has been significantly upgraded over the years and the 2017 model comes equipped with several new features. New for the 2017 Suburban is a standard Teen Driver feature. It encourages safe driving habits with teenagers, "enabling parents to view the vehicle's maximum speed, distance driven and the number of time active safety features were engaged during the drive." We all know that teens drive more erratically when their parents are not in the car. By having a report card of sorts to check when they return home from a drive, parents know what their teen was doing behind the wheel. Talk about helpful!
Also new for the 2017 Suburban is the Premier trim, which replaces the LTZ. The Suburban now comes in LS, LT and Premier models, in two-wheel drive and four-wheel drive configurations. Perforated, leather-trimmed heated driver and passenger seats come standard on the new Premier trim. A new 22-inch wheel design is also available. Although you're going to go with black if you want to feel like you're part of the presidential motorcade, the 2017 Suburban comes with two new options for exterior colors: Blue Velvet Metallic and Pepperdust Metallic. When it comes to technology, 4G LTE Wi-Fi is available to help keep your family connected and entertained on long trips. Up to seven devices can be connected to the internet, making everyone happy. The 2017 Suburban also offers Apple CarPlay and Android Auto compatibility. New for 2017 are available rear seat entertainment system upgrades. The system helps keep passengers, especially kids, entertained on long rides with a screen in both second and third rows. Upgrades for the system include an HDMI connector to attach devices for projection, two additional USB ports and digital headphones.
The 2017 Suburban features a powerful 5.3-liter V8 engine with direct injection that offers 355 horsepower. It's capable of towing up to 8,300 pounds. While the engine packs plenty of power, its lightweight suspension helps optimize fuel economy, offering best-in-class 23 miles per gallon on the highway. When it comes to cargo room, the Suburban has plenty of it. There's 39.3 cubic feet of cargo space behind the third row. When second and third-row seats are folded, there's 121.7 cubic feet of maximum cargo space. It's easy to fit a kayak, camping gear, tailgate accessories and plenty of other bulky items in the back. Standard safety features include seven air bags and a rear-vision camera. LT and Premier trims come with forward collision alert, safety alert driver seat, headlights with automatic high-beam control, lane keep assist and low speed forward braking. The base trim gets those features with the available Enhanced Driver Alert Package. The Premier trim also comes with standard side blind zone alert, lane change alert and rear cross-traffic alert. Adaptive cruise control with front automatic braking is also available.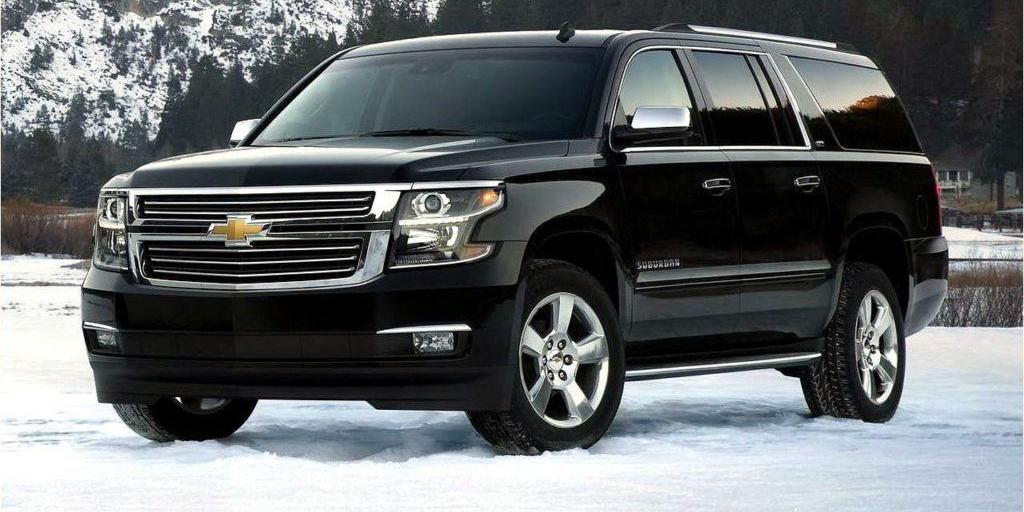 Our Take
The Suburban is a classic full-size SUV that has been an incredible performer over the years for Chevrolet. It has traditionally been one of General Motors' most profitable vehicles. While it's certainly not as flashy or luxurious as the Cadillac Escalade, it costs about $20,000 less. It has all the space a family could need to make long trips comfortable as well as technology to keep passengers entertained. Not to mention, riding in a Suburban may just make you feel like you're part of the presidential motorcade! See all used SUVs in your area.
Useful SUV Links
---
Recommended SUV News & Reviews