It's not quite an SUV, but it's definitely a concept vehicle for SUV fans to pay attention to. That's because the Volkswagen Group plans on drawing design aspects from it in the future. It's called Sedric (short for self-driving car). It's the first concept car from the Volkswagen Group and it was unveiled at the 2017 Geneva International Motor Show. It's electric and autonomous.
"Sedric is the pioneer, the ideas platform for autonomous driving in the Volkswagen Group," writes the company. "And it is the 'Father' of numerous concepts for a new form of individual mobility. Soon Sedric will also get 'children' and 'grandchildren' with the Group's various brands. They will be created in typical designs for the brands and will feature tailor-made and customer-specific characteristics for equipment."
In case you didn't know, the Volkswagen Group's brands include Audi, Bentley, Lamborghini, Porsche, Volkswagen and others. So the fact that all of those brands will be drawing inspiration from Sedric's design is significant. Of course, some of those brands are also big on SUVs. So it should be interesting to see how the brands borrow from Sedric when it comes to their design of SUVs.
The Volkswagen Group says Sedric gives entirely new meaning to the concept of autonomous driving. With just the touch of a button, the self-driving vehicle picks up passengers and takes them safely to their destination. It was created for level 5 of autonomous driving which means a human driver is not needed. The vehicle even lacks a steering wheel! 
"A mobility concept based on intensively used vehicles will take up less space, will consume less energy, and will be safer and more sustainable at the same time," writes the company. "And the concept offers tailor-made mobility for everyone: adults and children, retirees and people with physical disabilities, city people who do not have their own car or a driving license, and visitors in a new city and suddenly decide they want to get from A to B in a convenient mobility setting."
The Volkswagen Group says Sedric could be used as a shared mobility vehicle. In that instance, it'd be part of the Volkswagen Group's mobility service provider's fleet. But it could also be an individually configured owned vehicle of one of the Volkswagen Group's brands.
Exterior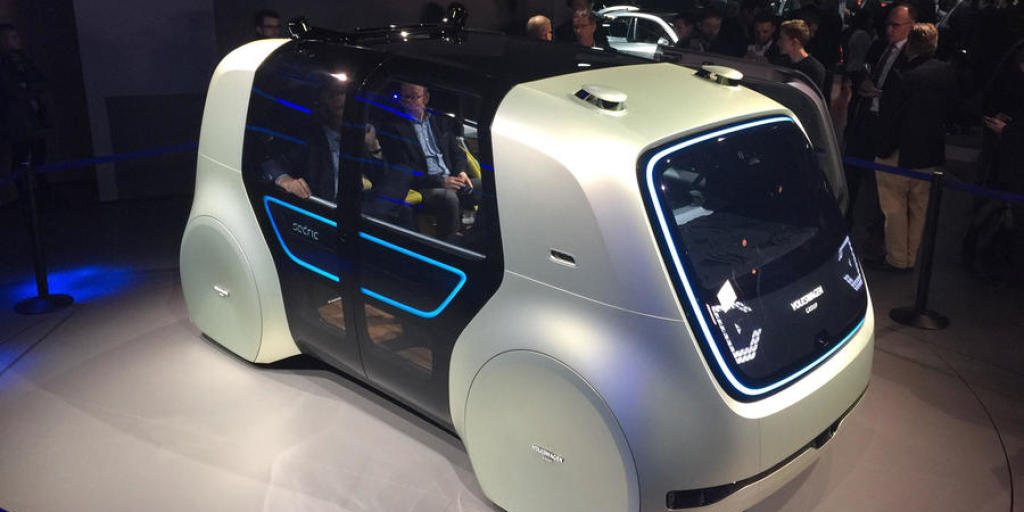 Sedric definitely has a futuristic look. To be honest, it doesn't look much like a car. It lacks elements you'd find on a standard vehicle including shoulders. Instead, Sedric looks more like a mini bus or as some reports have said, a toaster (yes, a toaster). 
"Sedric conveys a robust character, safety and reliability within its muscular flanks and stable roof pillars," writes the company.
Because the vehicle will be moving around in urban areas, the suburbs and in the countryside, its body concept offers compact dimensions with a spacious interior.
Interior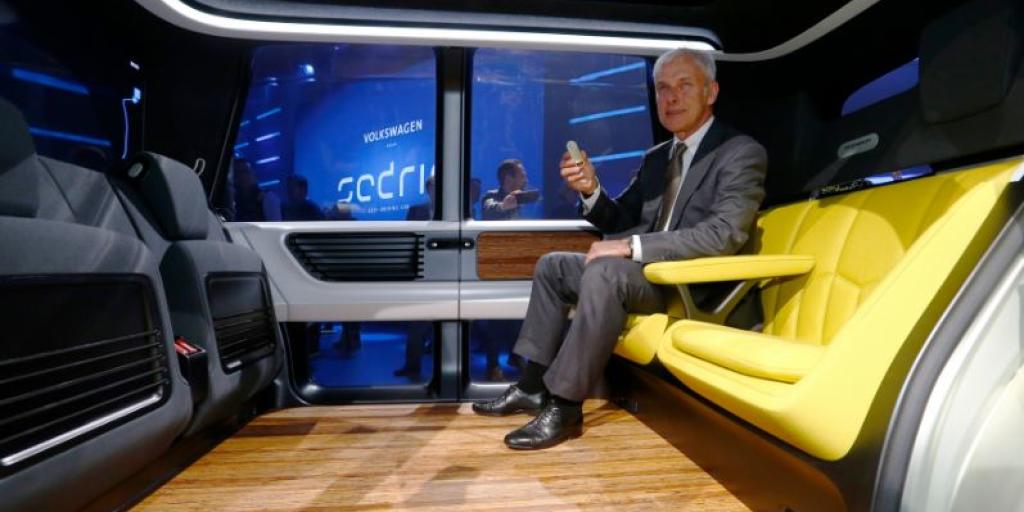 Sedric was designed with simplicity in mind. That's why by just pressing a button, the concept vehicle will pick its user up precisely at the time indicated in advance. When it arrives, it recognizes the user and opens its futuristic door. The two-part door has a wide and high opening, making it easy for passengers to enter the vehicle.
Once inside, you'll notice that the interior of the electric vehicle is spacious thanks to the engineering structure. 
"The battery pack is flat and has been configured between the axles, and the compact electric motor is located at the level of the wheels," writes the company. "Systems like air-conditioning or the electronic intelligence of the self-driving system are positioned in the compact overhangs at the front and rear."
As we mentioned before, there's no steering wheel in Sedric as no driver is needed. That makes the interior even more spacious. The Volkswagen Group goes as far as to call Sedric a comfortable lounge on wheels. What helps make it feel like a lounge is that the two rear seats act as a comfortable couch. Carefully selected materials are also used in the interior. For example, birch leather is used to upholster large surfaces. While you're relaxing on the couch, you'll also be breathing easy. That's because Sedric employs green technology on board.
"Air-purifying plants positioned in front of the rear windscreen enhance the effect of generously dimensioned bamboo charcoal air filters," writes the company. "Large window surfaces create contact with the outside world and even the large, high-resolution OLED screen is transparent and allows passengers to look out at the front."
Now if you're worried about getting to your destination on time, you can actually talk to Sedric. It's just one more way the concept vehicle helps you relax. Passengers are able to talk to Sedric about the destination, how to get there, how long it will take to get there, what the traffic is currently like and where you could possibly stop along the way. The Volkswagen Group says passengers are basically able to talk to Sedric like they would with a personal assistant.
Our Take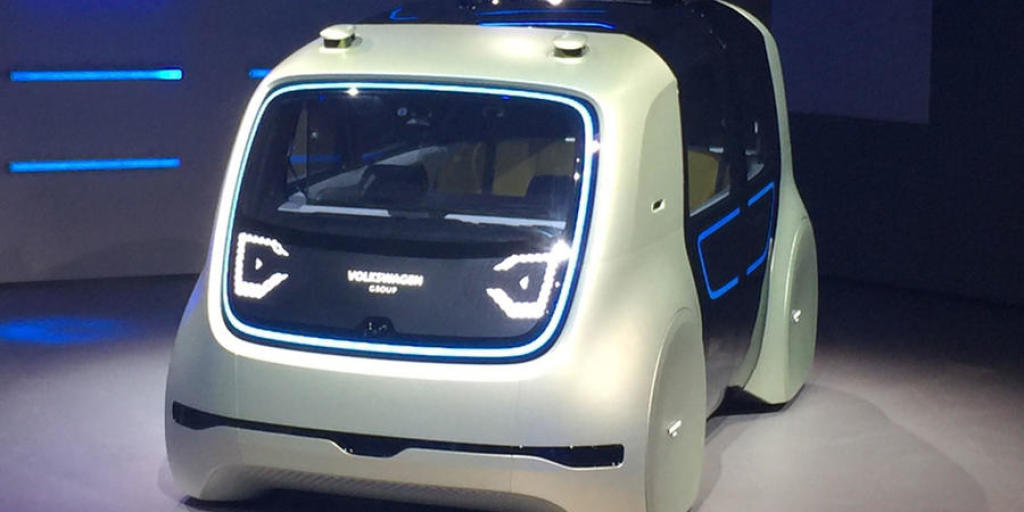 Sedric is just one step in the Volkswagen Group's "Together - Strategy 2025" plan. The strategy was introduced in 2016 following Volkswagen's crushing diesel emissions scandal in the United States. The plan includes introducing dozens of all-electric vehicles by 2025. So, Sedric gives us a glimpse of what we could possibly expect from the Volkswagen Group's various brands in the future. It should be interesting to see how exactly they incorporate aspects of the design in upcoming concepts and even production vehicles. That's why it's worth keeping Sedric in mind despite the fact that, unfortunately, you won't see the concept vehicle in your city anytime soon. 
Useful SUV Links
---
Recommended SUV News & Reviews