Volkswagen is taking a completely different approach to its marketing style and it should come as no surprise. It now has a three-row SUV to market to American consumers and that's much different than the smaller vehicles it has marketed over the years. Think back to 1959. That's when Volkswagen made its first splash in America by introducing the Beetle through its "Think Small" campaign. The print advertisements for the campaign were simple with a small image of the Beetle shown on a plain, contrasting background. It was crucial for Volkswagen to make sure the campaign was successful as it had to convince Americans to purchase the Beetle despite the fact that it was manufactured in Nazi Germany. Fast forward to 2017 and Volkswagen has found itself in a similar position. That's because it really needs to hit a home run with its new seven-seater SUV as its diesel emissions scandal has had a pretty dramatic impact on the way Americans view the company. The bottom line is that the company needs families to love its Atlas SUV.
New Marketing Campaign
Volkswagen's new eight-part campaign for the Atlas SUV comes with the tagline "Life's as big as you make it." It shares a touching story of a three-generation family that travels across the country. "Our first seven-passenger SUV was built with American families in mind," said Vinay Shahani, senior vice president of marketing for Volkswagen of America. "The 'America' campaign tells the story of Atlas through the lens of an American family traveling across this beautiful country." The spots vary in length with the longest one lasting 90 seconds (
video here
). They feature various versions of Paul Simon's song "America." The longest commercial begins with the family's grandmother reading a note aloud from her husband who has passed away. The grandfather writes in the note that for his last wish, he wants his family to take a trip together across the great United States. He says he wants them to see the sights he never had a chance to after immigrating to the country. The video then shows the family all getting into the three-row Atlas SUV together for their journey. It's clear the grandmother is the main character of the commercial. At one point, one of the grandchildren asks her how she met their grandfather. She replies that they met on a blind date. She then lovingly looks at a photo of him. After that she says, "I wish he was on the trip with us." The commercial hits its emotional peak when it shows the family standing on the edge of a cliff overlooking the ocean with their grandfather's ashes in hand. They then pour them out. There's no denying it's a touching commercial and that's just what Volkswagen was hoping to achieve. Now, they just have to wait and see whether it works.
Vehicle Details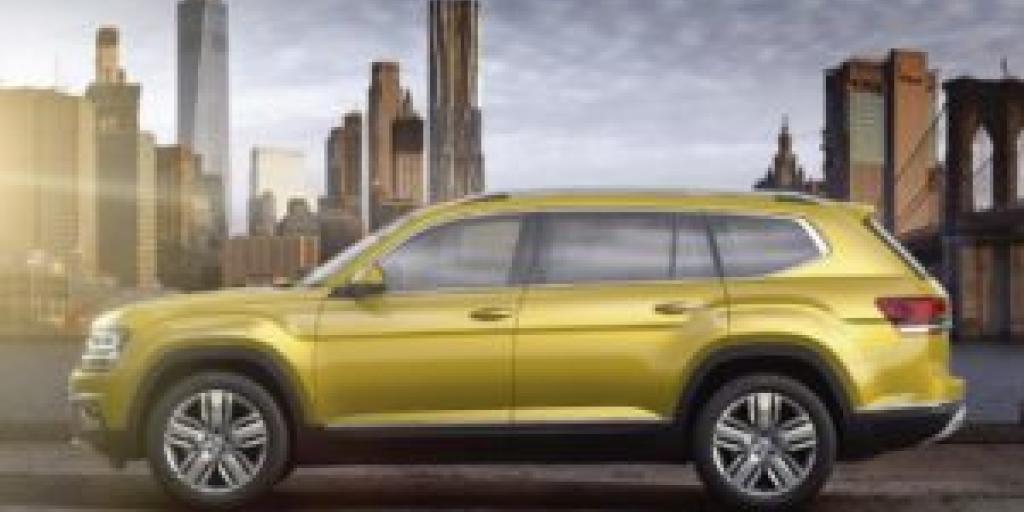 Volkswagen is betting families who give their Atlas a chance will love the amount of space the vehicle offers. The company says each row is large enough for kids, adults, or a combination of the two to sit comfortably. If you have a lot of little ones, there's no need to worry. That's because the second row can accommodate three car seats. But if you don't have that many kids and you'd rather have a vehicle with more individual space for your passengers, you can opt to have captain's chairs in the second row instead. As for passengers in the third row, you don't have to worry about them feeling cramped. Volkswagen says the Atlas' third row legroom is class leading at 33.7 inches. The company also says it's easy to access third row. We can't forget that families, of course, have lots of things. To help fit all that stuff, the Atlas' second and third rows fold down. When both are folded, there's 96.8 cubic feet of cargo space. To help make loading cargo easier, you're able to wave your foot under the rear bumper to open the hatch. Some of the interior features that Volkswagen believes families will like include the vehicle's wealth of cupholders and USB ports. There are 17 cupholders for your kids' sippy cups, water bottles or other drinks. Three-zone climate control is available to help keep passengers in each row comfortable. Also available is a panoramic sunroof that almost runs the length of all three rows. Your kids will be able to star gaze with that option. It just may help keep them distracted on long rides.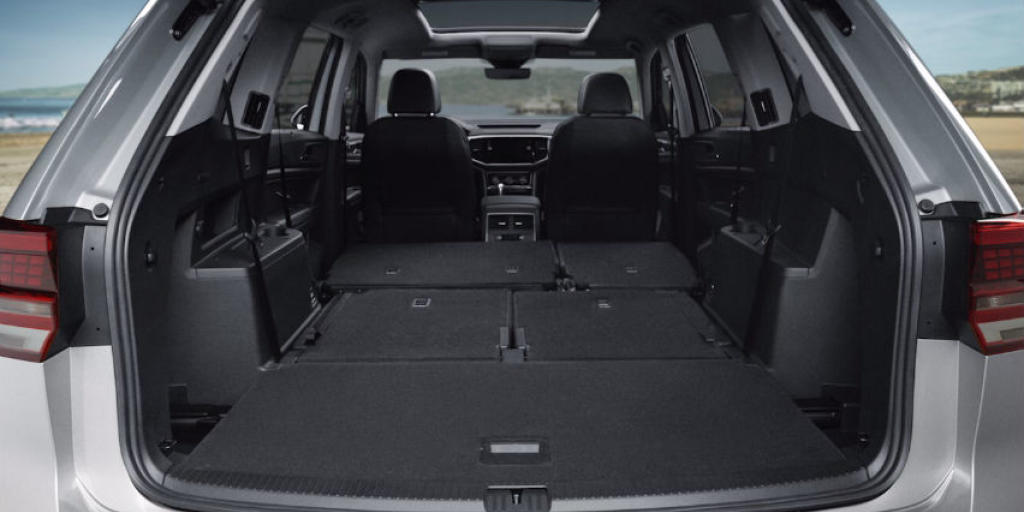 As for the vehicle's exterior, Volkswagen says it has a powerful, muscular design, "with creased lines in front and on the sides to give it a dose of lean and mean." It says available 20-inch alloy wheels help give it an even bolder stance. The vehicle has two engine offerings. There's the standard 2.0-liter turbo that gets 235 horsepower or the 3.6-liter V6 that churns out 276 horsepower. Both are paired with an eight-speed automatic transmission. The vehicle is able to tow up to 5,000 pounds. Volkswagen says playtime is never over for families as the Atlas can take you and your family to the beach, mountains or the desert. Active Control with 4Motionmakes make those adventures possible as with a turn of a dial, you can switch between four different all-wheel-drive modes. When it comes to keeping your family safe, Volkswagen wants you to know that it used high-strength steel in the Atlas' body panels to enhance sturdiness. There's also a rigid safety cage. There are a slew of available safety features including Front Assist, Blind Spot Monitor, Rear Traffic Alert, Lane Assist and more. The vehicle also comes with a Tire Pressure Monitoring System, Intelligent Crash Response System and seven stability-enhancing systems to help you maintain control of your vehicle. After all, families are all about keeping their loved ones safe.
Our Take
Volkswagen seems to definitely have a good approach when it comes to marketing its new Atlas SUV. The company has really gone out if its way to inform families about the features that will suit their needs. Whether Volkswagen's efforts will work, however, is still left to be seen.
Useful SUV Links
---
Recommended SUV News & Reviews