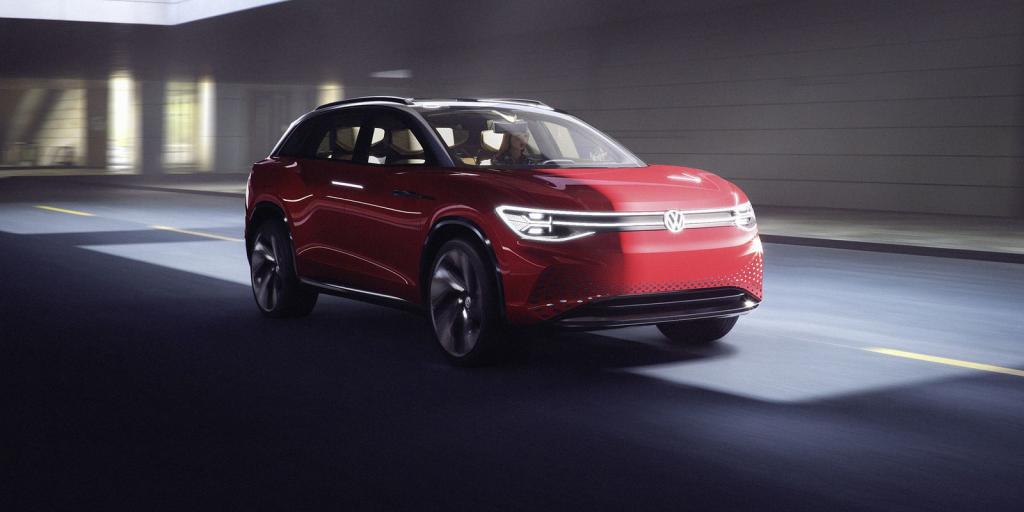 Like many other auto manufacturers, Volkswagen is restructuring its lineup to feature more sport utility vehicles. It wants to make sure it's meeting consumer demand for utilities. In fact, the brand is planning on doubling its SUV range by 2020. To demonstrate its commitment to that, Volkswagen presented five new SUVs at the 2019 auto show in Shanghai. Four of those were world premieres!
"Volkswagen is reinventing itself. We will become even more adventurous with the design and body styles of our cars, while at the same time bringing exciting technology and a choice of new energy vehicles," said Stephan Wöllenstein, CEO of Volkswagen Group and Brand China.
One of the models premiered in China is making major headlines in particular. It's an all-electric concept called the ID. Roomz. Volkswagen says the SUV concept previews a large-size ID. flagship SUV that will have its global launch in China, in about two years from now. China is the largest market for zero-emission vehicles in the world, so the launch location makes perfect sense. It features unique sliding doors and a spacious interior with autonomy in mind. Its seats rotate inward, for example, to create more of a lounge feel!
Another new Volkswagen concept has also caught the attention of SUV lovers as of late. It's a special version of the Atlas SUV, which critics have raved about. This latest iteration of the Atlas, though, is more focused on the capability factor of it. The concept showcases the various ways the SUV can be enhanced for trail seekers. In fact, it was specifically designed with endurance mountain biking in mind! While the Atlas has become a family favorite, Volkswagen wants to show it's much more than that. This new concept looks tough, and is equipped with accessories to make your next mountain biking adventure even more awesome.
Continue reading below for more details about both of these concepts!
Roomzz Concept
The ID.Roomzz's name is in line with other upcoming Volkswagen ID. vehicles, like the ID. Crozz and ID. Buzz. Also similar to those models, the new ID.Roomzz concept uses the modular electric drive matrix platform.
The ID. Roomzz concept features two electric motors that power the front and rear axles, producing a combined output of 302 horsepower. The SUV can reach 62 miles per hour in 6.6 seconds and Volkswagen claims a top speed of 112 miles per hour. The 82-kWh battery pack, meanwhile, returns an estimated range of nearly 280 miles on the WLTP cycle. The range would likely be a little bit less, though, on the EPA test cycle. In about half an hour, a fast charging system allows the ID.Roomzz's battery to be charged to 80 percent capacity.
Autonomous driving is part of the vision here, as the ID. Roomzz concept's interior is customizable to make it feel more like a lounge. The seats can be rotated inward by 25 degrees, so that passengers can easily talk to one another and stretch out. The controls also retract away when the vehicle is in that autonomous mode, making for even more space. While the concept is shown with two rows of individual bucket seats offering room for only four passengers, the production model will have three rows of seats and could have space for up to eight if bench seats are chosen for the two rear rows. The seats, meanwhile, are as eco-friendly as the vehicle. Volkswagen calls the material it used AppleSkin, as it's apparently made from apple byproducts (the fruit, not company). It's a beautiful and luxurious interior, that you enter through four large sliding doors. Those doors allow for easy in and out of the vehicle, but experts don't expect them to make it to production. Some have also questioned whether the autonomous aspects of the vehicle will actually make the cut.
The ID. Roomz is expected in 2021, after the ID. Crozz makes its way to production. The ID. Buzz, meanwhile, isn't expected until 2022.
Volkswagen Atlas Bootcamp Concept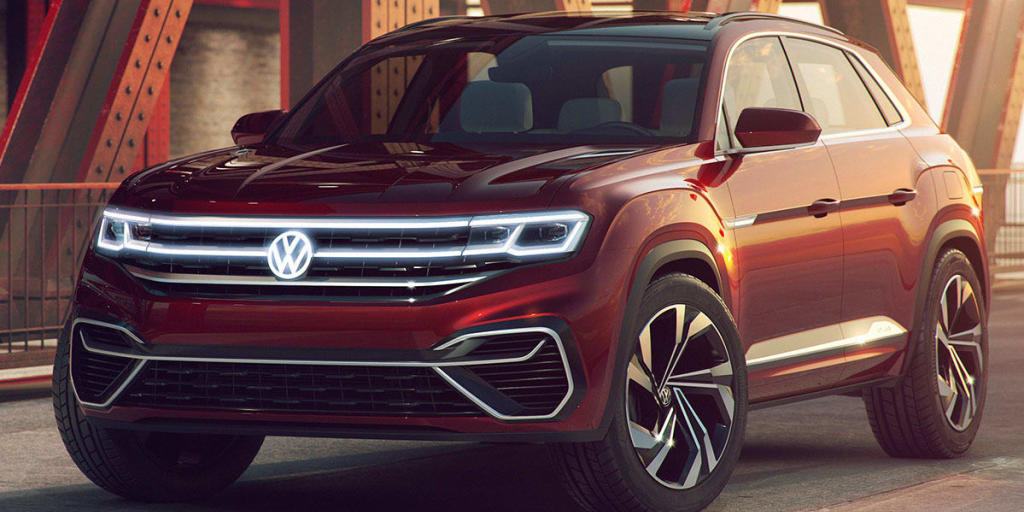 The other new concept grabbing headlines from Volkswagen is the Atlas Bootcamp. It features a custom body, lift kit, custom wheels, all-terrain tires, a roof rack with bike mounts, and LED light bars. A special tow-behind camper is also included, providing a space to sleep! It's the brainchild of Alex Earle, who works as an exterior design manager at the Volkswagen Design Center in California. He also happens to be an avid cyclist.
"The Basecamp Concept brings a go-anywhere attitude to the brand that is already synonymous with road-trip culture," said Earle. "Whether you are taking on a series of challenging single-tracks with your favorite mountain bike or enjoying a relaxing evening under the night sky, the versatility of the Basecamp Concept provides ideal mobile solutions for just about any adventure."
The concept uses an Atlas SEL Premium model as its canvas, which comes standard with a 3.6-liter VR6 engine that makes 276 hp. It's paired to an eight-speed transmission and the vehicle features Volkswagen's 4Motion all-wheel drive system with Drive Mode Selection.
The concept SUV is shown with an off-road capable HIVE EX compact expedition trailer. It even comes with matching wheels and tires! That tow-behind camper packs serious comfort as it's equipped with a queen-size bed, pullout canopy, a kitchenette (complete with a stove, sink, and a refrigerator/freezer combo), a self-contained water tank, portable toilet, and hot shower! Everything you would need for an overnight mountain biking excursion or just a night spent gazing up the stars! And we should mention that for those bikes, there's a Front Runner Slimline II roof rack system.
Useful SUV Links
---
Recommended SUV News & Reviews