Toyota says its latest concept vehicle was designed with adventurous urbanites in mind. It's called the FT-4X and it comes with some pretty interesting features that are unlikely to make it to a production vehicle. Toyota does, however, seem to be pretty proud of the concept so you really never know.
Some of the small, boxy looking vehicle's standout features include the rear hatch which opens two ways. Toyota calls it a Multi-Hatch. It opens horizontally in Urban Mode and vertically in Outdoor mode. That way, you're able to open the hatch upward to protect yourself from the elements while enjoying the outdoors. Toyota says what else makes the vehicle unique is that it's a rolling gear box. By that, Toyota means the vehicle not only has space to store items, but it is basic equipment itself. For example, the vehicle's armrest is actually an ultra-compact sleeping bag made by The North Face. The vehicle also features a number of other elements that can easily be removed to be used outside. The whole point is to make it easier for millennials to quickly get out of town and to be spontaneous and go on trips without having to worry so much about what to bring.
"The Toyota FT-4X is not simply a concept where style meets function; it is a thoughtful, charming and engaging experience that adds real pleasure and convenience to the journey," said Kevin Hunter, president of Toyota's Calty Design Research. "We focused on how a crossover vehicle can add fun and value to casual adventures both in and out of the city, thinking about how someone would use it, and what they would love to do with it."
Casual adventures is the key word there. That's because according to a press release from Toyota, millennials rarely plan ahead. Instead, Toyota says they like to quickly come up with ideas for short getaways and leave on a whim.
"Dinner on the beach during a beautiful evening; tailgating with friends while listening to music; visiting a favorite trailhead for a run or dog walk; settling next to a campfire for an overnight desert stay – these are the types of quick escapes that an increasing number of young, career-minded urbanites hold dear," writes the company.
Let's take a closer look at how the vehicle was designed with that mind.
Exterior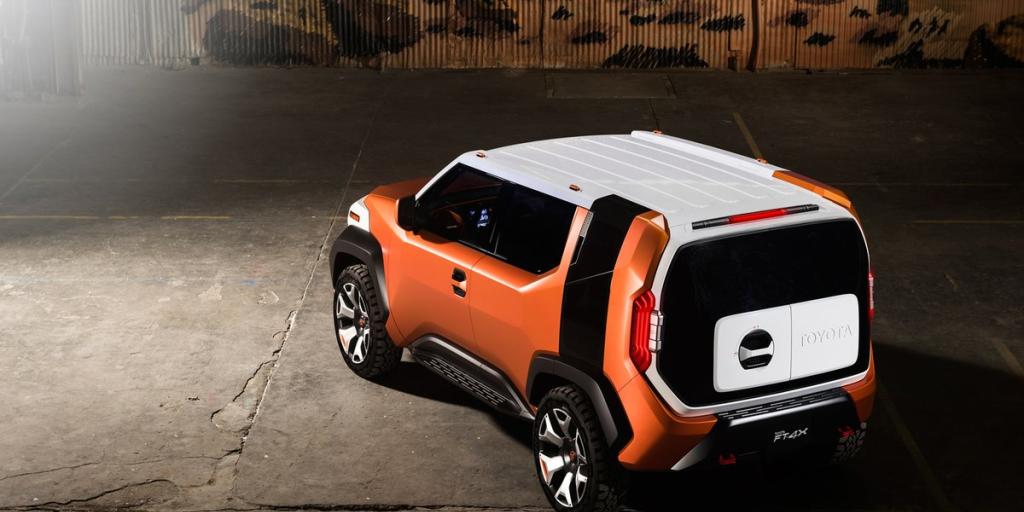 The FT-4X concept vehicle stands 63.9 inches tall, is 167.3 inches long and has a wheelbase of 103.9 inches. Toyota says its has rugged charm. For example, it has unique grips, handles and controls that make the compact vehicle look slightly futuristic.
"You can really tell that we had a blast designing the FT-4X because it looks fun to use and fun to drive," said Calty Studio Chief Designer Ian Cartabiano.
It was designed from the rear because Toyota says during its designers' research, they discovered that when millennials go on these short, casual trips they often end up hanging out at their vehicle's tailgate. That's why as we mentioned before, the rear hatch ended up with two modes for users to choose from. To switch between Urban mode or Outdoor mode, users have to turn a unique, rotatable handle. The handle is deeply set so that if someone is wearing a thick glove, they can still grip it. Toyota says it could help make your life easier while on a snowboarding trip.
Another neat part about the exterior is actually the driver's side rearview mirror. It has a GoPro camera built into it. That way, if you end up taking a trip to a location where there is some pretty impressive scenery, you'll be able to capture it.
The Multi-Tool Cabin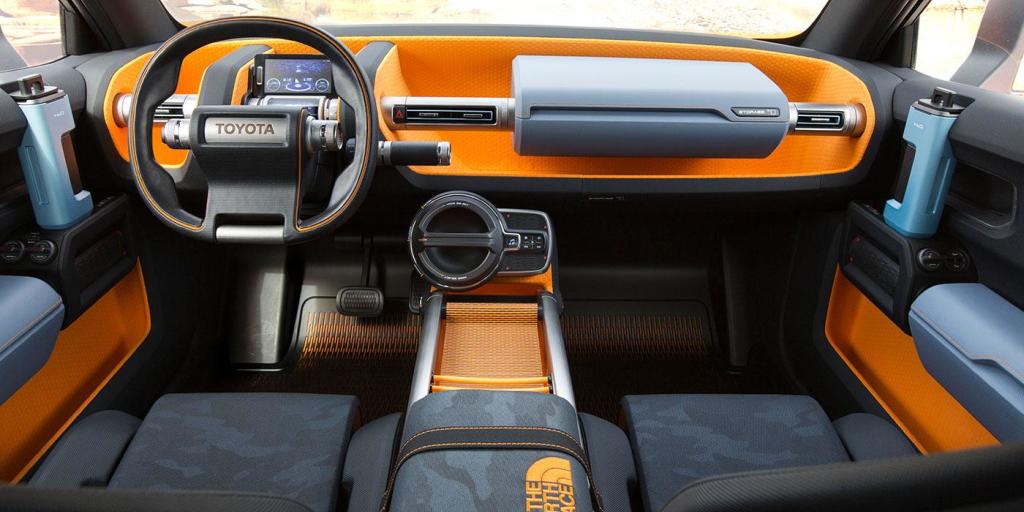 Toyota says its concept vehicle is a rolling gear box because many of its items can be removed. For example, the rear door handles serve as impromptu water bottles. Also in the rear is a ceiling-mounted light that can be removed and used as a flashlight. Similarly, the dome light can serve as an exterior locator or beacon. As we mentioned before, the "armrest" can also be removed as it's just an ultra-compact sleeping bag made by The North Face. It's strapped atop an extra-large dividing console that can fold upward, revealing additional storage. What's the most surprising item that can be removed is actually the stereo. You can take it out of the vehicle so that it acts like a boombox. It'd definitely help get the party started while on a camping trip.
Speaking of the dash, there is no traditional navigation screen in the FT-4X. It does, however, have a mobile phone mount located about the driver's digitized cylindrical instrument cluster.
"The concept being that a downloadable navigation application, as well as an application showing digitized off-road instrumentation, can be made available for drivers' use," writes Toyota in a press release.
There's also designated storage in the dash as well as air vents that help you dry your hair, gloves or hats. You're also able to warm items up in the rear as on the inside of the Multi-Hatch, there are twin boxes. One is warm to help you warm up your blankets or other items and the other is cold. In a promotional video of the vehicle, it shows two young women taking popsicles out of the cold box.
Performance
While the FT-4X is only a concept vehicle, Toyota did say that one could assume the FT-4X could potentially employ a small displacement four-cylinder engine. Toyota says it'd also make sense for the vehicle to have a sophisticated MacPherson strut front, double-wishbone rear suspension system.
Our Take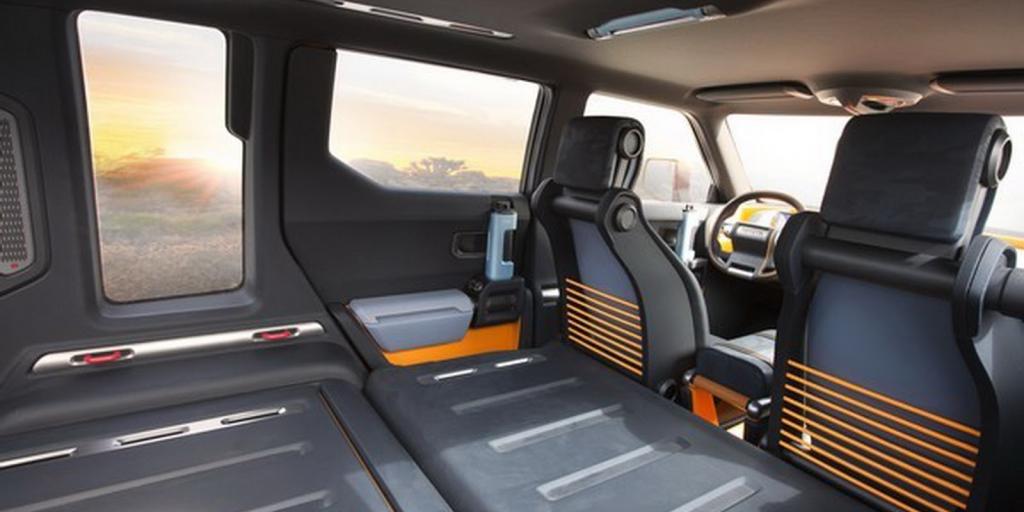 Toyota is clearly all about the millennials when it comes to its FT-4X as the vehicle was designed with them in mind. By making some of the concept's items removable, there's less for young urbanites to worry about when trying to get out of town. Toyota says that makes adventures more feasible. While it's certainly a smart idea, we're not sure any of the vehicle's features will make it to a production vehicle.
Useful SUV Links
---
Recommended SUV News & Reviews