Fall is the perfect time to pack your friends and family into your sports utility vehicle and take them on a road trip! Whether you plan on taking your SUV to a remote area to do some hunting or just to check out the leaves as they change color, there are plenty of accessories on the market to help make your trip less stressful!
Sleeping Accessories
After a day's worth of sight seeing, you're going to want a good night's rest. While you could certainly pass out in the back of your vehicle, there's often not enough room for more than just two passengers to sleep in an SUV comfortably. That's where having a tent comes in handy.
If you're not looking to spend a ton of money on a tent, the Rightline Gear SUV Tent may just have exactly what you need. It has an adjustable vehicle sleeve that allows the tent to connect to the back of any SUV, minivan, crossover, wagon, Jeep Wrangler hard top, you get the idea! It works for vehicles with a rear hatch door or rear barn doors. It basically transforms the back of your sports utility vehicle into a living room. Four adults can sleep in the tent space while two additional adults can sleep in the cargo area. What's so great about the tent is that it connects to the back of your vehicle. Think about when it rains. Who wants to leave the tent to run to the vehicle in order to get an item you forgot to bring inside? There's no need to do that with this tent as you're able to easily access items in the cargo area. It features mesh windows and doors with storm covers that can be closed for additional privacy. It's designed with water resistant materials to keep you dry. It's also incredibly easy to put away. When you're ready for your next day's adventures, you simply tie up the vehicle sleeve with the dowel and loop fasteners. It's reasonably priced as well at $259.95.
If you're willing to spend more money on a tent, then you may want to consider purchasing one that sits on your SUV's roof. Roop top tents are incredibly popular. You securely attach it to a roof rack and then unfold it when you get to your destination. A ladder is lowered for easy access to it. There are plenty of benefits to using a roof top tent. It provides you with a great vantage point. You also have less to worry about when it comes to wild animals and bugs. There are several companies that make roof top tents and most fit between three to four people. Some companies that make them are Tepui Tents, Cascadia Vehicle Tents, Smittybilt and ARB. They typically cost between $1,000 and $3,000.
If you're looking for a cheap option and you're just going to be traveling by yourself or with one other person, you could purchase an air mattress designed to fit in your SUV's cargo space. They typically cost around $100 and are easy to inflate.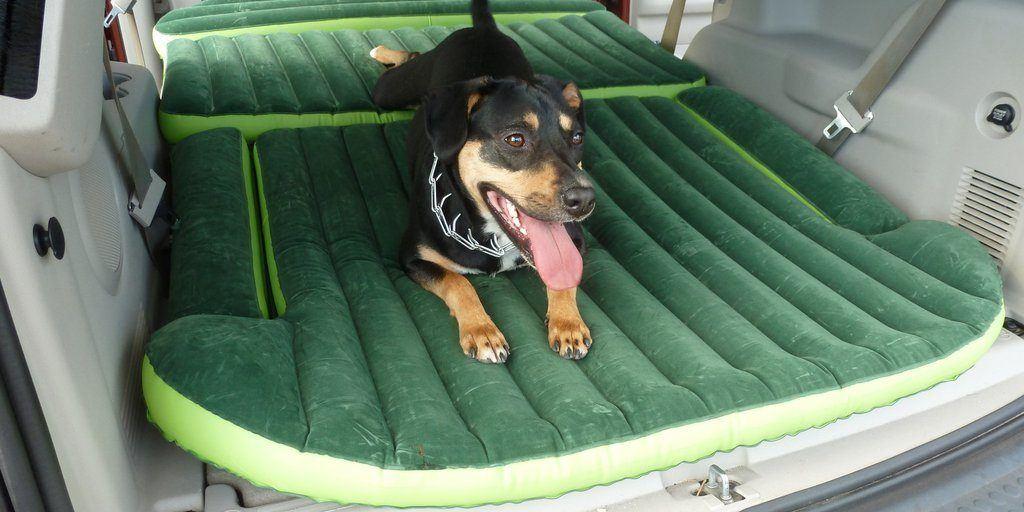 Food / Drink Accessories
Let's face it. Even with a good tent, getting a good night's sleep outdoors can be difficult. That makes a morning pick-me-up all the more crucial. While you could certainly brew up some coffee, we all know espresso packs more of a punch. That's why the Handpresso Auto may just be the perfect accessory for you. It plugs into a standard cigarette lighter. Add water and an espresso pod and in just minutes, you have piping hot, creamy espresso to get your day started. It's a bit pricey at $200, but we're sure plenty of people won't be thinking about that after they get their caffeine fix.
Once you've had a cup of espresso, we're sure you'll be craving some food. Make sure to bring some sort of gadget with you to help you cook. There are several portable frying pans on the market. They also get power from your vehicle's cigarette lighter socket. As long as you bring a cooler with you to store eggs in, you can fry them up in the pan in no time. You may also want to look into purchasing a 12v crockpot. It's a great way to slow cook some meat for dinner.
Emergency / Maintenance Accessories
If you're out in a remote area and your check engine light comes on, you may begin to panic. That's why it might be smart to invest in a CarMD Vehicle Diagnostics Kit. The CarMD system works with a computer program to provide you with a description of the problem that's causing your check engine light to glow. It even lists parts that might need replacing. You can use it on the road to figure out what you need to repair. You can also use it before you leave for your trip. Running a scan will give you a heads-up on any looming issues.
You may also want to bring a portable tire inflator with you. When you're traveling in a remote area, you're often going over rugged terrain which can cause your tires to lose air pressure. Having an inflator handy can help give you some peace of mind.
If you ever find yourself in real trouble, having a HAM radio could seriously help. It's powerful enough to transmit over dozens of miles. If you don't have cell service, you'll be able to use the radio to get in touch with the nearest authorities. While you will need an Amateur Radio License to operate it, it's not difficult to get. Yaesu is a favorite when it comes to makers of HAM radios. One will run you around $300.
It's always best to be more prepared than not when traveling to a remote area. While these gadgets can certainly add up in cost, having them will help you feel more at ease and make your trip more worthwhile.
Useful SUV Links
---
Recommended SUV News & Reviews