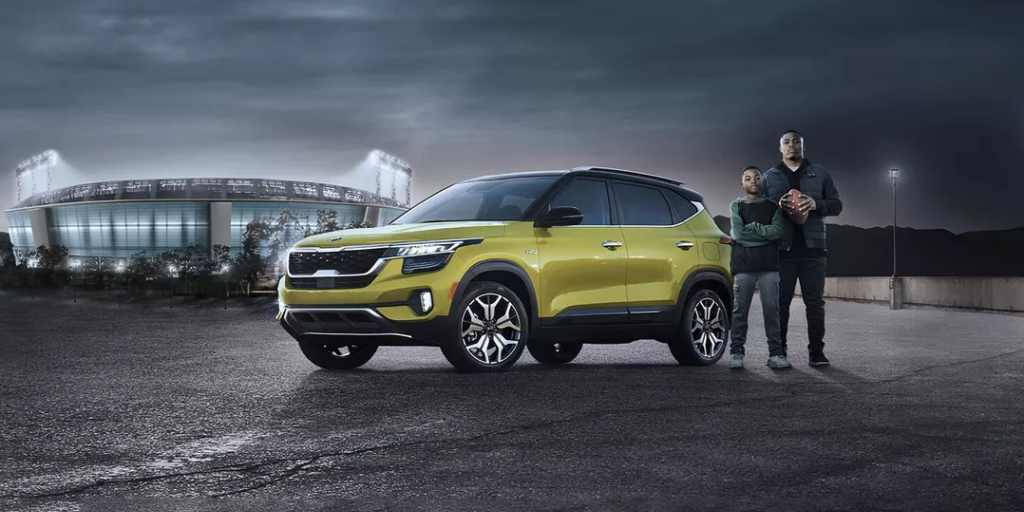 Automakers spend more money on Super Bowl ads than anyone else. They see it as an excellent platform to introduce people to their vehicles and this year was no different!
A number of vehicles were featured in funny and inspiring commercials during Super Bowl LIV. SUVs stole the show, with commercials advertising the new Kia Seltos and Genesis GV80, the reimagined GMC Hummer EV, the redesigned Toyota Highlander, and other models.
Continue reading below for more information on the SUVs that were featured in this year's Super Bowl advertisements!
GMC Hummer EV
General Motors has a lot to prove and talk about with its reimagined GMC Hummer EV. The vehicle that was once shunned for being a gas guzzler is now making a comeback as an all-electric vehicle, and GMC used the Super Bowl to try to help educate the world about it.
Teaming with NBA legend Lebron James, GMC used the Super Bowl to share how its reimagined Hummer is all-electric, offers a whopping 1,000 horsepower, and can reach 60 miles per hour in just three seconds!
In a behind-the-scenes video that GMC also released, James explains how it was a natural fit for him to introduce the new Hummer EV because he has loved the Hummer brand since he was a teenager. In case you didn't know, James was gifted a Hummer at the age of 18 by his mom Gloria.
Kia Seltos
Kia's Super Bowl commercial advertising its all-new Seltos crossover drove people to tears.
It features Josh Jacobs, running back for the Las Vegas Raiders. In the commercial, Jacobs returns to his hometown of Tulsa, Oklahoma to offer his younger self a message of inspiration.
Jacobs experienced homelessness as a child and while he admits to his younger self that life will be hard, he says "push yourself to be someone, and I promise one day you will."
It's a moving commercial and Kia actually donated $1,000 for every yard gained during the Big Game to several organizations that work to support children experiencing homelessness. So, that's nice!
The 2021 Kia Seltos is a small SUV that has a sporty and rugged design to match its all-weather capability. Highlights include its affordable starting price and all the technology you get as standard.
Geneis GV80
The first-ever SUV from Genesis, the GV80, was advertised during the Big Game with the help of celebrity couple Chrissy Teigen and John Legend.
In the commercial, Chrissy is hosting a goodbye party to "old luxury." It starts off with her poking fun at some of the guests, like a woman who claims she hasn't had plastic surgery but clearly has.
Chrissy then tells the crowd that it's time to meet "young luxury," but husband John Legend misses his cue to pull up in the new GV80 when he's supposed to. Chrissy and John then joke about the ordeal with John saying "someone had to make luxury fun."
We do admit the GV80 looks impressive! While the SUV capable of seating seven is entering a highly competitive segment, it does offer unique design traits and features that may just be enough to lure in buyers from other luxury brands.
Toyota Highlander
SUVs.com recently reviewed the 2020 Toyota Highlander and the three-row SUV was featured during the Big Game.
Toyota shelled out a lot of money to share its Highlander's new design with the world. It does look a lot more stylish than it used to! The midsize family hauler was redesigned for 2020 and now comes standard with an 8" touchscreen and plenty of technology, though there's an even larger 12.3" touchscreen with the range-topping Platinum trim.
The Highlander's Super Bowl commercial emphasizes how the vehicle offers three rows of space. It does so by showing Sci-Fi actress Cobie Smulders saving selfless heroes from monsters and other dangerous or uncomfortable situations by picking them up in the Highlander.
"Go wherever they need you," says Smulders at the end of the commercial.
Audi e-tron Sportback / Audi e-tron
There's a new Audi e-tron in town and it's called the Audi e-tron Sportback. It's a new coupe version of the all-electric e-tron SUV. While extremely similar to the e-tron in terms of its all-electric performance, the Sportback is equipped with a coupe roof.
In addition to the new e-tron Sportback, the regular e-tron also made an appearance during Audi's Super Bowl ad.
The commercial shows Maisie Williams from the HBO series Game of Thrones singing along to a song you're probably familiar with if you have kids or little ones around. Williams sings "Let It Go" from Disney's Frozen in the Audi ad. She belts out the words to the song as she navigates away from L.A. traffic. She's eventually joined in song by a mother-daughter duo that's shown driving a standard e-tron SUV.
It's a cute commercial that does a good job at highlighting just how great the e-tron looks, both in coupe and standard SUV form! It's also meant to signal the company leaving its gas past behind in favor of a more sustainable future. Williams has been outspoken on climate change and it seems to have been a natural fit for Audi to partner with the actress on this ad.
Jeep Gladiator (honorable mention)
While we know the Jeep Gladiator is a truck, Jeep is the king of 4x4s and its Super Bowl commercial was just too good not to mention!
The Jeep Gladiator ad plays off the fact that the Super Bowl fell on Groundhog Day this year. It features Bill Murray reprising his role as Phil Connors from the 1993 film Groundhog Day.
In Murray's first-ever national TV commercial, you hear Sonny & Cher's "I Got You Babe" be played at the start of each new day as you do in the film. The main difference between the film and the new ad? Connors now has an awesome getaway vehicle in the 2020 Jeep Gladiator!
You see him steal the groundhog as you do in the film, taking him on some awesome adventures with the highly capable Jeep Gladiator. The idea is that even while reliving the same day over and over again, there's always a new adventure when you're driving the new Gladiator.
Everyone loves Bill Murray and the Jeep commercial definitely seemed to be a fan favorite.
Which ad do you think is best?
SUVs.com would love to know which of these ads is your favorite! Be sure to connect with us on Facebook or on our YouTube channel.
Useful SUV Links
---
Recommended SUV News & Reviews