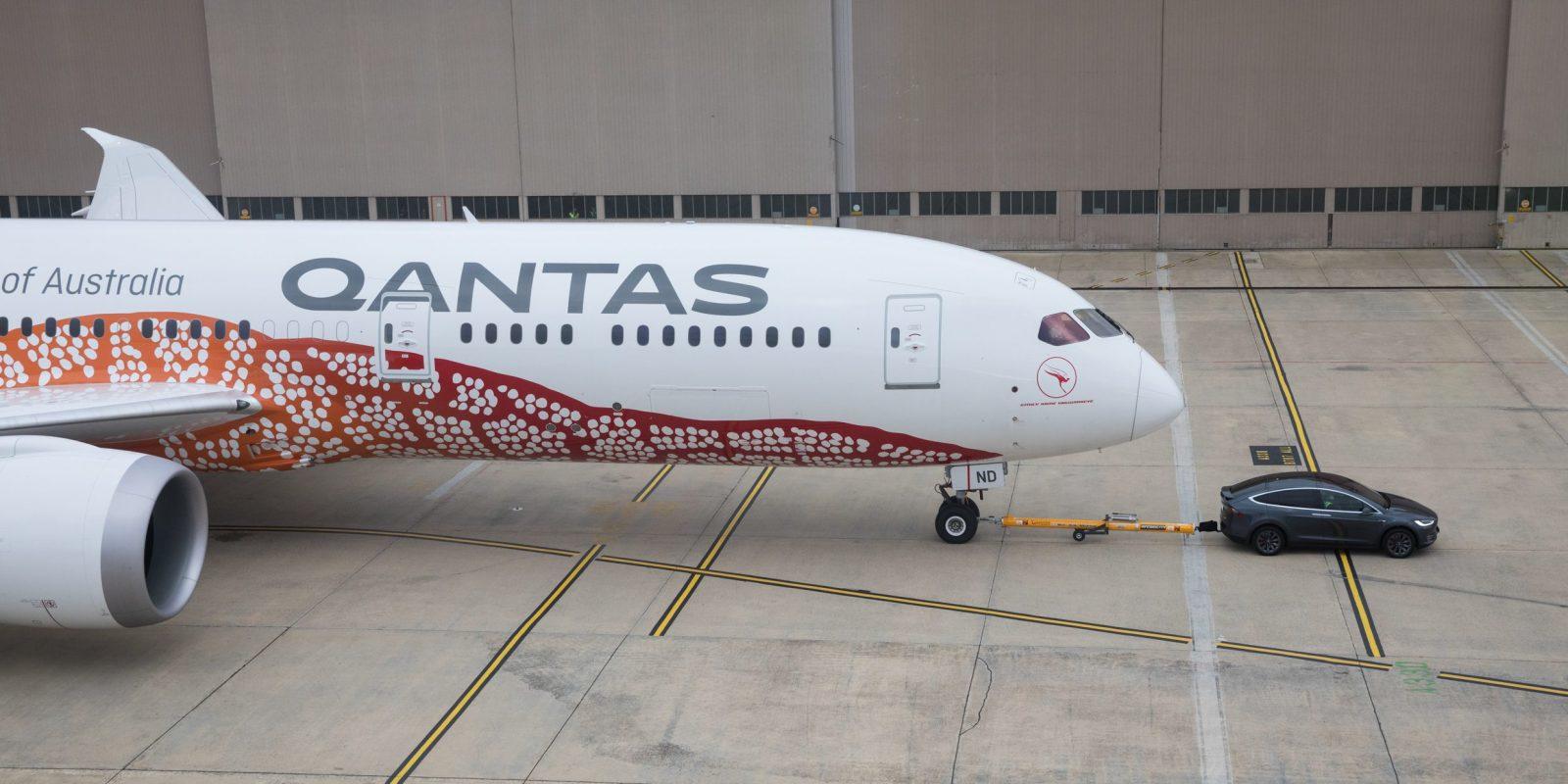 "Safest SUV Ever" Sets Record Towing Massive Airplane!
How could an SUV tow an airplane? It might sound impossible, but one company had its sports utility vehicle recently accomplish the task! Can you guess who? It might not be the first to come to mind, as the company behind this publicity stunt is actually Tesla!
Tesla, which is focused on sustainable energy, had one of its Model X electric SUV models recently pull off the impressive feat at the Melbourne Airport in Australia. In the process, the company broke a record and might have just won over some SUV lovers' hearts!
Tesla Model X P100D Pulls Boeing 787-9 Dreamliner
By towing a whopping 287,000-pound Boeing 787-9 Dreamliner nearly 1,000 feet, the Tesla Model X P100D made history in Australia! In a world first, the all-electric SUV successfully towed the Dreamliner as part of a Guinness World Record attempt for "the heaviest tow by an electric production passenger vehicle." The Dreamliner was owned by the airline Qantas, which Tesla has worked with in the past.
It's no doubt an impressive act! Especially if you consider the fact that the Model X, called the "safest SUV ever" by Tesla, can typically tow about 5,500 pounds! It's also interesting to consider that while the Model X can accommodate up to seven passengers, the Qantas Dreamliner can fit nearly 34 times that! There's room in the airplane for 236!
One thing we should note, however, is that the plane didn't have any passengers or cargo on board at the time of the SUV tow. The plane wasn't completely empty, however. The Dreamliner did have some fuel in it.
Qantas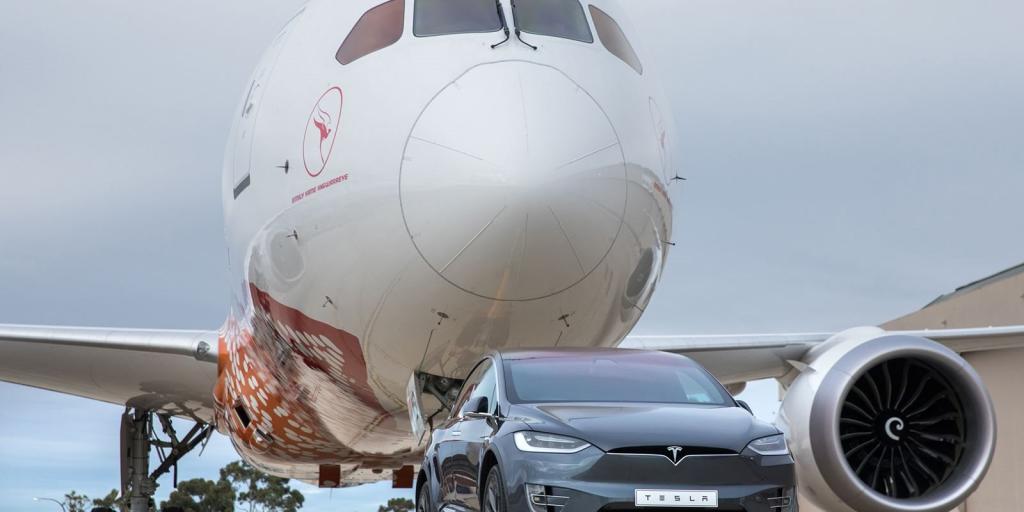 Qantas pulled off the stunt with the help of Tesla to try to try to bring more attention to its sustainability efforts. The airline says it uses electric aircraft tugs to pull its planes at the Sydney and Canberra airports.
"With more than 10,000 pieces of Qantas ground services equipment like catering trucks, aircraft loaders and other vehicles all running on diesel, even just a small shift to electric power will have an enormous impact in the move to a sustainable future," wrote the airline in a press release.
The messaging comes after Qantas was recently criticized by the International Council on Clean Transportation for its record on pollution.
While the stunt could help improve the public's perception of Qantas, it also might give Tesla a boost! After all, Tesla could use some extra momentum since the Model X hasn't necessarily sold as well as it had envisioned it would!
The last time Tesla partnered with Qantas on a stunt, it had one of its Model S vehicles race a Qantas Boeing 737-800 on the runway. The race was tight, as the Model S P90D reached a top speed of 155 mph. However, the airplane ended up winning the race as it neared 160 mph before taking off.
Tesla Model X
If this latest stunt has sparked your interest in a Tesla Model X, know there are several options when it comes to ordering one for yourself! There's the 75D, 100D, and the model used to tow the airplane, the P100D. The Model X 75D's 75 kWh battery has a range of 237 miles and the vehicle can reach a top speed of 130 mph. The next level up offers a 100 kWh battery with all-wheel drive. The Model X 100D has a range of 295 miles and can reach 60 mph in 4.7 seconds. The most powerful option, the Model X P100D, has a 100 kWh battery with performance all-wheel drive. It can reach 60 mph in just 2.9 seconds! It has a range of 289 miles and can reach a top speed of 155 mph. All options can be configured to seat up to seven passengers. Plus, there's plenty of room for cargo!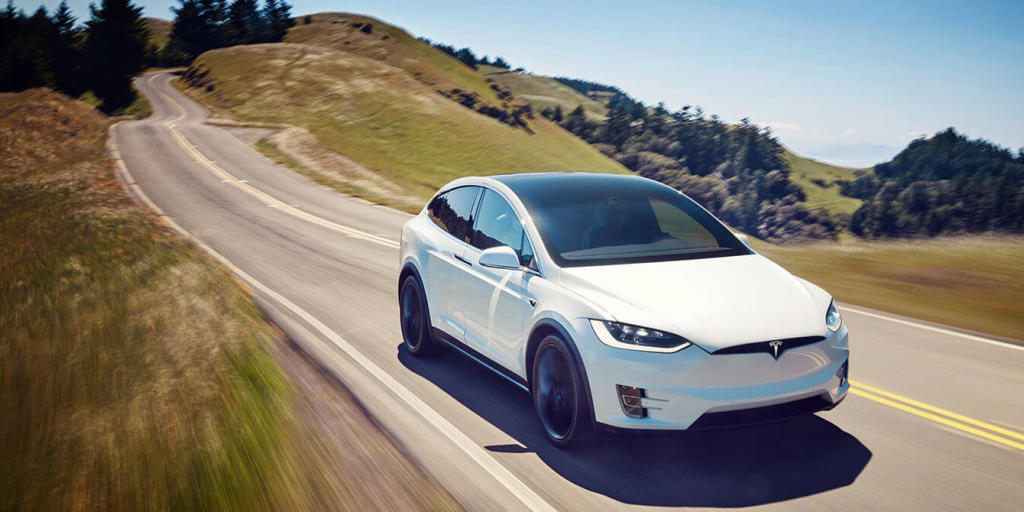 In case you weren't familiar with some of the cooler aspects of Tesla's electric SUV, one to point out is the Falcon Wing doors. They not only look awesome and futuristic, but you don't even have to touch them to make them function! That's because the Falcon Wing doors automatically open and close as the driver approaches or exits. It makes entering the vehicle convenient and also gives you great maneuverability! Another cool feature is the windshield that stretches up and over the two front seats. It gives passengers an open and modern feel while also offering a great view of the road ahead.
Something Tesla would likely want to highlight about its Model X SUV is the safety factor. Built on the Tesla platform, the battery's location on the floor gives the vehicle an extremely low center of gravity. That means the SUV is less likely to rollover than other, more traditional SUVs. There are also other aspects of the vehicle's design that help make it safe.
"Without an engine, Model X has a crumple zone much larger than other SUVs to absorb the energy of a front end impact. Along with standard active safety features, crash tests indicate that Model X will receive a 5-star safety rating in all categories, the first SUV ever to do so," writes Tesla on its website.
A final area to point out is that there's plenty of cool technology to be found in a Model X. There's automatic keyless entry, an automatic rear liftgate, a special HEPA filter system to help you breathe easier inside the vehicle, and much more.
Our Take
While Tesla still seems to have plenty of work ahead when it comes to convincing SUV fans its Model X is a great option for them, this airplane towing stunt could help! It also comes as Tesla prepares to bring its second SUV into the mix. Tesla CEO Elon Musk recently revealed that the Tesla Model Y SUV will arrive in 2020. By doubling its SUV portfolio, Tesla hopes to grasp more of the market. The company also plans on making the Model Y more affordable, which could help! After all, owning a Tesla isn't cheap!
Useful SUV Links
---
Recommended SUV News & Reviews