"Love. It's what makes a Subaru, a Subaru." We are all familiar with that saying. We hear it in Subaru's family-oriented commercials all the time. It's catchy and it sticks. Subaru has done an excellent job marketing itself to American consumers, especially those who are all about getting the most value out of their vehicle. For example, Subaru says 95 percent of the vehicles it has sold in the last 10 years are still on the road today. It's why the company says time and time again, they hear consumers say, "I love my Subaru." The numbers don't lie either. Subaru has seen 60 consecutive months of yearly month-over-month growth, which the company says is the longest streak of any automaker in the United States. Subaru reported 51,308 vehicle sales for November 2016, an 11.4 percent increase over November 2015 sales of 46,070 vehicles. November 2016 also marked the 33rd consecutive month of 40,000+ vehicle sales for the company. Sales of the company's Crosstrek and Outback SUVs were notably strong as they each achieved their best November ever, enjoying double digit gains over November 2015. On December 1, the company also reported year-to-date sales of 551,955 vehicles, a 4.9 percent gain over the same period in 2015. Clearly, the company is on a winning streak.
"Coming off the recent 2017 ALG Residual Value Awards, retailer traffic remains strong and we continue to attract new customers to Subaru at a record rate," said Jeff Walters, senior vice president of sales for Subaru of America, Inc. "We're pleased that all of our carlines are receiving recognition and contributing to our ongoing success."
While its SUVs are selling well, Subaru hasn't always hit home runs in the segment. It's part of the reason why so much is riding on its upcoming SUV, which will be based on a concept the company debuted at the 2016 Los Angeles Auto Show. Before we take a look at the company's failed previous attempt at a premium SUV, let's first take a look at the vehicle it hopes makes up for that failure.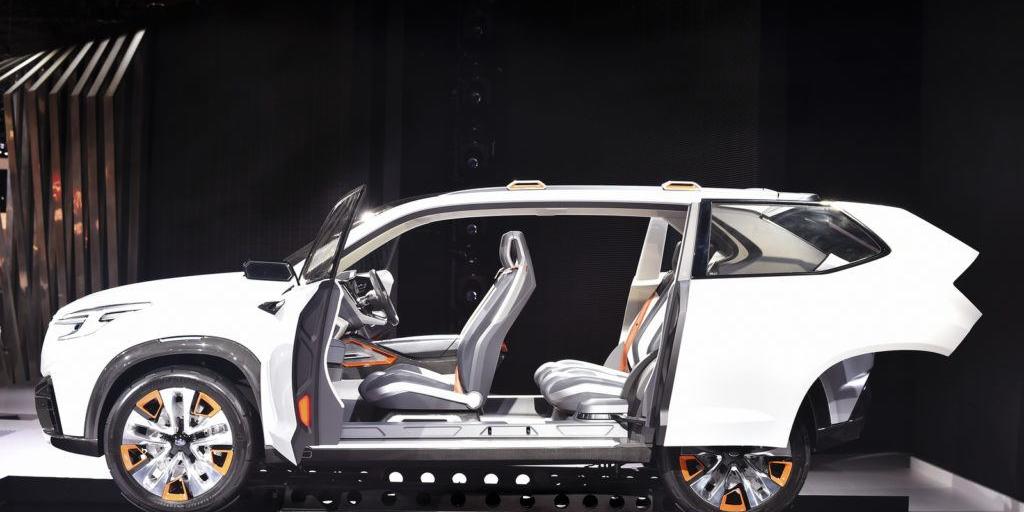 Subaru Viziv-7 Concept
The Viziv-7 concept made its world debut at the 2016 Los Angeles Auto Show. The vehicle, with full three-row capability, previews an SUV the company will introduce to the North American market in early 2018. The company says the concept demonstrates its thinking about how big a future Subaru SUV can be.
"The concept expresses our core brand values, safety, dependability, capability for outdoor activities and a forward looking attitude," said Takeshi Tachimori, corporate executive vice president of Fuji Heavy Industries, LTD. "We know customers in this segment want a full-sized vehicle and the next 3-row from Subaru will be the biggest Subaru vehicle ever."
The concept's name is derived from Vision for Innovation. The production version of the vehicle, however, will get a name that's in the same vein as its other SUVs, the Crosstrek, Forester and Outback.
"The name of the production version will be common to the adventurous feeling that our other names have," Subaru of America President and Chief Operating Officer Tom Doll told Fortune after the reveal.
While not many details were released at the Viziv-7 concept unveiling, we know the vehicle will be quite large. The only specs given were the dimensions. It will be 204.7 inches long, 79.9 inches wide and 72 inches tall. Its wheelbase is 177.7 inches. The company has yet to say anything about the vehicle's powertrain, towing capacity or cargo space.
The company hopes the three-row SUV will help it reach a new annual sales goal of 800,000 vehicles by 2020.
"The new Impreza will help us get there," said Doll in his interview with Fortune. "But in order to achieve our sales target of 800,000 vehicles by 2020 we're going to need to expand our lineup with an all-new model. A new model that will expand appeal of the Subaru brand into a new market segment."
It's a move Subaru attempted to make at least once before with the B9 Tribeca, which was largely seen as a failure.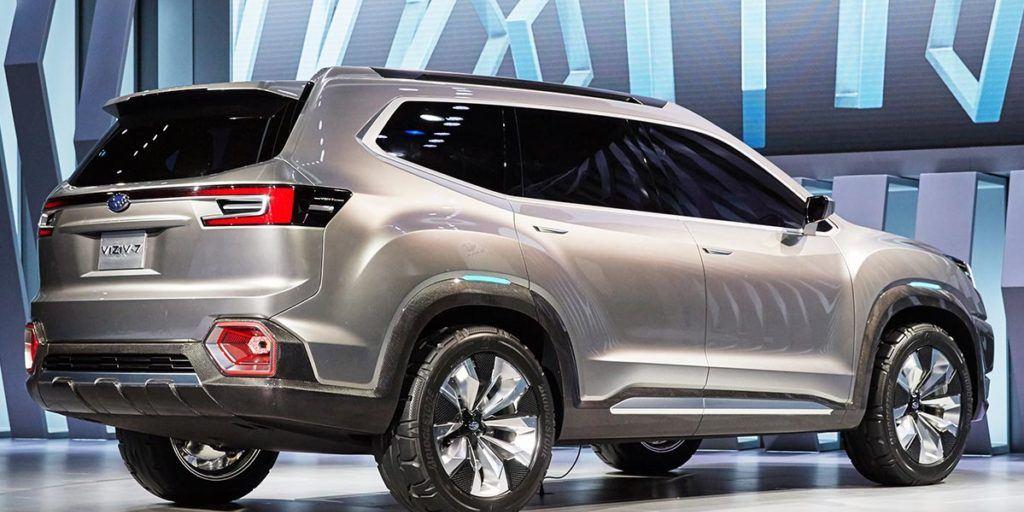 Subaru Tribeca's Failure
Subaru launched the B9 Tribeca in 2005 and it was pulled from the market in 2014. It was built on the Legacy platform and was sold in five and seven-seat configurations. There were issues with it from the beginning. Its original design was criticized for its styling and it therefore received a series of facelifts over the years. It also eventually went from being called the B9 Tribeca to just Tribeca. While sales of the Tribeca didn't start out that bad, with 14,797 units sold in only eight months after it was first released, things quickly soured with sales decreasing over the years. In 2012, only 2,075 units were sold. To say it was seen as a failure would be a gross understatement.
Subaru's Hope for the Future
Subaru has set out to right its wrongs with its upcoming three-row SUV. It's larger than the Tribeca, which means it certainly won't be criticized for being too cramped like the Tribeca was. Considering how well the company is doing overall, it's unlikely its next SUV will fail.
Subaru "has one of the best brand-loyalty ratings out there," Karl Brauer of Kelley Blue Book told the Los Angeles Times. "But they don't have any three-row vehicles. This way they'll at least maintain the family buyers who are already loyal to the brand who'd otherwise go shopping elsewhere."
Subaru certainly doesn't want to lose any customers and considering the fact that it has done so well marketing itself to families, it makes perfect sense for the company to try to truly hit a home run with its next SUV. The company says the new vehicle will be produced in the U.S. at Subaru's factory in Indiana. You can expect to see it in early 2018.
Useful SUV Links
---
Recommended SUV News & Reviews