The unveiling of the Range Rover Velar SUV at the 2017 Geneva Motor Show garnered a ton of attention. So much so that it seemed to overshadow another vehicle which Jaguar Land Rover had on display -- a unique version of the new Land Rover Discovery. The special vehicle is equipped with a roof-mounted drone that will be tested for a year by the Austrian Red Cross. It's pretty awesome technology and it's all for a good cause.
Jaguar Land Rover Special Vehicle Operations designed and engineered the special version of the new Land Rover Discovery. It's known as Project Hero and is described as being an advanced communication vehicle.
Project Hero Vehicle Details
Project Hero is based on the 3.0-liter TD6 engine-powered version of the new Land Rover Discovery. Obviously, the most unique feature of the special vehicle is the roof-mounted drone. It can take off and land while the vehicle is in motion. It is controlled by occupants inside the vehicle using a tablet app. Once the drone takes off, it's able to feed live footage back to emergency response teams. It helps Red Cross crews by allowing them to investigate an emergency scene safely. By having instant access to the footage, they're also able to rapidly assess an area's damage, hazards and the condition of people who might need help. The technology will be tested by the Austrian Red Cross emergency response teams for a year through simulations as well as during real-time responses to accidents, landslides, avalanches and other disasters that occur in Austria's mountainous Eisenerz region.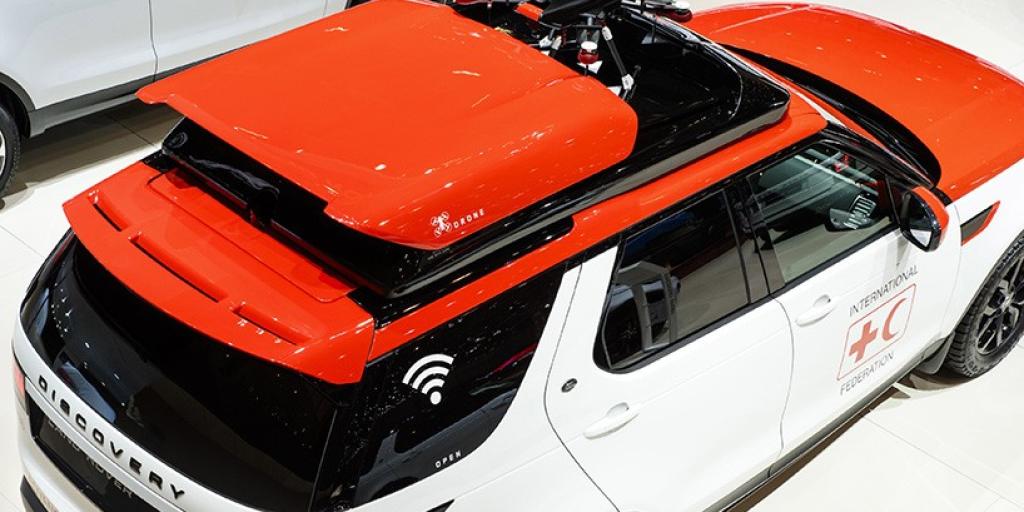 Now aside from the roof-mounted drone, the special vehicle has a number of other unique features. There's a heavy-duty sliding floor in the rear load space, for example. It can be deployed as an additional work surface or to protect the load carried underneath. There's also a segregation panel behind the rear seats providing additional equipment mounting points, strategically positioned LED lighting to aid night vision and innovative power supply points which accept multiple plug arrangements from different regions. Project Hero is also equipped with multiple frequency radio equipment.
Needless to say, the International Federation of Red Cross and Red Crescent Societies (IFRC) is very excited about the year-long trial.
"Project Hero combines the best expertise of the Red Cross and Jaguar Land Rover to create a truly unique vehicle, which we hope will be capable of making a difference to rescue operations in the toughest environments," said Dr. Jemilah Mahmood of the IFRC.
Of course, folks at Jaguar Land Rover are just as excited about the project.
"Land Rover and the team of engineers and designers at SVO are proud to support the incredible humanitarian work of the IFRC and its members. The new Discovery is an outstanding all-terrain SUV, and Project Hero is the optimum combination of enhanced capability and innovative technology. We hope to help the Red Cross save lives in emergency situations," said John Edwards of Jaguar Land Rover.
History of Jaguar Land Rover and the IFRC's Relationship
Now, you may be wondering why exactly Jaguar Land Rover decided to put so much effort into helping out the IFRC. That's because the company has had a long standing relationship with the world's largest humanitarian network. In fact, Land Rover says it has supported the Red Cross since 1954 when it donated a vehicle to the British Red Cross for use as a medical dispensary in the deserts of Dubai. It was just the first of 120 vehicles to be donated over the years for use by the Red Cross across the globe. But Land Rover hasn't just helped out in the way of vehicles.
"At the start of the millennium, the donation and loan of vehicles had become just one facet of a growing relationship between Land Rover and the International Federation of Red Cross and Red Crescent Societies," states the humanitarian network's website. "In 2007 it moved to a formal footing with the first phase of the strategic partnership, and since then, Land Rover has supported projects in nearly 30 countries on four continents from Austria and Australia to Uganda and the UK."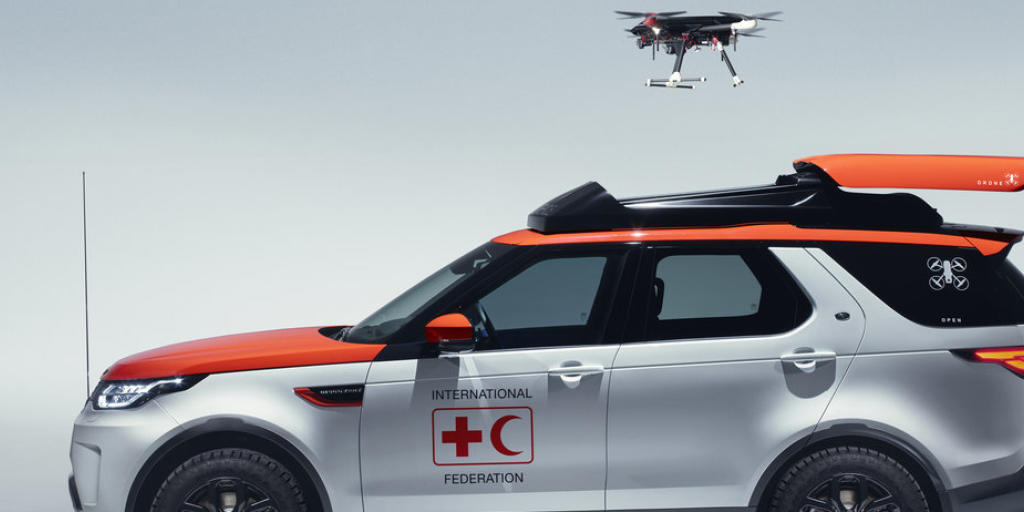 For example in 2012, Land Rover kicked off an ambitious fundraising project called the 'Journey of Discovery' that also celebrated the 1,000,000th Land Rover Discovery being made at its Solihull Manufacturing Plant. A team of four Land Rover Experience experts drove 8,000 miles from Birmingham to Beijing. By collecting donations from Land Rover dealers, customers, suppliers and employees, Jaguar Land Rover was able to raise 1.24 million Swiss francs for the IFRC through the expedition. That money was used to support a project in Uganda which provided safe water and sanitation to 45,000 people. But the fundraising efforts didn't stop there. In 2013, Land Rover set a five-year target to provide 18.7 million Swiss francs in support of Red Cross and Red Crescent humanitarian programs. It has therefore continued to come up with unique ways to raise dollars for the humanitarian network. It has also had its employees work as volunteers for the organization. For example in Italy, Land Rover volunteers visit the streets of Milan and Rome to hand out food and drink to the homeless.
"We are aiming to generate both a strong social impact and a lasting legacy in the communities we work with," said Olaug Bergseth, who is a member of a team that oversees partnerships with the private sector at the IFRC. "This requires a long-term commitment from our partner and effective collaboration to deliver a lasting positive impact. We are constantly looking for the 'added value' that can be achieved through working together. This might be through fundraising, staff volunteering or in product development – as with the Austrian Red Cross and Project Hero."
Beginning in June 2017, Project Hero will be based at the Austrian Red Cross training center in Erzberg, in the mountainous Eisenerz mining area, and in Vienna, for a year. Again, the drone will be used in simulations as well as in real life disaster situations.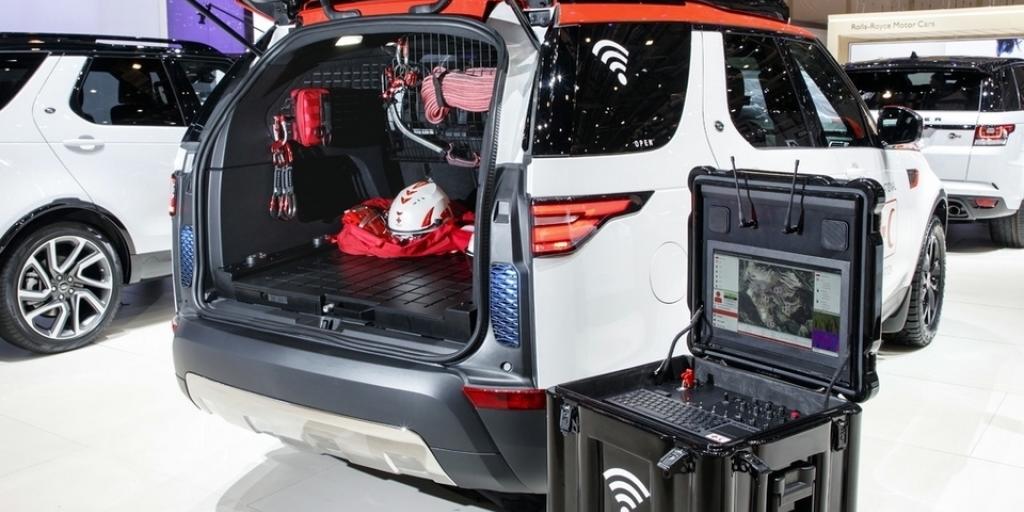 Useful SUV Links
---
Recommended SUV News & Reviews