Would you sleep in the back of a SUV for a night? And we're not just talking about during a camping trip or a beach outing. CityNews, a broadcast news station located in Toronto, did a story on how a Mercedes-Benz SUV was available for rent in the city for 15 dollars per night on Airbnb.com. It's one of those wacky feature stories that everyone loves. But it's also not that surprising. As the CityNews reporter pointed out, the price of staying at a hotel can be quite high (especially in a city as bustling as Toronto). So it's safe to assume there are people out there who are all about being budget conscious and wouldn't mind crashing in a vehicle. Not to mention, when you're visiting a city it's more likely than not that you would be out and about, exploring everything there is to offer and not cooped up in the place you're staying. Think of all the people who go backpacking in Europe, for example. Some hostels are not exactly ideal but because they're cheap, people often prefer to stay in them. According to CityNews, this is what the posting about it on Airbnb said: "Live in the 'trunk' of my Mercedes SUV in the hot, usually expensive Historic Distillery District, also called 'Corktown' of downtown Toronto a few steps from Lake Ontario, Sugar Beach, gorgeous park lands, trails, dining, shopping, entertainment and more." CityNews says the poster also added that the vehicle was parked on a safe, quiet street. In the video the news station posted online, the vehicle is shown. The reporter points out that in the front of the vehicle, there are supplies like food and a sleeping bag. Then in the back, there is the not so luxurious double bed mattress that the poster says sleeps up to two (although we're sure it's a tight fit). There are also curtains for a little bit of privacy. Now it does appear that renting out a vehicle for an overnight stay is legal in some instances in Toronto. CityNews reports that Toronto's zoning bylaws that target living/sleeping in vehicles only apply to property that can be purchased and sold. That includes driveways and parking lots, but not public streets. So if the SUV is parked on a public street, it seems it's just fine to rent out. Police also say it's within the law. That's as long as the vehicle is not running or parked in a prohibited area. Considering the fact that Toronto's pretty cold most of the year, we can't see this being rented out often as there'd be no way for passengers to keep warm. Still though, its existence proves that people are thinking outside of the box when it comes to saving money and they're turning to SUVs in the process. If this all has you thinking about the possibility of sleeping in the back of your own vehicle, then you should know it's more than possible. Maybe you don't feel bold enough to sleep in the back of your crossover in the middle of a bustling city, but you may just want to crash there while on an off-roading trip or during some other outdoor adventure. The best way to do that, of course, is to get your very own mattress.
Inflatable Mattress
You can find an inflatable mattress to fit the cargo area of your SUV for just over $100 online. Winterial is a brand that makes them. They sell a double mattress that the company says is designed to maximize the useable space in SUVs and minivans. It measures 70" by 50" and Winterial says that makes it roomy enough for two adults. The folding sections can also be propped up to create "the perfect camping recliner." "This durable unit provides a good night's sleep on the road and is a convenient, economical choice for ski trips, surfing weekends, and family vacations," writes the company on its website. "Featuring independent compartments the mattress sets up easily with the included electric air inflator, then deflates quickly to store away for your next adventure." Winterial also makes a smaller version of the inflatable mattress that can fit in the back seat of your vehicle. Of course, if can really only fit one person but it costs about half as much and may be a good alternative. Believe it or not, the small mattress can hold up to 800 pounds and is rated for temperatures ranging from -13 to 140 degrees Fahrenheit. That's thank to its durable construction. Having one of the mattresses could come in handy even if you're not sleeping on it overnight. Winterial points out that they're great for taking a nap on. So the next time you visit the beach and could use a break or simply need to take a snooze in the middle of your work day, you have a place to do it.
"Hotel Hyundai"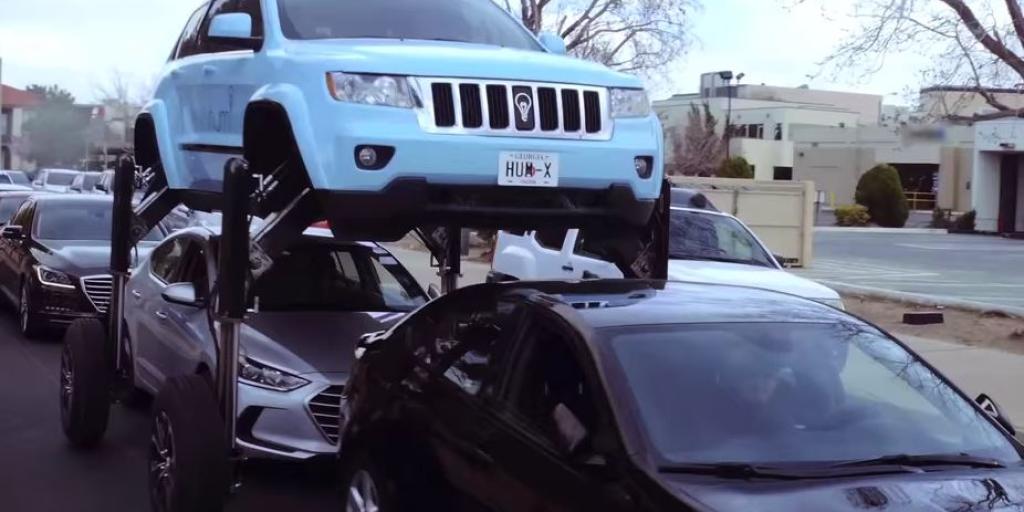 Now, sleeping in the back of your car is far from anything new. People have been doing it for decades and the person in Toronto who posted their Mercedes-Benz SUV for rent on Airbnb is far from the only one to come up the idea. For example back in 2012, Hyundai teamed up with a Dutch advertising agency to create a one-of-a-kind vehicle turned hotel room dubbed "Hotel Hyundai " Several fans of the brand jumped at the chance to stay in it. Hyundai didn't, however, choose to turn one of its SUVs into the hotel for a night. It really wanted to show off its ability to make the most out a small space by picking its i30 wagon (which is known as the Elantra GT in the United States). The company offered one-night stays in the vehicle to Facebook fans in the Netherlands. People were pleased with the experience. So the next time you're sleepy and around your SUV, think twice about crashing in it. It just may make sense!
Useful SUV Links
---
Recommended SUV News & Reviews