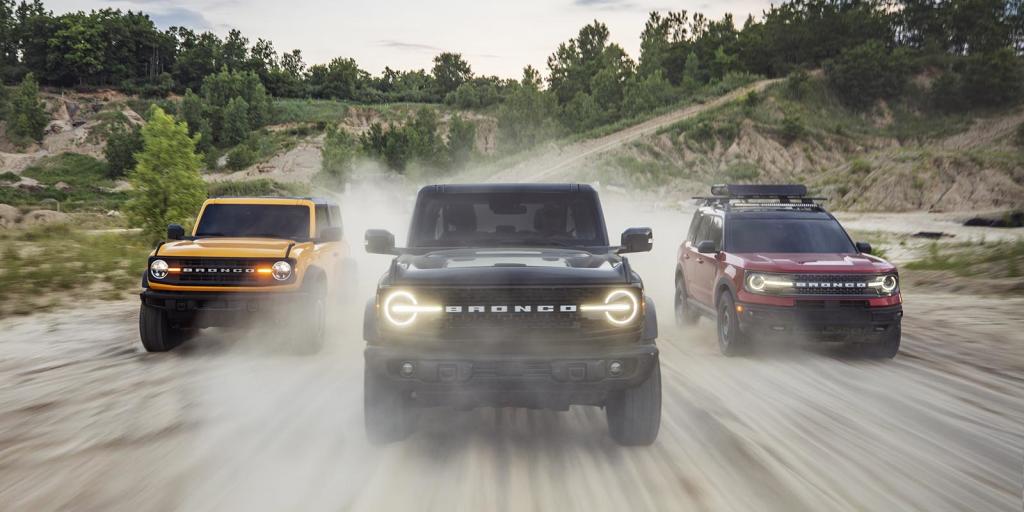 The Ford Bronco is back! Ford revealed its iconic revived vehicle across numerous Disney mediums on July 13. You should check out the short films that Ford produced for the reveal, as they give you an excellent look at just how capable of an off-roader the revived Bronco is. Ford not only revealed its two-door and first-ever four-door Bronco models on July 13, but also the smaller Bronco Sport.
"We created the Bronco family to elevate every aspect of off-road adventure and equipped them with class-leading chassis hardware and exclusive technologies to raise the bar in the rugged 4x4 segment and take people further into the wild," said Jim Farley, chief operating officer for Ford. "They're built with the toughness of an F-Series truck and performance spirit of Mustang — and come wrapped in one of the most stunning and functional off-road designs that's true to the original Bronco design DNA."
The Bronco Sport will be the first model in the new Bronco family of 4x4-only vehicles to arrive at dealerships. It's scheduled to arrive in late 2020. The two-door and four-door Bronco, meanwhile, will go into production in the beginning of 2021 and should arrive at dealerships in the spring of 2021. The base two-door Bronco will start from $29,995, including the $1,495 destination and delivery charge. You can reserve one now by paying just $100.
There's been much positive feedback so far on the revived Bronco, with auto experts congratulating Ford on a job well done. It'll be interesting to see just how well the revived vehicle sells, as Ford is directly competing with Jeep with its new Bronco. It has its eyes set on the Wrangler, which has been popular for many years.
Continue reading below to learn more about the new Bronco family!
2021 Bronco Two-Door, Four-Door Models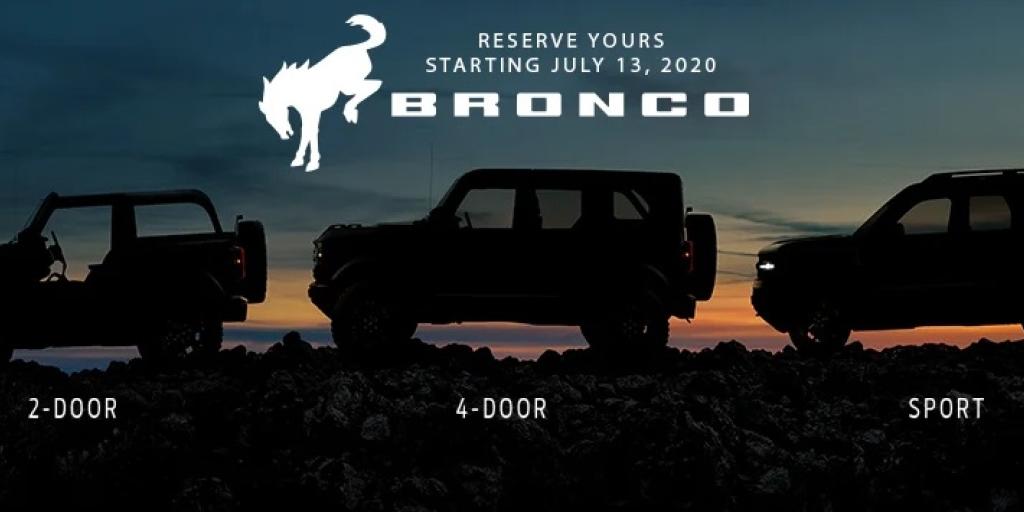 The new Bronco is "built wild," as Ford likes to say. It delivers maximum 4x4 go-anywhere, anytime capability and confidence. Whether you're a novice adventurer or a hard-core off-road expert, the Bronco has your back.
"Bronco's advanced four-wheel-drive technology is at the core of its off-road capabilities, and at the heart of it all is Bronco's exclusive Terrain Management System with G.O.A.T. Modes that is designed to help drivers better navigate any type of terrain," said Mark Grueber, consumer marketing manager for the new Bronco.
Two 4x4 systems are offered on all Bronco models, a base setup and a more advanced 4x4.
Some of what else makes the revived Bronco an excellent off-roader is its 11.6" of ground clearance, maximum 29-degree breakover angle and 37.2-degree departure angle, plus its water fording capability of up to 33.5 inches! The new Bronco also has plenty of power backing it up.
"Race-bred EcoBoost engines and our segment-first 7-speed manual and available 10-speed automatic transmissions give the all-new Bronco the optimal combination of power, torque, and gear ranges to perform in a wide variety of terrains and uses," said Dave Pericak of Ford.
It's truly worth taking a closer look at all the performance and off-road details of the new Bronco. There's a lot there, and it makes for an interesting read!
As for the overall design of the 2021 Bronco, it's impeccable! Both Bronco two- and four-door models make the open-air experience quick and easy. The two-door models come with a standard three-section roof system. The four-door models have four removable roof sections as standard. The panels on all models can be removed by just one person by unlocking the latches from the interior.
"By locating the sportbar behind the second row, both Bronco two- and four-door models offer the largest overall open-top view in its class to take in the sunshine or to gaze at the stars at night," writes Ford on its website.
Every Bronco also comes with frameless doors that Ford says are easier to remove than what competitors offer. What's also nice is that on four-door Bronco models, all four doors can be stored onboard with protective door bags.
The Bronco looks amazing with its removable doors and roof, but also because a life-size digital scan of a first-generation Bronco model served to influence the proportions and design of the all-new Bronco for maximum off-road capability and performance.
"Bronco's square proportions, short overhangs, and wide stance are optimized for off-road adventure," said Paul Wraith, Bronco chief designer.
The 2021 Bronco's interior is just as stunning as its exterior. The high-tech interior is designed for the outdoors. Select Bronco models come with washable rubberized floors with integrated drains and special seating surfaces that resist mildew. The instrument panel surfaces are wipeable, which is also important for when things get messy. There's navigation-capable 8" or 12" SYNC systems for infotainment and there's lots of advanced technology available for off-roading including trail mapping. It allows users to select a trail to map out and then track, capture, and share their adventures with others.
Bronco Sport

If you simply can't wait for the two-door or four-door Bronco models to roll off the production line and hit dealers in the spring of 2021, you could opt for the Bronco Sport! It's the Bronco of small SUVs and it will arrive later this year.
As with all Broncos, 4x4 is standard. Despite its smaller size, it's still highly off-road capable.
"Bronco Sport has the toughness and smarts to help turn off-road novices into 4x4 pros," said Hau Thai-Tang, chief product development and purchasing officer for Ford.
The Bronco Sport is offered in five different trim levels and there are two engine options. The higher trims get a 2.0-liter EcoBoost engine that produces 245 horsepower and 275 lb.-ft. of torque. The lower trims feature a 1.5-liter EcoBoost that produces 181 horsepower. Both are paired to an eight-speed automatic transmission.
While the Bronco Sport does not have the Bronco's removable body panels, it still looks great as it boasts rugged design attributes. Cool features for life on the trails include the safari-style roof and cargo area high enough to hold two mountain bikes with 27.5" wheels.
Our Take
We're definitely impressed by the two-door and four-door Bronco, as well as the Bronco Sport. As soon as we get a chance to review one, we will be sure to post that review on YouTube!
Useful SUV Links
---
Recommended SUV News & Reviews