The newest addition to the Range Rover family, the Range Rover Velar, was unveiled in a special way at the Design Museum in London on March 1. It was the first time a vehicle has ever been displayed at the museum. It was a fitting way to unveil the crossover as the last time Land Rover displayed a vehicle in that way was back in the 1970s when it had the original Range Rover on display at the Louvre Museum in Paris.
Also special is the vehicle's name. It's derived from the 26 original Range Rover prototypes of 1969, which Land Rover refers to as the pioneers of the luxury SUV landscape. To help hide the identity of those pre-production Range Rovers, development engineers chose to name them Velar. That's because it's derived from the Latin word velare which means to veil or cover. Makes sense, right?
The SUV is designed to fill the 'white space' between the Range Rover Evoque and Range Rover Sport. The crossover shares the same lightweight aluminum architecture as the Jaguar F-Pace but has a higher starting price. When the Velar goes on sale later this year, Land Rover says it will be priced from $49,990 and come in four trim levels. Here in the United States, there will be three engine options for consumers to choose from including a supercharged 3.0-liter V6 gasoline engine that produces 380 horsepower. The vehicle has a slightly different look from the other Range Rovers, with development engineers referring to it as the "Blade" due to its slender profile. Inside, the Velar is just as attractive with unique materials and cutting-edge technology. Let's take a further look.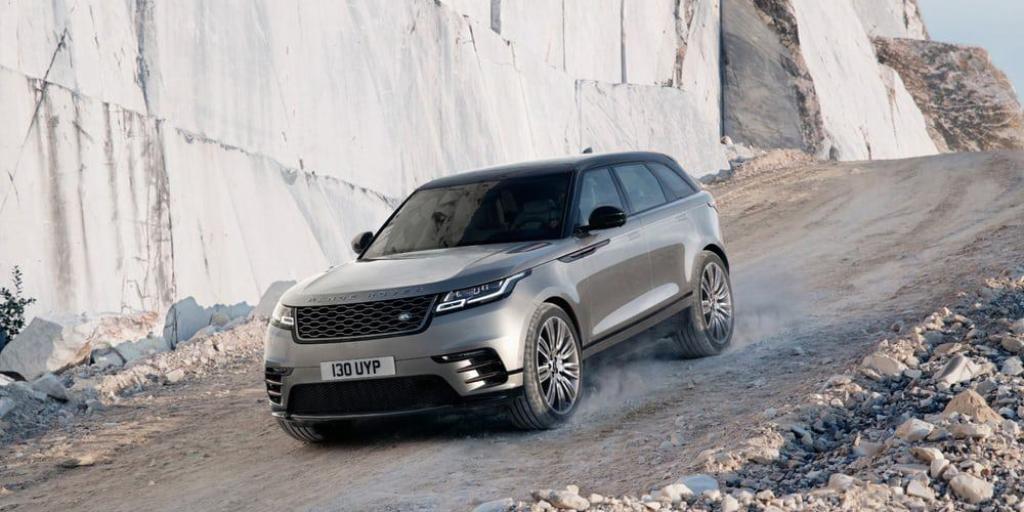 Exterior & Interior
You can instantly tell the Velar is part of the Range Rover family because of its "formal, horizontal feature lines, floating roof and continuous waistline, through to the taut and tapered lines at the rear." It definitely has its own style, however, that executives say elevates Range Rover's design DNA to a new level. Contributing to the exterior's contemporary design are flush deployable door handles and burnished copper detailing on the front bumper blades and fender vents. Those door handles don't only give the Velar a cool look, but they also help reduce drag. Thanks to that feature and the vehicle's low height, the Velar is the most aerodynamically-efficient Land Rover ever produced. The vehicle's full-LED headlights are also the most slender to ever appear on a production Land Rover vehicle. Optional 22-inch wheels further complement the vehicle's silhouette and give it a "dramatic sense of presence."
Land Rover says the vehicle's interior was designed as a "calming sanctuary; combining an exceptional sense of space with luxury materials and finishes, beautiful simplicity and precise execution." It has seating for five and 34.4 cubic feet of storage behind the second row seats. While it's big on technology, designers went out of their way to keep things simple. Land Rover says two 10-inch high-definition touchscreens seamlessly integrated into the cabin architecture help reduce the complexity of the dash. What also sets the vehicle's interior apart are the materials used. For example, the Range Rover Velar offers an alternative to leather. The Dapple Grey woolen upholstery material was developed with the help of one of Europe's leading textile manufacturers.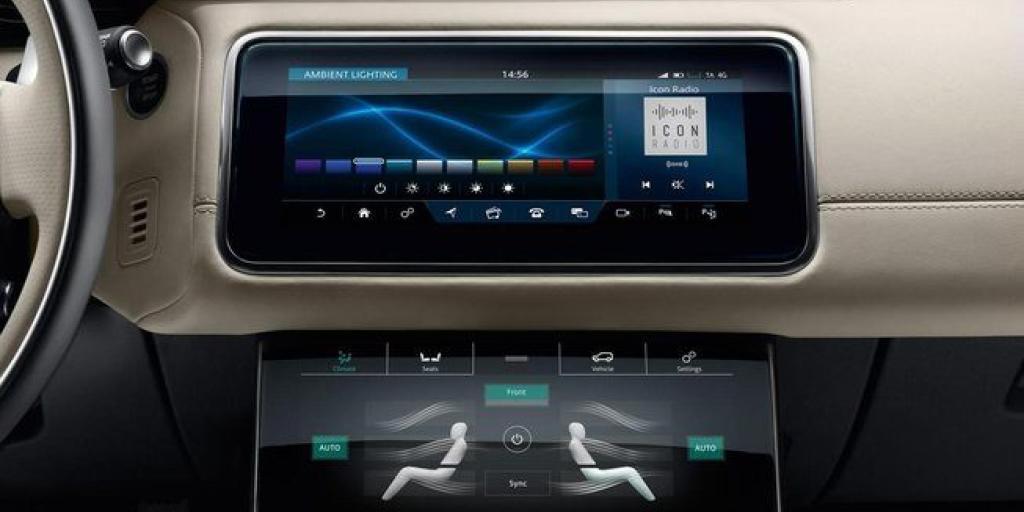 Performance & Safety
Like all Range Rover vehicles, Land Rover says the Velar offers exceptional capability on a variety of surfaces, terrains and weather conditions. The vehicle features a highly sophisticated standard all-wheel drive system with available air suspension. The air suspension gives the Velar a maximum ground clearance of 9.9 inches. The air suspension also allows the Velar to be equipped with Land Rover's suite of traction technologies including Terrain Response 2 and All Terrain Progress Control. The three available powertrains in the U.S. include a 2.0-liter Ingenium diesel 4-cylinder that produces 180 horsepower and 317 lb.-ft. of torque, a 2.0-liter gas Ingenium 4-cylinder delivering 247 hp and a supercharged 3.0-liter gas V6 engine that churns out 380 hp. It's able to take the Velar from 0 to 60 miles per hour in just 5.3 seconds before reaching an electronically-limited top speed of 155 mph. Each engine is mated to an 8-speed ZF transmission. When it comes to towing, six-cylinder models have a capacity of up to 5,500 pounds and are complemented by the Advanced Tow Assist function. It's meant to make parking a trailer easier as the vehicle is able to determine what steering inputs are needed to park the trailer where directed.
Safety features include a comprehensive restraint system with six airbags and a suite of advanced driver assistance systems. Those systems include Autonomous Emergency Braking, Adaptive Cruise Control with Queue-Assist and an Adaptive Speed Limiter.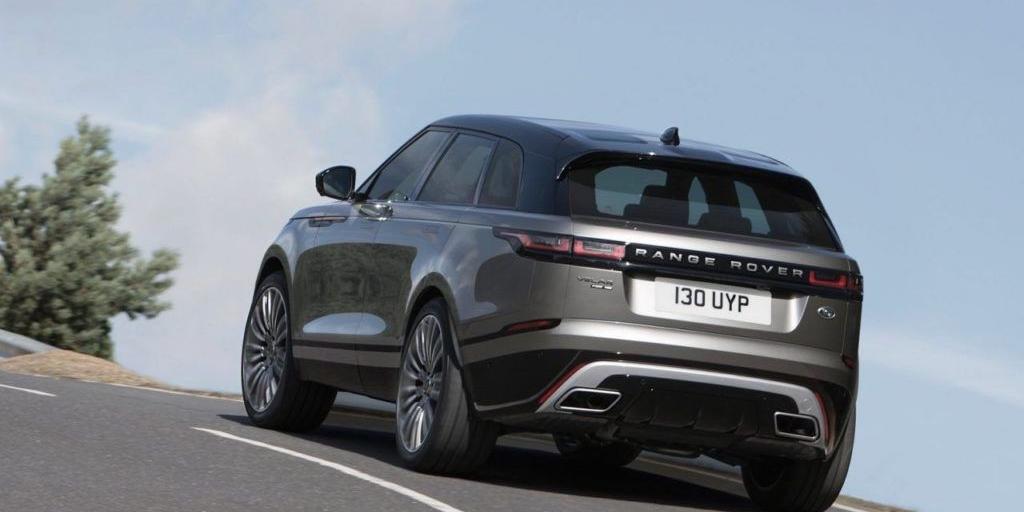 Options
There are four main trim levels including Standard, S, the R-Dynamic SE and R-Dynamic HSE. Customers can also choose to go for one of two exterior packages that give the vehicle an even more distinguished appearance. Land Rover says the most exclusive Velar, however, will be the Velar First Edition. Only 500 will be made in the U.S. and they will only be available for one model year. Land Rover says it's even more luxurious than the HSE trim. The model is only offered with the 380 hp 3.0-liter V6 gasoline engine and comes with plenty of extra features. Those features include a full extended leather interior, a 1,600W Meridian Signature Sound System, special 22-inch Split-Spoke wheels with diamond-turned finish and more. The models will be available exclusively in one of three colors. They include Corris Grey, Silicon Silver or Flux Silver.
Land Rover is certainly hoping the Velar will be a top seller. The SUV comes at a time when the brand is running off momentum as it set an all-new sales record for the U.S. in 2016. So, it's definitely wanting to beat those numbers this year and it may just be possible. That's because aside from the contemporary Velar crossover, Range Rover also has the all-new fifth generation Discovery which was also recently unveiled. Again, Land Rover says the Velar will arrive in the U.S. later this year. It will be priced from $49,900 with the most exclusive and most expensive Range Rover Velar First Edition coming in at $89,300.
Useful SUV Links
---
Recommended SUV News & Reviews