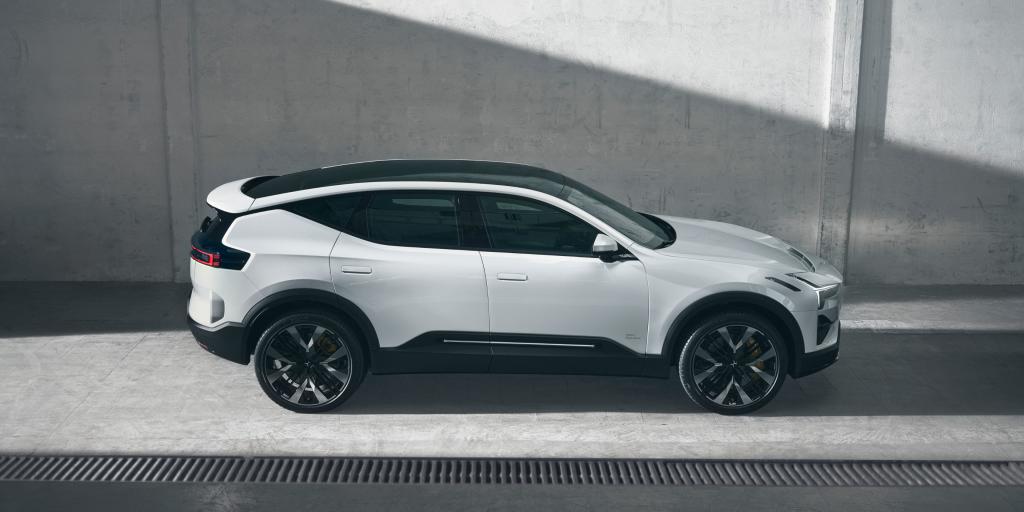 Polestar has officially revealed its first SUV and its first car planned to be produced on two continents. The Swedish electric vehicle startup backed by Volvo Cars says its Polestar 3 is "the SUV for the electric age."
"Polestar 3 is a powerful electric SUV that appeals to the senses with a distinct, Scandinavian design and excellent driving dynamics," says Thomas Ingenlath, Polestar CEO. "It takes our manufacturing footprint to the next level, bringing Polestar production to the United States. We are proud and excited to expand our portfolio as we continue our rapid growth."
The Polestar 3 features a new aerodynamic profile and a powerful wide stance. The front aero wing integrated into the bonnet, an aero wing integrated into the rear spoiler, and rear aero blades all help make the electric SUV more aerodynamic, for example.
"This car has been designed as a Polestar from the start and features new defining characteristics for us — like the dual blade headlights, SmartZone and front aero wing," continues Thomas Ingenlath.
At launch, the Polestar 3 Long range Dual motor powertrain, equipped with a powerful 111 kWh battery, will be priced from $83,900 and have a range of 300 miles. It will make 489 horsepower. Adding the Performance pack prioritizes power and acceleration over range. The Performance trim makes up to 517 horsepower and has a range of 270 miles. It's priced from $89,900!
The Polestar 4 is expected to follow the Polestar 3, it'll be a smaller electric performance SUV coupe.
Exterior Features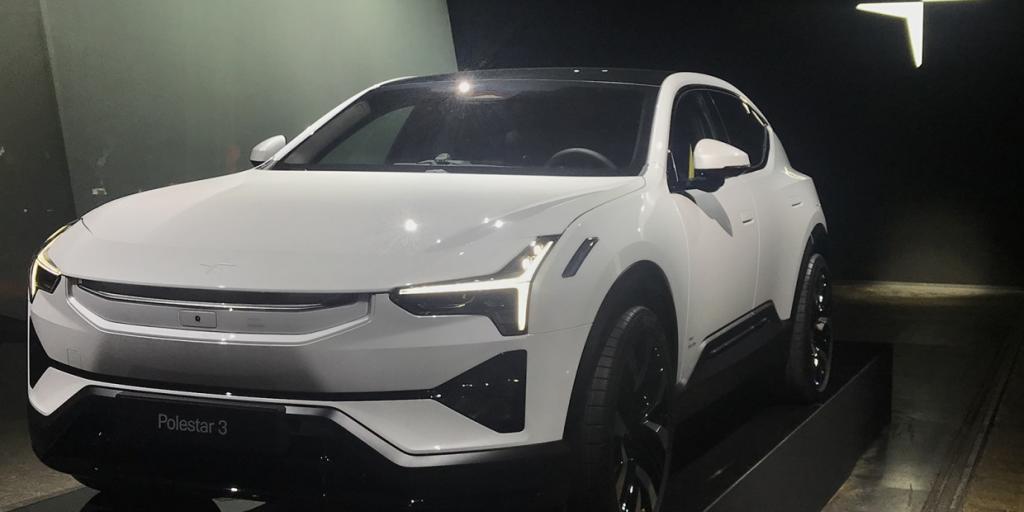 The Polestar 3's exterior is defined by sculpted surfaces, distinctive details, and optimized aerodynamics for a sleeker, more high-tech look. And by lowering and extending the roofline, the Polestar 3 has a distinctive silhouette without compromising interior space.
For greater aerodynamic efficiency, there's the front aero wing, rear aero wing, and rear aero blades. Flush door handles and flush side windows help create a completely flat side profile. The flush handles of the doors extend when the driver approaches while holding the Polestar 3's key. There's also a frameless design to the door mirrors.
Emphasizing the clean, aerodynamic exterior are the Polestar 3's LED headlights that have minimal design and maximum illumination. And the high-intensity rear light bar helps the electric SUV look great from behind.
The Polestar 3 is available in a carefully curated choice of exterior colors. There are also a number of large, striking wheel designs.
Interior Features
Polestar says the mindful materials used inside the Polestar 3 not only offer premium aesthetics, but they've also been selected for their sustainability credentials.
The Polestar 3's interior boasts Scandinavian minimalism with integrated technology.
There are four distinct interior themes to choose from.
"This is an inner space designed to stimulate the senses," writes Polestar about the Polestar 3's interior.
The electric SUV has a low and sporty seating position. The completely flat floor adds to the spacious feeling of the vehicle and provides additional leg room, ensuring enough personal space regardless of where you're sitting. Polestar 3 comes with three seats in the rear, offering the same support and comfort as the front seats.
The full-length panoramic glass roof adds a spacious feel to the Polestar 3, too! It's made of high-tech, laminated glass that lowers cabin noise levels and reduces ultraviolet radiation to less than 0.5%, reducing glare and heat from the sun. The illuminated Polestar symbol is visible from both inside and outside the car.
There's an on-board particle filter that helps reduce undesirable particles in the cabin air of the Polestar 3. There's also an auto-dimming rear-view mirror. Ambient lighting, wireless charging, multiple USB-C ports, and a powerful Bowers & Wilkins Audio system with 25 speakers make the Polestar 3's interior even better.
As for technology, the Polestar 3 SUV offers a modern take on driver information with its digital displays and car controls. To start, there's a large portrait-oriented 14.5" center display. The large, frameless central touch screen has a pixel density of 208 psi and an anti-reflective coating to deliver excellent readability, even in direct sunlight. There's also an advanced 9" driver display with the same features. And there's a head-up display with turn-by-turn navigation, too! The steering wheel controls help make it easy to navigate the displays, as well.
Performance Details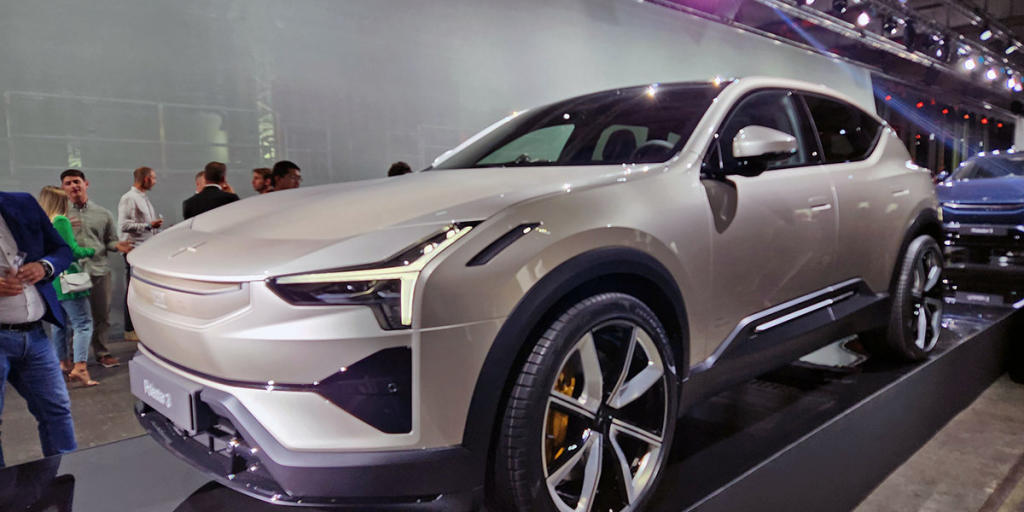 "Polestar 3 has been obsessively engineered to reduce body roll and create a dynamic and balanced drive," writes Polestar. "Perfectly tuned suspension components, structural stiffness, true torque vectoring, and low battery and motor placement ensure responsive handling and unparalleled road stability."
The Long range Dual motor with optional Performance pack makes up to 517 horsepower and 671 lb.-ft. of torque, has a range of 270 miles, and a 0 to 60 mph time of 4.6 seconds!
The standard powertrain is enhanced for range, with 489 horsepower and 620 pound-feet of torque. It offers a range of 300 miles.
Active air suspension and the Polestar 3's advanced electronic all-wheel drive system help make for a more comfortable ride, constantly adapting to the vehicle's surroundings. The Polestar 3 also features standard Brembo performance brakes. And both iterations of the Polestar 3 can tow up to 3,500 pounds.
Our Take
First deliveries of the Polestar 3 are expected in the fourth quarter of 2023. The electric SUV will compete with models like the Tesla Model Y, Tesla Model X, BMW iX, Rivian R1S, Audi e-tron, the new electric vehicles from Mercedes-Benz, and more.
Some critics feel the Polestar 3 may have too high of a starting price. At $83,900, what do you think?
What's cool is that the Polestar 3 will also be manufactured in the United States. Production Is expected to begin at Volvo Cars' Ridgeville, South Carolina facility in the middle of 2024.
Are you interested in the Polestar 3? We'd love to know your thoughts about the electric vehicle, so be sure to let us know!
Useful SUV Links
---
Recommended SUV News & Reviews