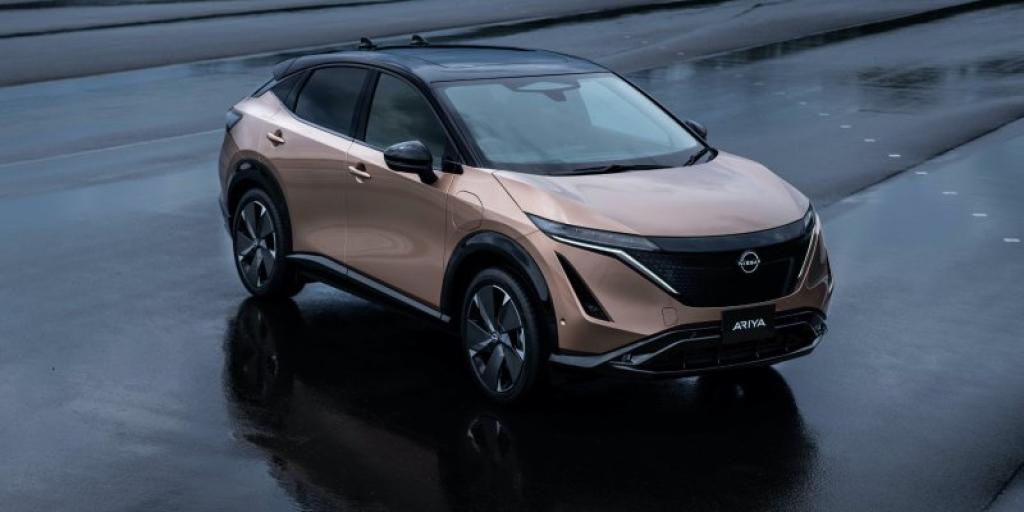 Nissan recently revealed its first all-electric crossover SUV called the Nissan Ariya. The all-new 2022 Ariya is the first production model to represent Nissan's new electrified brand identity. Nissan says highlights of its emissions-free Ariya crossover SUV include its powerful acceleration and smooth, quiet operation, the interior's lounge-like atmosphere, and all the seamless connectivity. The all-new Ariya also offers an estimated range of up to approximately 300 miles (that's the preliminary estimate range by Nissan for a long range 2WD model).
To learn more about this new and exciting all-electric SUV from Nissan, continue reading below!
Exterior

The all-new Ariya SUV's styling represents a significant redefinition of Nissan's design philosophy. This new design philosophy is based on what Nissan calls "Timeless Japanese Futurism," which is characterized by a distinctive Japanese approach conveyed in a simple-yet-powerfully modern way.
The front of the all-electric Ariya crossover SUV looks seamless, elegant, and fresh. It's highlighted by a "shield," which is actually a reimagined grille for the EV era. The shield incorporates a 3-D traditional Japanese kumiko pattern just under its smooth surface. Nissan's redesigned brand logo is prominently placed at the center of the aerodynamic shield, with that logo beaming with crisp definition from the 20 LEDs that compose it. The lower section of the shield, meanwhile, is bordered by subtle lighting that illuminates with the logo when the vehicle is ready for operation. You'll also find thin LED headlamps up front.
A single, uninterrupted horizon line stretches across the side profile of the Ariya and conveys linear movement. The rear is also striking, with its steeply raked C-pillar that blends flawlessly into the rear deck. There's also a one-piece light blade that has been engineered to give a cool blackout effect when parked.
Interior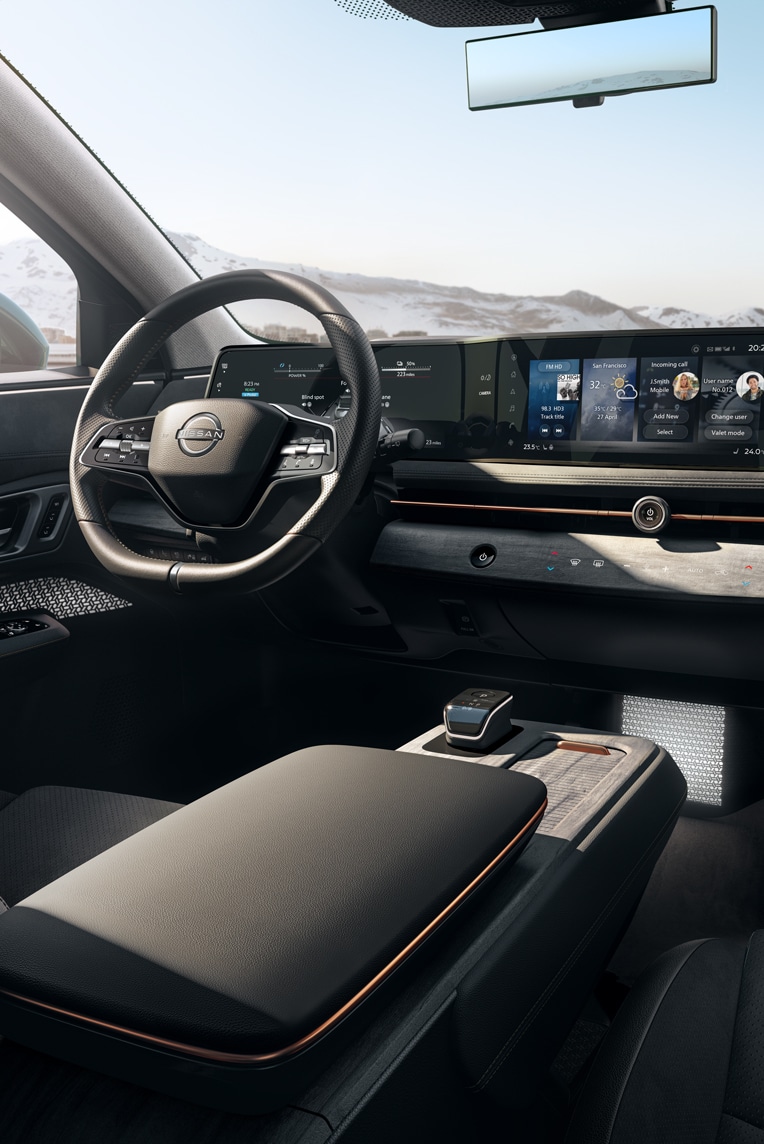 Nissan's all-new EV platform helps make for a more spacious cabin. The flat, open floor and slim-profile Zero Gravity seats also result in lots of legroom and easy interaction between front- and rear-seat passengers.
Overall, the interior of the all-new Ariya feels futuristic and minimalistic. Nissan says it was meant to have the vibe of a sleek cafe lounge on a starship, evoking performance and intrigue, rather than the vibe of a traditional automotive cabin.
A nice feature is the fold-out tray that's tucked under the center of the instrument panel. The innovative slide out table design transforms the cabin space into a mobile office. That's especially helpful to use while the vehicle is charging, when you're traveling for work, or when you'd like to eat inside the vehicle.
As with any electric vehicle, there's plenty of technology to go over. The all-new Ariya features Nissan's intelligent personal assistance technology that features a hybrid voice recognition system to help you keep your eyes on the road. Plus, Amazon Alexa is also there to take your voice commands. There's wireless Apple CarPlay and Android Auto to put to good use, too.
There are two 12.3" screens that serve as the digital instrument cluster and the infotainment screen. The displays are on one horizontal plane and are oriented in a wave-like shape to ensure important vehicle information like battery information, range, and navigation can all be easily reached and scrolled through with a simple swipe. There's also a large head-up display that provides helpful driving information within the driver's field of vision without it being distracting.
Another important thing to note about the Ariya is that it's the first Nissan model which receives firmware updates over the air. The technology automatically updates various software inside the vehicle, like the software that controls the multimedia system.
Performance/Safety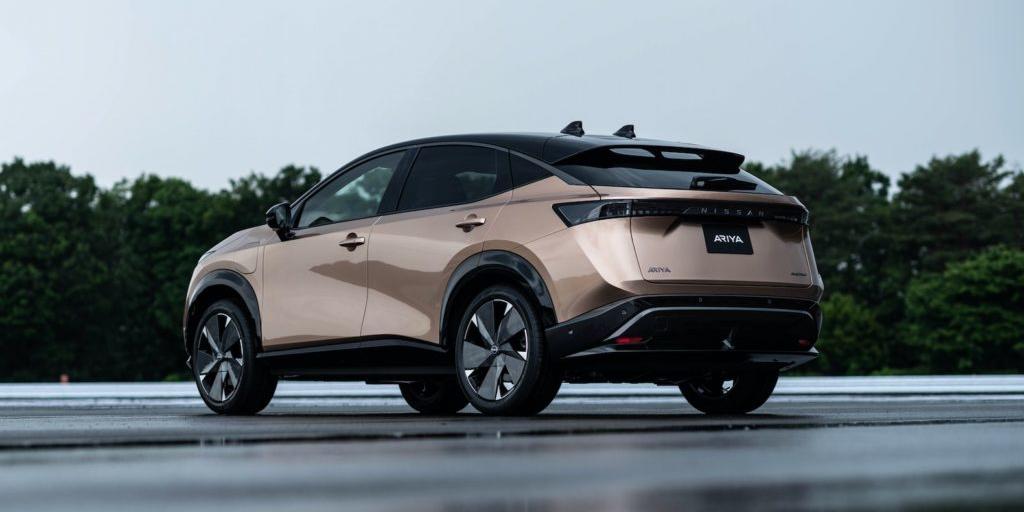 The Ariya's all-new EV platform has been optimized to deliver exceptional handling. The battery pack sits under the center of the vehicle to ensure a low center of gravity and near-equal weight distribution.
There are four core Ariya models offered, including two-wheel-drive and all-wheel-drive versions.
Both Ariya two-wheel-drive and all-wheel-drive models offer a choice of 63 kWh of usable battery capacity or 87 kWh. The 87 kWh models' additional battery capacity delivers additional range. There's up to an estimated 300 miles of range offered (with the long range 2WD model).
The twin electric motor, all-wheel-drive Ariya models feature Nissan's most advanced all-wheel control technology called e-4ORCE. The Nissan Ariya also has lots of advanced driver assistance features to help make for a high-tech, low-stress driving experience. Attentive drivers can even take their hands off the steering wheel under certain conditions with ProPILOT Assist 2.0.
ProPILOT Assist 2.0 uses the navigation system and high-definition 3-D map data to detect the roadway type, direction, and speed limits, and it can adjust the vehicle speed accordingly for a more relaxed and enjoyable journey.
The all-electric vehicle is also equipped with Nissan Safety Shield 360 as standard. It's a suite of six active safety features that includes automatic emergency braking with pedestrian detection, blind spot warning, rear cross traffic alert, lane departure warning, high beam assist, and rear automatic braking.
Pricing

The Nissan Ariya will go on sale in Japan from mid-2021 with availability in the United States to follow later in 2021. Suggested retail pricing in the U.S. will start around $40,000.
"The Nissan Ariya crossover marks a new era for electric vehicles, promising an incredibly powerful and smooth ride thanks to the full strength of Nissan Intelligent Mobility delivered by the latest assistance technologies designed to support, respond, and respect the driver's intentions," writes Nissan on its website. "A sleek, sexy, seamless design inspired by the Timeless Japanese Futurism gives all occupants a welcome, personal impression aimed to surpass expectations."
Does the Ariya surpass your expectations? We'd love to hear what you think!
Useful SUV Links
---
Recommended SUV News & Reviews