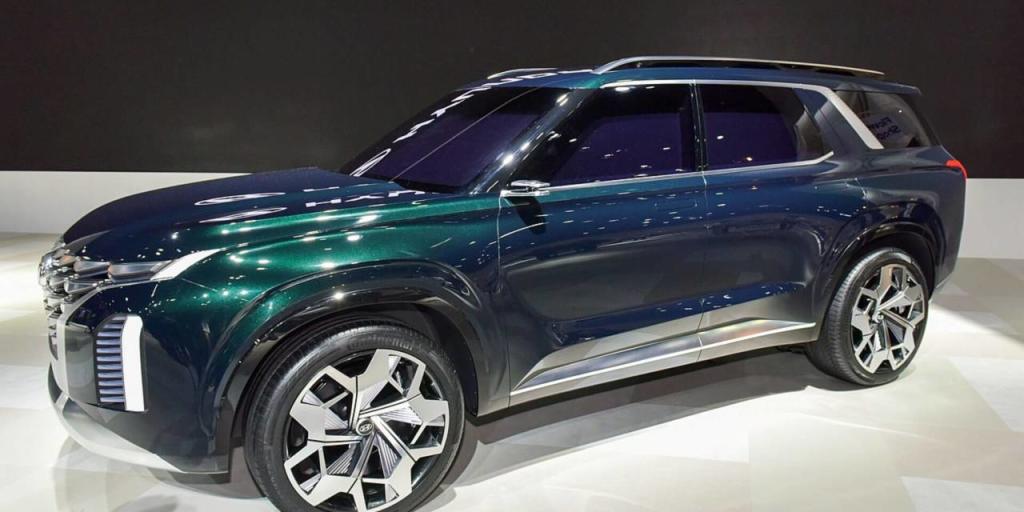 Hyundai Motor is making its new 'Sensuous Sportiness' design philosophy known with its latest SUV concept. It has a large, flashy grille that's bound to catch any SUV lover's eye! It also sets this large SUV apart. While many other large SUVs on the market have a more reserved look, this one certainly does not hold back! It was unveiled at the 2018 Busan International Motor Show.
'Grandmaster' is an interesting name for this SUV, but it's actually not inspired by the well-known artist that might come to mind for some of you! The artist Grandmaster Flash is considered to be one of the pioneers of DJing and hip hop. But, Hyundai says its new SUV concept's name was derived from the game of chess, and not the artist.
"While the world's finest chess champion is called the grandmaster, the concept vehicle is named to indicate that just as the sum of all chess pieces completes the game of chess, all forthcoming Hyundai vehicles will come to form a harmonious vehicle line-up demonstrating the Hyundai Look while each maintains distinctive character and role," writes Hyundai on its website.
Second Hyundai Concept Vehicle with New Design Language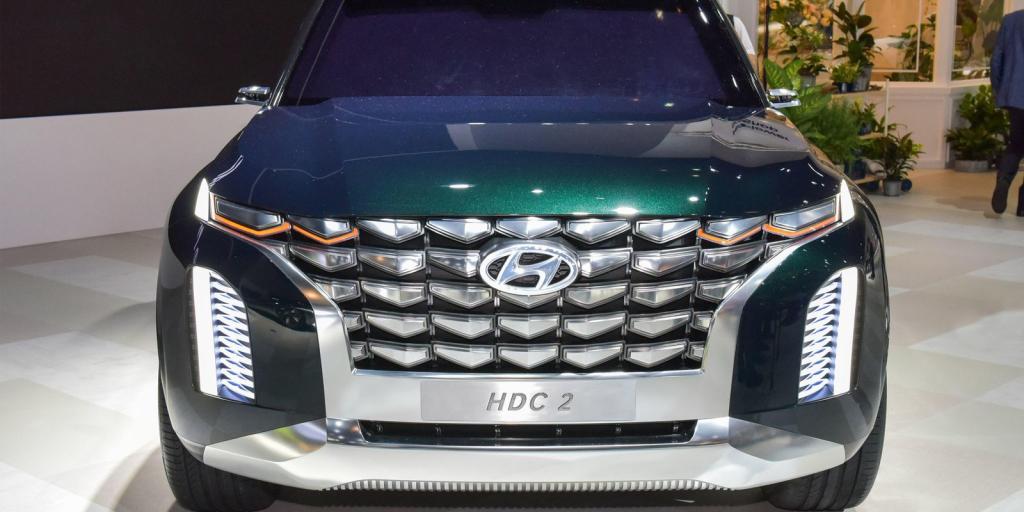 And speaking of the game of chess, Hyundai's design boss, Luc Donckerwolke, referred to the previously released Le Fil Rouge sedan concept as being the "Queen" of Hyundai's new design philosophy and said Hyundai's next concept, the HDC-2 Grandmaster SUV, would be the "Bishop."
As for that HDC-1 Le Fil Rouge sedan, it was the first concept to usher in the 'Sensuous Sportiness' design language for Hyundai. The vehicle was a huge hit at the 2018 Geneva Motor Show. Just like the HDC-2 Grandmaster SUV concept, it sports a large, impressive grille. Its interior is also something to write home about! It's incredibly futuristic. Entertainment systems for the rear passengers, for example, appear to drip elegantly down the back of the driver and passenger seats.
"The Le Fil Rouge sedan provided a clear direction for Hyundai's design philosophy, while the new SUV concept vehicle further proved the versatility of this design language that will be portrayed in future Hyundai vehicles, opening up new possibilities for an even wider spectrum of attractive designs," writes Hyundai on its website.
To give you even some more background, Hyundai actually considers the Le Fil Rouge a "reinterpretation" of its 1974 Hyundai "Pony" Coupe Concept. That 1974 vehicle set the design standard for some of Hyundai's earliest cars. So, it appears Hyundai might be returning to its roots when it comes to the inspiration for its future designs.
More Details about the HDC-2 Grandmaster SUV Concept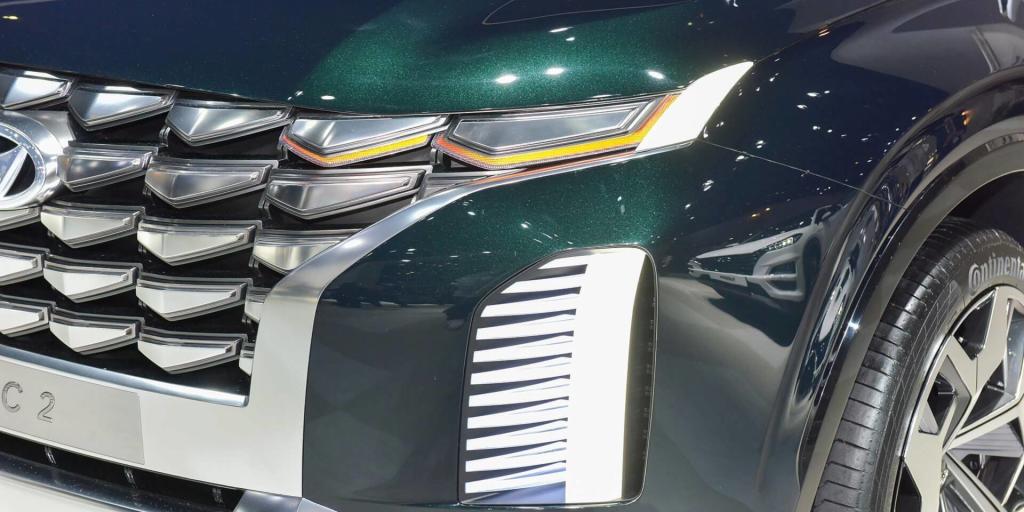 The Hyundai HDC-2 Grandmaster SUV concept is as roomy as it is flashy! There's room for eight passengers inside the vehicle. While we know it was inspired by the 'Sensuous Sportiness' design language, Hyundai says it was also designed through the harmonization of four key elements – proportion, architecture, styling and technology. The brand says those elements bring emotional value and desirability.
"The beauty is further enhanced by the architecture and styling. The new approach of this 'Light Architecture' creates a perfect silhouette to the front and the rear, not to mention its technological innovation, which couples spectacular design with a comfortable experience for drivers and passengers," adds Hyundai on its website.
At the HDC-2 Grandmaster's unveiling, Hyundai Vice President of Styling SangYup Lee said the concept represents a major shift for the brand.
"Making a big step forward in terms of design with the Hyundai Look strategy, we will move towards becoming a brand that customers can really relate to emotionally. Moving on from being a brand that provides a great value, we will aspire to also become a brand that is widely beloved by our customers," said Lee.
2019 Tucson SUV Also on Display
Although less flashy than the HDC-2 Grandmaster SUV concept, the redesigned and enhanced 2019 Tucson SUV was also on display at this year's Busan International Motor Show. It was originally unveiled to the world at the New York auto show and has a number of new features inside and out.
As for the exterior, there's a bold new cascading grille and a new headlight/DRL design. There's also new front and rear fascias and a new rear taillight design. Hyundai says those features grab your attention and help create dramatic impressions. Inside, the 2019 Tuscon is loaded with technology, including Hyundai's latest 7-inch Display Audio system with Apple CarPlay and Android Auto as standard.
Where the 2019 Tucson SUV has a fresh look, it also has improved power. In the United States, the 2019 Tucson's powertrain lineup was revised to include two engine offerings. There's a 2.0-liter direct-injected four-cylinder engine, capable of churning out an estimated 164 horsepower. There's also a 2.4-liter, direct-injected four-cylinder engine, which can produce an estimated 181 horsepower. Both are coupled with a six-speed automatic transmission.
"The 2019 Tucson trim enhancements place the modern-day Tucson as a top competitor for CUV shoppers," said Scott Margason, director of product planning for Hyundai Motor America.
There's also an emphasis on enhanced safety with this latest Tucson. The updated SUV incorporates the latest technologies and safety features, which Hyundai says meets modern consumers' daily needs and provides peace of mind.
"Forward Collision-Avoidance Assist (FCA), Lane Keeping Assist (LKA) and Driver Attention Warning (DAW) are equipped on all 2019 Tucson models to further enhance safety. Hyundai's extra efforts to make the 2019 Tucson safer were recently recognized by top industry experts and consumers alike – J.D. Power named Tucson the Most Dependable Small SUV and the Insurance Institute for Highway Safety (IIHS) selected the vehicle as a Top Safety Pick."
The enhanced Tucson is expected to go on sale in the United States this fall.
Our Take

We're excited by what we see in the HDC-2 Grandmaster SUV concept and the Le Fil Rouge sedan concept which came before it. We're looking forward to see how the design elements of both vehicles are incorporated in future production vehicles. We should also note Hyundai has been teasing a yet-to-be-named all-new three-row model with seating for up to eight that will slot above the 2019 Santa Fe. So, it's safe to assume that model will be similar in design and style to the HDC-2.
Useful SUV Links
---
Recommended SUV News & Reviews