This is sure to make Kia Soul lovers happy! There's now a more powerful option of Kia's funky urban runabout. The new 2017 Soul Exclaim was unveiled to the media in San Francisco on November 8.
The company says it's hard to make something great even better but argues it did so by adding a 201-horsepower turbocharged engine to the compact crossover. Kia says it's something customers have been asking for. 
"We wanted to provide loyal Soul lovers and new buyers a sportier option," said Orth Hedrick, vice president of product planning for Kia Motors America. "The 2017 Soul Exclaim with its turbocharged engine gives the car's fans another wonderful choice from an already wonderful line-up."
The Exclaim is the highest trim level for the 2017 Kia Soul and is certainly the best option to go with. The two other trims are the Base and Soul Plus.
2017 Soul Exclaim
Kia says its customers have long lobbied for a more powerful Soul. The 2017 Exclaim provides just that through its 1.6-liter turbo engine that adds 40 horsepower. Although it's more powerful, fuel economy is 28 miles per gallon, city and highway combined. The company says that's slightly better than the combined mileage of the 2.0-liter normally-aspirated engine in the Soul Plus and the 1.6-liter normally-aspirated engine in the Soul Base.
Combined with the Exclaim's turbo engine is a new 7-speed dual-clutch transmission. The company says it offers quicker and smoother shift points and no shift shock. Kia says it makes for more dynamic acceleration and contributes to a more engaging driving experience.
Aside from performance, the 2017 Exclaim also stands out from the other two Soul trims with a number of specialized features. It has a sportier look with a red-accented body trim, exclusive 18-inch wheels, chrome grille surround, a unique Soul tailgate badge and, for the first time on Soul, dual chrome twin-tip exhaust.
Kia has also set the 2017 Exclaim apart with its interior features. It gets a stand leather-wrapped, D-shaped steering wheel. It doesn't disappoint when it comes to technology, either. It comes equipped with push-button start, UVO32 with e-Services with integrated Android Auto and Apple CarPlay and comes available with an impressive audio system. The 315-watt Harman Kardon 5 system comes with eight speakers, including a center channel and subwoofer, navigation and 8-inch touchscreen display. Rear cross traffic alert and blind spot detection are also available with the 2017 Soul Exclaim.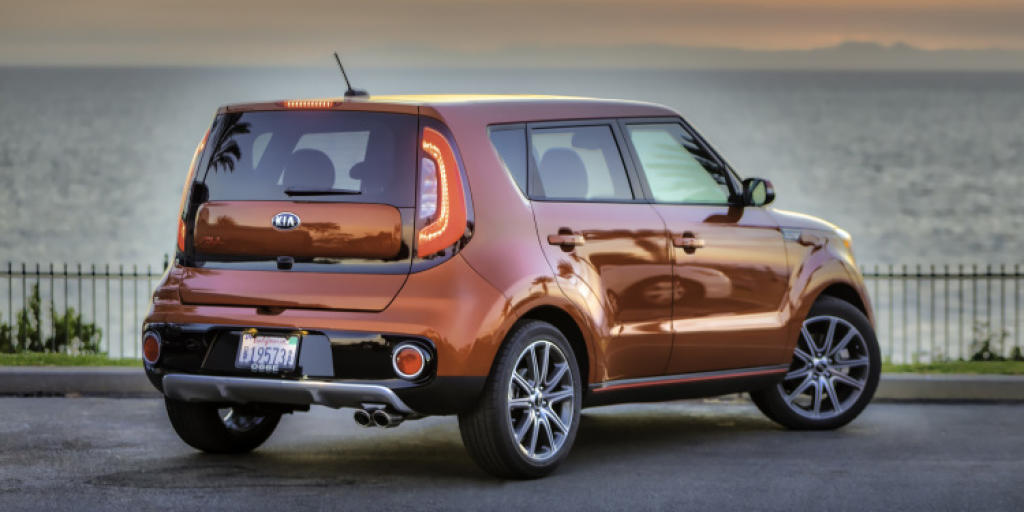 Other Trims
If you don't want to go with the range topping Exclaim, there are two other Soul trims to choose from for 2017. The 1.6-liter normally-aspirated engine of the Base offers 130 horsepower and is paired to a manual or automatic 6-speed transmission. The Soul Plus is only offered with a 2.0-liter, 161-hp normally-aspirated engine and a 6-speed automatic.
There are two new exterior colors for the three trim levels. They all come with redesigned headlights and fog lights, along with front and rear fascias. The company says it helps give the Soul a more aggressive look. Two dedicated USB charge ports help passengers keep their smart devices charged and ready to go when they leave the vehicle. An available 8-way power passenger seat adds comfort.
Kia Soul History
The Soul concept was first imagined in early 2005. At the time, it was styled by a new member of Kia's design team in Irvine, California named Mike Torpey. Torpey was reportedly inspired by a documentary he saw on television on wild boars and their importance in Korean culture. The New York Times reported that the boar's attitude of strength and capability was the image he wanted to convey for a new Kia model. Torpey had hip urban youths in mind when coming up with the concept.
The first generation of the Kia Soul was sold from 2008 to 2013. In 2010, there were several special limited-editions to choose from including the Denim and Shadow Dragon. The Shadow Dragon Soul featured matte-black dragon graphics on its hood and tailgate. It definitely was unique!
The second generation Soul, which is the current generation, was first unveiled in 2013. It shares its platform with the larger, second generation Kia Cee'd hatchback.
The all-electric Soul EV is based on the second generation Kia Soul. Kia announced it would be producing the Soul EV in 2013 and unveiled it at the 2014 Chicago Auto Show. Sales started in the U.S. in October 2014. While it hasn't performed as well as the Soul, it certainly has been making strides.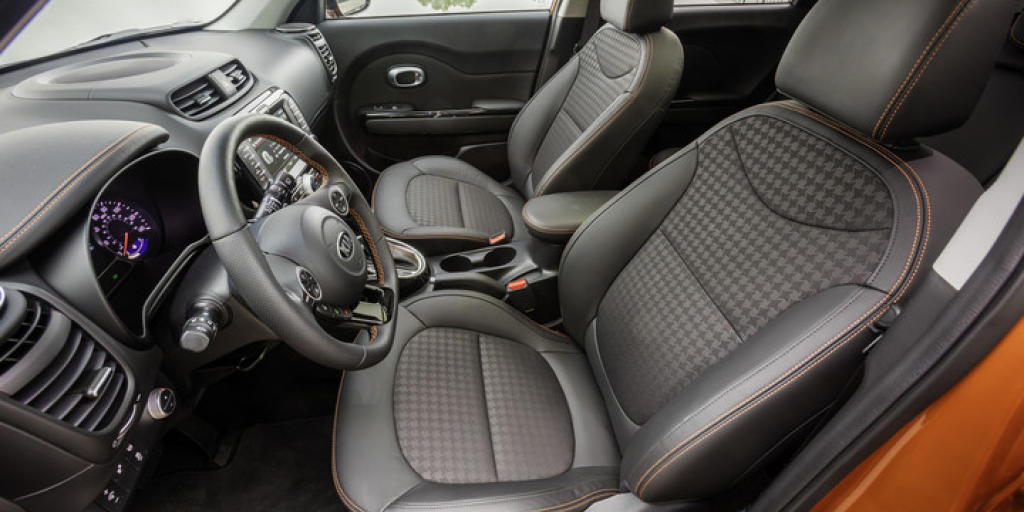 Our Take
The Soul has been an incredible performer for Kia. The company recently announced its October 2016 sales and says it was the best October ever for the Soul. 12,246 Souls were sold in October of last year compared to 13,036 in October of this year. In the first 10 months of this year, 124,929 Souls have been sold. That's compared to 120,859 in the first 10 months of 2015. Overall for Kia, it was the second-best October performance in company history. 
"Over the last ten years the 'New Kia' has transformed into a recognized leader in design, quality and technology, and Interbrand's recent report details the 'spectacular growth' that has led to a seven-fold increase in Kia's estimated brand value since 2006," said Michael Sprague, chief operating officer of Kia Motors America.
It's clear Kia is looking to keep sales of the Soul high. Giving customers more power with the 2017 Soul Exclaim should certainly help. That's because many have been looking for a little more zip in their Soul. The Exclaim is certainly the best option to go with if interested in buying the vehicle. It's the fastest, most efficient Soul and comes complete with sportier features and an impressive audio system. Pricing has yet to be released.
Useful SUV Links
---
Recommended SUV News & Reviews