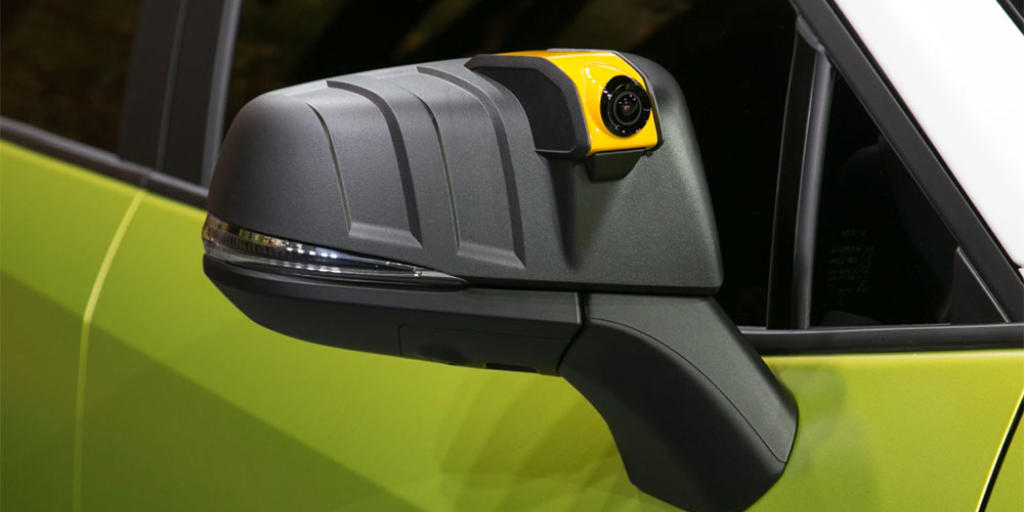 Concept vehicles are always some of the most interesting and unique to check out at auto shows. Take a look at the Future Toyota Adventure Concept or FT-AC. It's perfect for the young, tech savvy, and adventurous! It comes with features that would blow any social media enthusiast away. Interested in making cool YouTube videos? This sports utility vehicle has cameras that can capture every moment to help you rack up views. It even automatically uploads that content to cloud-based storage which can then be immediately accessed via your mobile phone for editing. You could also livestream your adventure if you wanted! But even despite the intelligent features, this vehicle remains rugged and ready to tackle the trails.
Toyota says it purposefully debuted its FT-AC at the Los Angeles Auto Show because a lot of the people who live in the city are adventurous and like to explore nearby hills, deserts or beaches after a long work week.
"FT-AC is perfect for those outdoor enthusiasts who want to dial up the adventure on their weekend getaways," said Jack Hollis, group vice president and general manager of the Toyota Division at Toyota Motor North America. "No matter the roads, the activities, or the people, FT-AC sparks authentic fun and conversation."
Exterior Details
Toyota describes its FT-AC's design as bold and daring. Its contrasting colors combine Prospect Green with Fortress Grey accents. It features a wide, black front grille flanked with bright LED lights. Fog lights also help you see the road ahead and they serve another, even more interesting purpose. They can be removed from their pods and used as portable lights. So there's no need to worry about flashlights for your next camping trip! Toyota envisions people using them for fun, mountain bike rides.
Rugged Features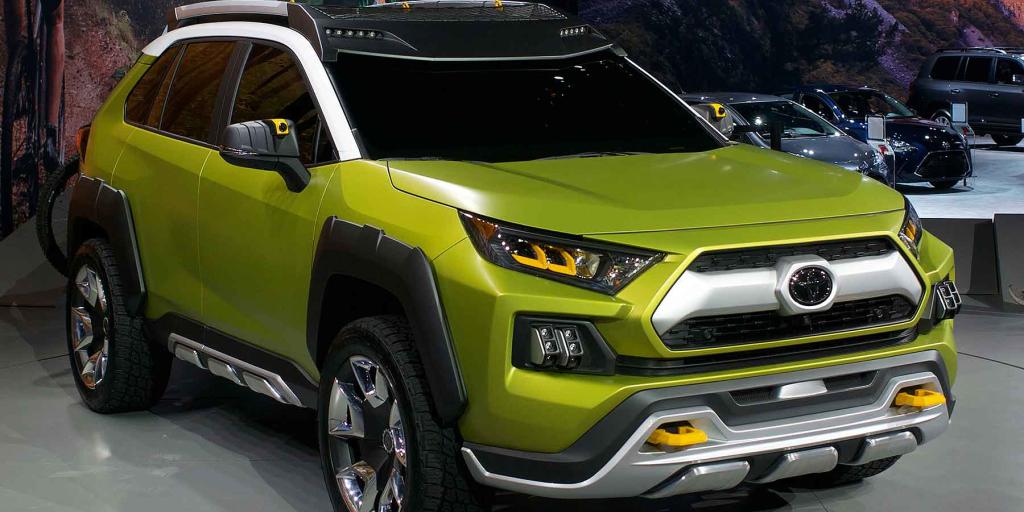 Toyota says it designed its SUV concept around a long wheelbase and wide track to emphasize its powerful stance. Skid plates protect the vehicle's short front and rear overhangs. It also has extra wide fender flares for body shielding and Toyota says they look as if they float above the vehicle's 20-inch wheels and beefy all-terrain tires. That footwear, in addition to generous ground clearance, makes this concept sports utility vehicle ready to tackle whatever's ahead.
You can also look to the top of the vehicle for impressive features. The FT-AC features a safari-style cargo roof rack system capable of hauling different kinds of adventure gear. At the front corners, you'll find LED marker lights. They provide ambient lighting around the vehicle and also help brighten the trail ahead. They can even act as a flash for the side mirrors' embedded cameras which we'll explain more about in just a bit.
The roof rack also has rear-facing LED lights that, similar to the roof rack's front lights, aid nighttime visibility. They can even be controlled via mobile device. You can also find a bike rack at the rear of the vehicle. The integrated bike rack retracts. Toyota says it's a highly useful feature that can be securely hidden in just a few seconds. A final point of note when it comes to what makes this vehicle prepared for various adventures is the FT-AC's geolocation capabilities. Drivers and passengers can utilize it for directions back to basecamp. So you never have to worry about getting lost deep in the woods somewhere.
How it' s Selfie Ready
Here's where things get cool. The vehicle's side mirrors feature infrared cameras that can record trail runs and, similar to the flog lights, can be removed. That means they can be used to take selfies inside or outside the vehicle or even be used as a way to record what you're seeing and doing as you're taking a hike or walking to the ocean to go for a surf. While definitely a cool feature, what makes it even better is that the content you record is easily accessible. An integrated Wi-Fi hotspot automatically uploads footage to cloud-based storage where real-time editing and posting can be accessed via mobile device. You could even livestream your adventures to your friends and family if you wanted. That means there's no need to wait until you have cellphone service to share all the fun you're having with your loved ones. One thing we would like to see, however, if this vehicle ever made its way to production is a solid security system to protect that uploaded content.
Envisioned Capability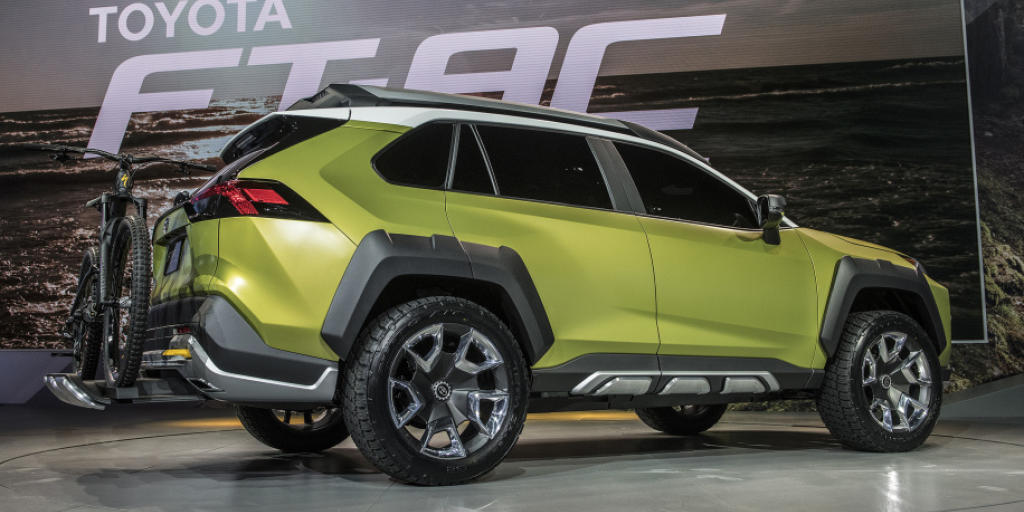 While only a concept vehicle for now, Toyota is providing some insight as to how they would like to potentially see a vehicle like this be powered. The company says the FT-AC has been imagined as a thoroughly capable gasoline-powered vehicle with an advanced torque-vectoring all-wheel-drive system.
"This enables power to be routed, as needed for excellent controllability and maximum traction," writes Toyota. "Variable terrain-response settings and 4-wheel lock functionality build on its capability by managing traction control and throttle response to maximize grip at each wheel for a more dynamic driving experience."
Toyota even say it wouldn't rule out a hybrid option for this intelligent, yet rugged SUV.
"FT-AC could offer a next-generation hybrid powertrain that blends fuel efficiency with rugged all-wheel-drive grunt, giving drivers better power, responsiveness, and impressive fuel economy – all without compromise," adds the company.
Our Take
This concept vehicle is definitely something to write home about. Many SUV lovers are calling on Toyota to do something with this vehicle. They'd at least like to see some of the features incorporated in a production SUV. At the end of the day, this concept proves it is more than possible to offer customers a versatile SUV.
"It puts versatility at the forefront of its ethos and, in doing so, invites passengers to personalize - and accentuate - each trip," writes the company. "Acknowledging that adventures vary in scope and scale, FT-AC's innate versatility is a strength that caters to various lifestyles, preferences, and even generations."
Useful SUV Links
---
Recommended SUV News & Reviews