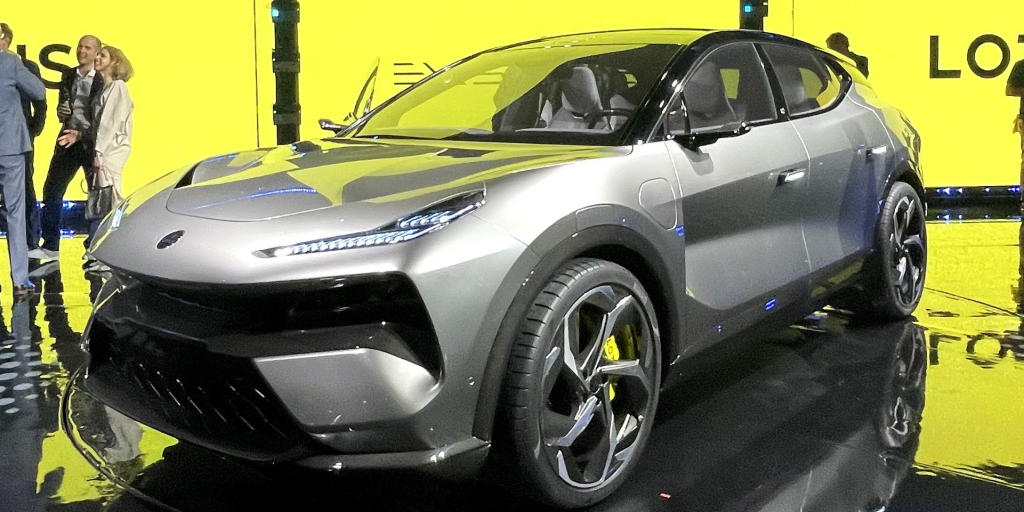 Legendary British sports carmaker Lotus, which is now owned by the Chinese auto conglomerate Geely, has revealed its new Lotus Eletre "Hyper-SUV." It's Lotus' first five-door production vehicle and its first non-sportscar model.
Lotus calls the all-electric Eletre a "lifestyle EV," but it will offer power outputs starting at 600 horsepower! In a few years, Lotus even expects there to be a 900-hp flagship model of this all-electric "Hyper-SUV!"
"The Lotus Eletre is alive with character and personality," writes Lotus.
The new Lotus Eletre is important because it's the first of three new Lotus lifestyle EVs to come in the next four years, with design language inspired by the Lotus Evija.
"Led by the Eletre, these cars will catapult Lotus into a new era of higher retail volumes and significant revenues," says Lotus.
Considering how the Urus has sent Lamborghini soaring into new levels of success, Lotus is certainly making a smart move here.
The Lotus Eletre is 4WD, has a battery capacity that's over 100kWh, and will offer power outputs from 600-hp. A 350kW charger will deliver 248 miles of range in just 20 minutes.
"Technology includes the most advanced active aerodynamics package on any production SUV, and intelligent driving technologies such as the world's first deployable Light Detection and Ranging system in a production car," writes Lotus. "Add in a dynamic walk-up sequence that delivers a moment of theatre every time the driver approaches the car, and it's clear the Eletre is making a simple statement — this is Lotus reinvented, the birth of a new icon into the Lotus stable."
Lotus refers to itself as "Born British, Raised Globally," with design led by the UK and supported by collaborative work with teams in China, Sweden, and Germany. The Eletre and Lotus' other upcoming premium lifestyle performance electric vehicles will be built at an all-new production facility in China.
The Lotus Eletre is on sale now across global markets, with first customer deliveries in 2023 starting in China, the UK, and Europe. When the Eletre reaches the U.S. in 2024, it's expected to have a starting price similar to that of the Tesla Model X (around $120,000).
To learn more about the Lotus Eletre, continue reading below!
Lotus Eletre's Grille 'Breathes'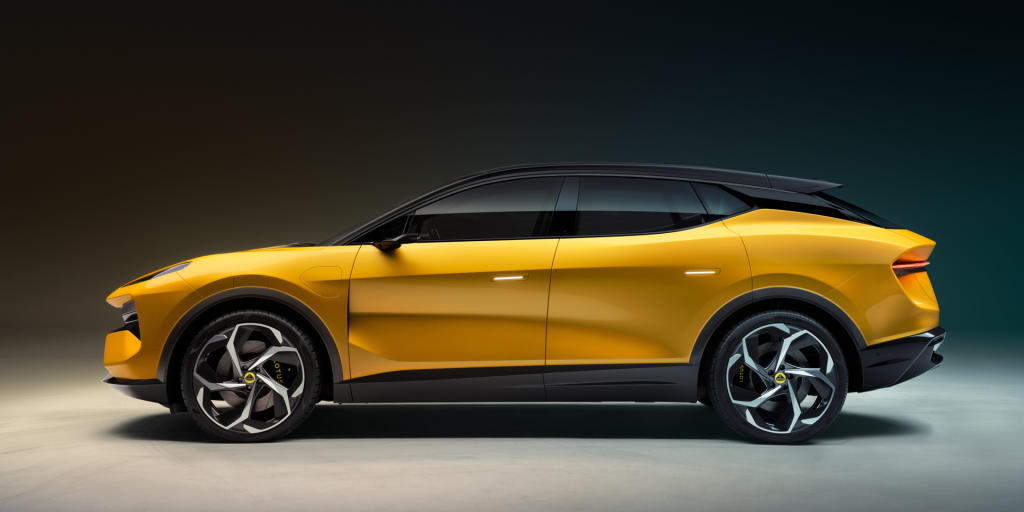 Some critics have said they believe the new Lotus Eletre has a similar look to the Lamborghini Urus, and we have to agree! It's also about the same size. But the Lotus is built on Lotus' all-new and highly versatile Electric Premium Architecture.
The design of the Lotus Eletre was led by Ben Payne. It's daring and dramatic with a cab-forward stance, long wheelbase, and very short overhangs at the front and rear.
"We have taken the iconic design language of the Lotus sports car and successfully evolved it into an elegant and exotic 'Hyper-SUV,'" said Ben Payne.
"A signature element of the Lotus Eletre's design is its 'porosity' — the aerodynamic principle of air flowing through the car as well as under, over and around it," adds Lotus.
The active front grille 'breathes.' It uses a network of interconnecting triangular petals that dominate the central section. They remain closed when the car is at rest, or when there's a need to reduce drag during driving.
"They open in a distinctive pattern to feed air into the radiator, allowing the Eletre to 'breathe' when cooling of the electric motors, battery pack and front brakes is required," explains Lotus.
The muscular haunches dominate the profile view. The "Hyper-SUV" rides on 23" split-finish five-spoke alloys with carbon fibre inserts to aid air flow and available ceramic composite 10-piston caliber brakes.
The rear of the Eletre is dominated by the unique cantilevered carbon fibre 'floating' split roof spoiler. The roof spoiler channels airflow down the glass and into the active tailgate spoiler, which is deployed automatically at speed. It has three distinct deployment angles, depending on the drive mode selected.
Posh Interior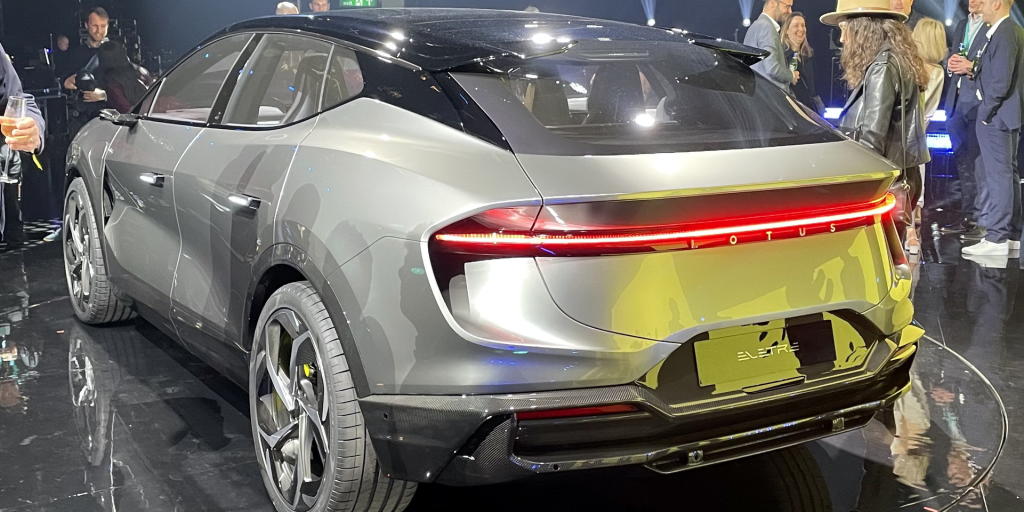 While shown with four individual seats, you can have a traditional five-seat layout with your Lotus Eletre. A fixed panoramic glass sunroof is optional in markets outside China, but adds to to the bright and spacious feeling inside.
"The layering of materials and textures creates a truly premium feel, augmented by a triangular theme," writes Lotus about the Eletre's interior.
The driver-focused cockpit and high centre console are inspired by the Lotus Emira and Evija. You have a large floating 15.1" central landscape touchscreen that provides access to the SUV's advanced infotainment system, and there's beautiful LED backlighting that adds to the interior's premium feel. There's also a head-up display and other cool ways of sharing information with the driver and passenger.
"Ahead of the driver the traditional instrument cluster binnacle has been reduced to a slim strip less than 30mm high to communicate key vehicle and journey information," writes Lotus. "It's repeated on the passenger side, where different information can be displayed, for example, music selection or nearby points of interest."
There's plenty of practical storage throughout the cabin, including in the rear. There's also a 9" touchscreen for infotainment in the rear, with a wireless charging tray beneath. There's more wireless charging in the center console for passengers up front.
More Eletre Performance Details
"Every Eletre comes with exceptional dynamics, outstanding comfort and true Lotus performance. The car has five-link suspension at the rear for optimised ride and handling, while standard equipment includes air suspension and Continuous Damping Control," writes Lotus.
The vehicle also comes with a number of drive modes, which adjust the steering, damper settings, powertrain, and accelerator pedal response. The modes are Range, Tour, Sport, Off-Road, and Individual.
Don't forget, the Eletre is built on an all-new 800v dedicated electric vehicle architecture with integrated, high-voltage power distraction system. And remember, the Eletre is 4WD, has a battery capacity that's over 100kWh, and will offer power outputs from 600-hp. A 350kW charger will deliver 248 miles of range in just 20 minutes.
A 900-hp flagship Lotus Eletre is also expected in a few years!
What do you think of the Eletre and does it interest you more than a Lamborghini Urus? Let us know in the comments!
Useful SUV Links
---
Recommended SUV News & Reviews