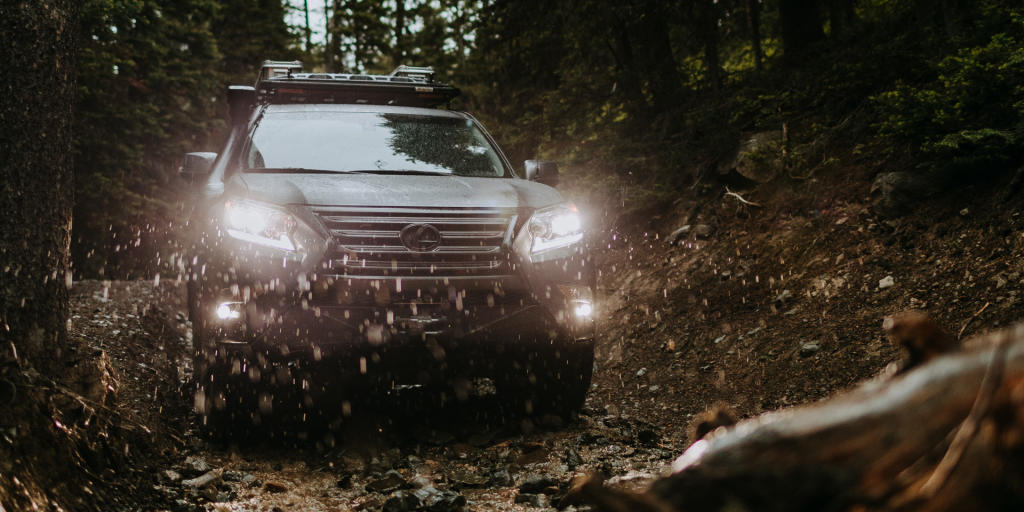 The Lexus GX (which stands for Grand Crossover) has been around since 2002, and it just received a pleasant refresh for the 2020 model year. But while excitement is building for that updated GX, a 2019 model is getting a lot of attention.
Lexus took a 2019 GX to the next level with the GX Off-Road Concept. The GXOR Concept is a highly modified version of the Lexus off-roader. The company debuted the concept at the FJ Summit in Colorado. The FJ Summit is a Toyota owner event that's similar to the Jeep Jamboree events.
The Lexus GXOR is a vehicle that's more than ready for adventure. It's painted in matte gray, which gives it a sinister look. It has some insane features like a Safari snorkel, upgraded suspension with increased ground clearance, a rigid 50-inch light bar, beefy off-road tires, and full underbody armor.
A video of the GXOR shows it towing a matching camper trailer and navigating various trails. The man in the video is on an off-roading adventure, sleeping at various locations along the way. The GXOR tackles mud, rock, and even wades through water with ease. At one point the man comes across a large tree that's fallen across a trail. He whips a saw out of the back of the vehicle to cut it down and move it! Lexus definitely sells the whole adventure theme with this vehicle.
Inspiration Behind Lexus GXOR
Lexus says the passionate Lexus GX owners that have discovered and embraced the SUV's "perfect combination of ultimate luxury and unrivaled off-road capability" inspired the GXOR Concept. The company says it was specifically inspired by how its GX customers have adapted their rigs to escape on epic adventures. The company is now asking those GX owners to proudly post images of their rigs online.
Lexus GXOR Features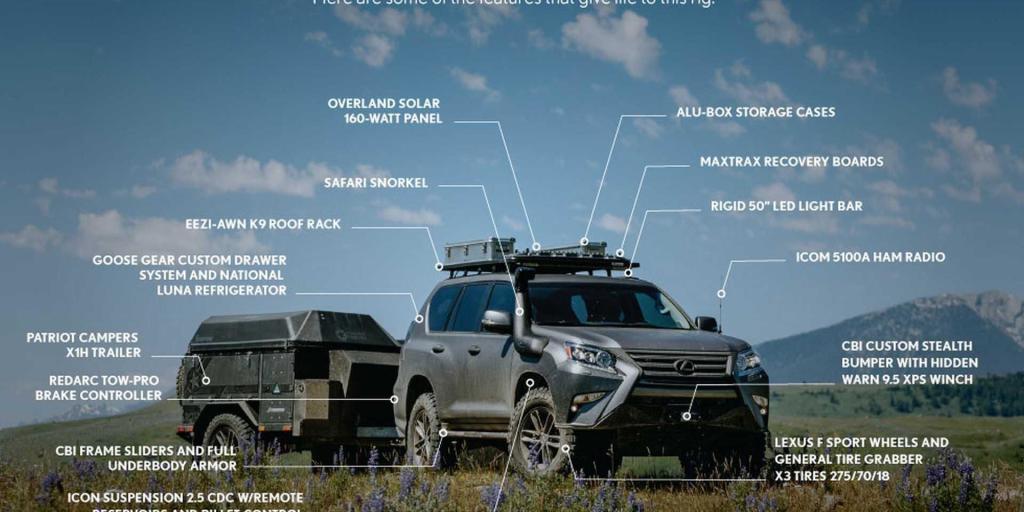 The Lexus GXOR has an updated Icon suspension system with increased ground clearance. There are frame sliders and a full underbody armor kit to help protect it while off-roading. To light up the trails at night, you have a rigid 50" LED light bar. There's also a custom stealth bumper that houses a Warn winch. We can't forget about the Safari snorkel, either! It provides the engine with air while wading through water. Up top, there's a roof rack with a 160-watt Overland Solar panel and Alu-Box storage cases.
The GXOR uses its load area, meanwhile, for a slide-out National Luna fridge and Goose Gear custom door system. The GXOR also features an Icom ham radio to provide communication in remote areas. No other details were released on how the interior of the GX was modified.
As for what the GX is towing, it has a X1H off-road trailer from Patriot Campers behind it. It costs upward of $50,000! It features a solar-topped hard roof that opens via remote control. Within just one minute, a cozy shelter is ready for you to relax in with a gel-top mattress. It comes standard with a kitchen, hot water heater, lots of storage, and a full-size spare.
No powertrain upgrades were detailed, so the 4.6-liter V8 of the GX is likely what's under the hood of this concept. It produces 301 horsepower. In the standard GX, power is sent to the four-wheel-drive system through a six-speed automatic transmission.
Concept Comes on Heels of GX Refresh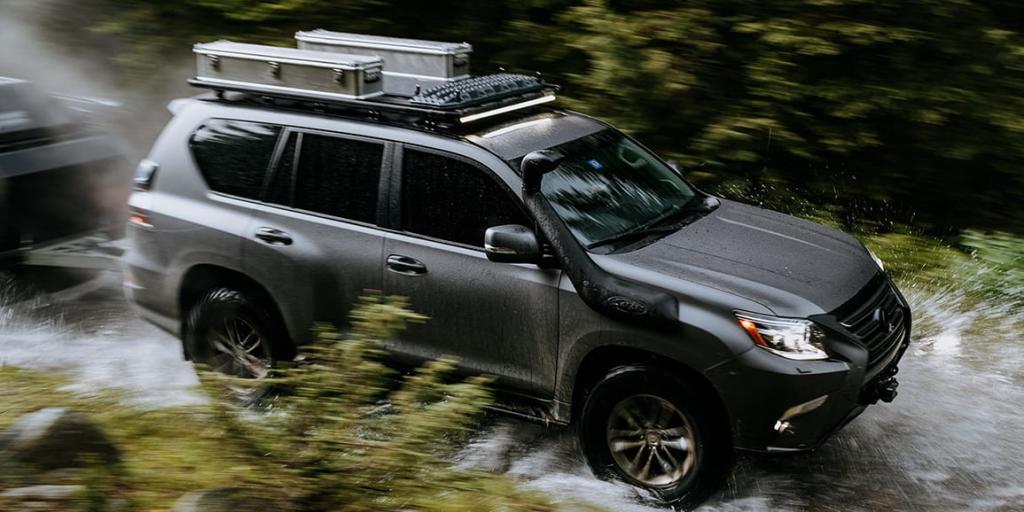 The Lexus GX 460 SUV received a refresh for 2020. There's now an updated signature spindle grille, which gives the 2020 GX a distinctive, standout style. Lexus says it also better aligns with the rest of its portfolio. The updated GX additionally features new standard Premium triple-beam LED headlights.
The 2020 GX's capability level is improved with the all-new off-road package that's available on the Luxury grade. The package bundles proven off-road technologies like Lexus' Multi-Terrain Monitor and Panoramic View Monitors with driver and passenger cameras, transmission cooler, fuel tank protector, Crawl Control, and Multi-Terrain Select. Multi-Terrain Select allows you to choose from multiple driving surfaces like loose rocks, mud and sand, moguls, and more. Crawl Control can be activated with the press of a button and automatically maintains an optimal slow and steady pace over demanding landscapes. As for those monitors, they help the driver and front passenger view front, rear, side, and even under vehicle camera views on the navigation screen. It helps provide the driver with peace of mind.
What's also nice is that you get the Lexus Safety System+ suite of technologies as standard now. It comes standard on the entire 2020 Lexus vehicle lineup. It includes Pre-Collision System with Pedestrian Detection, Lane Departure Alert, Intelligent High Beams, and High-Speed Dynamic Radar Cruise Control.
The standard 2020 Lexus GX will go on sale sometime this year and will start around $52,500.
Lexus GX History
The Lexus GX was introduced as the GX 470 in 2002. It was the third SUV to enter the Lexus lineup. The second generation model was introduced in 2009. It was badged the GX 460 to reflect the change to a 4.6-liter V8 engine. Although the GX 460 did receive an update for the 2020 model year, it's not a third generation model.
Our Take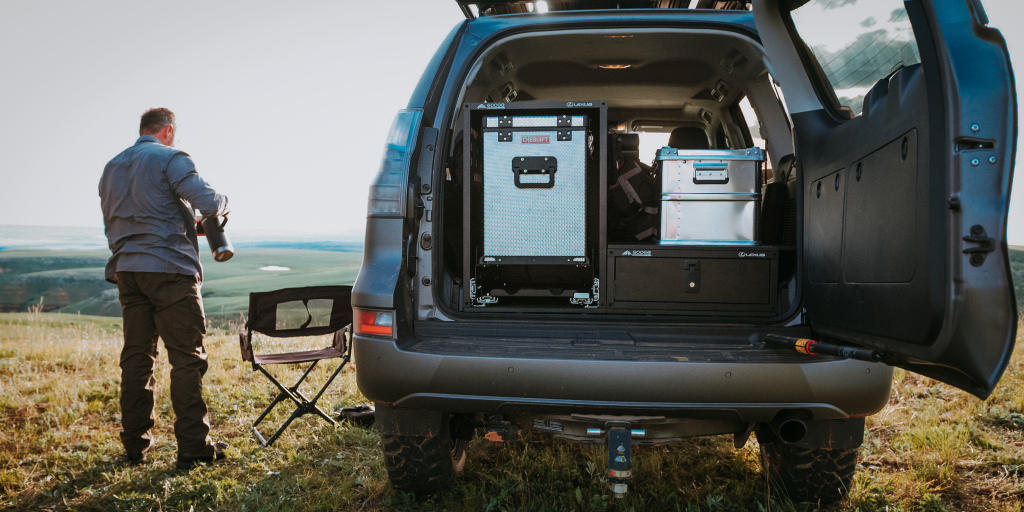 The GX is one of those vehicles that remains a fan favorite, despite the fact that it's aging. The 2020 refresh does help, but falls short of a full redesign which will eventually be needed.
The GXOR Concept is such a fun take on the GX and is a great way for Lexus to show love to its loyal customers. We wish we could take it out for an off-roading adventure! The trailer that is shown with it is so impressive! Having a kitchen, hot water heater, and a pop-up bed to go with your SUV sounds pretty amazing!
Useful SUV Links
---
Recommended SUV News & Reviews