Land Rover is calling the SVX its most extreme Land Rover yet, citing its "go-anywhere capability – increased ground clearance, body and suspension lifts, more wheel articulation and large all-terrain tires." The vehicle, equipped with supercharged V-8 power, was revealed at the Frankfurt Motor Show and is a production preview of the ultimate all-terrain Land Rover Discovery. Officials say it will reach dealer showrooms by next year.
Something else interesting to note is that the Discovery SVX will be the first Land Rover hand-assembled by the expert craftsman at the Special Vehicle Operations Center in the UK when production begins in 2018. It will join the Range Rover Sport SVR and Range Rover SVAutobiography as vehicles made by the SVO team.
"SVO designers are embedded within the Land Rover team and have worked with our engineers to unleash their own passion for adventure to create another truly desirable and versatile vehicle in the Land Rover line-up," said John Edwards, managing director of SVO.
It seems more vehicles with the SVX badge will be coming down the line. That's because Land Rover describes the fifth-generation Discovery as being the perfect base for SVO's first SVX vehicle. We're excited to see what else is to come.
"The SVX product line gives us a fantastic opportunity to deliver the ultimate Land Rover all-terrain capability in a dynamic and distinctive manner, creating a rugged and versatile SUV that the whole family will love: effortless, unstoppable and connected, whatever the terrain. Discovery SVX is designed to reward off-roading driving enthusiasts with the next level of all-terrain capability, without compromising comfort and practicality," said Mark Stanton, director of SVO.
Exterior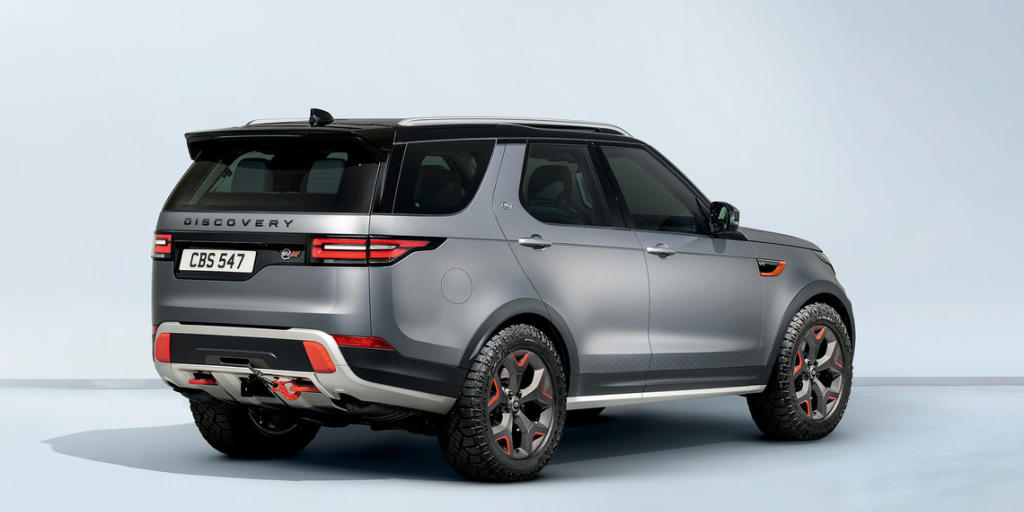 The exterior of the Land Rover Discovery SVX is tough, yet sleek. It borrows inspiration from Land Rover's iconic Discovery off-road challenge vehicles, such as those used for Camel Trophy and GR Challenge events. Its exclusive satin Tectonic Grey exterior paint color is unique and also gives the rugged vehicle a more luxurious look. It has the shine similar to that of a pearl. The production preview SVX revealed at the Frankfurt Motor Show also features unique front and rear bumpers with protective skid plates and exposed Rush Orange-finished metal tow hooks. The orange color provides an excellent contrast to the gray. Other features include an anti-glare hood finish and an integrated rear-mounted electric winch system. A Narvik Black Dynamic grille, meanwhile, helps set off the front of the vehicle and silver side rails provide some contrast to it. There's also a roof-mounted unit with two additional lights to help you navigate rocky terrain when the visibility is poor. While the lights are practical, they also add an extra flair to the vehicle's overall look.
Interior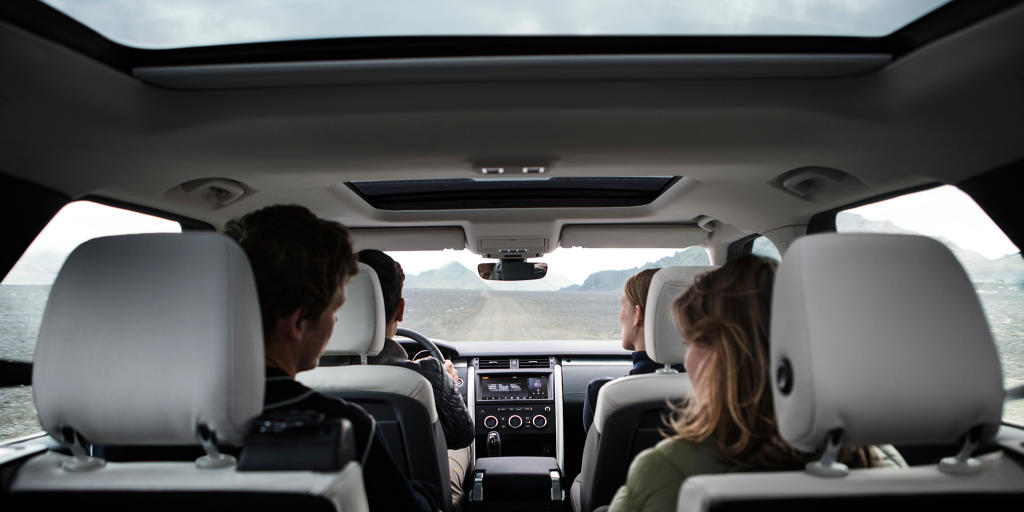 While possibly not as impressive as the exterior, the interior of the Discovery SVX is nice. Land Rover used a unique color and material combination of Lunar and Light Oyster with Rush Orange accents inside. The SVX-branded seats come with X logo perforations. Another interesting feature is a model-first Pistol Shifter that is found in place of the Drive select rotary shifter. It's designed for easier gear changes in off-road maneuvers. Judging by the images, the vehicle also has plenty of room for you to relax while out on an adventure. Images show the vehicle fitting up to seven passengers with the middle seat in the second row capable of folding down.
Performance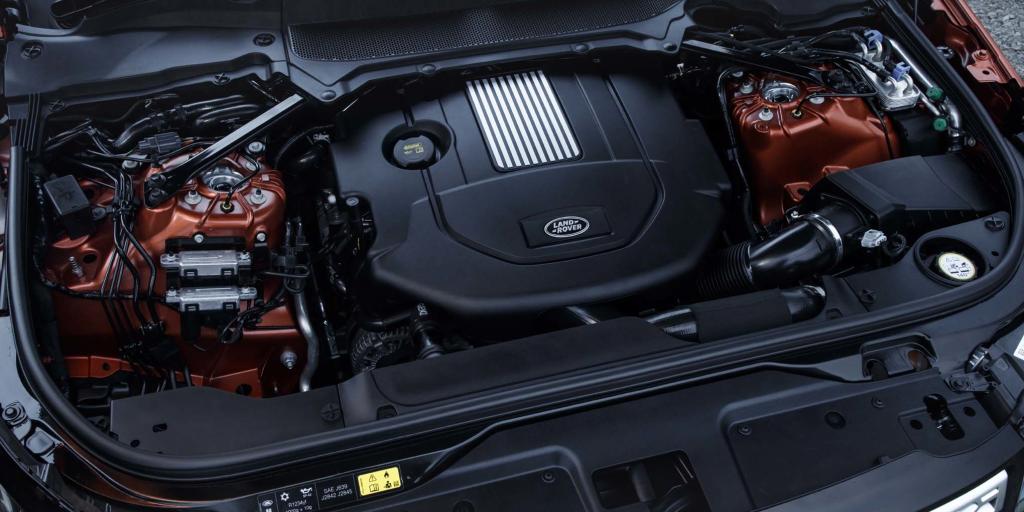 When it comes down to it, performance is where the Land Rover Discovery SVX reigns. Because the vehicle is designed to appeal to off-road enthusiasts, it was built on the Discovery's fifth-generation strong, light aluminum platform and also packs plenty of power. A 5.0-liter supercharged V-8 churns out 525 horsepower and 625 lb.-ft. of torque.
To tackle the rugged terrain while out on an adventure, the SVX adds Hydraulic Active Roll Control (H-RAC). Land Rover says it provides increased wheel articulation and improved body control, "enhancing extreme off-road traction while also reducing body roll for smooth and sure-footed on-road driving."
The vehicle also had improved approach, departure and break-over angles. That's thanks to the vehicle being lifted with four-corner air suspension, long-travel dampers, and revised knuckles to fit larger Goodyear Wrangler all-terrain tires on forged aluminum alloy wheels. Speaking of the tires, they have higher sidewalls that reduce contact pressure and improve performance on soft surfaces like mud. Those tires also have a more aggressive tread pattern to help them stick.
Finally, active center and electronic rear locking differentials work with the new specially tuned Terrain Response 2 system to provide optimal traction on different types of surfaces.
Our Take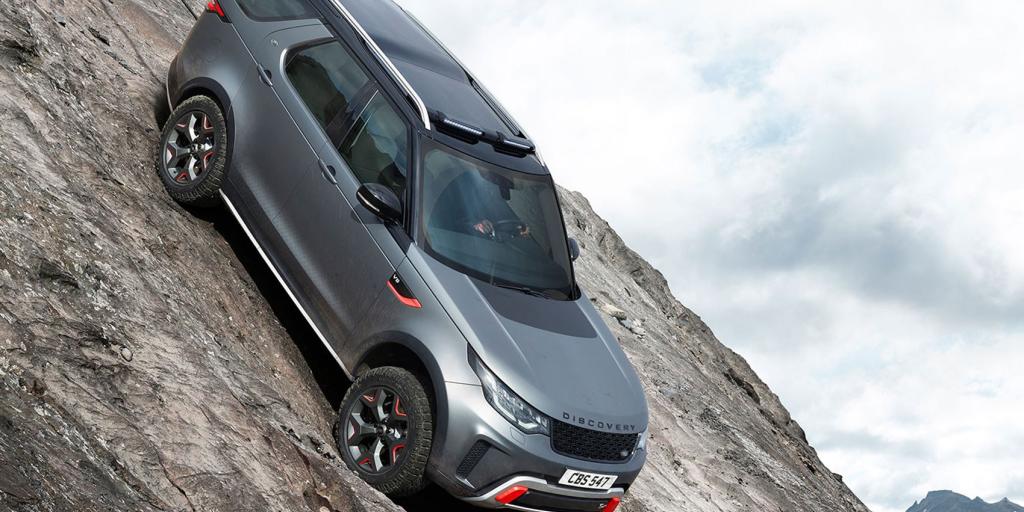 Land Rover has always been known for providing an excellent product but the SVX truly takes the Discovery to the next level. By no surprise, Land Rover is proud of it.
"The combination of design excellence and engineering integrity inherent in every Land Rover is the foundation of everything we do. The Discovery SVX reinforces Land Rover's unrivaled reputation for building vehicles with true all-terrain capability for customers who desire the ultimate in off-road performance," said Gerry McGovern, chief design officer for Land Rover.
Videos posted online of the vehicle by Land Rover are quite impressive. In one particular video, the SVX is shown conquering rugged terrain, easily navigating over large rocks and plowing its way through even standing water. At one point, the vehicle is shown using its integrated electric rear winch to descend down a steep cliff. It's a bit frightening to watch, but impressive nonetheless. The video also gives us a great look at the vehicle's power as it quickly speeds through various areas.
While technically still a concept, for now, customers should be happy to know they will likely be able to get their hands on a Discovery SVX beginning next year. There's no word yet on pricing.
Useful SUV Links
---
Recommended SUV News & Reviews