Say goodbye to the boxy Land Rover Discovery of the past. The first thing you'll notice about the new, fifth generation Discovery is its drastically different look. While the seven-passenger SUV certainly still has plenty of off-road capability, it represents a clear shift in Land Rover's brand. The company is placing more emphasis on achieving better fuel economy. For example, this new Discovery weighs about 1,000 pounds less. The full-size SUV's changes were originally previewed with the 2014 Discovery Vision Concept. "The Discovery Vision Concept set the tone, alluding to a radical departure in design for the new Discovery family," said Gerry McGovern, Land Rover's chief design officer. "Now, we have turned that concept into a production reality, this beautifully proportioned vehicle is a highly versatile family SUV that makes a compelling statement to our customers."
Exterior Design
Longtime fans of the Discovery will instantly recognize the distinctive stepped roofline, but other aspects of the exterior design are radically different. The large, aggressive looking grille of past generations is gone. The front end now has a much more rounder look. Its jewel-like headlamps and raked windshield break with the model's tradition. The wheelarch design is similar to that of the Discovery Sport. Land Rover says the streamlined design helps make the vehicle the most aerodynamic Discovery yet. The all-new Discovery also looks more sporty from the back. The distinctive split tailgate of previous generations is gone. Land Rover engineers call the more rounded, one-piece tailgate the 21st century solution for active owners and modern families. It provides improved shelter from the elements when raised. For families who enjoyed having the benefits of the split tailgate, there's a new optional Powered Inner Tailgate. It has an additional fold-down section that you can use as impromptu event seating, perfect for a picnic or hanging out at the beach.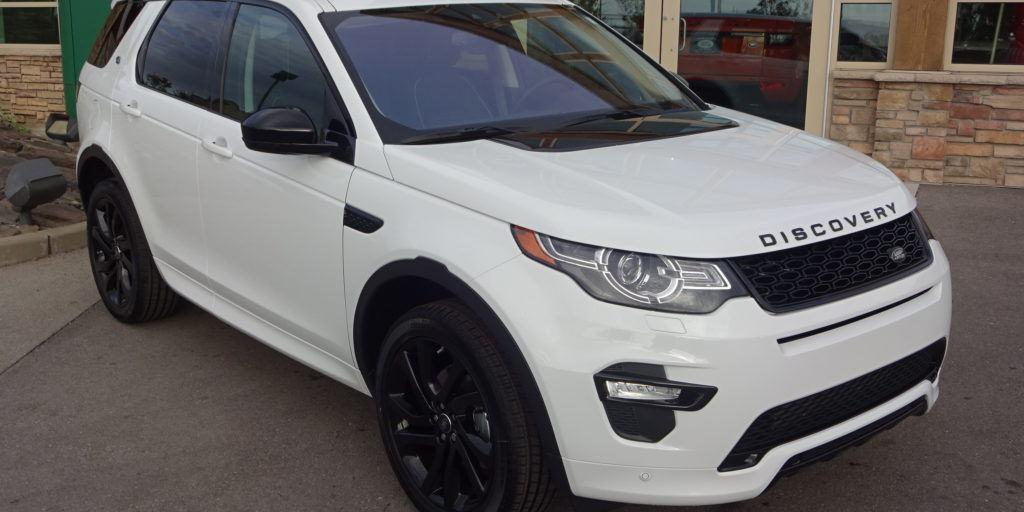 Interior Design
The stepped roof continues to provide passengers plenty of comfort in all three rows. The new Discovery also features optional Intelligent Seat Fold technology. Switches in the luggage area help you easily fold and unfold seats. However, seats can also be reconfigured using the infotainment's touch screen. They can even be rearranged from your smartphone before you enter the vehicle. This could certainly come in handy when preparing to bring a bulky item out to the vehicle. Of course, we have to talk about cargo space. Behind the second row, there's a total load volume of 43.47 cubic feet. When the second row is also folded, there's more than 88 cubic feet of carrying capacity.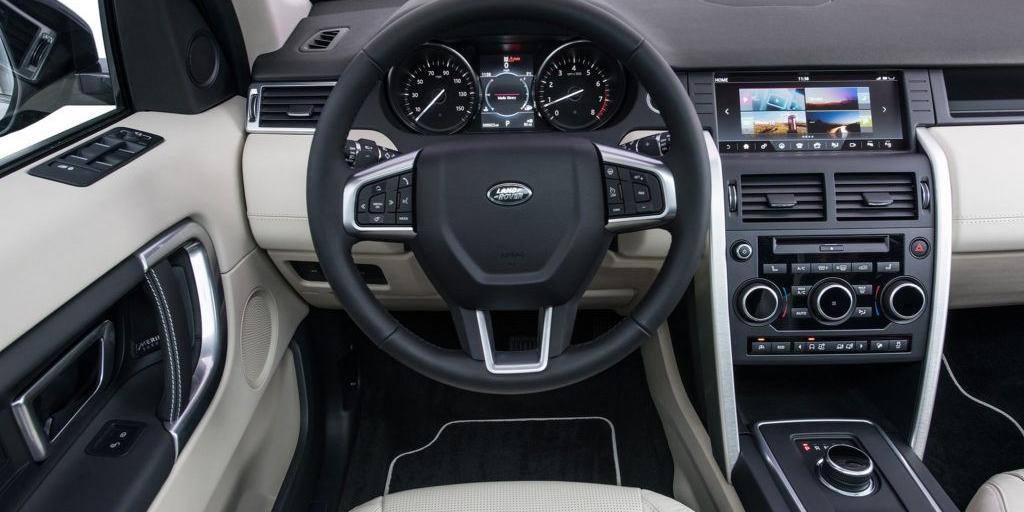 Technology
The all-new Discovery's infotainment system features an updated 10-inch high resolution touchscreen. It offers faster processing. It also has a new function that helps the system learn common routes the driver takes. It then suggests a route to take based on live traffic data. Using an app, owners are able to lock and unlock their vehicle from their smartphone. There's also an optional activity wristband you can use to do so. It was first launched with the 2017 Jaguar F-Pace. All you have to do is hold it up to the Discovery symbol.
Safety Components
The fifth generation Discovery's Autonomous Emergency Braking system now includes pedestrian detection. Its Park Assist function will help steer you into a parallel parking spot. Its Blind Spot Monitor features Blind Spot Assist, which prevents you from moving into a lane where another vehicle is detected. The system also features Closing Vehicle Sensing, which scans for fast approaching vehicles in lanes further behind you. Other safety features include a surround camera system, adaptive cruise control, automatic lighting and traffic sign recognition.
Performance Capabilities
Land Rover made sure to keep this SUV one of the most capable in off-road situations. It has up to 11.14 inches in ground clearance, an approach angle of up to 34 degrees, a breakover angle of 27.5 degrees and a departure angle of 30 degrees. It can also wade deeper than previous generations as it has a wading depth of 35.4 inches. Meanwhile, the automatic suspension system provides greater capability when off-roading as it's able to vary between two ride heights. The vehicle's full-time four-wheel drive system is available with a two-speed transfer box, helping you shift between high and low ratios at speeds of up to 37mph without stopping. The latest versions of Land Rover's All Terrain Progress Control and Terrain Response electronics are available. There's also Hill Decent Control, Gradient Release Control, Electronic Traction Control and Roll Stability Control. Towing is improved with this new discovery. You're now able to tow up to 8,201 pounds. It's also easier to now hitch a trailer with Rear Height Adjust, which allows the driver to lower the height of the vehicle. It can also help when loading your favorite canine companion into the back. The new Discovery comes with the choice of diesel and gasoline engines. The 3.0-liter turbocharged V-6 diesel engine delivers up to 254 horsepower. It will get you from 0 to 60mph in 7.7 seconds. The 3.0-liter supercharged V-6 gasoline engine packs 340 horsepower. It gets you from 0 to 60mph in 7.7 seconds. Both engines come with a ZF eight-speed automatic transmission.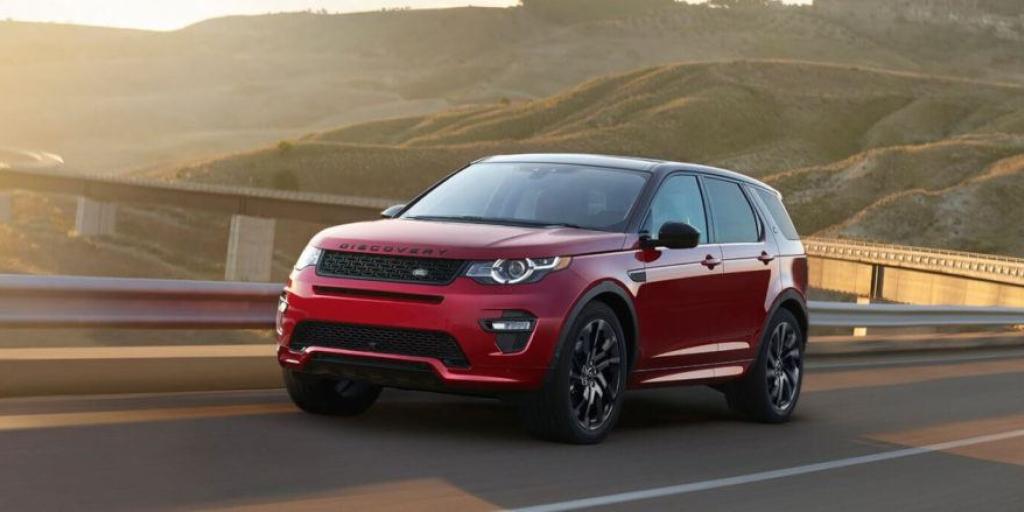 Our Take
We're not exactly sure how true Discovery lovers will feel about this new generation. It definitely has a different appeal and looks less rugged, but it's also more high-tech and continues to have plenty of off-road capability. Land Rover executives say they know it's a big change, but one they saw as necessary. "Current Discovery owners love their car. If you buy one it's because you love it. Yet we found that for many shoppers it's not even a consideration because it's just too out-there," said Alex Heslop, the Discovery's chief engineer, in a recent interview with Digital Trends. "The market is growing, so we wanted the new model to appeal to a wider audience." With improved towing capacity, ground clearance, fuel efficiency and technology, it definitely has what it needs to impress consumers. The new Discovery has a starting price of $49,990.
Useful SUV Links
---
Recommended SUV News & Reviews