An autonomous sports utility vehicle designed to tackle snow and ice? Talk about a winter sports lover's dream! It's just one of the four all-new customized vehicles unveiled by Kia Motors America at the 2016 Special Equipment Market Association Show in Las Vegas. They're re-imagined versions of current production models. The company also had its Telluride concept on display. The seven-seat hybrid SUV was first unveiled at the North American International Auto Show in Detroit. While the new hand-built autonomous vehicles are not all SUVs, they certainly all deserve a look. That's because they give a glimpse into the future of self-driving cars and how they can be customized in unique ways. "Over the course of our 22 years in the U.S. market, we've watched with pride as our vehicles have helped people live their active and diverse lifestyles," said Michael Sprague, chief operating officer and executive vice president of KMA.  "This year's SEMA show gives us the opportunity to ponder what the future of living the autonomous life may one-day resemble."
Sorento Ski Gondola SUV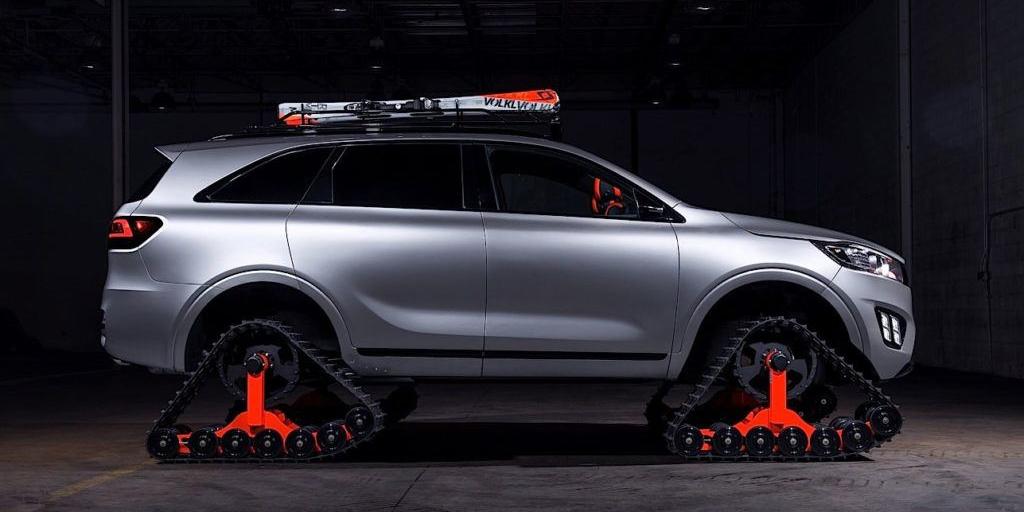 Sometimes a picture says it all. The Sorento Ski Gondola takes the idea of an autonomous SUV to new heights. The custom Kia Sorento was built by LUX Motorwerks to conquer snow and ice. It's perfect for an avid snowboarder or skier. It's designed to get you and your fellow winter sports lovers up to the top of the mountain for another run. It's a much more comfortable ride than a snowmobile. Who wouldn't want a chance to warm up while making your way back up to the top? Dominator Rubber Trackers make it all possible. A custom metal roof rack offers plenty of storage for skis and poles. There's also enough space in the cargo area for boots, equipment bags, helmets, cold weather clothing and other gear. It's easy to access those items thanks to the removal of the B pillar and the rear doors being converted to suicide-style doors. That makes things much easier for skiers and snowboarders who sometimes have a difficult time moving around in all their winter gear. The suicide-style doors and powdercoated orange rubber tracks give this custom Sorenta concept a super cool look. Its headlights are painted black, silver and orange. LED light bars help give it a modern feel and provide increased visibility in all conditions. On the inside, there are custom door panels and a personalized tablet in the dash and center console. Black and orange leather bring the feel of the exterior inside. The floor was also given a durable waterproof treatment to protect against the ice and snow.
Other Autonomous Vehicles Unveiled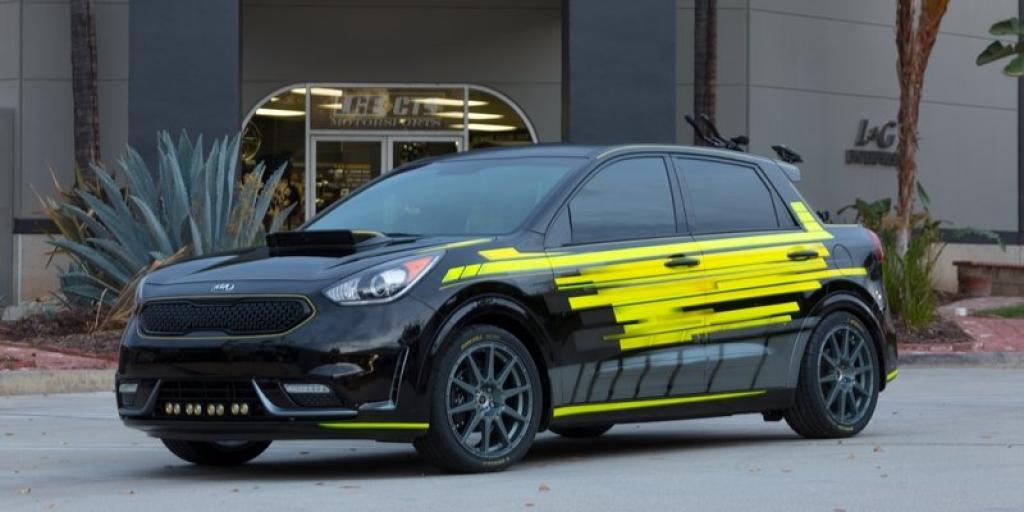 Customized versions of the Soul, Sedona and Niro were also unveiled. The Soul First Class is geared toward people who are all about business. The self-driving vehicle, also built by LUX Motorwerks, features rear-facing seats as there's no need for a driver. An impressive 40-inch Samsung LED TV connected to a Mac mini computer system helps occupants relax on long trips. There are also premium audio speakers throughout. In the center console, there are two tablets that help control the vehicle. The School of Rock Sedona is a kid's dream. School of Rock and LGE-CTS Motorsports helped transform the Kia minivan into a rolling recording studio. It's a completely hands-free way to transport the band to the next show. It features a digital mixing board and dual flat-screen monitors to record tracks. A boom mic hangs from the ceiling. Sound panels line the interior to reduce exterior noise during a recording session. The roof even has storage for guitars and other instruments. While the kids will love the custom bean bags they can relax on and all of the other neat features, Kia says the vehicle is also all about keeping them safe. The National Highway Traffic Safety Administration gave the Sedona a 5-star safety rating. Kia says the autonomous version of the vehicle makes it even safer for the kids as it removes the possibility of human error when behind the wheel. The fourth autonomous hand-built vehicle unveiled was the Niro Triathlon. It was also custom built by the folks at LGE-CTS. Designed with elite athletes in mind, it features a small bed that has room for a custom bike rack, tool box and tablet computer mount. What makes this vehicle so cool is that it's designed to help cyclists train as it travels just ahead of the athlete. It features a light in the rear that illuminates a laser LED road behind the vehicle. The athlete can easily monitor speed, time and distance via the tablet while the vehicle autonomously keeps pace. When the athlete just wants to relax, there's a zero gravity reclining chair. There's even a portable shower so athletes can clean up after a race.
Telluride SUV Concept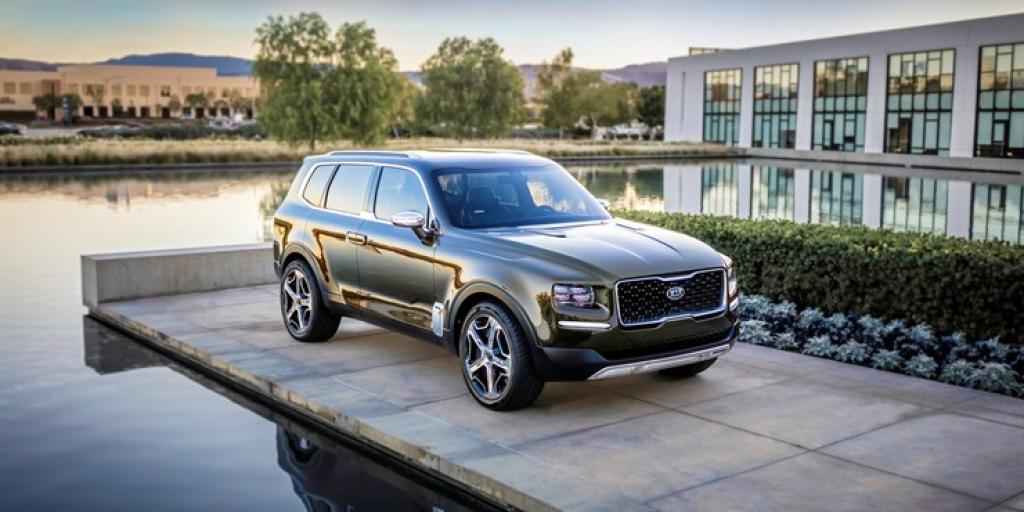 While the Telluride full-size hybrid SUV concept made its initial debut at this year's Detroit motor show, it was also shown alongside the four new hand-built concepts. The company says while purely conceptual, the Telluride "is based on an existing platform and reveals the brand's interest in potentially offering a premium SUV positioned above the current hot-selling Sorento." It has a more aggressive look than Kia's other vehicles. The company's signature tiger-nose grille is much larger on the Telluride. It has recessed quad-LED headlights and pronounced horizontal LED indicator lights. While built on the modified underpinnings of the Sorento, the Telluride's wheelbase is longer than the mid-size SUV. Overall, it's taller, wider and longer than the Sorento. Its front doors and rear-hinged back doors swing open 90 degrees in opposing directions to reveal the spacious cabin. The full-size SUV features four captain's seats in front of a folded third-row bench. The middle seats offer a high level of comfort as their able to recline nearly flat and include large fold-away footrests. Special sensors are also installed in the headrests. They're able to capture a passenger's vital health information. That information is then displayed on the interior door panel screens. What's cool is that a light rejuvenation system also uses that information to display a pattern of therapeutic light to occupants. It treats jetlag and improves the passengers' energy levels. Relaxation at its finest!
Our Take
If this is what the future of self-driving vehicles looks like, we're all about it! Of course, they are just concepts. But it has us excited for what's to come! We're also interested to see what Kia decides to do with the Telluride concept.
Useful SUV Links
---
Recommended SUV News & Reviews