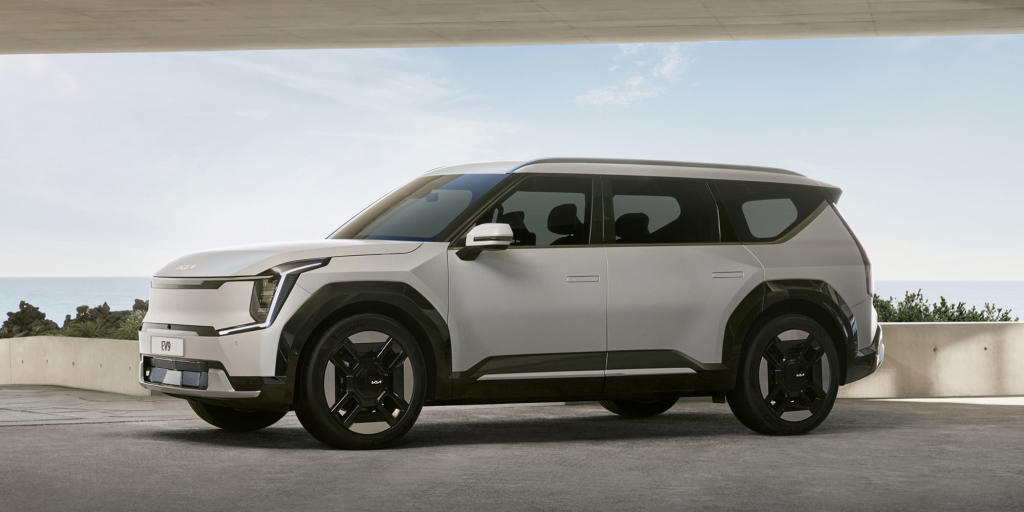 Kia recently revealed its first three-row electric flagship SUV, the Kia EV9. Kia says it encapsulates bold styling and sophisticated elegance inside and out.
"The Kia EV9 breaks new ground, aiming to redefine standards for design, connectivity, usability, and environmental responsibility," said Karim Habib, executive vice president and head of the Kia Global Design Center. "The Kia EV9 offers customers an exceptionally high-quality proposition and a fresh EV perspective in the family SUV sector. This new vehicle typology provides instinctive experiences and excellent comfort for not just the driver, but all occupants, through innovative use of space, technology and design."
Kia followed up the EV9's reveal by unveiling the Concept EV5 at Kia Chinese EV Day. It's a prelude to Kia's next dedicated EV model. It's smaller than the EV9 but looks a whole lot like it. You could call it the EV9's compact sibling. The production model of the EV5 will be released in the Chinese market later this year. People do expect it to also make its way to the United States.
To learn more about Kia's new three-row electric flagship SUV and its smaller sibling, the EV5 concept, continue reading below!
Kia EV9 details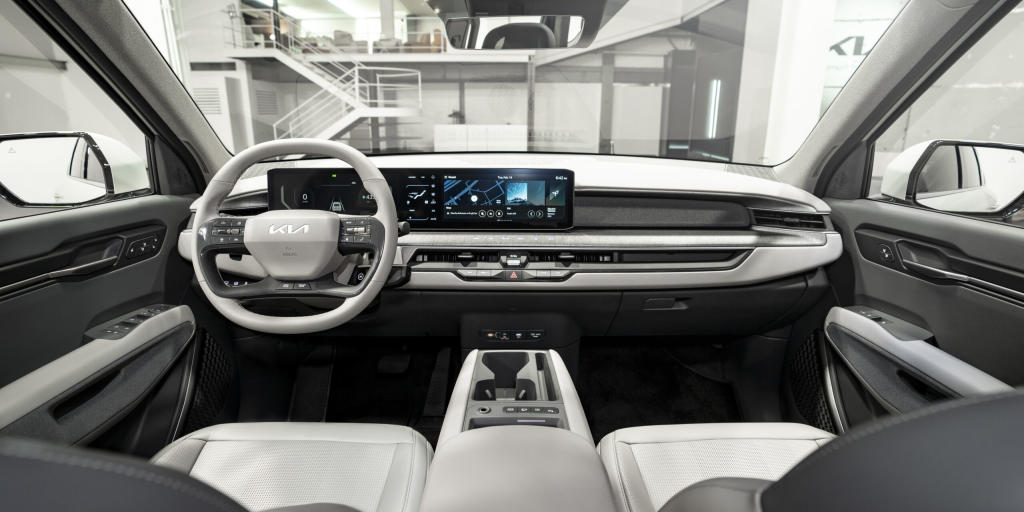 The EV9 is inspired by Kia's Opposites United design philosophy. Kia says it has an aura of rugged capability for all conditions, with the serene calmness of a sophisticated EV that paves new paths for future electric SUV design.
Its sleek and bold exterior expresses confidence, clarity, and calmness. Accentuated by the Digital Pattern Lighting Grill and striking vertical headlamps is the EV9's signature Digital Tiger Face, giving the front of the EV a great look.
The side profile combines a strong and indisputable SUV identity with aerodynamic efficiency as there are flush door handles and a tapered back roofline. Dynamic triangular fender structures and highly pronounced geometric wheel arches add to its look. At the rear, you'll find more simple, clean lines. The slim rear lights that mirror the design of those at the front are also beautiful.
Since the EV9 is built on Kia's Electric Global Modular Platform, the EV9's long wheelbase, low beltline, and completely flat electric vehicle architecture have facilitated the creation of generous space for all occupants. Kia says the EV9 offers lounge-style comfort in all three rows of seats because of that. The SUV is offered in both six and seven-seat formats. Kia actually sought input from families on seating configurations as they were designing the EV9. First and second-row occupants can recline their seats when the EV9 is charging and the seats in the second row can actually be swiveled 180 degrees so that occupants can interact with those sitting in the third row! The third-row seats also offers cup holders and charging points.
As for technology, there's an open, floating panoramic dashboard that extends from the steering wheel to the vehicle's center. There are two 12.3" touchscreens integrated with one 5" segment display to improve the digital experience. It ensures effortless control of the vehicle functions and helps keep physical buttons to a minimum. The center console offers lots of storage.
We'll be learning even more details about the EV9 when it has its full global debut before the end of the month. Kia will disclose all production information then. Its slogan for the vehicle is: "The Kia EV9, here to reshape the way we move."
Kia Concept EV5 details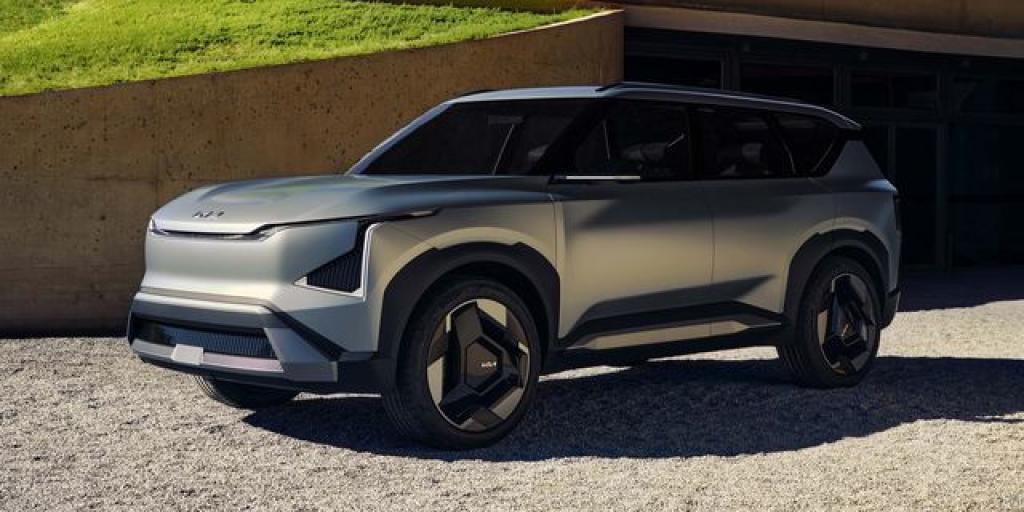 If you do not need a three-row SUV but you do like the idea of owning a new all-electric SUV by Kia, then you might want to hold out for the Kia Concept EV5 that was recently unveiled after the reveal of its larger sibling, the EV9.
The Kia Concept EV5 provides a preview of a production all-electric SUV model that will be launched in China later this year. Automotive industry experts do believe the vehicle will make its way to the United States and other markets after China, but we'll have to wait for those details.
Similar to the EV9, the EV5 concept from Kia features a progressive look from all angles. At the front, there's the new from of the Digital Tiger Face, which does pay subtle homage to the famous Kia Tiger Nose grille.
"The confident new design is integrated with Kia's Star Map signature lighting technology, which introduces the concept of a constellation connecting stars to a clean face," explains Kia.
Its sculpted lines and powerful stance is amplified by its iceberg matte green paint color, striking 21" wheels, and an aerodynamic-enhancing roof spoiler.
Like its larger sibling, the EV5 concept has a completely flat floor and so it offers a spacious interior with a full-length panoramic sunroof that also acts as solar panels. Sustainable materials can be found throughout the cabin.
Again, the production version of the EV5 will make its entry in China first. That will happen later this year and Kia says future plans for other global markets will be made in due course.
Kia's transition to sustainable mobility
We're curious to learn what you think about the new flagship three-row Kia EV9 SUV, as well as the EV5 concept. Do either of these new all-electric SUV models spark your interest? Or is a gasoline-powered SUV what you're sticking with?
As for Kia, the company says its on its way to an all-electric future with eleven electric vehicles planned for the market by 2026.
"This aligns with our Plan S strategy to become a global leader in sustainable mobility," writes Kia on its website. "Our product lineup in Europe will be fully electric by 2035, followed by other major markets by 2040. And ultimately all global markets will be electric by 2045."
What do you think of Kia's Plan S strategy? Let us know!
Useful SUV Links
---
Recommended SUV News & Reviews