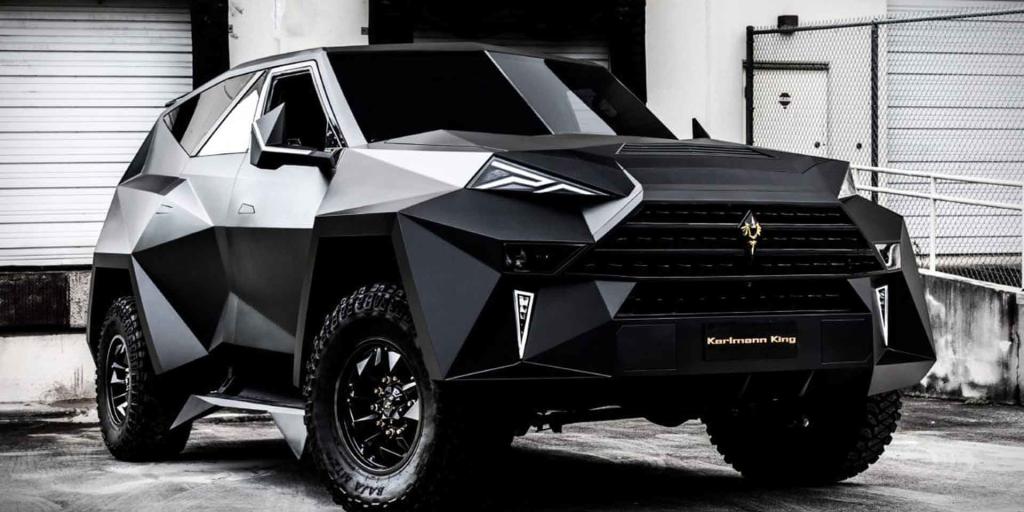 The Karlmann King is an SUV like no other! It's luxury at its absolute finest, and it's even pricier than the Rolls-Royce Cullinan! It has a tank-like exterior with aggressive angular bodywork that not only makes it look intimidating, but also futuristic.
The Karlmann King luxury SUV carries a hefty price tag to go along with its bold look. You'll need at least $1.8 million dollars to even start building out your own custom Karlmann King! You'll also have to be patient throughout the process as hours upon hours of painstaking work and detail is put into each one of these ultra-luxurious SUVs. You can't rush the process!
"These SUVs are designed to be really unique," Karlmann King Sales Director Michael Nothdurft told ABC News. "Each one can be customized."
Workers in Italy spend a whopping 6,000 to 8,000 hours assembling each vehicle! That's why only a handful of Karlmann King SUVs have been sold so far, despite many celebrities inquiring about ordering one.
"It takes an average of 12 months to manufacturer one car," said Nothdurft. "They're all handmade."
While the Karlmann King isn't exactly street legal in the United States just yet, company executives expect that to change by 2020. So, we could see one roaming the streets of the U.S. in the near future!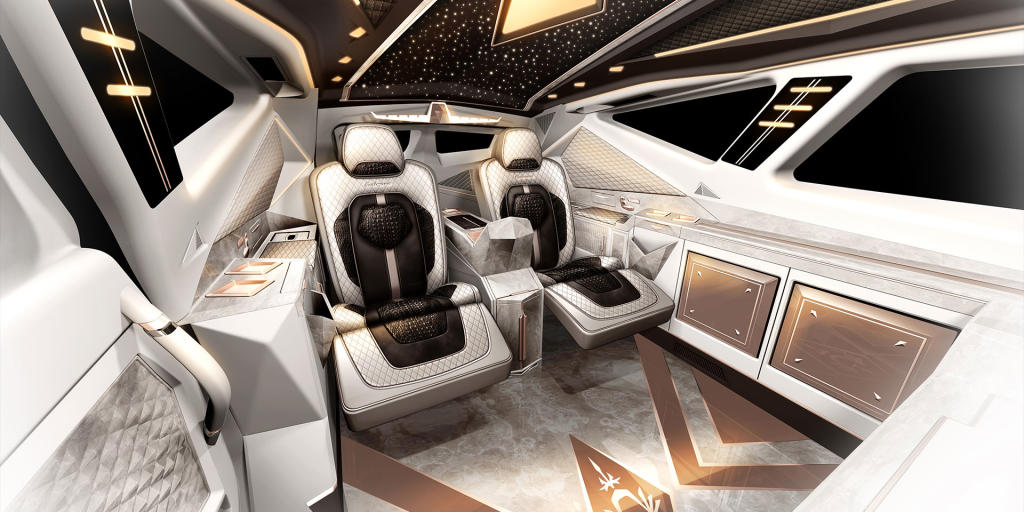 The vehicle's design is said to be inspired by diamond cutting and stealth fighter jets. It's built on a Ford F-550 pickup chassis and transmission. It weighs 10,580 pounds and has a top speed of 87 miles per hour. Its 6.8-liter V10 engine churns out 392 horsepower and 424 lb.-ft. of torque.
The interior is really where this Karlmann King SUV shines, though! It takes opulence to a whole new level. Interior options include reclining lounge seats with massage rollers, an air purification system, an LED ceiling that looks like a starry night's sky, Nespresso coffee machine, 4K TVs, a wet bar, karaoke machine, PlayStation 4 console, a refrigerator, and more! You can even customize the interior's colors to give you more of a Las Vegas casino or Dubai resort vibe. There's no doubt, you'd impress anyone with the interior of this SUV!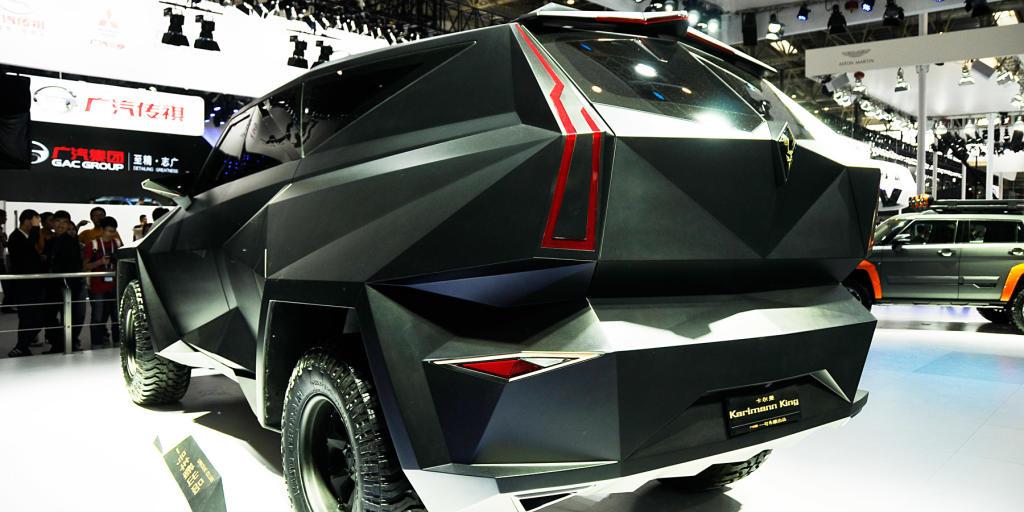 One Karlmann King buyer is said to have requested strobe lights, gold accents, snake and crocodile leather, and a personal logo emblazoned on their custom vehicle. That buyer reportedly shelled out a cool $4 million for the ultra-luxurious and unique SUV!
The Karlmann King is a sport utility vehicle that few and far between can afford. That's why if you ever see one in person, be sure to take a picture! Continue reading below for more about why ultra-luxurious SUVs like the Karlmann King are more popular than ever!
Why We're Seeing More Ultra-Luxurious SUVs Than Ever Before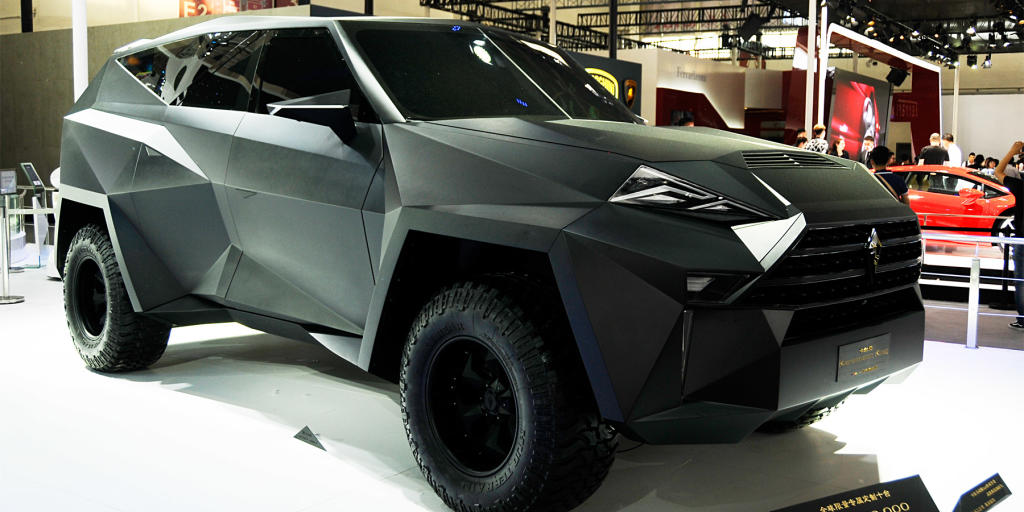 While you might be surprised people are willing to shell out millions of dollars for an SUV that only has a top speed of 87 mph, experts say it's more about the bragging rights than anything.
"It's become a sport among young billionaires and their friends -- who has the most ostentatious thing, who has spent the most money," Ed Kim, vice president of industry analysis at AutoPacific, told ABC News.
"People who buy these SUVs don't care about price. It's just exclusivity," added Brandon Mason, a director in PwC's automative practice.
Companies like Rolls-Royce, Bentley, Lamborghini, and Jaguar are all racing to offer the best luxury SUVs possible. For example, Bentley and Lamborghini have been in an ongoing battle for the title of world's fastest SUV. They also keep coming out with better technology offerings, amenities, and higher trim levels. Those add-ons can end up tacking on thousands of dollar onto the already expensive base price. It's good for business as automakers are seeing profit margins topping 15 percent!
But, will this trend continue?
"As long as their is appetite to purchase products like this, there is a decent business case," Mason told ABC News. "Automakers will continue to push the limit. The high-end SUV trend will continue."
Editor-in-Chief of Car and Driver Magazine Sharon Carty agrees. She told ABC News that SUVs have historically been a "money game" for automakers.
"The profit margins have always been remarkably higher on SUVs than cars," she said. "It's very American to drive one. You feel much safer on the highway than in a car."
Proof of how SUVs are paying off for luxury automakers lies in Lamborghini. The Italian automaker says its $200,000 Urus SUV helped pushed sales to a new record in 2018. 5,750 vehicles were delivered last year, a 51 percent increase from the year before. It's clear the SUV is helping drive sales. Seventy percent of Urus SUV buyers are also new to the iconic Lamborghini brand, which is incredible. Many of the Urus buyers are also women! If you want to get your hands on an Urus, though, you'll have to wait. That's because the waitlist for the 641 hp, twin-turbo V8 Urus is at least a year!
The competitor Cullinan SUV, with a starting price of $325,000, has also boosted sales for Rolls-Royce. The British luxury carmaker sold more vehicles in 2018 than it has in 115 years! Talk about impressive! Some 4,107 vehicles were sold last year. The Cullinan SUV definitely played a part in that.
Some experts say the arrival of all these new ultra-luxury SUVs is also a part of the natural evolution of the SUV market.
"SUVs used to be a very specific category: a truck-based SUV," Jaguar Land Rover President and CEO Joe Eberhardt told ABC News. "Now we have coupe SUVs, performance SUVs, extreme off-road SUVs. It's further, finer and more granular segmentation of the overall market."
"From high performance to ultra lux, we have the full spectrum now," added Jeff Schuster of LMC Automative. "We're beyond the initial interest -- ride height -- of SUVs."
Here at SUVs.com, we've loved seeing the market grow. We can't wait to see what other ridiculously expensive SUVs hit the market!
Useful SUV Links
---
Recommended SUV News & Reviews