It's almost that time of year again! Jeep enthusiasts from across the country will soon descend on Moab, Utah for the annual Easter Jeep Safari. It's a popular event with a long history. It all started back in 1967. The Moab Chamber of Commerce organized it. Back then, it was just a one-day trail ride. Now in its 51st year, the event lasts nine days. It's attended by thousands looking to enjoy off-roading on some of the country's most challenging trails.
Ahead of the exciting event, we're getting a look at some of the impressive concept vehicles that will debut there. Just like in previous years, Jeep teamed up with Mopar (Fiat Chrysler Automobiles' service, parts and customer-care brand) on the concepts. 
"It's truly a labor of love for the Jeep team to develop exciting, capable concept vehicles each year for Moab and the Easter Jeep Safari," said Mike Manley, head of the Jeep brand. "We look forward to the reaction and feedback from enthusiasts and our most loyal customers as these new Jeep concepts are put through their paces on the trails in Moab."
FCA says an array of production and prototype Jeep Performance Parts were used on the concept vehicles. Mopar is responsible for developing and building those parts. The brand is also tasked with making sure the parts meet rigorous specifications.
"Jeep and Mopar have teamed up over 15 years to create unique, fun and highly capable concept vehicles for the popular Easter Jeep Safari in Moab," said Pietro Gorlier, head of parts and service for Mopar. "These concept vehicles are a perfect example of how off-road enthusiasts can use Jeep Performance Parts to personalize and enhance the already outstanding Jeep capability, allowing them to face the toughest trails in the world."
It may be hard to keep track, but at least seven concept vehicles will be on display at this year's Easter Jeep Safari. Let's take a look at what FCA has to say about them. 
Jeep Grand One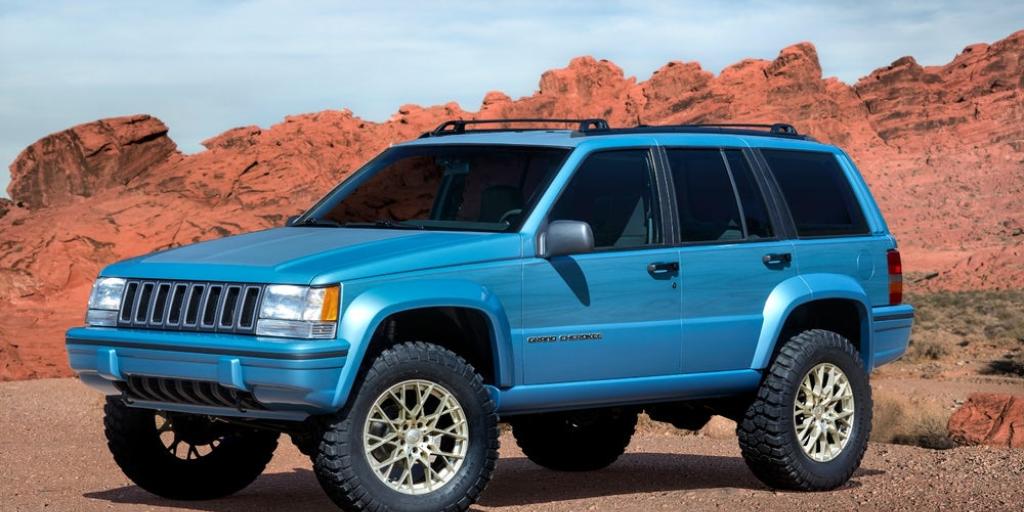 The Jeep Grand One concept vehicle is a modernized spin on a classic Grand Cherokee 1993 ZJ, meant to celebrate the 25th anniversary of the model. It's powered by a 5.2-liter V-8 engine that's paired to a four-speed automatic transmission. It's certainly ready to conquer the trails as it has 33-inch BFGoodrich Mud-Terrain KM2 tires, front and rear axles equipped with selectable locking differentials and a 2-inch suspension lift kit. Because it draws inspiration from the classic 1993 ZJ, it also has unique features like a subtle wood grain treatment on the body as well as '90s-inspired materials and touches inside the vehicle. The interior even features an old-school car phone.
Jeep Safari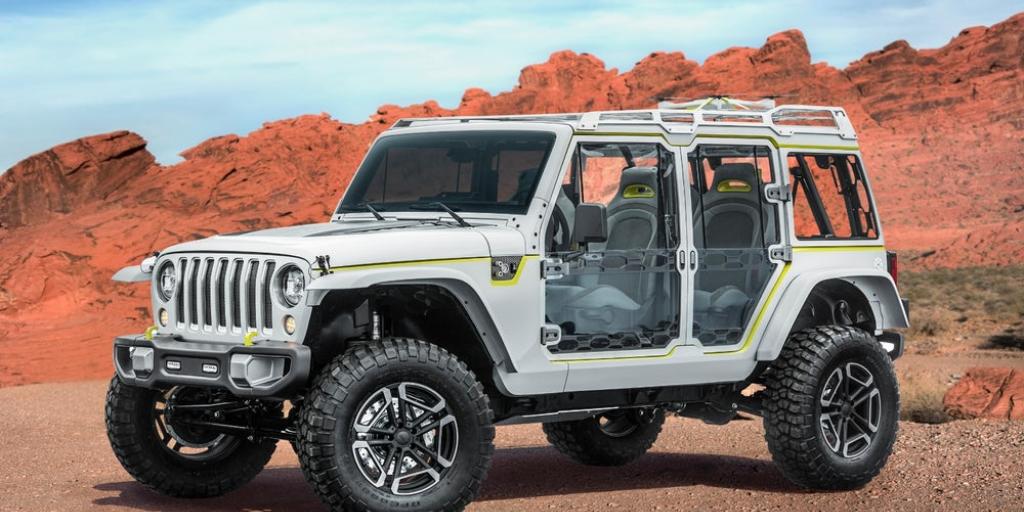 The Jeep Safari concept vehicle is based on the Wrangler. Its overall body length has been reduced to make it more nimble on the trails. It gets its power from the 3.6-liter Pentastar V-6 engine, paired to a five-speed automatic transmission. Jeep Performance Parts featured on the concept vehicle include a front and rear Dana 44 axle equipped with selectable differential lockers and 2-inch lift. It also features 35-inch BFGoodrich Mud-Terrain KM2 tires on custom 18-inch wheels.
What really makes this concept unique, though, is its "windoors" that are hinged so that they open like a cabinet. They feature zipper openings to let in the fresh air. Passengers in the rear are able to get a great view of the trails while remaining protected from the elements as the two bucket seats are rotated outward. The concept is also said to be high-tech, featuring an instrument panel-mounted iPad.
Jeep Quicksand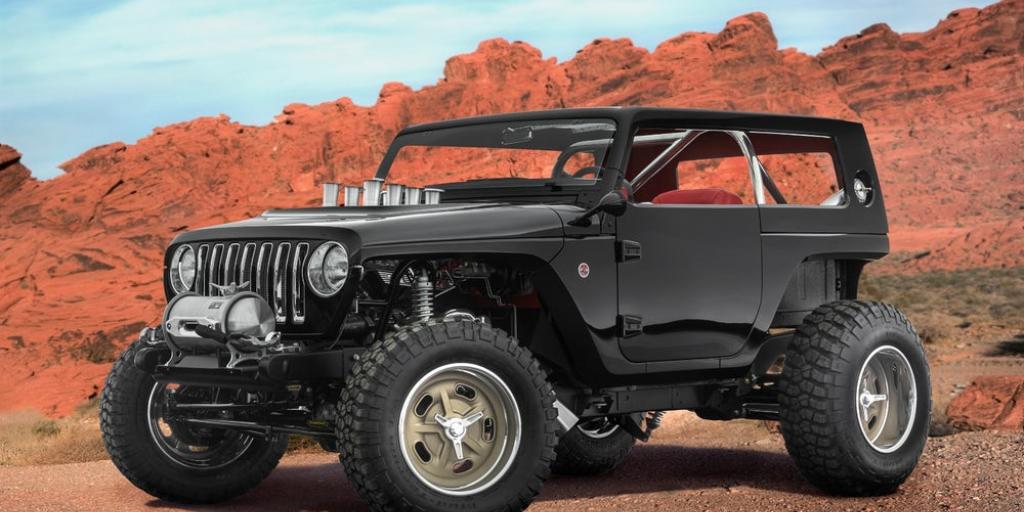 FCA says the Wrangler-based Quicksand concept is loud, fast and fun. It features a longer wheelbase and is powered by a Mopar 392 Crate HEMI engine with eight-stack injection. The engine is paired to a six-speed Getrag manual transmission. As the concept's name suggests, the vehicle was designed for wheeling in sand. To help it do so, it has a staggered tire setup (a trait never before seen on a Jeep concept) and coilover shocks. As for aesthetics, the vehicle has features that give it a vintage hot rod feel. It also has an open top and open windows, meant to give passengers that wind-in-your-face feeling.
Jeep Trailpass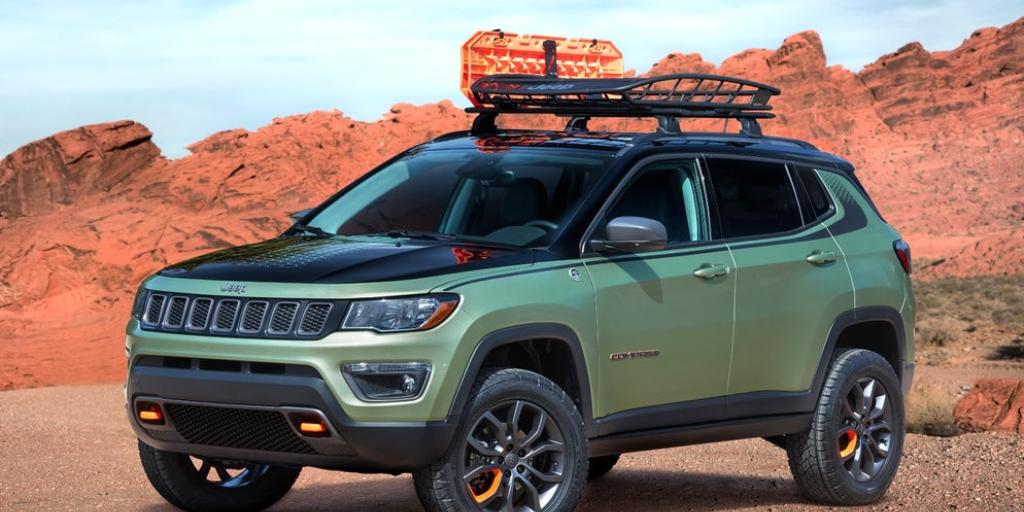 The Jeep Trailpass is based on the all-new Jeep Compass. The concept takes the Compass Trailhawk a step further in terms of its off-roading capabilities. Features that make it fit for an extreme off-road adventure include a 1.5-inch lift kit and 18-inch wheels with a unique pocket accent on Continental TerrainContact all-terrain tires. Jeep Performance Parts featured on the concept include a Jeep roof basket, cross rails and rock rails. The concept vehicle is powered by the 2.4-liter Tigershark engine, mated to a nine-speed automatic transmission.
Jeep Switchback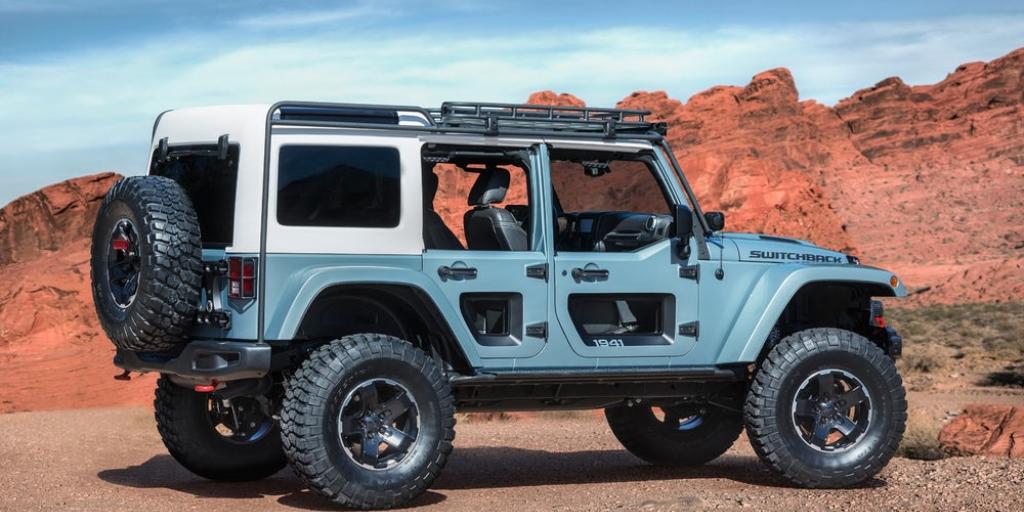 The Jeep Switchback is equipped with a wide variety of Mopar and Jeep Performance Parts to help its off-road performance. A front and rear Dana 44 axle, a 4-inch lift kit with Remote Reservoir Fox shocks, an axle-back exhaust, 17-inch concept wheels and 37-inch BFGoodrich Mud-Terrain KM2 tires are just some of the special parts featured. What also makes the vehicle unique is its advanced lighting systems designed to help the driver see clearly in any trail conditions. The vehicle is powered by the 3.6-liter Pentastar V-6, mated to a five-speed automatic transmission.
Jeep CJ66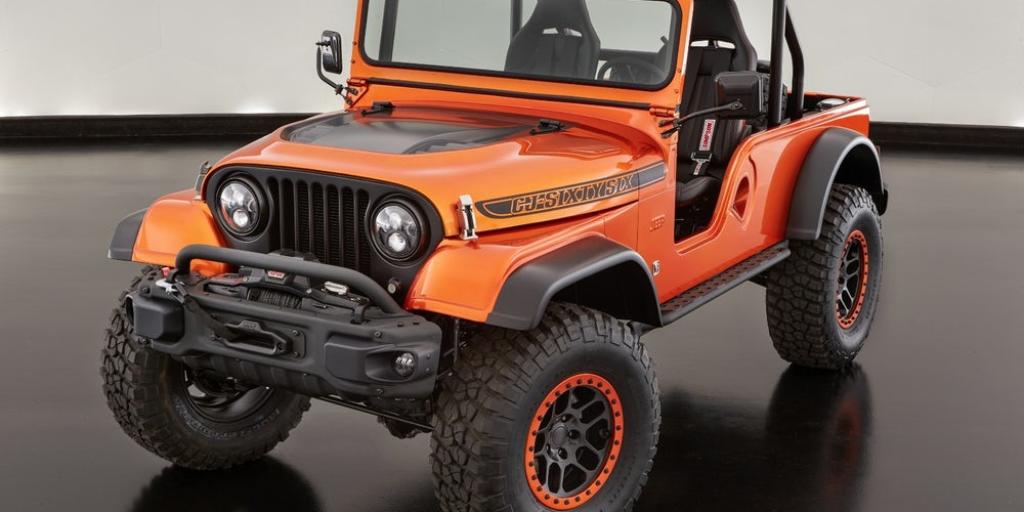 "Take a Jeep Wrangler TJ frame, hang a 1966 Jeep Wrangler CJ universal Tuxedo Park body on it, add in Wrangler JK elements, power it all with a Mopar 345 Crate HEMI Engine Kit-enabled 5.7-liter HEMI and you have the Jeep CJ66," states FCA's website.
The CJ66's engine is paired to a six-speed manual transmission which sends torque to a pair of Mopar Dana 44 Crate axles. A Mopar cold-air intake and Mopar cat-back exhaust are also said to help bump up the vehicle's off-road performance.
The narrow-bodied concept vehicle originally debuted at the 2016 SEMA Show in Las Vegas. It stands out with its Copper Canyon-colored body and 35-inch BFGoodrich all-terrain tires wrapped around Jeep Performance Parts 17-inch beadlock wheels. It has a 2-inch lift kit and a concept two-way air system that lets off-roaders easily air up or down their tires to the desired pressure.
Jeep Luminator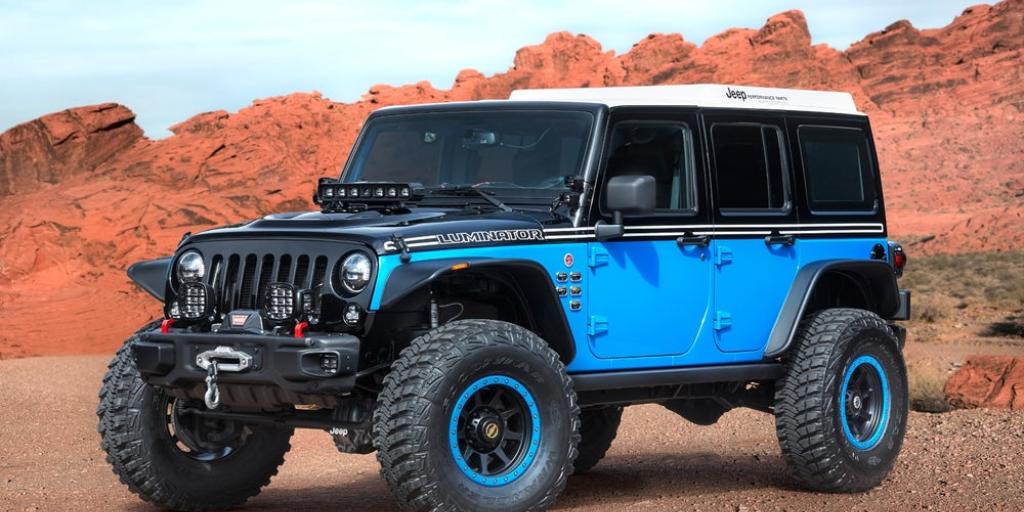 As its name suggests, the Jeep Luminator comes with a full arsenal of advanced lighting features for superior visibility on the trail. The features were jointly developed with the Automative Lighting division of Magneti Marelli.
Some of the most unique lighting features on the concept include a scanning LED light bar module on the hood with active spot and dynamic following technology that delivers spot lighting to help the driver avoid wildlife or hazards on the trail ahead, as well as a special high-mount stop light on the rear. Other features include a roof-mounted solar panel and a drone landing pad.
2017 Easter Jeep Safari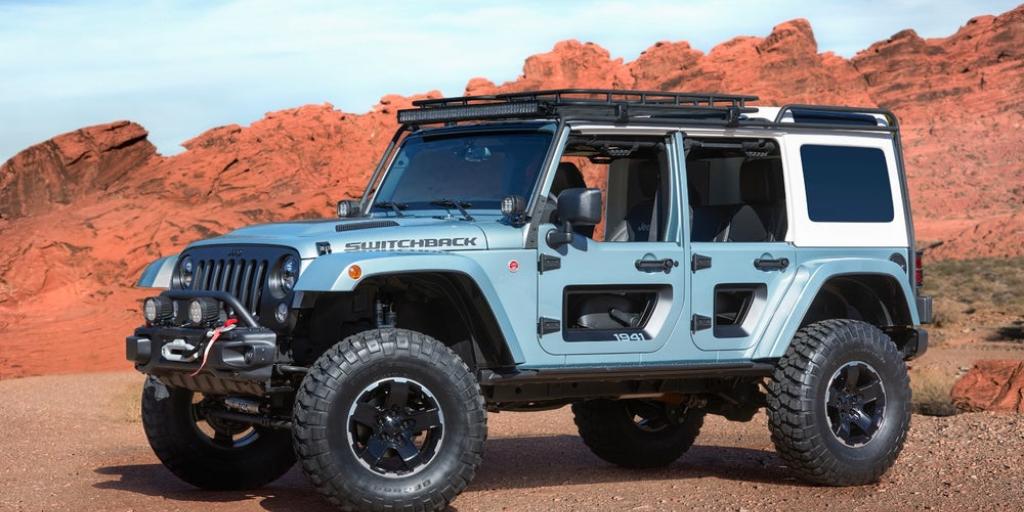 Jeep enthusiasts who are able to attend the Easter Jeep Safari will be lucky enough to get a look at all of the concept vehicles. The event takes place from April 8 through April 16.
Useful SUV Links
---
Recommended SUV News & Reviews