Hyundai recently unveiled its new subcompact Kona SUV. The company says the vehicle is designed to appeal to urban customers who have active lifestyles. What stands out about the vehicle is its bold exterior design. "With the Kona, we have created a stylish and highly functional compact SUV, perfectly suited to the needs of customers who pursue challenging, action-filled lifestyles," said Euisun Chung, vice chairman of Hyundai Motor Company. "We aim to set new standards for the compact SUV segment, with appealing design, cutting-edge connectivity and class leading safety features." The vehicle joins Hyundai's SUV lineup which includes the Tuscon, Sante FE and Sante Fe Sport. It will first go on sale in Korea and then make its way to North America and Europe. It's expected to compete with the likes of Toyota's new CH-R and the Mazda CX-3.
Exterior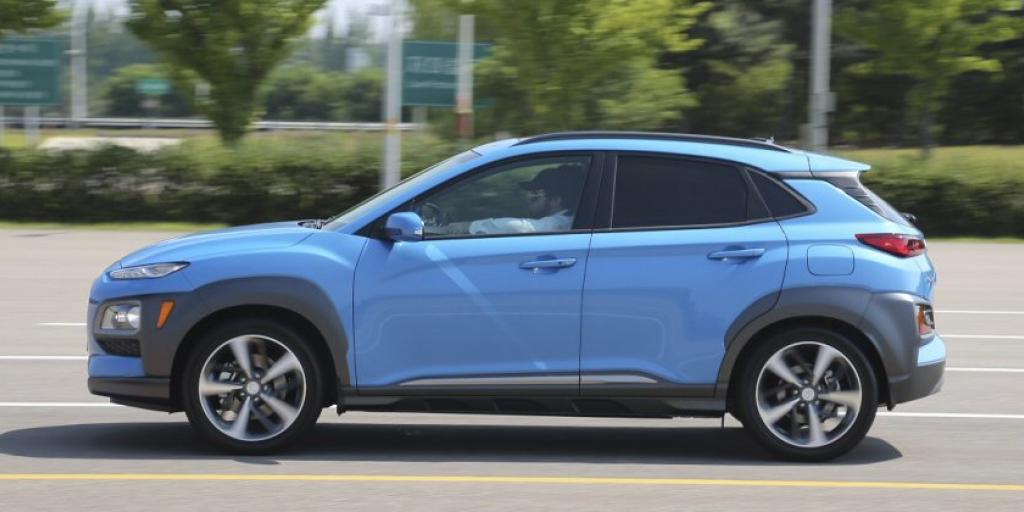 Hyundai says the Kona's bold, daring image is a preview of what's to come from Hyundai Motor's next generation of SUV models. "The Kona's stand-out design is reinforced by the car's voluminous, aggressive body styling, that emphasizes the car's well-proportioned, dynamic silhouette," writes Hyundai in a press release. "Its low and wide stance complements the car's stylish profile, with the long wheel base and short overhangs ensuring sporty, nimble handling, in addition to delivering superior driving stability at high speed." The vehicle certainly stands out from the front. Its daytime running lights and turn signals are housed in a slim slash located just below the hood. The LED headlights, meanwhile, are kept completely separate. They flank the grille, which is unique on its own. The company says the new Cascading Grille design is part of Hyundai Motor's new family identity. It features a sporty mesh pattern. "The visual relationship between the composite lamps, Hyundai's signature Cascading Grille and the unique armor design results in a totally distinct character, which is important in the increasingly competitive B-SUV segment," writes Hyundai. The vehicle also demands attention from the side as it features contrasting black "armor." The plastic cladding surrounds the vehicle's wheel wells and makes it look more rugged. Hyundai says it provides a protective skin and also visually connects the front to the rear. The Kona's exterior also features a roof finished with a two-tone color scheme as well as a unique rear lighting arrangement that's similar to the front.
Interior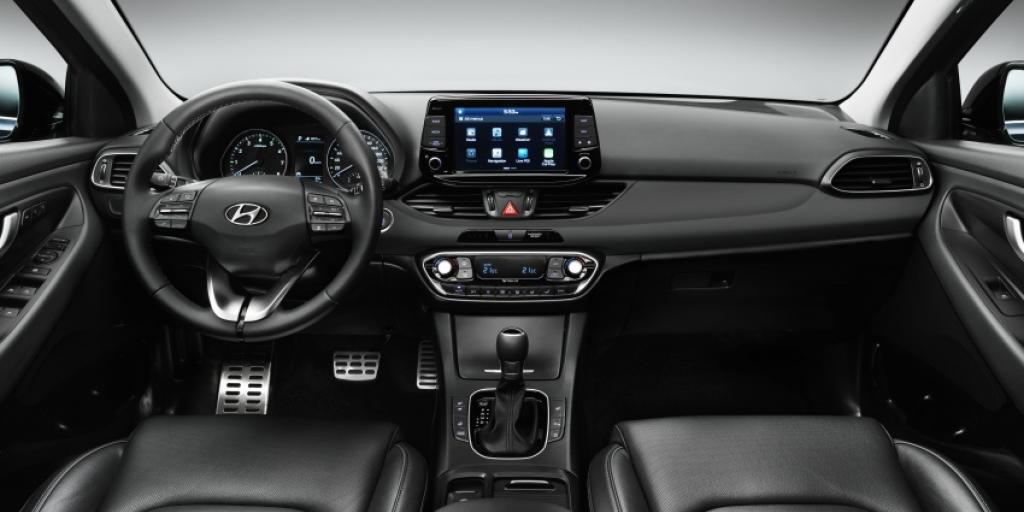 The company kept the layout of the Kona's interior simple to contrast with the exterior's bold design. While it's a subcompact SUV, Hyundai says it still has plenty of space. "Kona offers occupants generous interior space by optimizing the underfloor layout, including the 4WD drivetrain and exhaust system, to reduce central tunnel intrusion," writes Hyundai. "The suspension component layout is optimized at the rear, allowing for a lower floor and seating position to deliver class-leading levels of headroom and ease of access for rear occupants." Because the vehicle is meant for urbanites, designers also made sure to offer enough cargo space in the vehicle for people to pack their weekend getaway belongings. "The split-folding rear seats fold flat, with a two-level loading floor that allows easy access for a bicycle or golf club storage," writes Hyundai. The vehicle's interior also comes with sophisticated technologies. The Kona's infotainment system offers various advanced connectivity features and is also available in a couple different sizes. The new combiner Head-Up Display, meanwhile, is something to note. It projects a virtual image on the clear glass panel mounted behind the instrument panel. It's said to help drivers keep their eyes on the road. "With a projected image size of eight-inches at a two meter distance and class-leading luminance of more than 10,000 candela per square meter, the Kona's combiner HUD ensures both excellent day- and night-time visibility," writes Hyundai. There's also a wireless charging interface that allows passengers to set their smartphone devices down and easily recharge them without having to deal with pesky cables.
Performance
Hyundai's new Kona vehicle is offered with a number of gasoline and diesel engines of various power outputs. What's available is dependent on the market. Among the offerings is a 2.0-liter MPI Atkinson engine that produces around 146 horsepower. It's able to go from 0 to 60 miles per hour in 10 seconds and can reach a top speed of 120 mph. That engine is paired with a six-speed automatic transmission. There's also a Gamma 1.6T-GDI engine that churns out 174 horsepower. It's able to reach 60 mph faster than the 2.0-liter. It hits that speed in 7.7 seconds. The engine is mated to Hyundai's seven-speed dual-clutch transmission. There is an optional 4WD system. Hyundai says the system is intelligently packed to offer a spacious interior. "To integrate the optional four-wheel drive system, Hyundai Motor engineers created a new intercooler layout and setting for the transmission to minimize intrusion into the cabin space. The rear layout of the platform is also optimized to save space. The suspension, fuel and exhaust components carefully package to maximize rear occupant room," writes Hyundai. Speaking of suspension, different rear suspension systems were developed for the 2WD and 4WD versions of the vehicle. A final detail to note is that the vehicle has three differentiated driving modes. Hyundai says it makes the vehicle suitable for all driving style requirements. The modes are Sport, Normal and Eco. Eco optimizes fuel economy over performance with longer gear ratios.
Safety
Of course, we have to talk safety. A key detail is that the vehicle's lightweight body frame was developed with 51.8% Advanced High Strength Steel. That helps protect passengers. The subcompact Kona also comes with active safety features including Forward-Collision Avoidance Assist, Lane Keeping Assist, High Beam Assist, Driver Attention Warning, Blind-Spot Collision Warning and Rear Cross-Traffic Collision Warning.
Our Take
While small, this vehicle packs a lot. It was smartly designed so that urban residents can quickly stash their items when they head out of the city. It also has quite a bold exterior design that makes it stand out in a way young people would likely enjoy. While compact, it's also sturdy and comes with plenty of safety features. The vehicle will first go on sale in Korea and then make its way to other markets.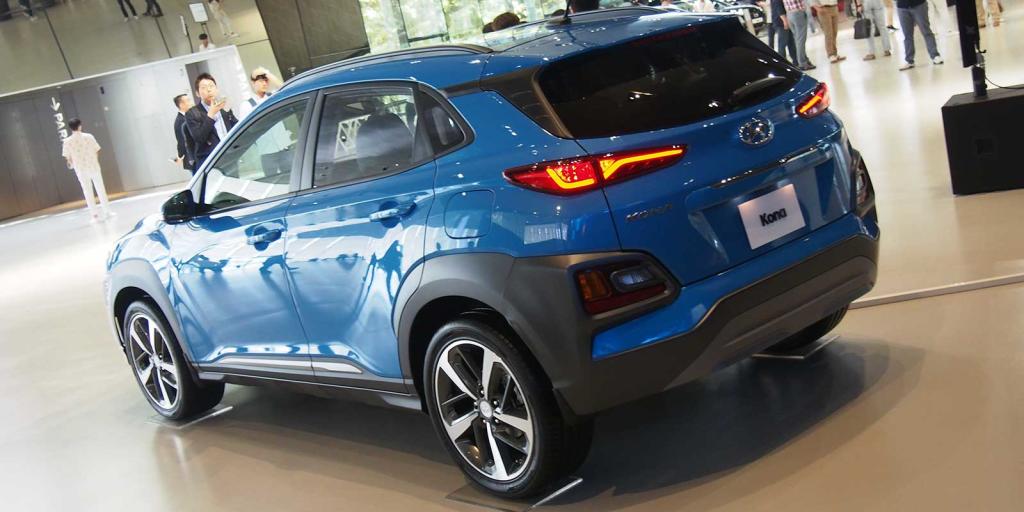 Useful SUV Links
---
Recommended SUV News & Reviews