With a product lineup that features more sedans than sports utility vehicles, Reuters reports Hyundai is struggling. The company is headed for a fourth straight annual profit decline and it's now scrambling to cut costs in order to stay afloat. Aside from cutting perks for its employees, the South Korean automaker is also looking to get back on track by further tapping into the SUV market. Let's take a look at what Hyundai reportedly has planned.
Sales Decline
Sales of Hyundai's Sonata and Elantra sedans were impressive in the wake of the global financial crisis. According to Reuters, Hyundai was the only major automaker to increase sales in the United States in 2009. It has struggled to keep sales numbers high, however. That's largely because Hyundai has been unable to compete with rivals' sales of SUVs. Reuters reports in the past three years, Hyundai Motor Group shares have fallen 40 percent. The situation is so bad that an analyst at Hi Investment & Securities named Ko Tae-bong told Reuters that sales of Hyundai and Kia Motors cars could drop to 8 million for 2016, marking a first decline since Hyundai bought Kia in 1998.
While things are not looking good, Park Hong-jae, executive vice president and head of research for Hyundai-Kia, told Reuters he expects sales to bounce back.
"It was a difficult year this year. Things will get better," Park Hong-jae told reporters on Dec. 22.
Hyundai reportedly has scaled back its preliminary sales goals for 2017 from 8.35 million vehicles to 8.2 million.
Cuts
The situation is so bad that Hyundai's top U.S. executive has resigned. Reuters reports the South Korea sales chief and China head have also been replaced.
To try to save money, company executives told Reuters it's cutting back on a number of things including business class flights and annual trips home for employees who work overseas. In general, sources say travel is now less encouraged. Employees are reportedly being urged to use video conferencing instead. When executives do travel, insiders told Reuters they're now staying in downgraded hotel rooms.
"We're in emergency management mode," an insider who wished to remain anonymous  told Reuters.
Since October, Hyundai Motor Group executives have reportedly taken a 10 percent pay cut. It's the first time in seven years their pay has been trimmed. Reuters, however, reports that the number of executives at Hyundai has risen by 44 percent in five years. So while the automaker is now paying its executives less, it also now has a lot more of them to pay.
The cost saving measures are reportedly being put in place as Hyundai looks to buy more time to add SUVs to its lineup.
"We're trying to address a mismatch between the market trend and our product lineup," one Hyundai insider told Reuters about the automaker's plan to add more SUVs. "That's a longer term plan. For now, we're trying to save every penny."
In response to such statements, Hyundai confirmed it's making various, cost-saving efforts, citing shrinking global demand and growing business uncertainty.
Plan to Add More SUVs
Hyundai has clearly missed out by not tapping far enough into the booming SUV market. It's now reportedly looking into giving consumers more of what they want. As the automaker trims fat in a number of areas, it's reportedly working on plans to introduce a sub-compact SUV. Reuters reports the SUV's project name is "OS." It's said to be destined for sale in South Korea, the U.S. and Europe.
"We need that small SUV in the U.S., much sooner than later," Scott Fink told Reuters. Fink is one of Hyundai's biggest U.S. dealers.
Current SUV Lineup
As Hyundai looks to expand its lineup of SUVs, the automaker has reportedly replaced some production of its Sonata sedan at its plant in Montgomery, Alabama with its popular Santa Fe SUV. The Santa Fe is one of only three sports utility vehicles offered by Hyundai. It sits at the top of the range. It fits up to seven passengers and has a 3.3L GDI V6 engine under its hood that churns out 290 horsepower. The Santa Fe comes in four trim levels: SE, Limited, SE Ultimate and Limited Ultimate. Its starting MSRP is $30,800.
Below the Sante Fe is the Sante Fe Sport. The midsize SUV seats five passengers. It comes in three trim levels: Sport, Sport 2.0T and Sport 2.0T Ultimate. While the lowest trim level receives a standard GDI 2.4L 4-cylinder engine offering 185 horsepower, the higher level trims get 240 horsepower with the available 2.0T. It has a starting MSRP of $23,500.
At the bottom end of the spectrum is the Tuscon. Hyundai describes the Tuscon as agile and fuel efficient. Hyundai maintains the Tuscon's compact design offers more passenger room than its competitor, the Ford Escape. There are four trim levels to choose from: SE, Eco, Sport and Limited. Every trim except for the base SE receives a 1.6L Turbo GDI. It offers 175 horsepower. The Tuscon has a starting MSRP of $22,700.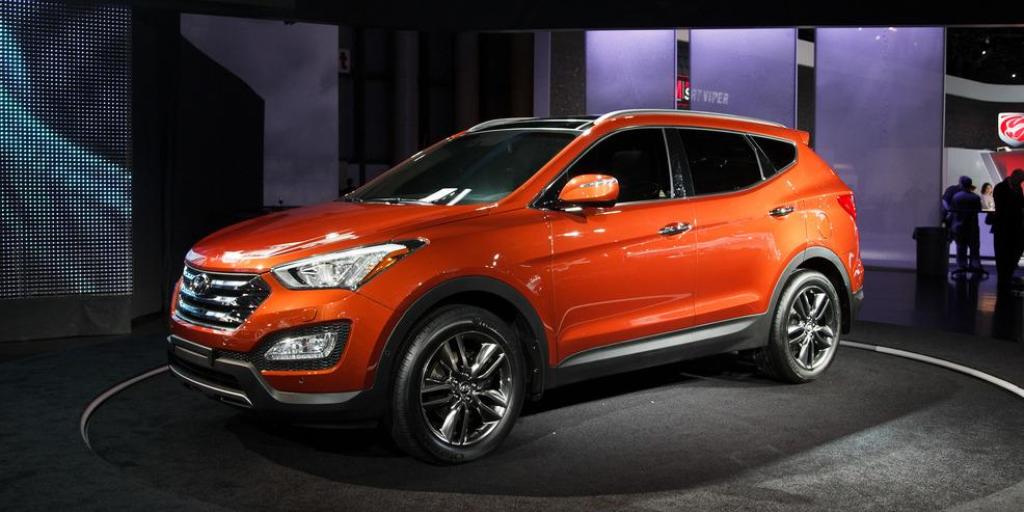 Our Take
With only three different SUV models to choose from, it's clear Hyundai could benefit from adding more to its lineup. According to Autodata Corp, SUVs accounted for 28 percent of the automaker's sales from January to November of 2016. That's up from 23 percent during the same period the year before. The numbers show there's room for Hyundai to capitalize on the SUV market. So it should be interesting to see whether the automaker's cost-saving measures help it churn out more of what customers are demanding.
Hyundai isn't only thinking about plans to expand its SUV lineup, however. It's also reportedly pushing sales of its higher-margin sedans instead of its smaller ones. It may be because the Elantra and Sonata are no longer performing as well as they once did. Luc Donckerwolke, senior vice president for design, told Reuters the company is also working on a next generation of cars with "a different flair" that would reach the market in a couple of years. 
Useful SUV Links
---
Recommended SUV News & Reviews