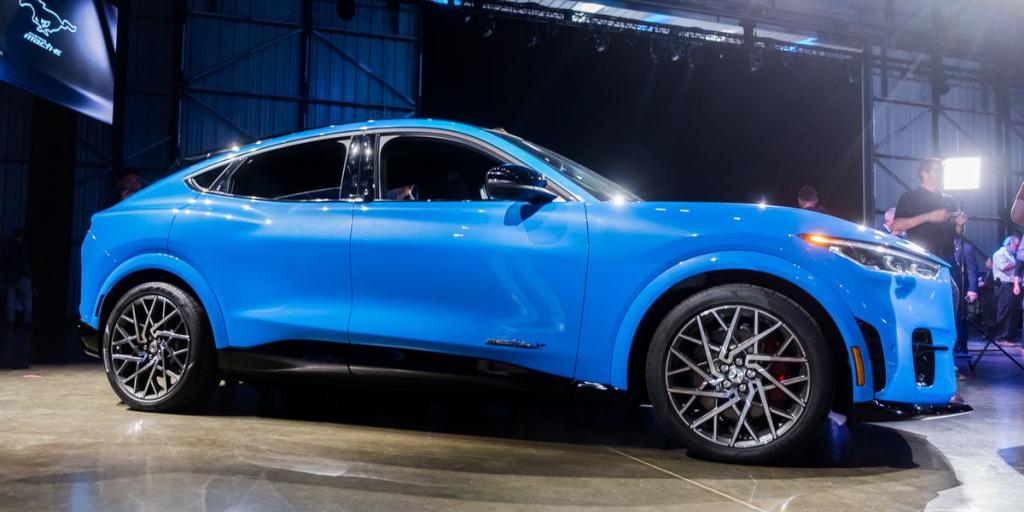 There's a new pony in Ford's stable and it's all-electric! The much anticipated Ford Mustang-inspired SUV has officially been revealed and it's called the Mach-E!
It's stylish, powerful, offers a solid driving range, and comes with an impressive new infotainment system with a massive 15.5" screen.
"People want a car that's thrilling to drive, that looks gorgeous and that can easily adapt to their lifestyle -- and the Mustang Mach-E delivers all of this in unmatched style," said Hau Thai-Tang, Ford's chief product development and purchasing officer.
The Mach-E represents the first time in 55* years that Ford has expanded its Mustang lineup! The new all-electric SUV also comes after Ford announced it would be getting rid off nearly all of its cars, except for the Mustang, in favor of more trucks and SUVs.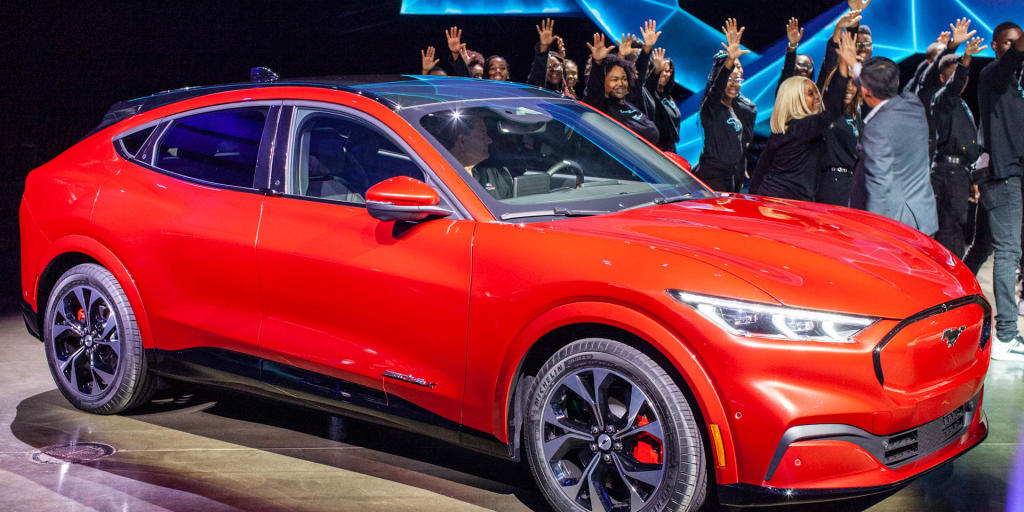 Ford has even developed a special Mustang Mach-E GT Performance Edition that brings all the thrills Mustang is famous for, as it can reach 60 miles per hour in just around 3.5 seconds!
Unlike competitors, Ford is offering several different versions of its new Mach-E SUV. There will also be standard and extended-range battery options with either real-wheel drive or all-wheel drive powered by permanent magnet motors. It's nice to see all the variety offered with the new Mach-E, as you don't always get that with an electric vehicle.
Plus, the all-electric Mach-E features an impressive new infotainment system and has some seriously awesome styling. You can even tailgate out of the front of your Mach-E if you want, as there's a perfect place to store your cooler where the engine normally would be.
The best part? If you're interested in owning a Mach-E, all you have to do is put down a $500 deposit to reserve yours today! Deliveries will begin in the spring of next year.
Continue reading below to learn even more more about the 2021 Ford Mustang Mach-E!
Style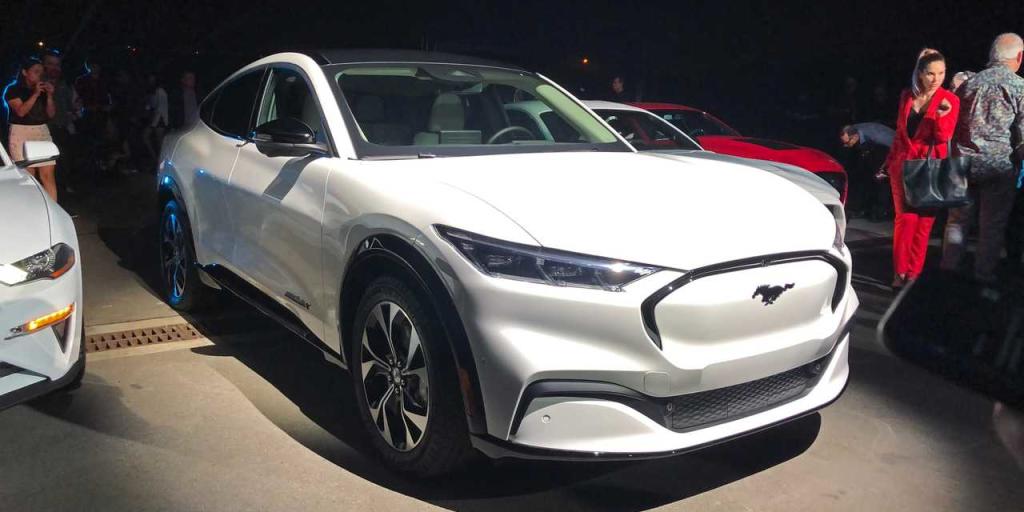 The new all-electric Mach-E's design had to do justice to the Mustang's heritage. And while some of you might cringe at the thought of the Mustang being adapted into an SUV, the Mach-E is drop dead gorgeous.
"Thanks to advances in battery technology, the Mustang Mach-E is the kind of car that gets people excited about driving, with a sporty, beautiful silhouette that delivers an incredible shape rarely seen in SUVs," said Ford Mustang Mach-E Chief Program Engineer Ron Heiser.
The long, powerful hood does make the Mach-E instantly recognizable as a Mustang, as does the rear haunch design, and the aggressive headlights and trademark tri-bar taillamps.
A limited First Edition model will be available in extended-range all-wheel drive and it will feature special red painted brake calipers, metallic pedal covers, contrasting seat stitching, and a scuff plate marked "First Edition."
Performance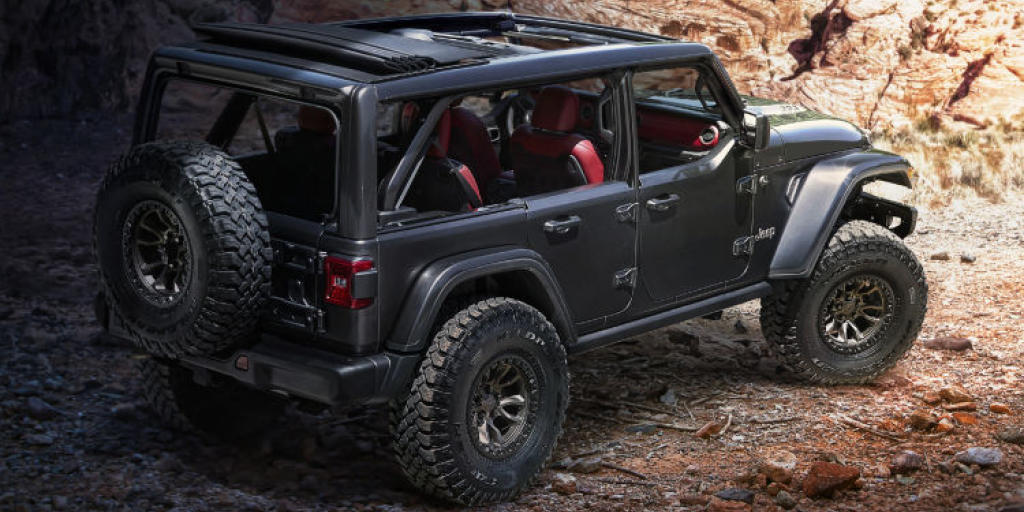 Again, the 2020 Mustang Mach-E will be available with standard and extended-range battery options with either rear-wheel drive or all-wheel drive powered by permanent magnet motors.
When equipped with an extended-range battery and rear-wheel drive, the all-electric SUV has a targeted EPA-estimated range of at least 300 miles. The standard-range Mustang Mach-E is estimated to charge from 10 percent to 80 percent in about 38 minutes at a DC fast charging station.
In extended-range all-wheel drive configurations, the Mach-E is targeting 332 horsepower and 417 lb.-ft. of torque. Ford says with that variation, the SUV can get up to 60 mph quicker than the base Porsche Macan series can!
There will also be two special performance versions of the new Mach-E offered. The GT can reach 60 mph in just under 4 seconds, making it faster off the line than the Porsche Macan Turbo. The other performance variant, meanwhile, can get up to 60 mph in just around 3.5 seconds! Ford says that makes its Mach-E GT Performance Version comparable to a Porsche 911 GTS. Both Mach-E GT configurations are targeting an estimated 459 horsepower and 612 lb.-ft. of torque.
The new Mustang Mach-E will also be available with Brembo's all-new performance Flexira aluminum calipers, which Ford says maintain the functionality of a fixed caliper while being designed with the dimensions of a floating caliper. The GT Performance Edition, meanwhile, is equipped with a MagneRide damping system, adaptive suspension technology that lets drivers hug the road while delivering an exciting, comfortable ride.
We should also note that the Mach-E delivers three unique drive experiences: Whisper, Engage, and Unbridled. Each offer finely tuned driving dynamics packaged with a distinct sensory experience. Sportier steeling controls, ambient lighting, sounds tuned for an authentic all-electric experience, and dynamic cluster animations are tied to driving behavior and make the driving experience that much more special and unique!
"Whether you want to really feel its performance capability or are looking for the quiet atmosphere that electric vehicles can offer, the Mach-E harnesses the power of electrification to create a unique driving experience while retaining that unmistakable Mustang feeling of freedom," said Ted Cannis, Ford enterprise product line director, global electrification.
Interior and Infotainment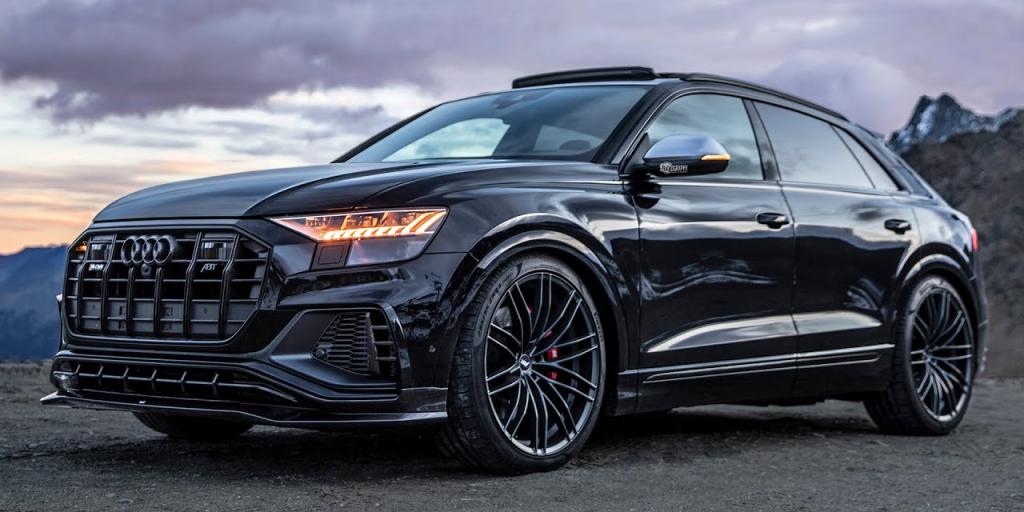 Inside, the all-new 2021 Mustang Mach-E impresses! The interior offers a sleek, modern design coupled with smart functionality. The Mustang-inspired SUV delivers surprising rear seat roominess and is designed to seat five adults comfortably. There's also ample cargo space at the front and back of the vehicle! The new infotainment system is definitely the most impressive aspect of the all-electric sport utility vehicle's interior, though.
Making its debut in the Mach-E is the next-generation SYNC communications and entertainment system. It actually uses machine learning to quickly learn drivers' preferences! What's also awesome is that it performs betters with time, thanks to advanced over-the-air updates. The most impressive aspect of the system, though, is the utterly massive 15.5" portrait display that comes with it! It offers touch, swipe, and pinch controls just like your smartphone. The screen dominates the Mach-E's dashboard. What's nice is that with a display this large, the climate controls are always onscreen so you can quickly adjust them. Engineers worked hard to make sure the entire design layout was simple to understand and responsive. Plus, next-generation SYNC starts adapting to you as soon as you begin using it, learning your preferences and even making personalized suggestions.
"It can suggest going to the gym if it learns Mondays are workout days or calling home if you do that every day after work," said Darren Palmer, Ford global director for battery electric vehicles. "The result is a cloud-connected assistant and interface that's intuitive, beautiful and ready for the future thanks to fast over-the-air updates."
Premium available Bang & Olufsen speakers are seamlessly integrated across the front, floating above the air vents like a sound bar. There's also a cool floating flip-up armrest that doubles as a place to store your purses or bags. Traditional Mustang design cues like the double-cowl instrument panel help round out the Mach-E's interior. There's even a special panoramic fixed-glass roof available! It features a special glass coating with infrared technology that actually helps the interior stay cooler in the summer and warmer in the winter! There's also an inner layer between the glass that helps protect against harmful UV rays, perfect for helping protect your skin.
As for cargo space, there's plenty of that! Thanks to Ford's new all-electric architecture that places batteries inside the underbody, there's 4.8 cubic feet of storage space in the front trunk. It's large enough to comfortably store a carryon bag. But, it gets even better! The front trunk was actually designed to be drainable, so customers can easily use it as a cooler! In addition to the front trunk, the rear trunk offers 29 cubic feet of space. When you put the rear seats down, thouhg, that space improves to 59.6 cubic feet!
SUVs.com's Take and How to Reserve a Mach-E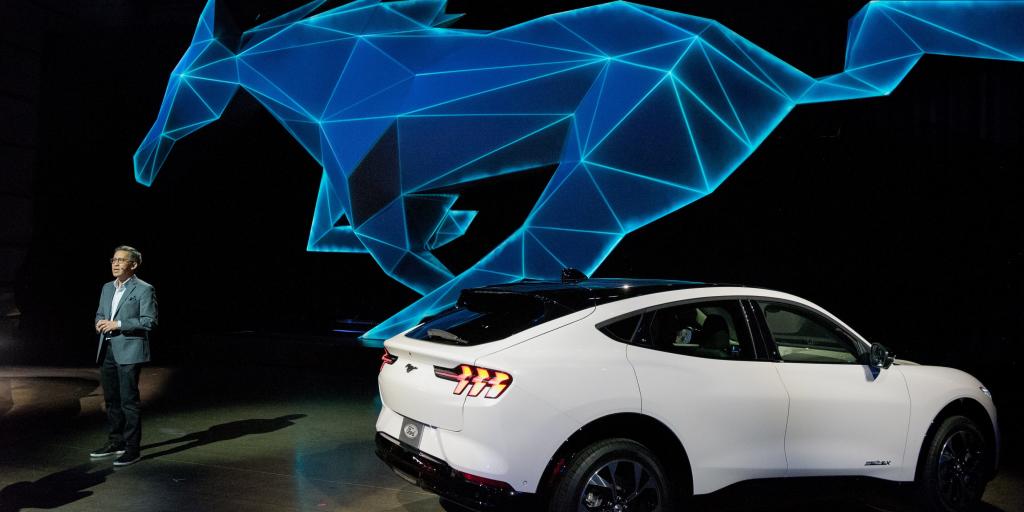 We especially love all the variety offered with the new Ford Mustang Mach-E SUV! You don't always see that in competitor all-electric vehicles. We're also particularly excited about the Mach-E GT Performance Version, which Ford says can go from 0 to 60 mph in around 3.5 seconds! Other highlights of the Mach-E include its bold and sleek exterior, the gargantuan 15.5" touchscreen display, roomy interior, and front trunk that can also serve as the perfect place to tailgate out of!
"It's fast. It's fun. It's freedom. For a new generation of Mustang owners," said Ford Motor Company Executive Chairman Bill Ford.
We couldn't agree with Ford more! To reserve your Mach-E, just head on over to the Mustang Mach-E reservation site to make a $500 reservation deposit. Deliveries will begin in the spring of 2021.
Make sure to connect with us here at SUVs.com to let us know what you think about the new Ford Mustang Mach-E SUV! Are you loving it? Or do you think Ford should have left the Mustang alone?
Useful SUV Links
---
Recommended SUV News & Reviews