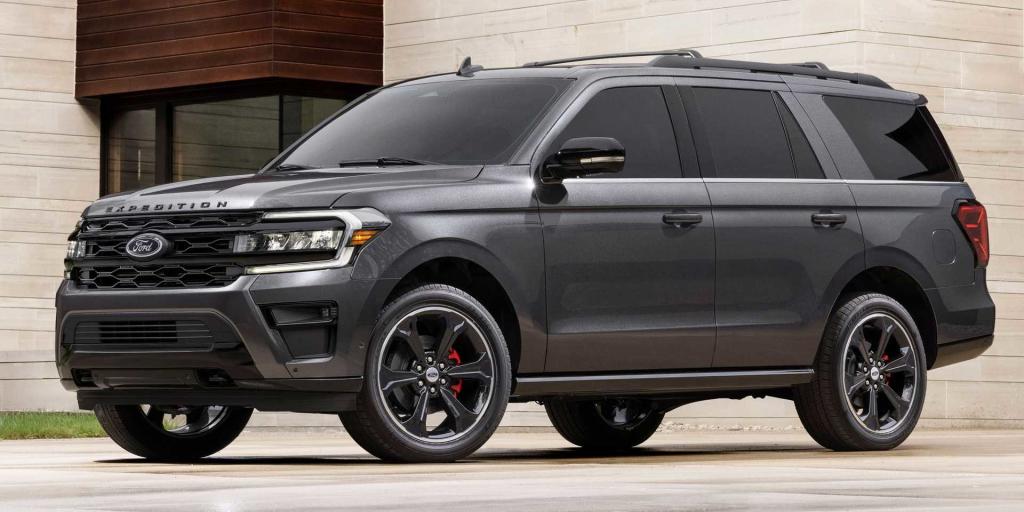 Ford Motor Co. has unveiled a redesigned version of its full-size Expedition SUV and people are impressed! The 2022 Ford Expedition targets younger, more diverse buyers, with Ford noting that millennials now account for the fastest-growing buyer demographic in the full-size SUV segment. Ford hopes its flagship SUV's new look, improved tech, and the new Timberline off-road series will help win over more of those millennials, many of whom are now starting families.
"Expedition is more than family transportation. It's a full-size SUV that allows families to share adventures and make connections confidently and comfortably," said Kumar Galhotra, president, Americas & International Markets Group. "We've refined almost every part of our new Expedition — from improved interiors to more connectivity enhancements to make the ownership experience as convenient as possible for the always-on lives of our customers."
Other highlights of the 2022 Expedition include the new Stealth Edition Performance Package, as well as the debut of Ford's BlueCruise hands-free highway driving system technology on the Platinum trim. And as for more technology advancements, the 2022 Expedition now comes standard with SYNC 4 Technology with a 12-inch touchscreen that features configurable split-screen capability. There's also a larger 15.5" touchscreen available with the optional SYNC 4A system!
Ford says the expanded lineup of its Expedition is also worth noting, from the Expedition XL to the premium Expedition Platinum, as well as the Stealth Edition Performance Package and the new off-road Timberline model.
Continue reading below for more details about the 2022 Ford Expedition!
Most Off-Road Capable Ford Expedition Ever: Expedition Timberline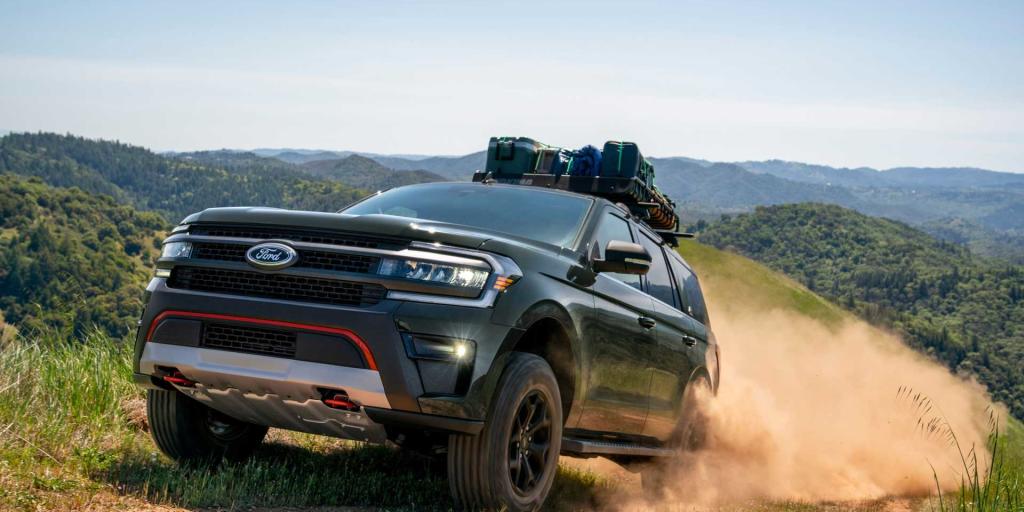 The new Timberline series is considered the most off-road capable Expedition ever with a ground clearance of 10.6" to help clear obstacles, Trail Turn Assist for making tight turns, rugged 33" Goodyear Wrangler AT tires, two-speed transfer case and tough F-150 Raptor underbody shielding.
"Timberline sets a new standard with full-size SUV customers who need more passenger space, great off-road capability and a basecamp for life's journeys," said Mike Kipley, Ford Expedition chief engineer.
Improved approach and departure angles enable deeper travel into the backcountry on tougher trails. The Timberline model is powered, by the way, by Ford's high-output 3.5-liter EcoBoost V6 engine producing an impressive 440 horsepower and 510 lb.-ft. of torque!
Stealth Edition Performance Package
The Stealth Edition Performance Package also features that powerful 3.5-liter EcoBoost engine that makes 440 hp, as well as athletic styling and a sport-tuned suspension. The package is available on Expedition Limited and Limited MAX. It sports modern, stylish gloss-black features including the grille, roof rails, and running boards. There are also unique red brake calipers that sit behind the larger 22-inch premium black aluminum wheels, while "Expedition" and "Limited" badging in black are featured front and back, plus there are new black Ford oval emblems.
Impressive New Technology
Ford says its redesigned Expedition features "flagship-level technology" including Ford BlueCruise, new SYNC connectivity, and over-the-air software updates that help the vehicle improve over time.
Elevating the new instrument panel for the Expedition is the available 12.4" HD digital gauge cluster with animations that respond to the vehicle's selectable drive modes and can display off-roading data and turn-by-turn navigation.
The SYNC 4 system with its 12" center screen is standard on every Expedition. It allows customers to split the screen and control multiple functions simultaneously, such as navigation, music, and other features. You can also go with the optional SYNC 4A system with its even larger 15.5" portrait-oriented touch display, if you'd like!
Your Expedition will also become better over time thanks to Ford Power-Up software. The over-the-air updates can improve the ownership experience and may help reduce the need for repair trips.
As we mentioned earlier, the Ford BlueCruise technology that comes standard on the Expedition Platinum trim allows you to operate the Expedition hands-free on the highway while being monitored by a driver-facing camera. It works on prequalified sections of divided highways.
And as for standard and available driver-assist features for the 2022 Expedition, there are plenty of them! They include Road Edge Detection, Intersection Assist, Reverse Brake Assist, Evasive Steering Assist, Trail Control, and more.
Towing
Ford says its 2022 Expedition offers "smarter, simpler, greater towing." The redesigned full-size SUV tows up to 9,300 pounds when equipped with the Heavy-Duty Trailer Tow Package!
"As customers seek out more adventures with their outdoor lifestyle toys, the 2022 Expedition SUV features available easier ways to hitch and manage a trailer — turning any driver looking to back into a campsite or down a boat ramp into a seasoned pro," writes Ford in a press release.
Pro Trailer Backup Assist 2.0 is particularly helpful to have when towing. It uses the rear camera and park aid sensors to detect a trailer, with the user directing it through a control knob and backup camera screen. Ford says that version 2.0 improves on the previous system that required the driver to put a "target" on the trailer and to input trailer dimensions — automating all of that for a now more seamless user experience.
Our Take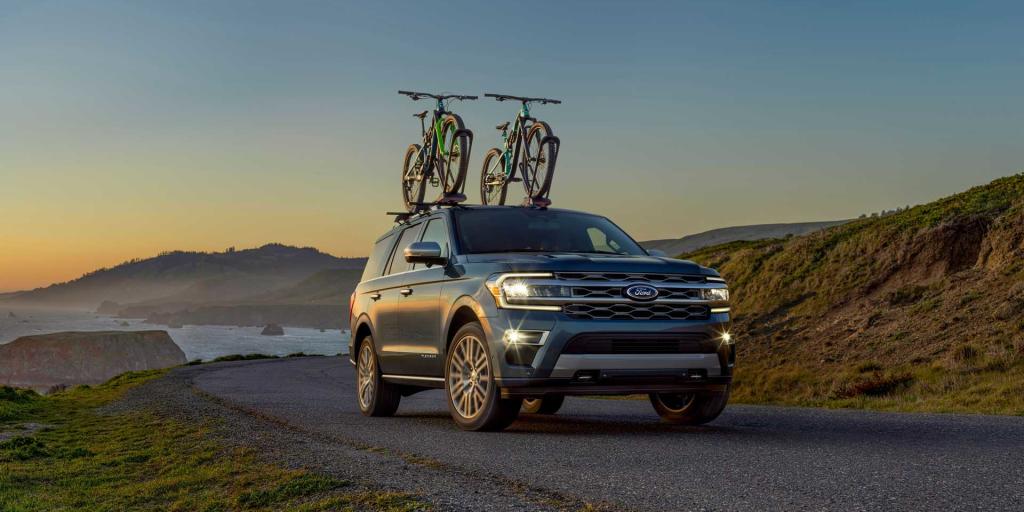 Ford has seemingly been on a roll lately with its SUVs. From the redesigned Explorer for 2020, to the Bronco Sport, all-electric Mach-E, the full-size Bronco, and more, there's no denying Ford has generated a lot of buzz lately about its SUVs. It has run into some production snags, though, and so fans of competitor brands like Jeep are quick to point that out.
Despite the production issues that Ford is up against, people are certainly excited about the 2022 Expedition. Ford did say that the since the introduction of this generation flagship model in 2017, Expedition has nearly tripled its market share among full-size SUVs. It'll be interesting to see how the vehicle performs now that it has received a redesign.
The 2022 Ford Expedition will go on sale in the first quarter of 2022. It's being assembled at the Kentucky Truck Plant in Louisville, Kentucky.
Useful SUV Links
---
Recommended SUV News & Reviews