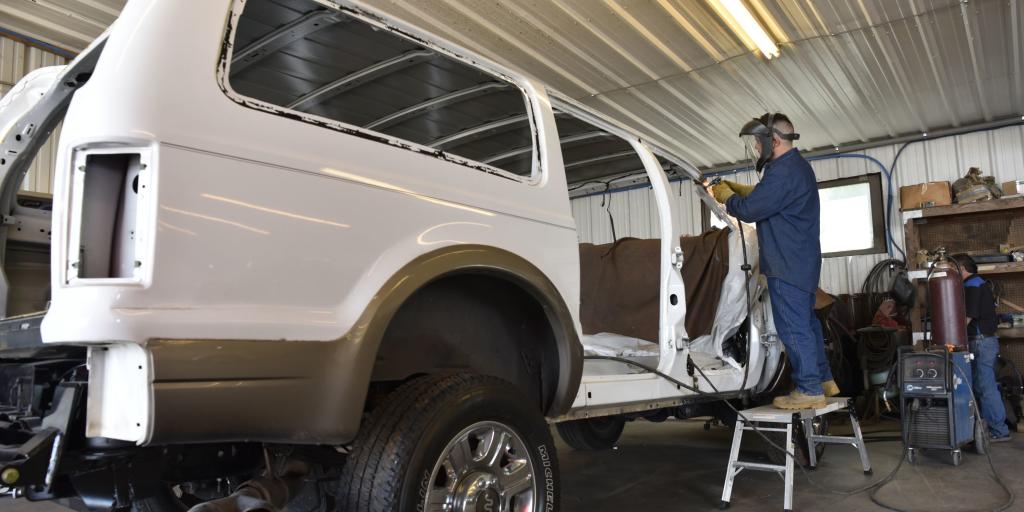 It's been more than a decade since a new Ford Excursion SUV has hit a dealer lot, but a cult of Excursion lovers are refusing to let the vehicle die. In fact, one man is building dozens of new Excursions each year. They sell for a pretty penny, too!
"What I hear all the time is people wish Ford would build the Excursion again," said Tim Huskey, the 59-year-old owner of Custom Autos by Tim in Guthrie, Oklahoma. He churns out about 40 Excursions a year by pairing a back end to a newer Super Duty chassis. What's also impressive is his ability to complete one in a period of just two months.
Huskey says Excursion lovers are crazy about the model, and will often do anything to keep them running. For example, one of his customers racked up 225,000 miles on his Excursion's odometer before having it rebuilt! The 57-year-old business owner said he brought it to Huskey because he just couldn't let the SUV go.
"We're never getting rid of this," said Steve Simon, the avid Excursion fan in an interview with The Detroit News. "We drove across the country in it a couple of times," he went on to explain. "You don't have to think about 'oh we can't take this or we can't take that.' Nobody's got a car big enough to comfortably fit six people in it anymore."
More About the Excursion and its Diehard Fans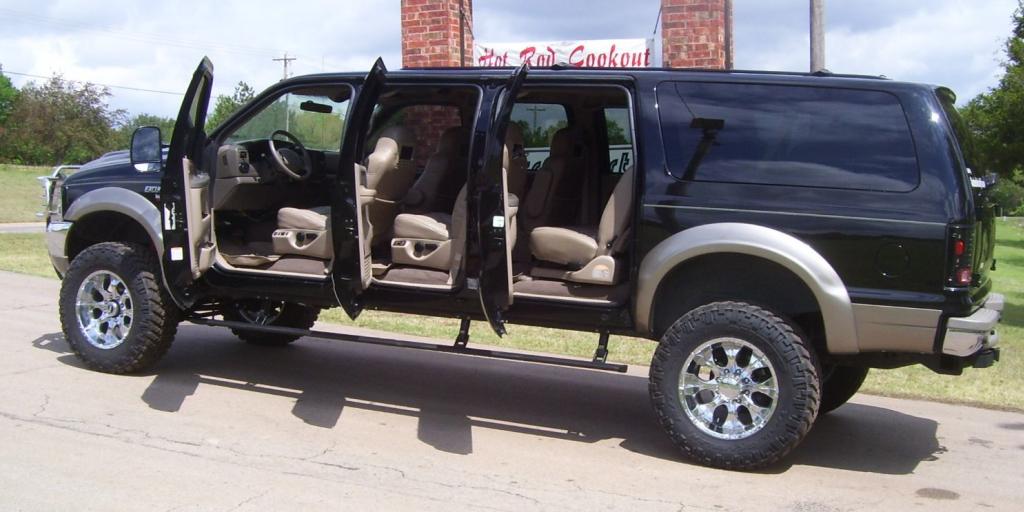 The Ford Excursion was introduced in 2000 as an extended-length sport utility vehicle. Based on the F-250 Super Duty pickup truck, the behemoth SUV was designed to compete with the Chevrolet Suburban / GMC Yukon XL. Ford pitched it as a "fresh new choice in the heavy-duty utility market." Popular Science referred to it as the "biggest sport utility vehicle on the planet." It was marketed to consumers as a vehicle offering space for up to nine passengers throughout three bench rows. 10 cup holders and five power outlets were included. It could tow up to 10,000 pounds and haul up to a ton of cargo.
While sales of the Excursion were initially good with around 51,000 units sold in 2000, sales went down over the years. Just 16,283 Excursions were sold in 2005, the year Ford killed the SUV. Critics point to Ford offering gasoline engines with the Excursion as a mistake. They say those engines simply weren't strong enough to power the behemoth SUV. People preferred the diesel engine, which was much more powerful.
Customers who have hung onto their Excursions own those diesel versions. Excursion fans say the fuel economy offered with it is in the high teens. On the other hand, the gasoline-powered versions were said to just suck up gas (some reportedly even got less than 10 miles per gallon). They gave the vehicle a bad rep. In fact, an environmental group even nicknamed the SUV "Ford Valdez" after the Exxon Valdez oil spill. The Excursion also ended up on a "Fifty Worst Cars of All Time" list by TIME Magazine. After battling that poor public image for some years, Ford quietly did away with the massive Excursion.
"People were calling out the Excursion as a foolish, wasteful, decadent, selfish and incredibly not earth-friendly vehicle,' said Karl Brauer, a Kelley Blue Book auto analyst, in an interview with The Detroit News. "It seemed like overnight, all of the sudden, they all vanished. And the Priuses took over."
Continued Demand for Ford Excursions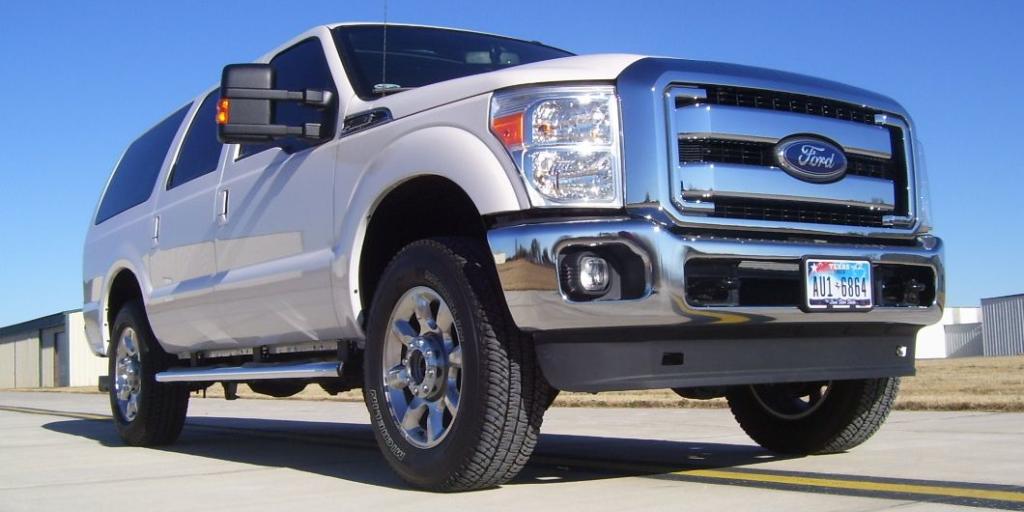 People who love the Excursion, though, have no interest in giving it up. The former marketing manager for the vehicle says that type of aftermarket love isn't going anywhere.
"Excursion is that kind of product that was never a poser vehicle," said Jason Mase in an interview with The Detroit News. "It had instant respect. People knew that it was a beast for towing and hauling. People loved it then and love it now."
One die-hard Excursion fan impressed his family so much with his vehicle that they, too, bought Excursions! Felix Denmon had been driving Excursions for a while before having Huskey convert an F-250 into an Excursion. When he brought it home, his wife was so impressed that she requested one. So, he decided to buy a second and then a third for his son. He even bought a fourth for the general manager of his company!
"I get stopped at least once a week with somebody saying they didn't think Ford made these anymore," Denmon told The Detroit News. "It's still an eye-turner."
How Tim Huskey Builds New Excursions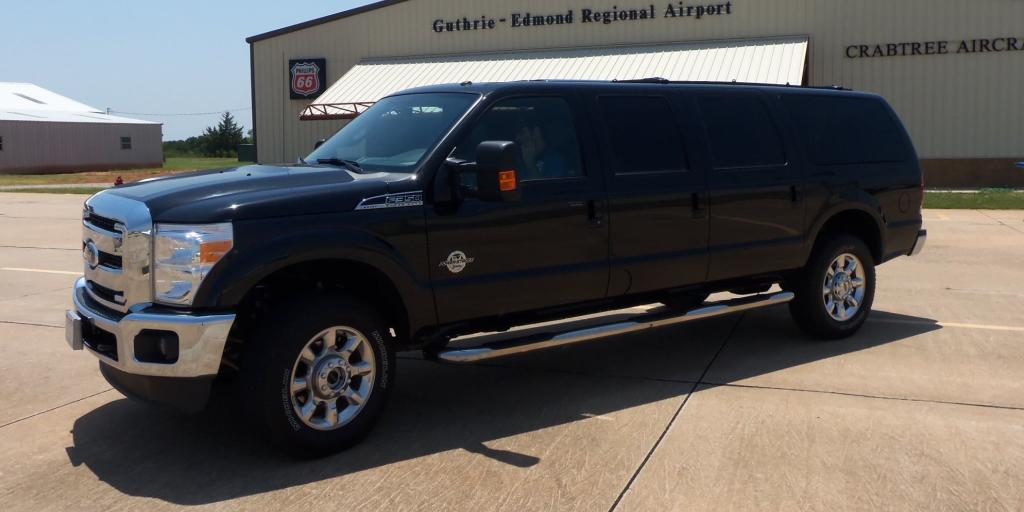 To build one of these new Excursions, Huskey typically marries a salvaged Excursion back end with the front end of the newer Super Duty chassis. He also stretches Super Duties to make six-door cabs.
Customer Steve Simon paid in the high-$40,000 range for his new Excursion. For that build, Huskey kept the engine, transmission, and dashboard from Simon's 2005 diesel model. The rest of the SUV was rebuilt from used vehicles Huskey salvaged, including slightly damaged Excursions and Super Duties.
What's impressive is Huskey is able to produce these Excursion conversions in two months. There is a two-month waitlist, though. He's averaged between 35 and 40 conversions a year for the past few years. He says it's his main source of income and he charges at least $40,000 for one (if you can find them a Super Duty chassis to use). Otherwise, you'll have to pay more for one of the ones they've salvaged. Most people spend between $50,000 and $100,000 one one of his builds.
Our Take
We love seeing throwback SUVs be repurposed and given new life. With all the chatter also happening right now about the Ford Bronco and its official revival, it's cool to see this movement about another vehicle taking place on the side! As for Huskey, he expects to keep getting orders for his Excursion conversions for at least the next four to five years.
Useful SUV Links
---
Recommended SUV News & Reviews