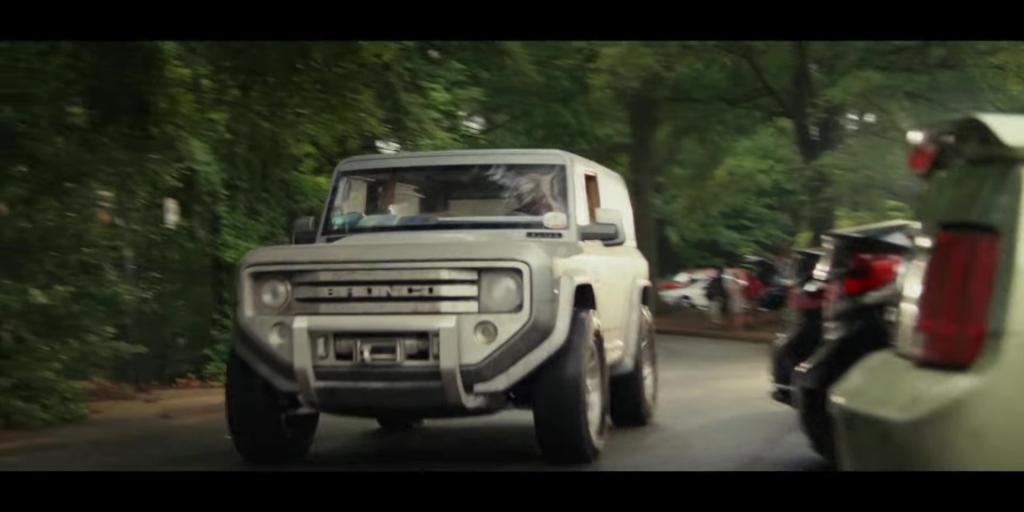 Bronco lovers rejoice! You'll get a chance to catch the iconic Ford vehicle in "Rampage," a new science fiction monster film starring Dwayne "The Rock" Johnson. It's directed by Brad Peyton and is loosely based on Midway's video game series by the same name.
You've probably already seen one of the action packed film's trailers. They're certainly hard to forget! That's because the character Johnson plays in the film, a primatologist by the name David Okoye, teams up with a massive albino gorilla named George. That gorilla is definitely amazing to watch, and Johnson's character must team up with him in an attempt to thwart an invasion of monsters.
Johnson said he decided to get involved with the big-screen adaption of the arcade video game, which features an old concept version of the Bronco, because he had a love for the game as a child!
"I played the game in Hawaii when I was 13 years old," Johnson told Reuters ahead of the Warner Bros.-distributed release of the film. "I used to not go to school and go to this pool hall, it was very dingy, and we'd play pool and foosball and then play the 'Rampage' video game for hours."
The Rock's love for Ford
Just as "The Rock" loves the video game, he also loves Ford. That's why when the film had originally called for a different boxy style vehicle to be used by Johnson's character, Johnson got involved.
"As they were putting the movie together, the script called for them to use a Jeep," Craig Patterson, Ford's SUV marketing manager, told Hagerty, an insurance company that also posts news articles on its website. "But Dwayne Johnson is a huge Ford fan, and had worked with us previously doing advertising work for us for our Customer Service division. And he said, 'I'd much rather use a Ford product here, and I know there's a new Bronco coming out. Maybe I could use that?'"
Ford's Decision to Use an Old Concept Version of the Bronco in "Rampage"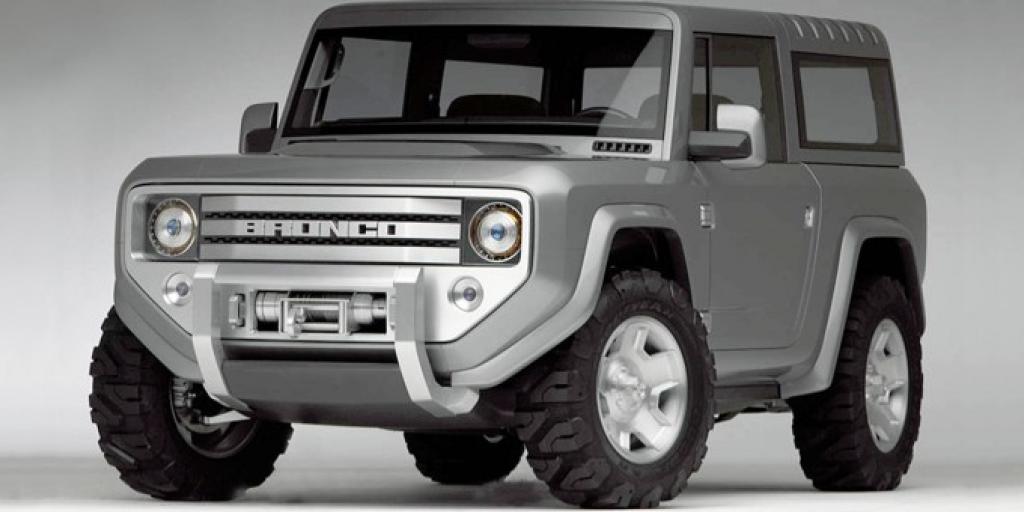 However, there was a catch to using a Bronco in the film! While Ford is coming out with a new version of the off-roader, it hasn't been unveiled yet.
"We're actually quite a ways from having a new Bronco available to do something with," Patterson told the Hagerty reporter.
Fortunately, there was a solution! Ford told Johnson it still had a concept version of its Bronco that was originally made for an auto show more than a decade ago. The company told Johnson he could use that 2004 concept if he wanted.
"It had a lot of fans internally," Patterson told Hagerty. "So we kept it around hoping that we could build it someday."
While only a concept version, the SUV is reportedly capable of going 30 miles per hour. So when you see it in the film, it very well might be that Johnson is actually driving it. However, we know there are many ways Hollywood studios are able to make a vehicle look like it's in motion when it's actually not. Either way, it's great to see a Bronco being used in such a big film! Ford was also happy to feature it, despite it not being a concept of the forthcoming Bronco.
"Bronco is a vehicle that, like Mustang, is iconic and cool," Patterson told Hagerty. "And so anything we can do to associate it with other things that are also iconic and cool, like The Rock, I think is beneficial to both of us."
The decision to use the 2004 concept in the film, however, was only made after Ford had conversations about whether or not it would confuse the public. Because Ford plans on releasing a new version of its Bronco in 2020, it wanted to make sure people knew the vehicle used in the film isn't what to expect in the years ahead.
"That was kind of the only downside to it, that people would see it and say, 'OK, that must be what the new Bronco's going to be.' And that's not the case," said Patterson in his interview with Hagerty.
However, Ford still saw a potential benefit in having the older concept version featured. The company reportedly thought it could help from an overall branding perspective. Executives also figured it would drive anticipation of the vehicle.
Johnson's Instagram Post Featuring the 2004 Bronco Concept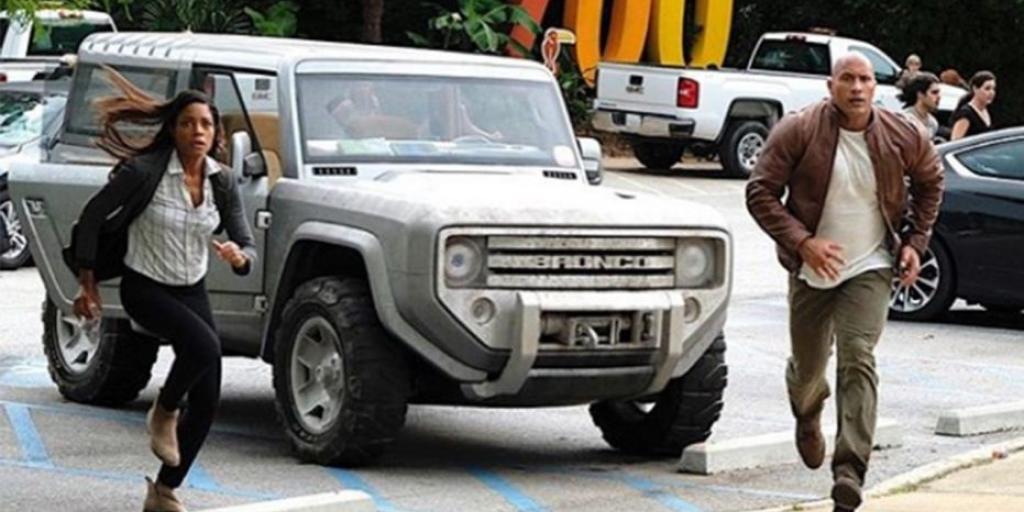 Johnson's Instagram post from last year with the concept version featured in it serves an example of how well the whole thing could be perceived! He posted a photo of himself and his co-star Naomie Harris on set. They're pictured jumping out of the vehicle. That photo now has close to 1 million likes! In the comments, you can see many people talking about the vehicle. Users and Bronco fans are quick to point out that it is a 2004 concept. However, they also can be seen commenting about the forthcoming Bronco. So, it seems it really was a smart choice for Ford to allow this old concept version of the vehicle to be used! People clearly admire this old concept version, but are excited about the 2020 Bronco!
Now, here's one other interesting point! When Hagerty Reporter Brett Berk asked Patterson in mid-April if the studio had returned the vehicle yet, he paused and then said he wasn't sure, but didn't believe so. If we were Warner Bros., we would definitely want to keep our hands on that Ford concept as long as we could as well! So if they haven't returned it yet, that would make sense to us!
Upcoming 2020 Bronco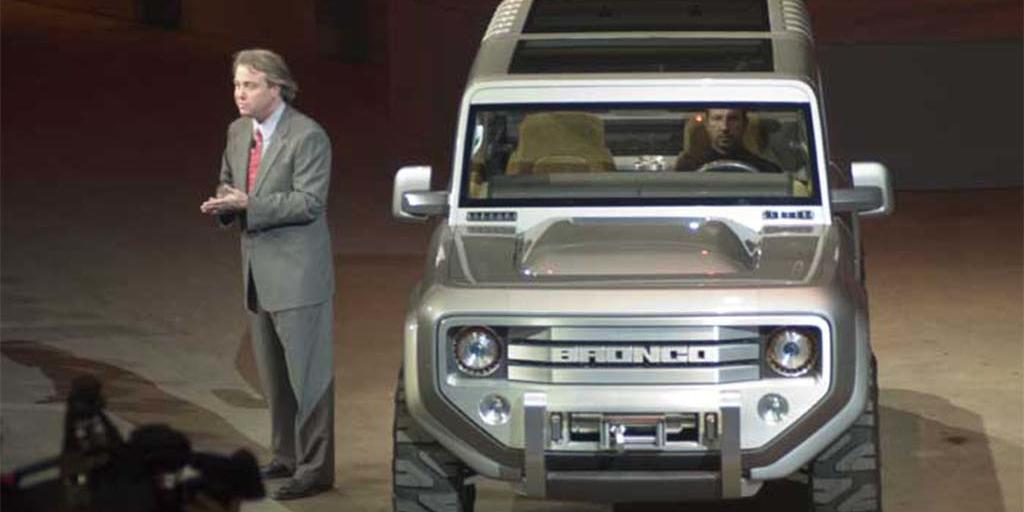 While only a darkened image of the forthcoming Bronco has been released by Ford so far, excitement continues to build for it. We also know a hybrid version of the 2020 off-roader will be released. That's because Ford plans on having all of its SUVs be offered in hybrid versionS as well. The vehicle is probably the most talked about forthcoming SUV for Ford at the moment. SUVs.com recently reported about Ford's decision to kill off most of its cars and sedans in favor of SUVs and trucks. So, there's a lot riding on the new Bronco as well as its other SUVs!
Useful SUV Links
---
Recommended SUV News & Reviews